Top quiet places in Amsterdam where you can cross stitch | Cross Stitch Travel Guide for Amsterdam
Amsterdam is so cross-stitch-genetic! Many of our cross stitch designs were created while we biked the canals and sipped drinks at terraces. In this blog we share our top tips for quiet places in Amsterdam where you can cross stitch. We call this a travel guide for cross stitchers but of course you can also use the list as guide for hidden places where you can knit in public, or crochet in full sight, or … you get it. We love these spots as they are off track places in Amsterdam. Places most tourists will not visit, but you will :-).
Are you visiting Amsterdam by air? read our earlier blog about cross stitching in a plane!
New to cross stitch? You can find a step by step tutorial in this blog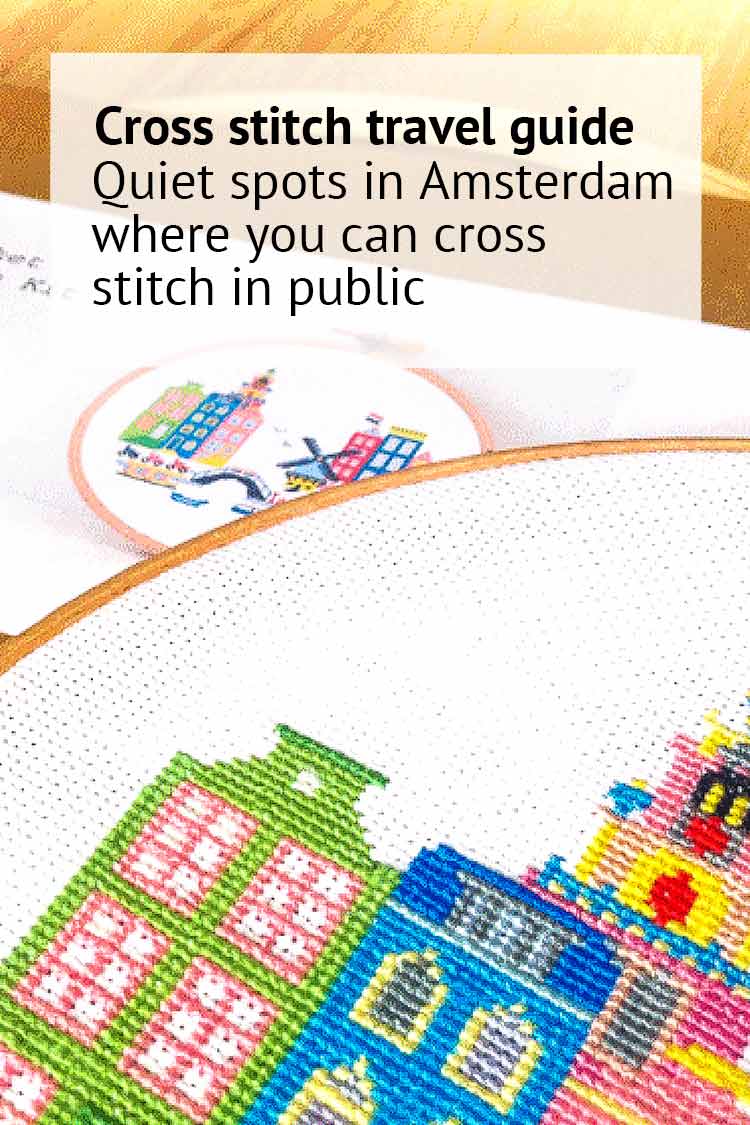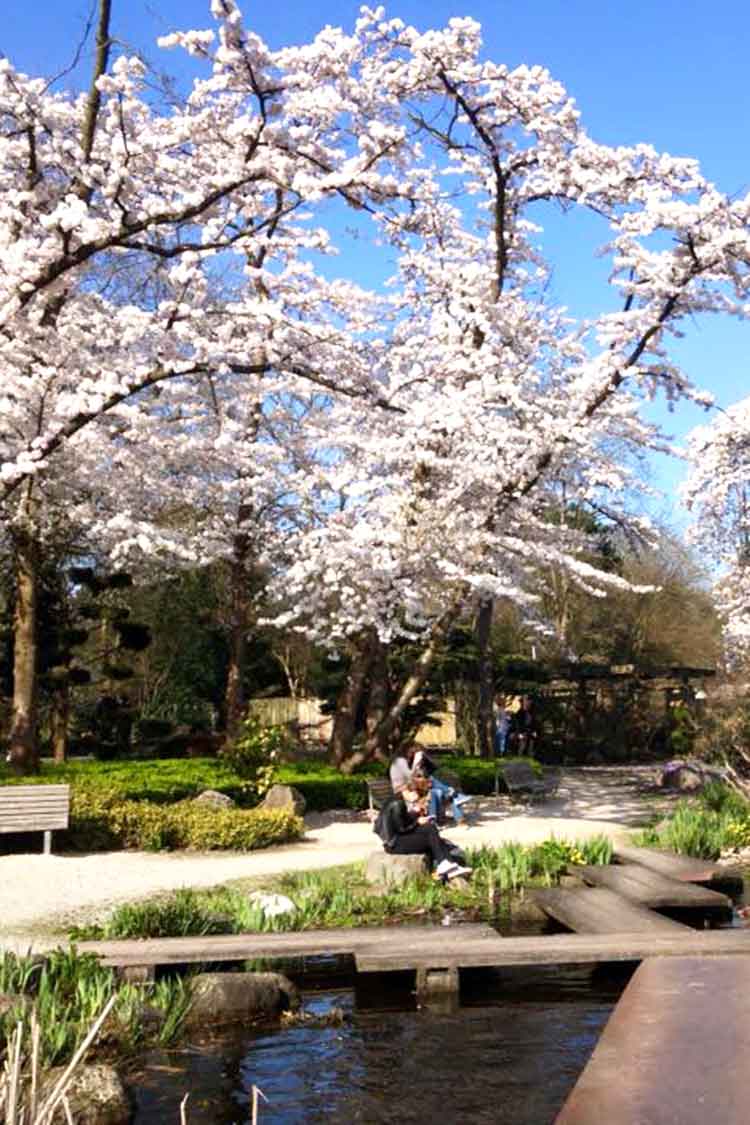 This gem is less known than the Vondelpark but it is defintly worth a visit. The park is beautifully maintained and has many suprising corners. With lots of benches where you can quietly enjoy the sounds of the birds while cross stitching something pretty. And terasses where you can sip your favourite drink or eat a typical pancake.
The Amstel Park was created as part of the Floriade Horticulture show of 1972. Hence it contains an eclectic mix of exhibition centres, gardening styles and animals. There are influences from all over the world.
You can easily reach the park when you take public transportation to Station Rai. The park is wheelchair friendly.
There is also a large play area for your kids. And they will also like the animal farms in the park.
You can find us close to the piano, where we love to listen to amateur and professionals sharing their skills.
Throughout the year there are events and markets organised in the park. Check their website to get all the details for your visit.
In the Garden of Museum van Loon (entrance fee)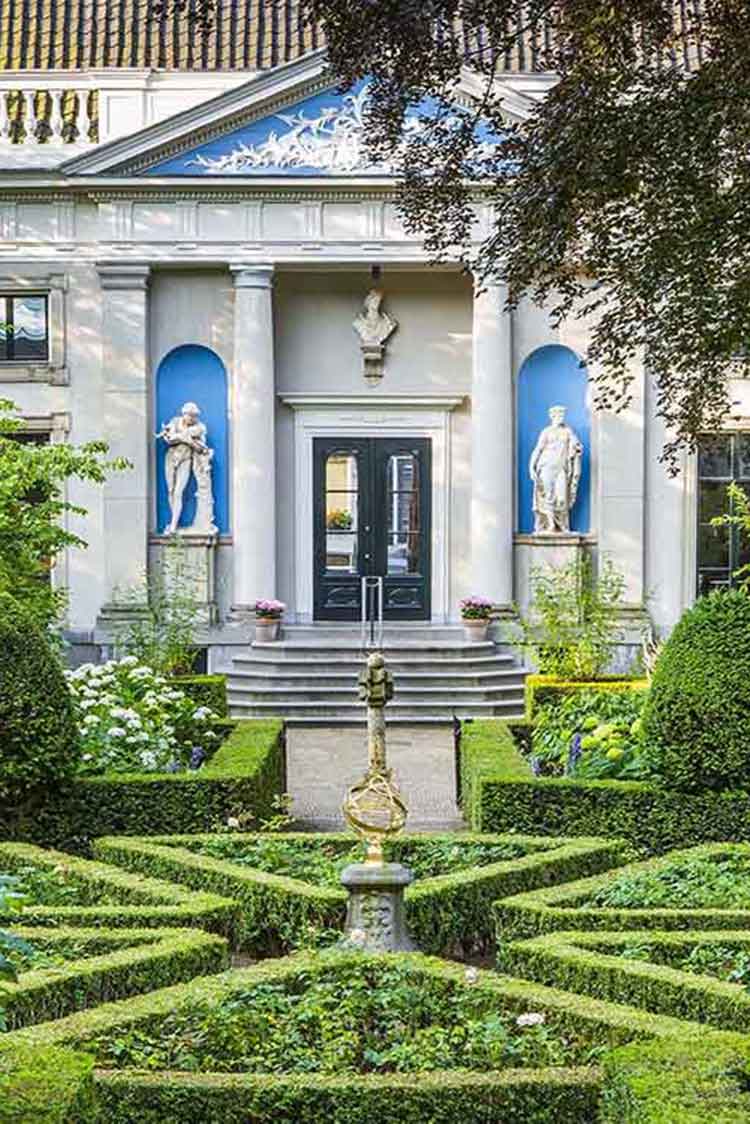 If you like to combine some cultural sightseeing with a cross stitch project we recommend you to visit the Museum van Loon. In the heart of Amsterdam on the Keizersgracht you can visit the house of the Amsterdam regent family Van Loon. In 1602 Willem van Loon co-founded the Dutch East-India Company. Seven days a week the family opens their home and collection to the public.
Visit this chique canal house, and enjoy some stitching in the beautiful garden. You will be amazed to see how big those canal home gardens can be!
There are a few benches where you can sit for hours. It's right in the centre, but not as populair as the Rijksmuseum or Van Gogh. No waiting in line to enter. Friendly and welcoming hosts.
Find all about prices and opening hours at the website of the museum here. With a Museumjaarkaart you can enter free.
In the east of town you can find park Frankendael, one of Amsterdam's bests quiet spots to relax. So it could not be missed on this list of quiet places in Amsterdam where you can cross stitch ;-).
The park consists of different areas, from green grass for a picnic, to instagramable gas pipes and abandonded ruines that are fun to take pictures.
You'll find us cross stitching on one of these white benches near Huize Frankendael.
Btw you can actually rent this building for weddings and parties. There is a great catering service and restaurant. And while you are around the area, in the park you can also find the excelent restaurant 'De Kas'. Housed in a greenery this restaurant grows their own food.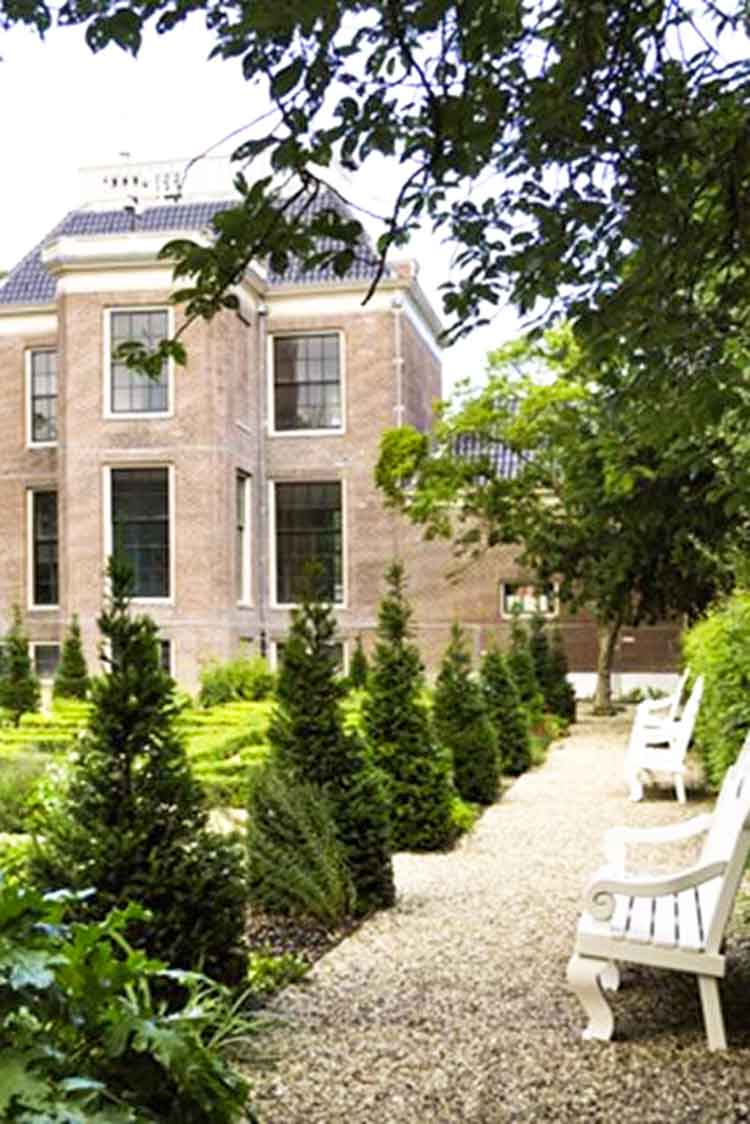 If you are looking for quiet places in Amsterdam where you can cross stitch then Java Island might not directly come to mind.
Java Eiland is a relativly new developed neighbourhood in the IJ River. The Island is not often visited by tourists and you can find lovely quiet corners with great views. It's mainly residential but you may find a few smaller companies with offices there.
The Island is divided by 4 canals, each of them has a arty bridge designed by designers Gay Rombouts and Monica Droste.
The canals have the typical Amsterdam look where different houses are constructed next to eachother. But if you look closely you will see that the houses are repeated accross the island. This way the construction was still affordable, while it does not have the typical look of a new neighbourhood with streets of similar houses. Canal Houses include parking garages which enhances the quiet feel of the neigbourhood.
Next to the water you will find different spots where you can enjoy the views of the river while cross stitching. You can also opt to sit in one of the 4 little parks in the middle of the Island.
Quiet places in Amsterdam where you can cross stitch next to the Amstel River (free)
You can find many quiet spots in Amterdam when you walk next to the rivers and canals. These seats next to the Amstel River are one of our favourites. They are at the edge of the Martin Luther Kingpark and you have wide view over the river.
Although you will notice a number of bikers passing the road, and boats on the river it is still such a tranquille place. We hardly had to share seats with other pieces, but would love to see you here ;-).
At the end of the summer, the Theather Festival Parade takes over the park and it will get busy here. But then you'll get the most fun and engaging shows in return.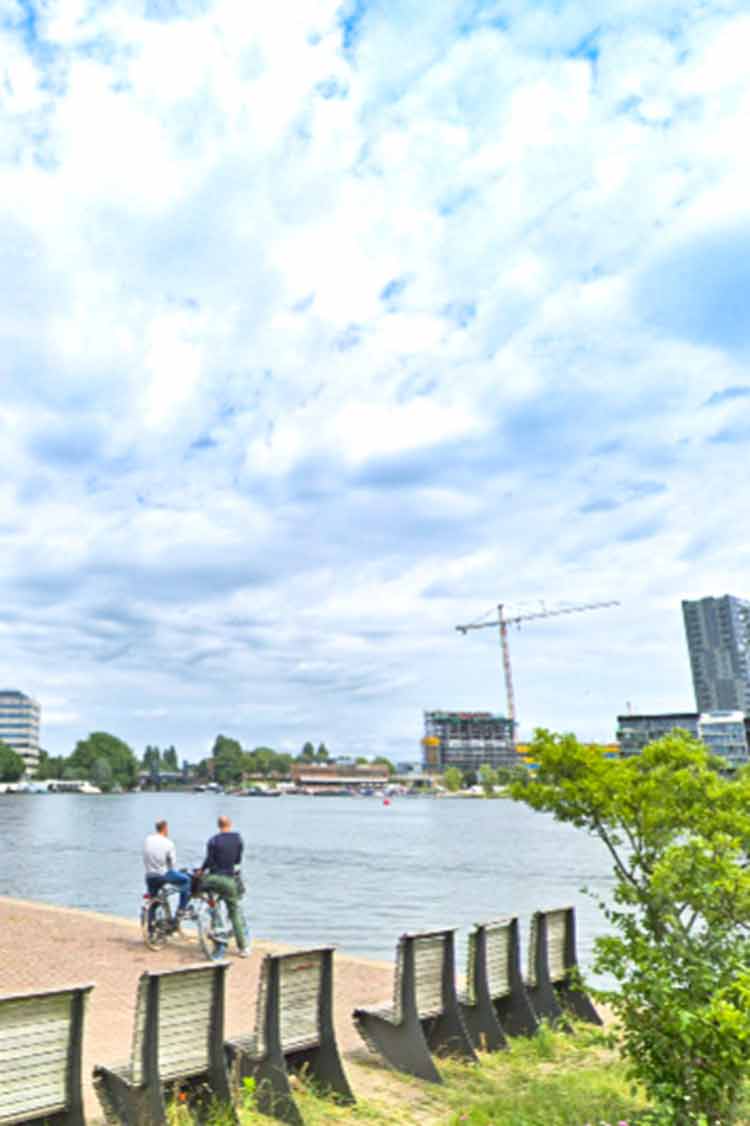 This is your hidden quiet spot in the centre of Amsterdam. It's not as populair as the Begijnhof and a great place to sit down with your cross stitch project. It is one of the largest historical hofjes in Amsterdam.
Please be considerate of the neighbours!
This is private property and people live here.
Please don't ruin the peace of other people or you might be asked to leave.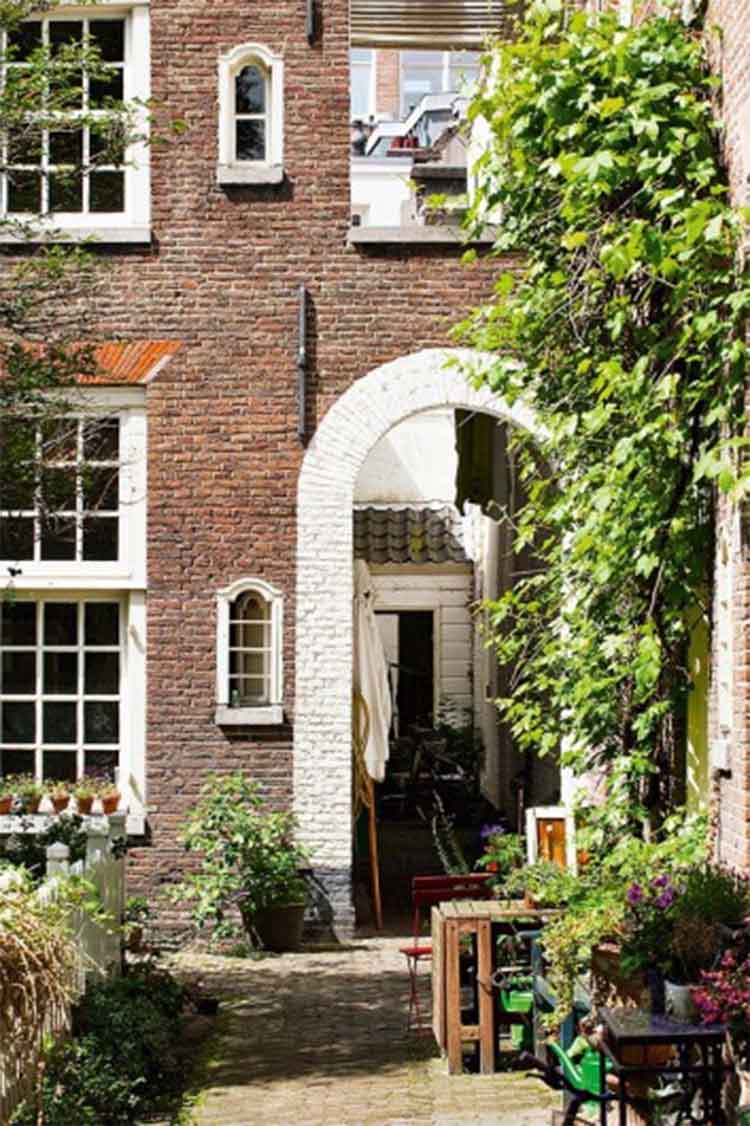 At the public library (free)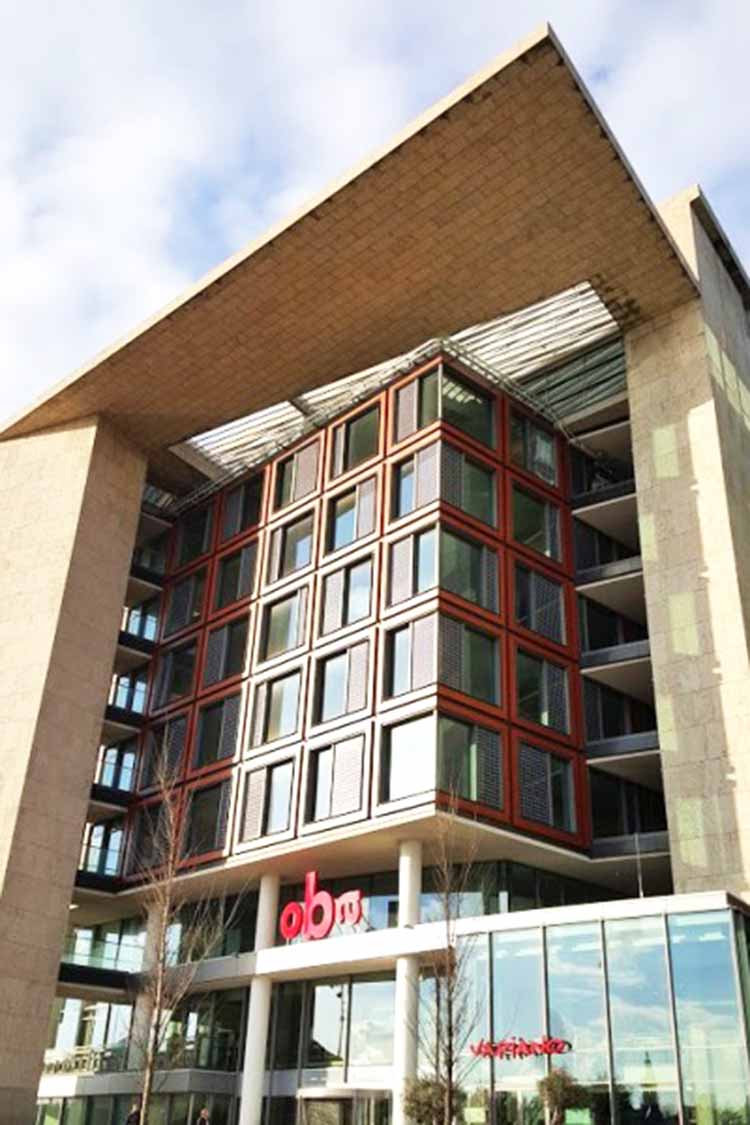 The Public Library, near the Amsterdam CS station, is a beautiful quiet spot in Amsterdam to visit when it's raining cats and dogs outside. There are books to read and many seats. Perfect spots to cross stitch while your travel companions can read away.
On the top floor there is a small theather where you can enjoy a wide variety of performances. For kids there is plenty to do and see downstairs, including a book slide!
But the showstealer is the great panorama rooftop bar. You can enjoy a fresh drink or meal with stunning views of the city.
The Rembrandtpark is a bit more rustic and less polished park in Amsterdam. But it's large and you can find many seats to cross stitch away for a few hours.
There are many trees, a few lakes and you find the oldest animal farm of Amsterdam (Kinderboerderij 'de Uylenburg') in this park.
The park used to be a bit dodgy, but in the last decades many trees have been trimmed, water drainage was improved, new play areas, and lots of new benches. So if you are looking for a quiet spot in Amsterdam West this is your park to go!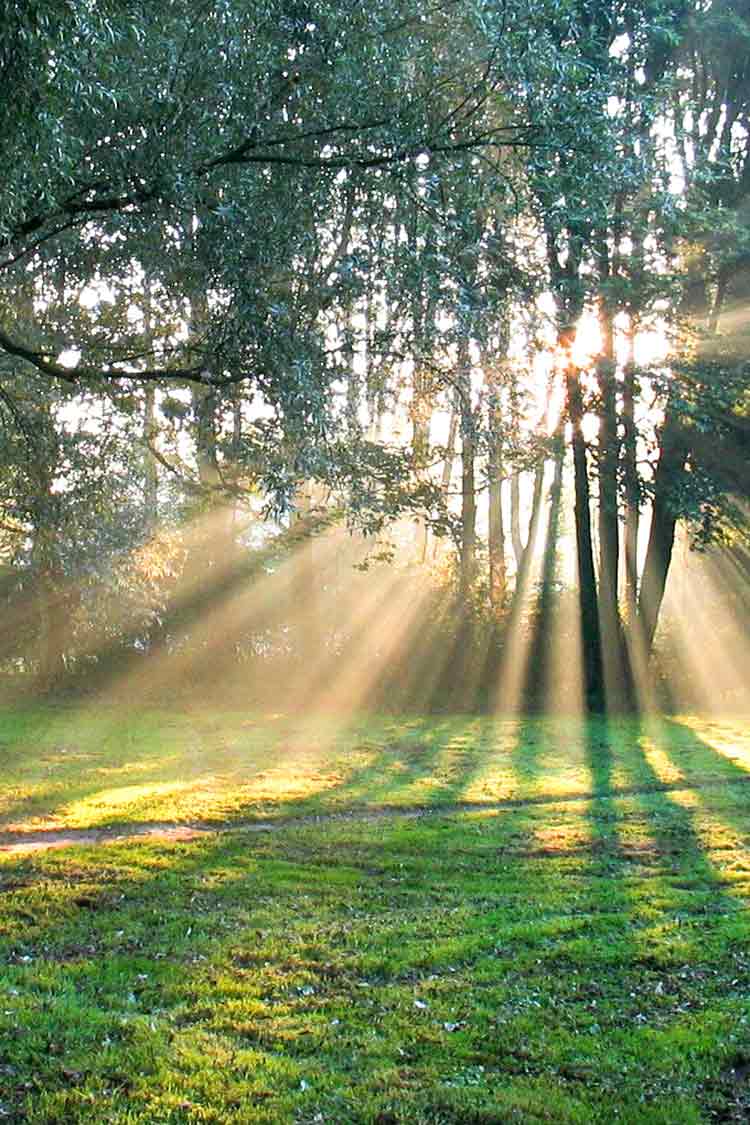 In the lobby of a luxery hotel (consumption required)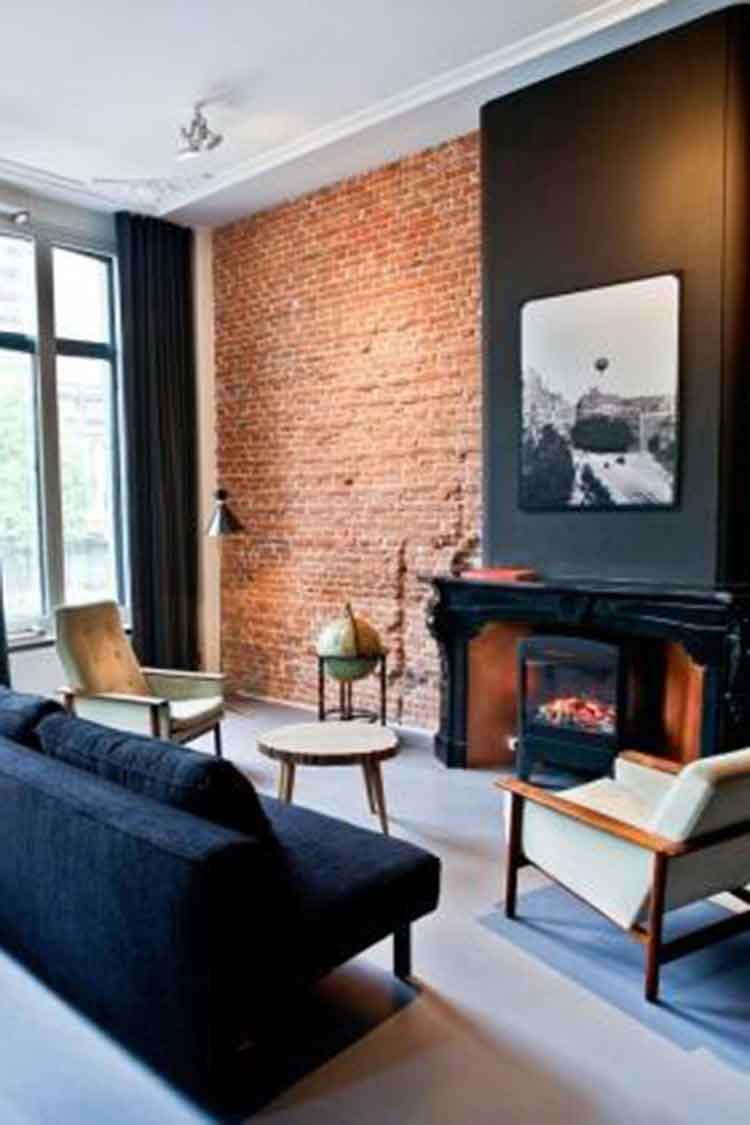 Put on your best outfit and take your prettiest craft bag. Walk inside a luxery hotel as if you've always stayed there. Hotel lobbies are often the best catered quiet spots in Amsterdam. They are pretty suroundings for a luxery cross stitch session.
If you go outside eating hours, you only need to buy a drink. And although a coffee in a luxery hotel might be shockingly expensive for a coffee, it is still not the cost of a 3 course menu. Hence it is possible to go with a smaller travel budget.
The added advantage are the often spacious and clean toilets. Wash your hands with beautiful smelling soaps and dry them with a real towel.
So paint your nails, get out your hoop and make yourself at home. You might even end up selling your embroidery art to one of the other visitors.
We love to stitch in the lobby of:
Okura hotel (also nice garden terrace)
Ambassade hotel (old school luxery)
Krasnapolsky (at Dam square)
Hotel V (nice fireplace)
Hotel de Hallen (eclectic mix)
This is one of the quieter canals of Amsterdam. It runs from the Amstel River all the way to the Ruysdeelkade. In spring you will see blossoming flowers and little ducks making nests. On occasional winter days it is covered with snow and ice.
There are plenty of benches on both the Jozef Israelskade as the oppesite Amstelkade. Some are in the sun, others in the shadow. Most of them surrounded with bushes so you are out of the wind, all of them next to the water.
You will see many boats passing while you sit there as there is a boat rental company next to the Okura Hotel. And if you are as lucky as us, you might get a lift :-).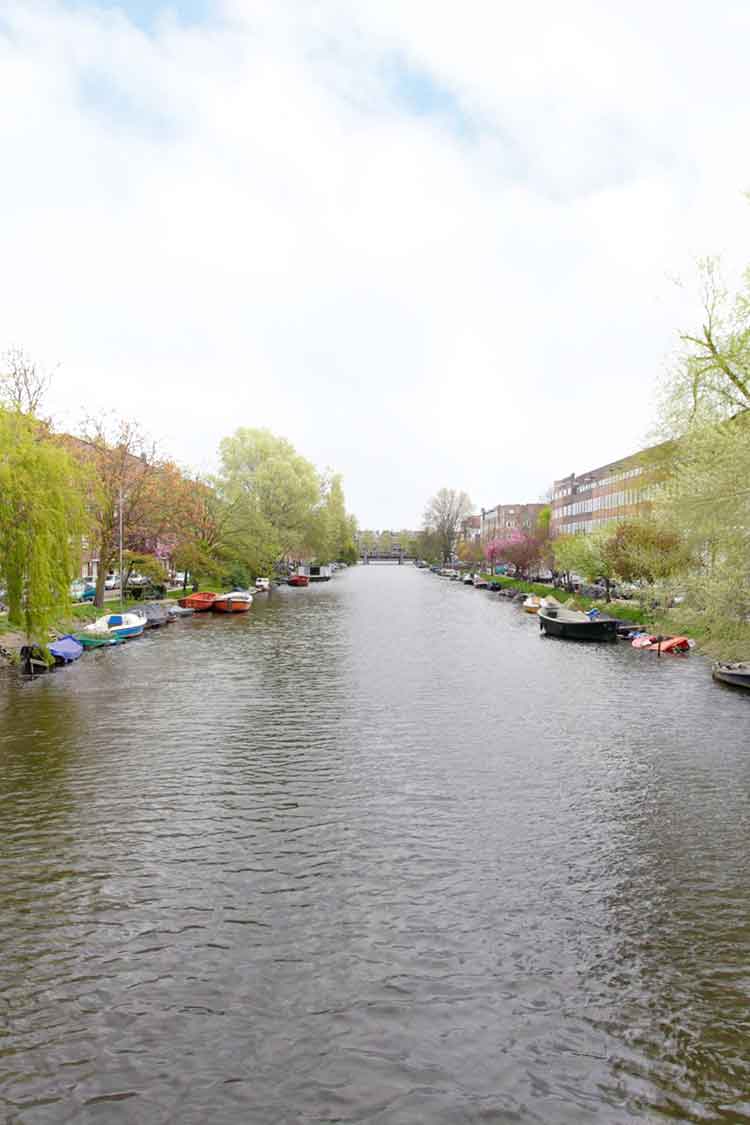 Inside a Coffee Company (for the price of 1 consumption)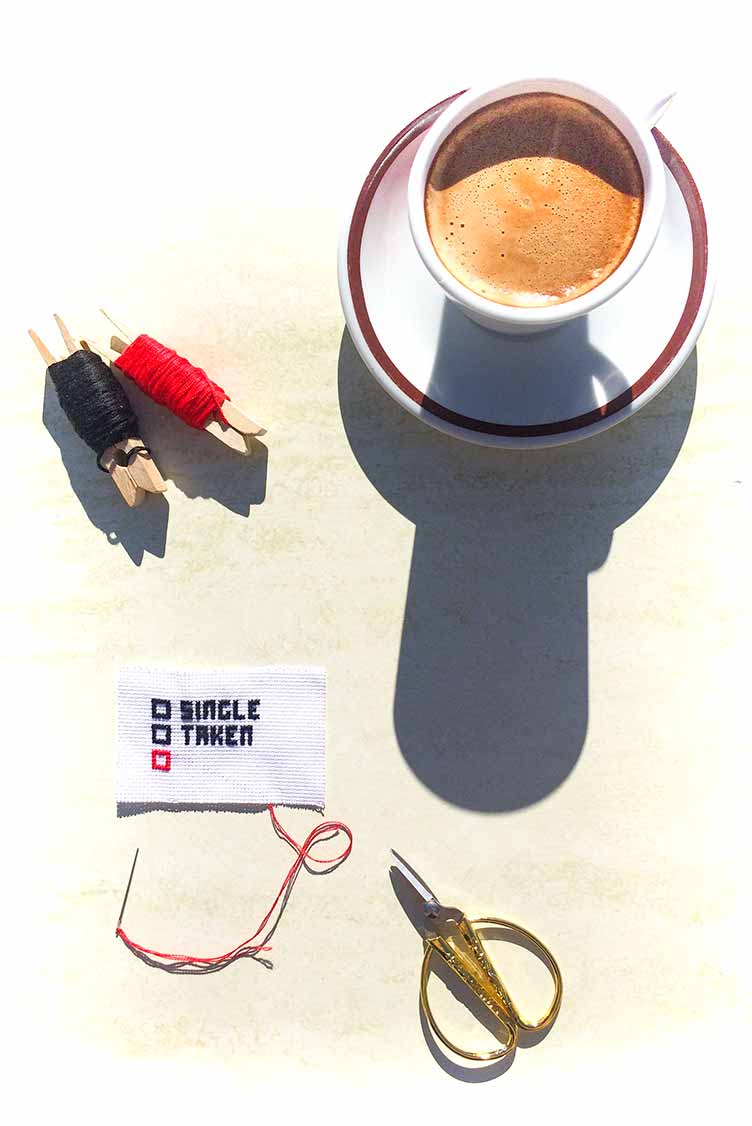 If you are looking for stitching while sipping from a good coffee, go to a CoffeeCompany. Apart from great coffee's they will have free water supplies and relativly clean toilets.
They are not very hidden, as you can find them in every neigbourhood. But they are great places to enjoy a quality coffee while reading a newspaper and stitching at the same time. Go for a 'strippenkaart' if you aim to go every day during your stay :-).
Be aware you can find many freelancers working on their laptops in CofeeCompanies. So if you don't want to see any laptop you can better opt for a "Vlaamse Broodhuis", "Brazuca" or "Bagels and Beans". All  those have great sandwiches as well.
And just to be clear. CoffeeCompanies are not Coffeeshops. Ok. When you cross stitch you like to know what you are doing ;-).
At the NSDM – Amsterdam North (free)
Take a free ferry from Amsterdam Central Station to NSDM and you enter a different world. This area is fast developing in hipster Paradise, where many old Industrial buildings became creative hotspots. You'll find inspiring art both outside as inside buildings.
Most days this is a quiet spot in Amsterdam where you can cross stitch away. But occasionally there are festivals and events that bring thousands of people to this side of the river. So check the website before you plan your visit.
One of those events is worth a visit though. Every month the biggest European flee market "ijhallen" is organised. This is a fantastic event to buy fashion to embroider on :-).
Take a peak in the NSDM loods where they used to build ships. In this Industrial setting youll find a fun mix of creative companies.
When you are in need for a drink, try the hippie Paradise "Pllek" or "Noorderlicht".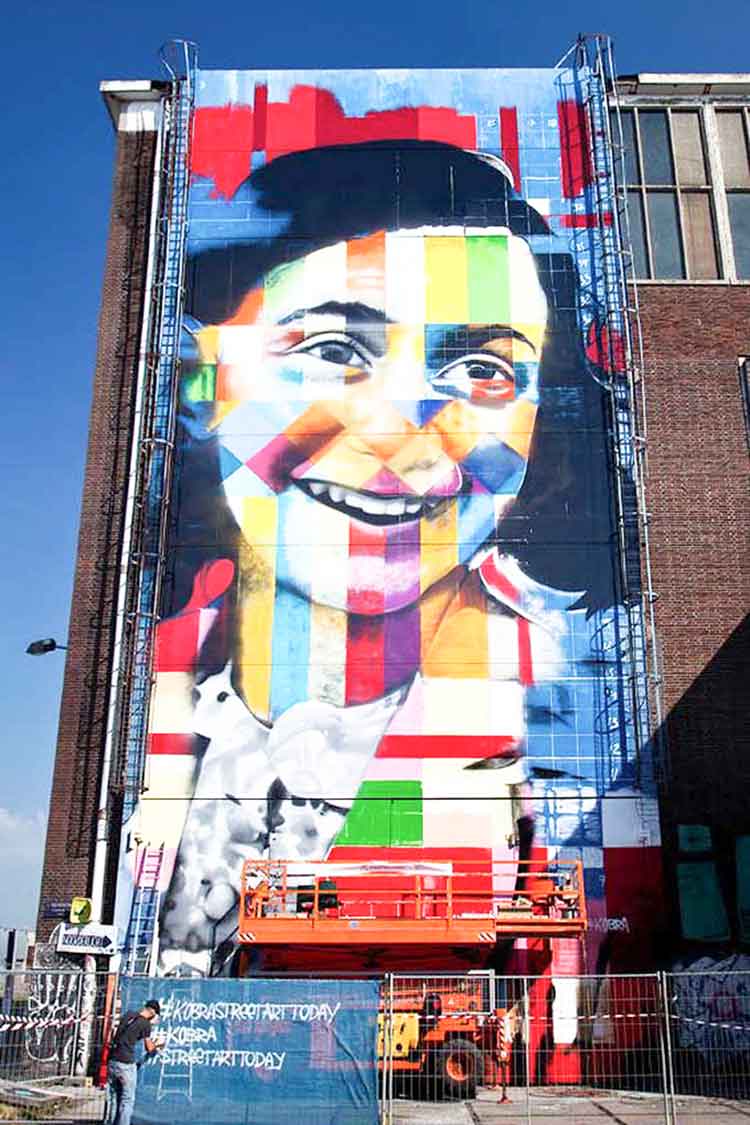 Kattenburg, Wittenburg & Oosterburg | The eastern islands (free)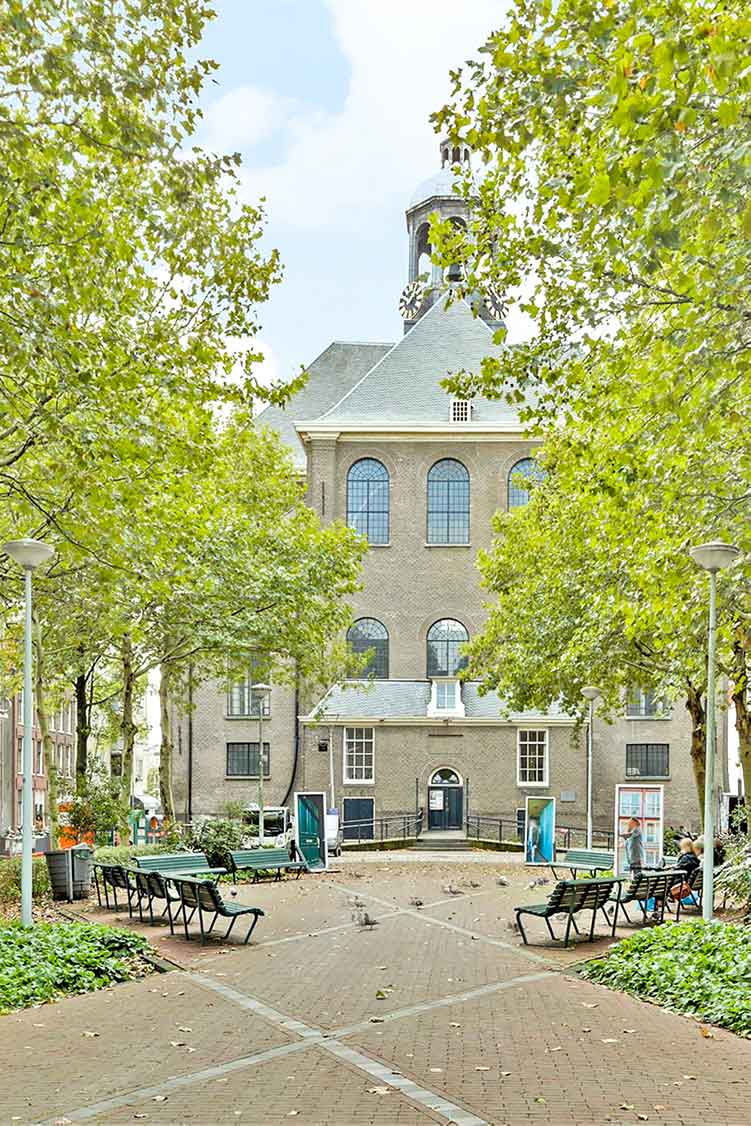 You will find very few tourists at the 3 eastern islands in Amsterdam. Still part of the centre, they are surrounded by smaller canals and have a funky combination of industrial buildings and modern homes.
You can find us cross stitching on one of the chairs in front of the Oosterkerk on. It's a lovely spot in the midst of real Amsterdam living. If you're lucky you might even join for a concert or an inspiring stand up theology session.
If you prefer an Industrial feel and a bit more buzz,  you can opt for a seat at cafe Roest on Oosterburg.
At the canals (boat rental)
Get lost at the Amsterdam's Canals hunting for your quiet spot. Rent a boat on one of the 364 days of the year when the canals are not frozen.
Ensure you go with a friend that can be your captain. You, of course, need your hands free to cross stitch ;-).
On the water you'll notice the world is a lot slower. Especially on warm spring and summer days it's such a tranquille way to spen your afternoon!
There are a few restuarants that cater to boats. At the Amstelhaven you can park your boat in the harbor and take a longer break. A fun place to stop is Pizzeria San Marco which is located in a bridge watchers house. It's tiny but you can order your pizza directly from the boat through the hatch.
Let us know. Do you have tips for other quiet places in Amsterdam where you can cross stitch?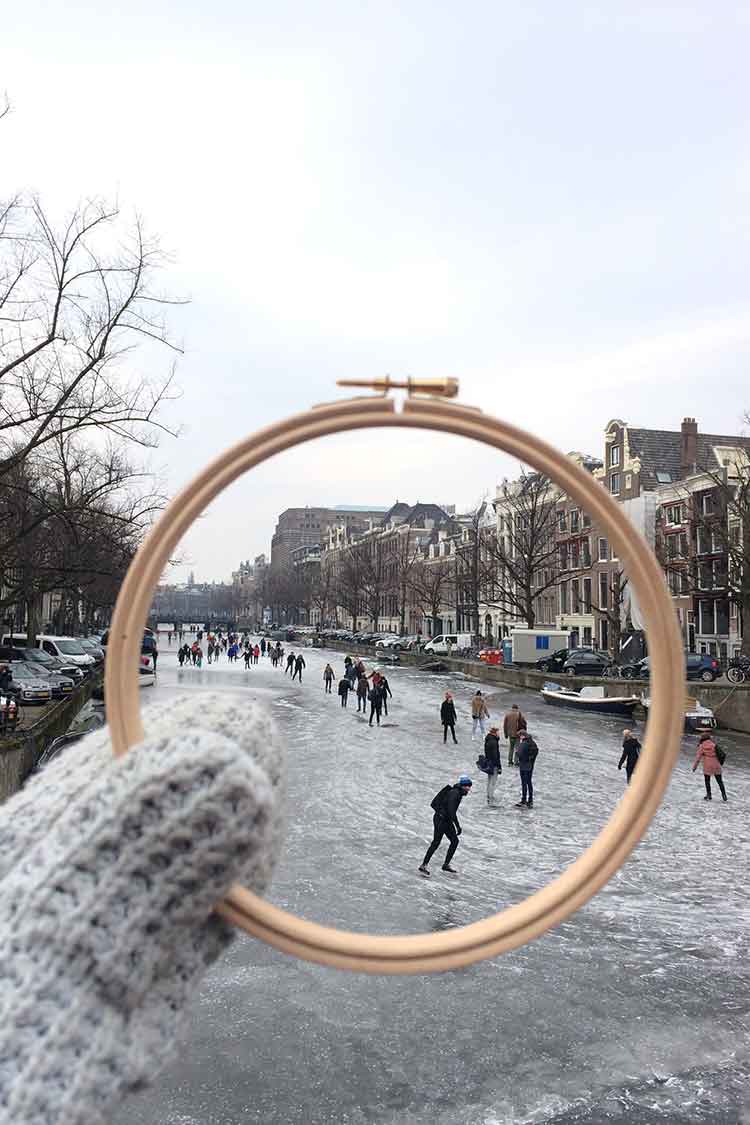 At the Beach (for the price of 1 hot choco)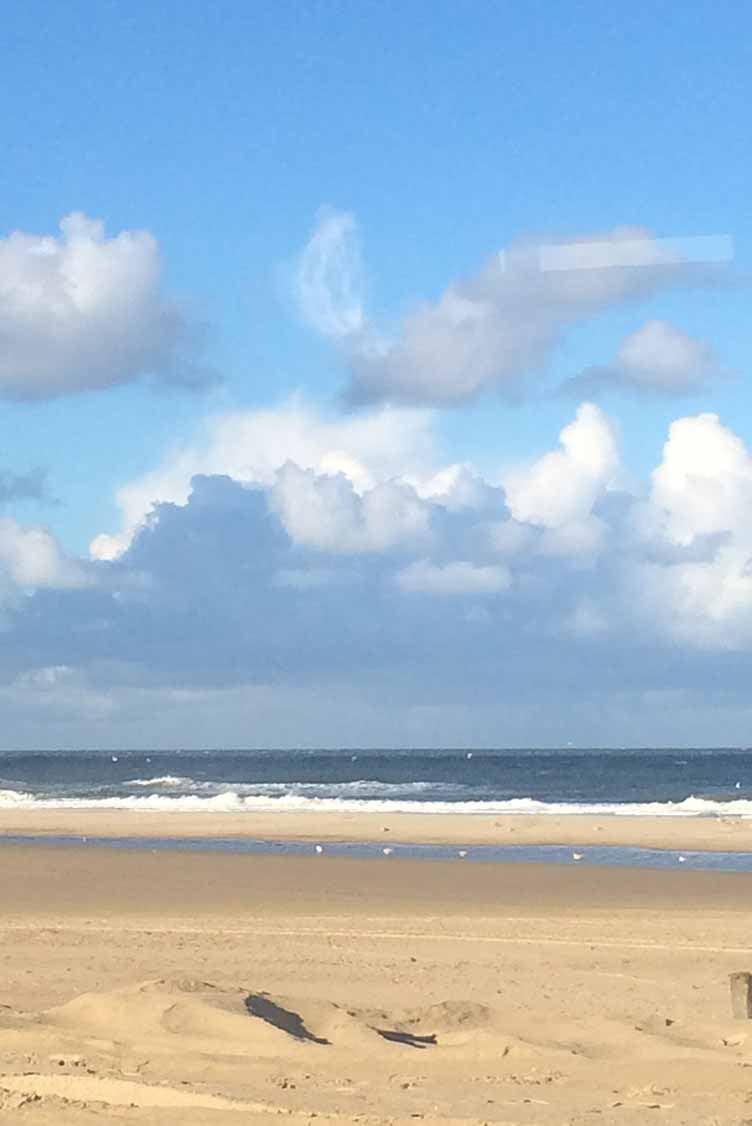 Ok. Zandvoort is not officially Amsterdam. But hey, they call themselves Amsterdam Beach, so we think it is only fair to list them here.
At the beach take a seat indoors one of the beach bars right on the beach. They typically have loads of windows. Hence lots of light to see your cross stitch projects. We love to go there when we stitch on dark fabrics.
Indoors you can enjoy splendit views, meanwhile your work is safe for the winds.
You can reach the beach by train from Amsterdam Central Station. And good news: with the upcoming Formule 1 races, there is a lot of investment to improve the accessibility of the place.
You'll find us sipping a hot chololate with whipped cream. Yummie!