Top quiet places in Madrid where you can cross stitch | Cross Stitch Travel Guide for Madrid
Madrid will impress you with all it's huge buildings. We love to stroll around in the centre looking up to all the pretty balconies and huge doors. But it can also be busy at times, and you might long for a quiet spot in Madrid where you can craft or read a book. In this blog we share our top quiet places in Madrid where you can cross stitch or relax.
Are you visiting Madrid by air? read our earlier blog about cross stitching in a plane!
New to cross stitch? You can find a step by step tutorial in this blog
Like to learn how to punch needle in the wild? find our instructions for beginners in this blog.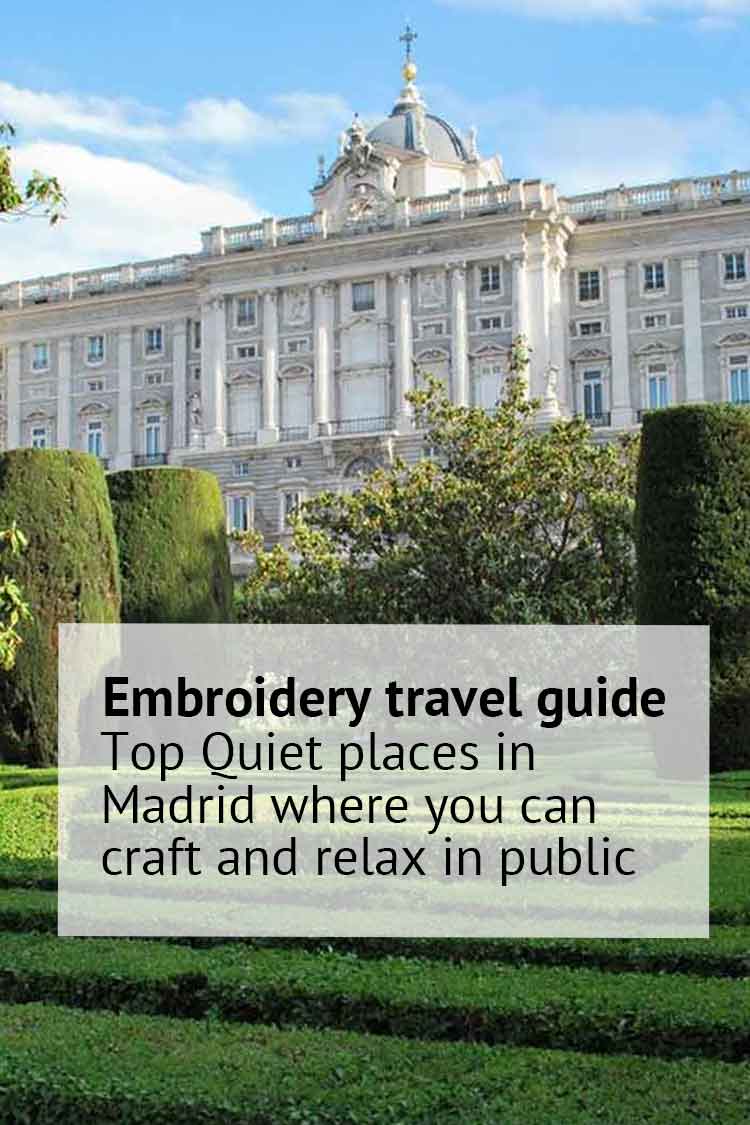 What is the best cross stitch pattern to stitch when visiting Madrid?
The Spain cross stitch map is our favourite souvenir to make when visiting Madrid. It's available as Cross stitch pattern, and you can also order a complete DIY kit.
As we have a map for every country of the world, you can stitch a souvenir for every country visited in the world! The maps are suitable for beginners, quick to stitch and easy to transport.
Scroll down to see more ideas for cross stitch patterns with a link to Madrid.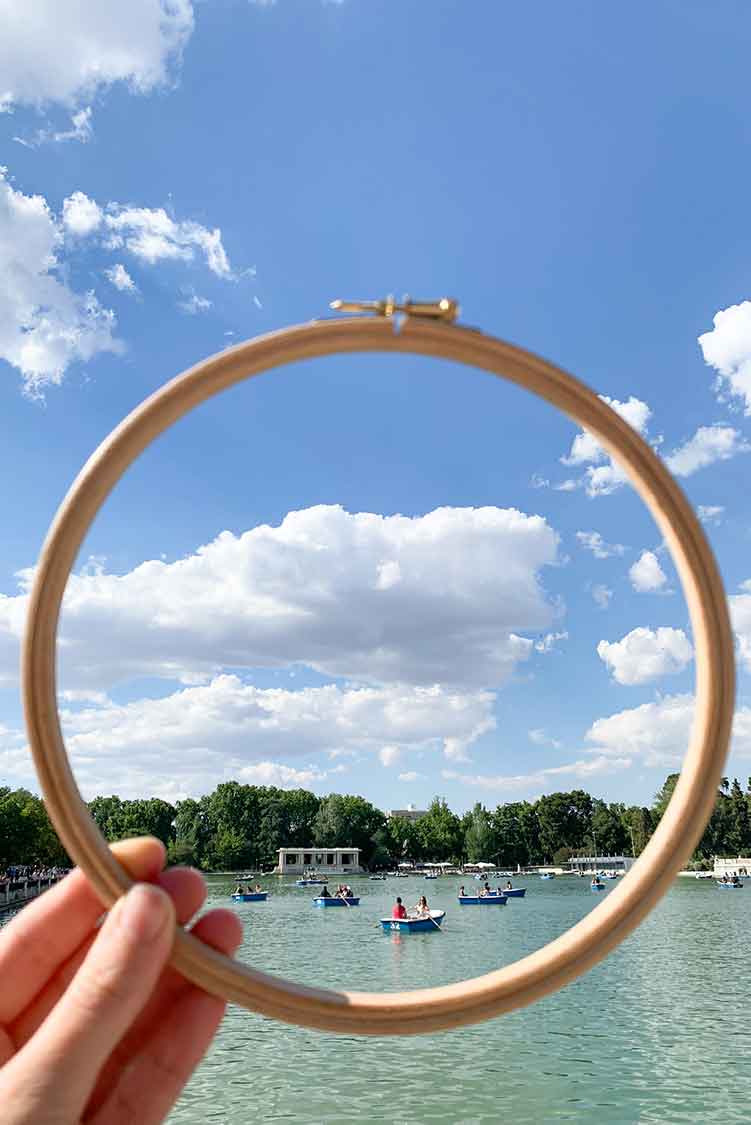 The Retiro park cannot be missed on a list of quiet spots to visit in Madrid. Having lived right next to the park (lucky me!), it is our favourite spot to cross stitch and relax in Madrid. We also made most of our punch needle projects sitting on benches or picnicking in this park.
The retiro park is big. Really big for a city park. It's is beautifully maintained and very diverse. There are crowded areas (from the boat lake towards the Puerta de Alcala), but also many quiet spots to discover. And if you are looking for some inspiration, you can find 3 free temporary art exhibitions centres in the park. They are open all year round.
We love to go during the week as it's less populated and you can fully enjoy the hidden gems in the park. A coffee is always nearby with ample terrases.
You can find us in the Jardines de Cecilio stitching on a quiet bench in front of the peacocks. This area is like a park in the park, being surrounded by extra fences and with slightly reduced opening hours. It's a symatric garden with pretty flowers and trees.
When we feel like a bit more buzz, we move to a bench in front of the Palacio de Cristal dreaming of organising a craft party inside the stunning Orangerie. And when its warm weather, we hunt for a bench in the shades of all the trees in the Jardines de los Plantelles.
One tip: If you are going for a picknick craft session: Watch out for the automatic sprinklers. We had a fun suprise mid summer when we enjoyed a late cross stitch session in the park ;-). The sprinklers were nicely hidden and suddenly popped out from the grass. Hi-la-ri-ous.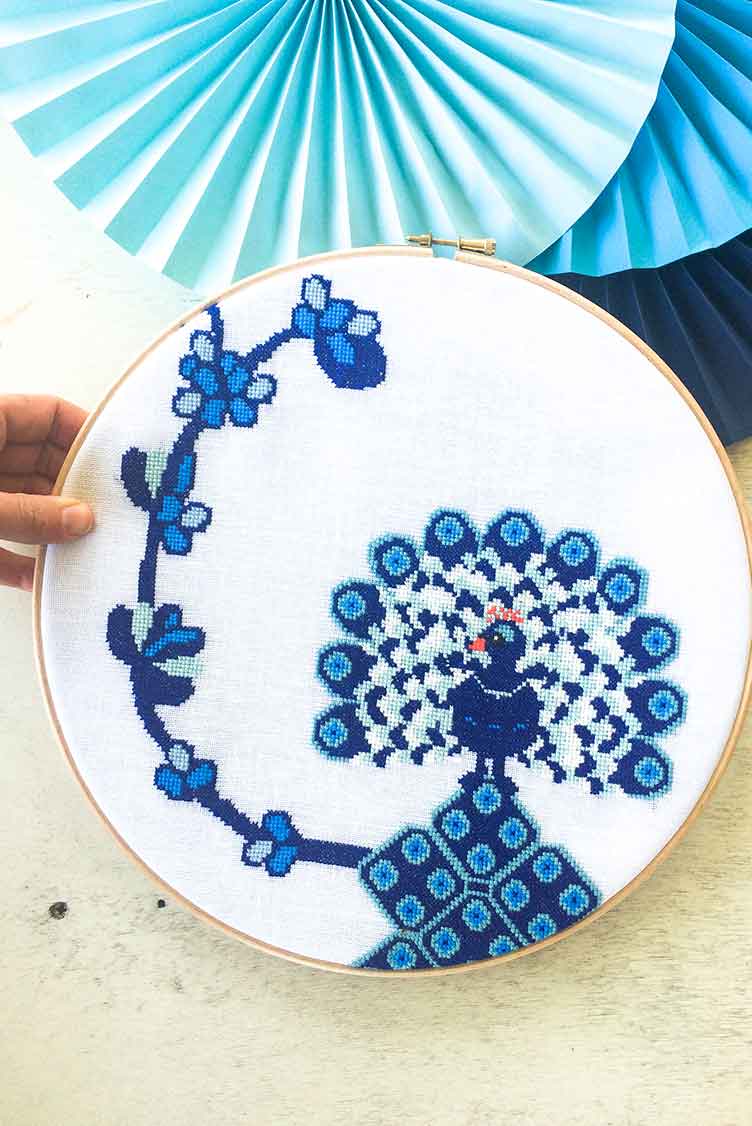 Peacock cross stitch pattern inspired by the Peacocks in the Retiro Park of Madrid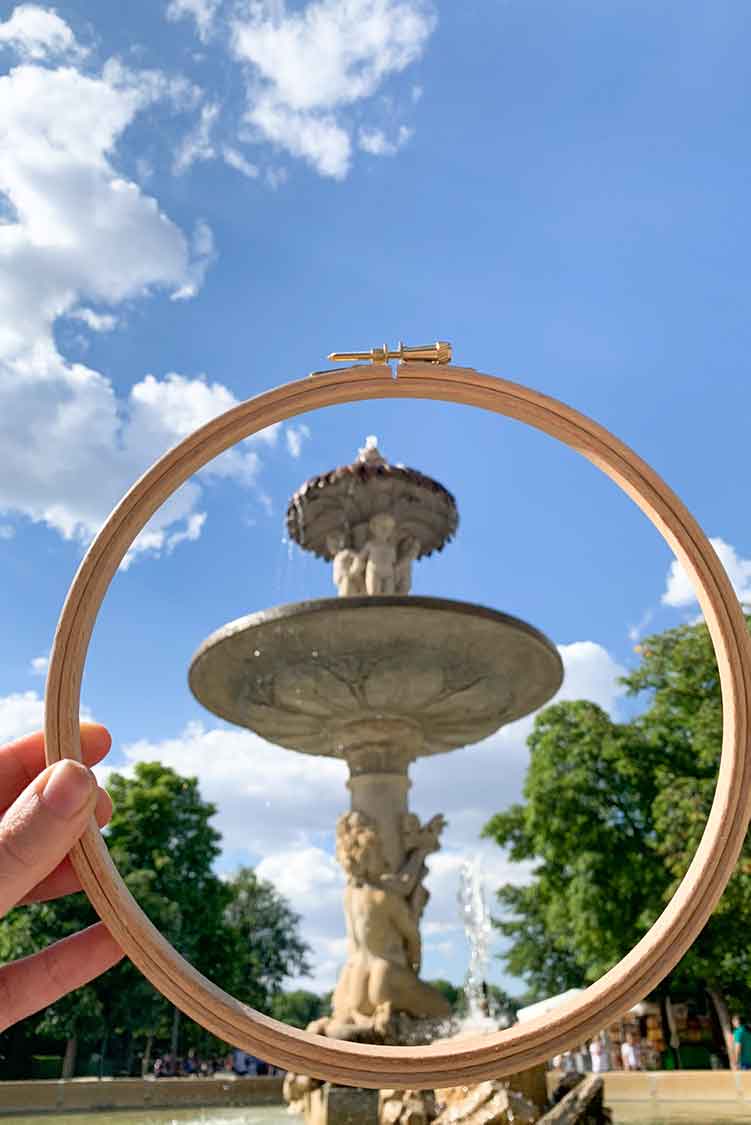 Parque de el Capricho (free)
One of the most beautifull parks in Madrid is the Parque de El Capricho. It was created in the 18th century by the Dutches of Osuna, in an area which was then outside the city of Madrid. It holds a lot of history. We love to wander in this park with stunning combination of formal and naturalistic gardens.
We love all the instagrammable eye-catchers like the Hermit's house, the lake and the maze. You can find English, French and Italian influences in the park. There are amble benches to sit down and enjoy a nice crafting session. And if you want to hide from the heat we recommend a visit to the bunkers!
It's only open on weekends. Make sure to come early as they may limit visits per day.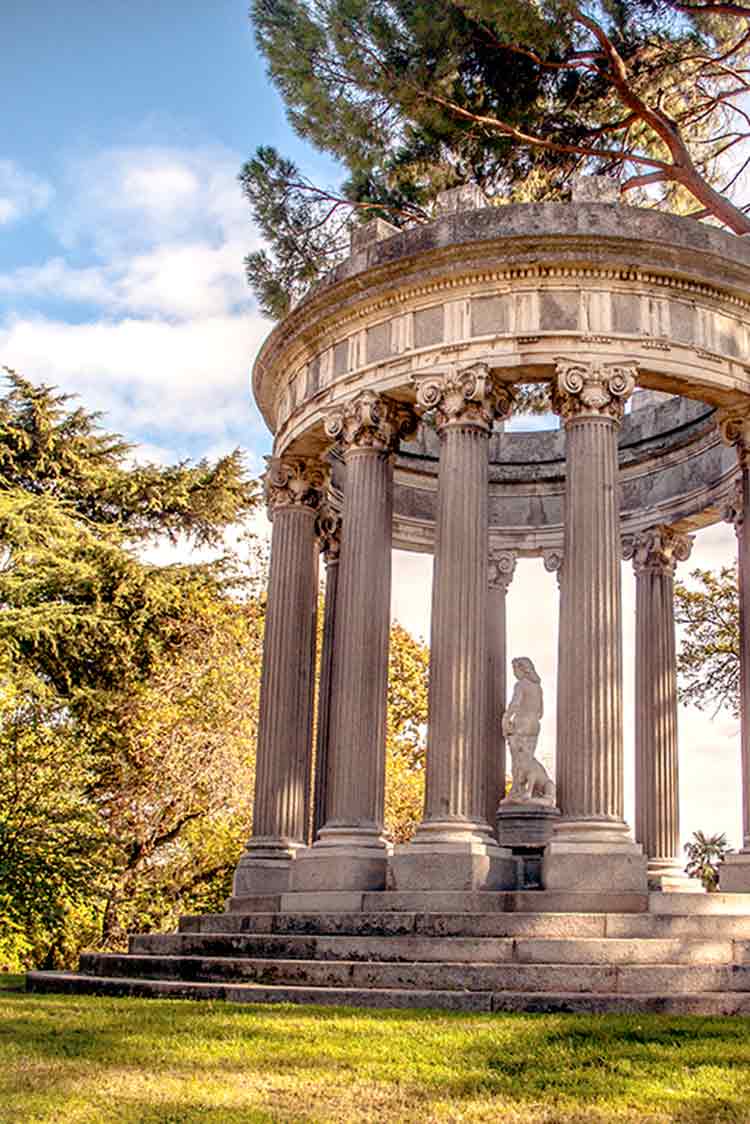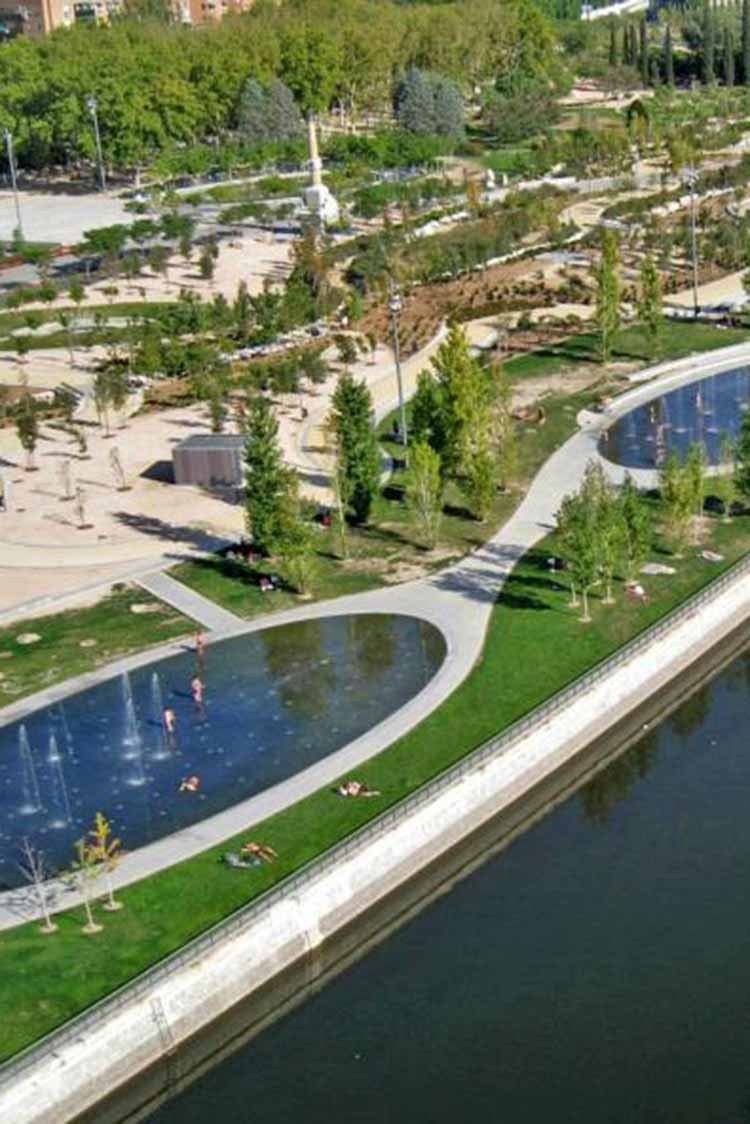 Being Dutch, we believe Sinterklaas comes on a steam boat from Madrid to the Netherlands every winter. At Madrid Río you'll find the only river in town and it is funny to imagine a boat full with Pieten embarking here.
Madrid did a great job in restructuring the area next to the river. There is a lot to do for athletic types including nice biking paths. There are also plenty of terraces that offer food and drink options where you can stitch away and enjoy the scene.
The space is also ideal for families, as children can make use of 17 different play areas featuring bridges, webs, hammocks, vines, and swings all created from sustainable materials. There's also a beach area for sunbathing, with various fountains in which to cool off when the weather is warm.
It's a relativly new park so the vegation is still growing. Mid day in summer in can get warm.
The perfect pattern to stitch in the Madrid Rio area?
If you have Dutch friends you may like to stitch Sinterklaas and Piet at the location where they embark on thier boat to the Netherlands. You can even add "regards from Madrid" to use the pattern as souvenir gift.
We sell a Sinterklaas and Piet design suitable for beginners:
Digital download cross stitch pattern here
Casa Corona (consumption)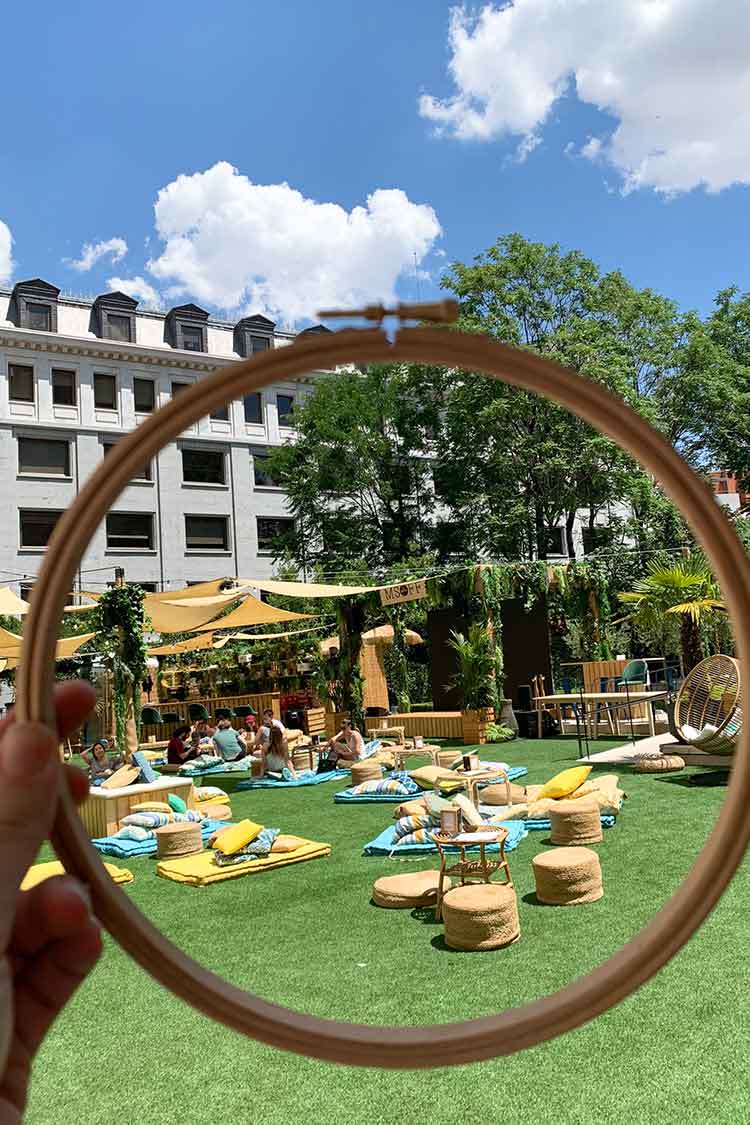 So you like to be in the trendiest place to cool down and stitch a bit? Visit Casa Corona during the day. It's a lovely place in a small indoor garden surrounded by historical buildings.
During weekdays and outside peak times, this place can be very quiet and the chairs extremely relaxing. Do check the agenda to see what's organised before you go. Concerts and joga classes are very nice, but also typically very busy. You might be too distracted by all the live music that you will forget to stitch ;-).
This place is especially suitable for young cross stitchers (at heart). Of course the best drink to order here: a fresh Corona :-).
You will find Casa Carona at Calle del Marqués de Casa Riera 1
Jardin de Príncipe de Anglona's | Plaza de la Paja (free)
Hidden away in a forgotten corner of Plaza de la Paja you can find this hidden garden. It's a lovely quiet spot in the Latina neigbourhood.
As the garden is surrounded by a brick wall it's easy to miss it. This is the garden where Principe Anglona loved to stroll when he lived in the adjacent palace back in the 19th century. There is a small stone fountain in the centre of the enclosure and the pergola has stunning roses in spring summer period.
Large trees provide shade. And since it is on a bit of a hill, you can get beautiful views of the surrounding neighbourhood.
It is a small park, but if you are as lucky as us, you might find a bench for yourself!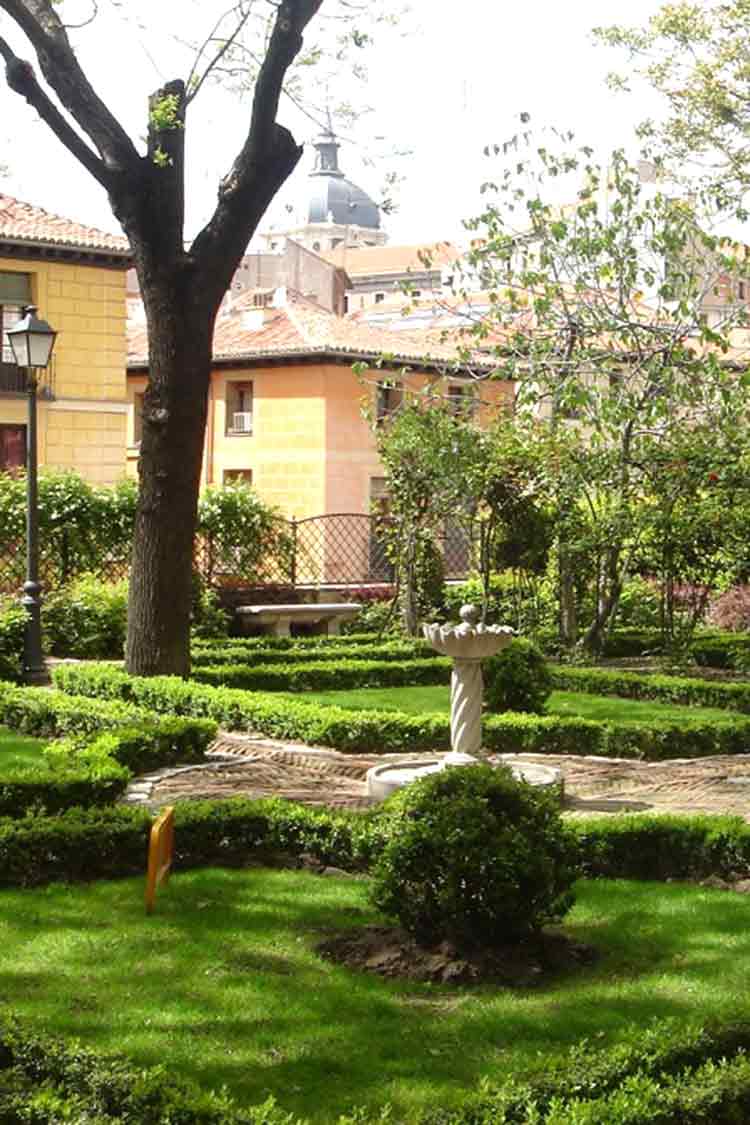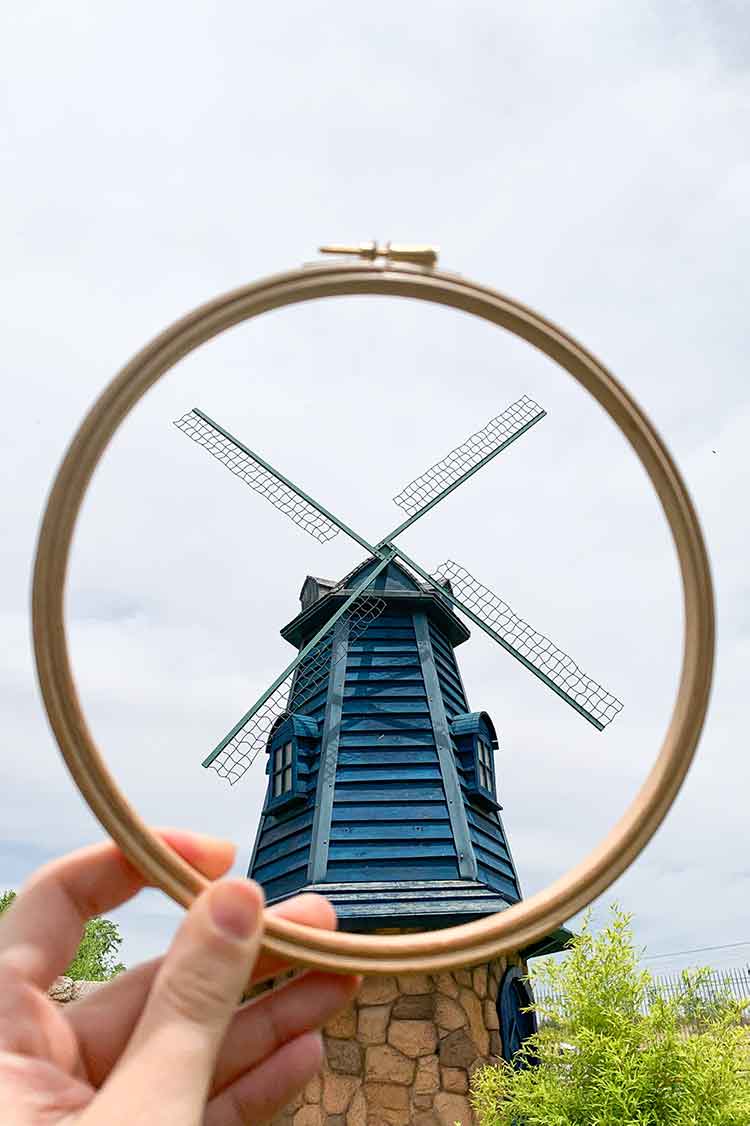 The Parque Europa is one of the most suprising parques in Madrid province, especially since it is free! It offers a tour of Europe without leaving Spain. You will find 18 giant replicas of European monuments including the Eiffel Tower, Trevi Fountain the Tower Bridge. Great parque to visit if you need some inspiration.
We love to stitch on a bench next to the Dutch windmill :-).
The parque is great to visit with kids, so it might not be the quitest place in Madrid. But there are plenty of benches and they all have great views. And did we already mention it is free?
What better place to stitch our travel ornament cross stitch patterns.
You can find the parque in Ronda Sur, Torrejón de Ardoz.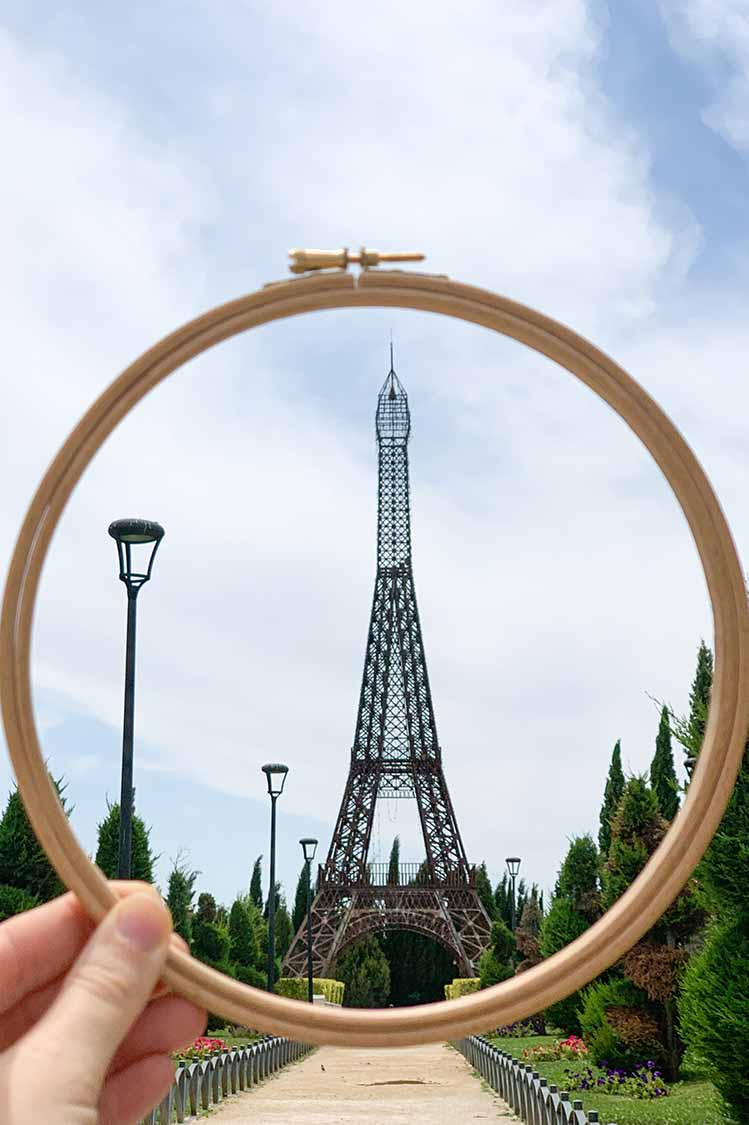 Cafe Mür is your place to go if you like to be served while crafting! You"ll find fun drinks and yummy food. On cold days you can cozy up next to the fireplace and on sunny days they have a lovely terrace outside.
Sit on the couch and cross stitch away or finish a knitting project at the well lit table by the window. Either way you'll feel comfortable.
You'll find the cafe close to the Plaza España at Plaza Cristino Martos 2.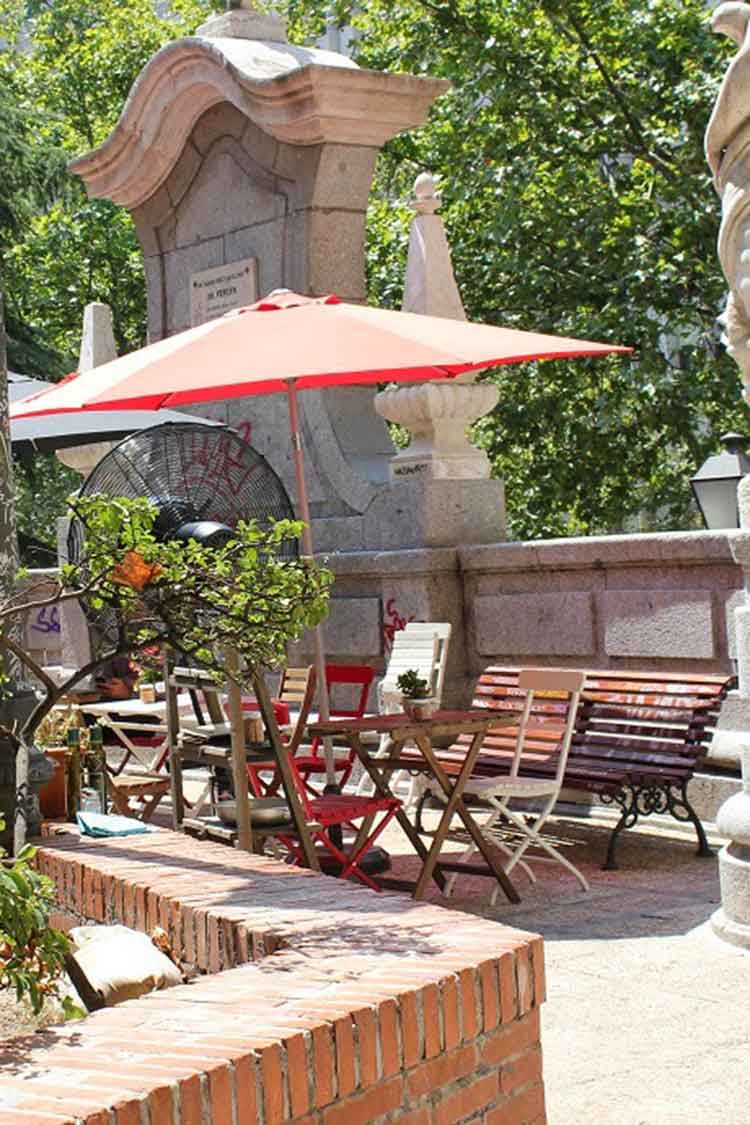 Parque Dalieda de San Fransisco (free)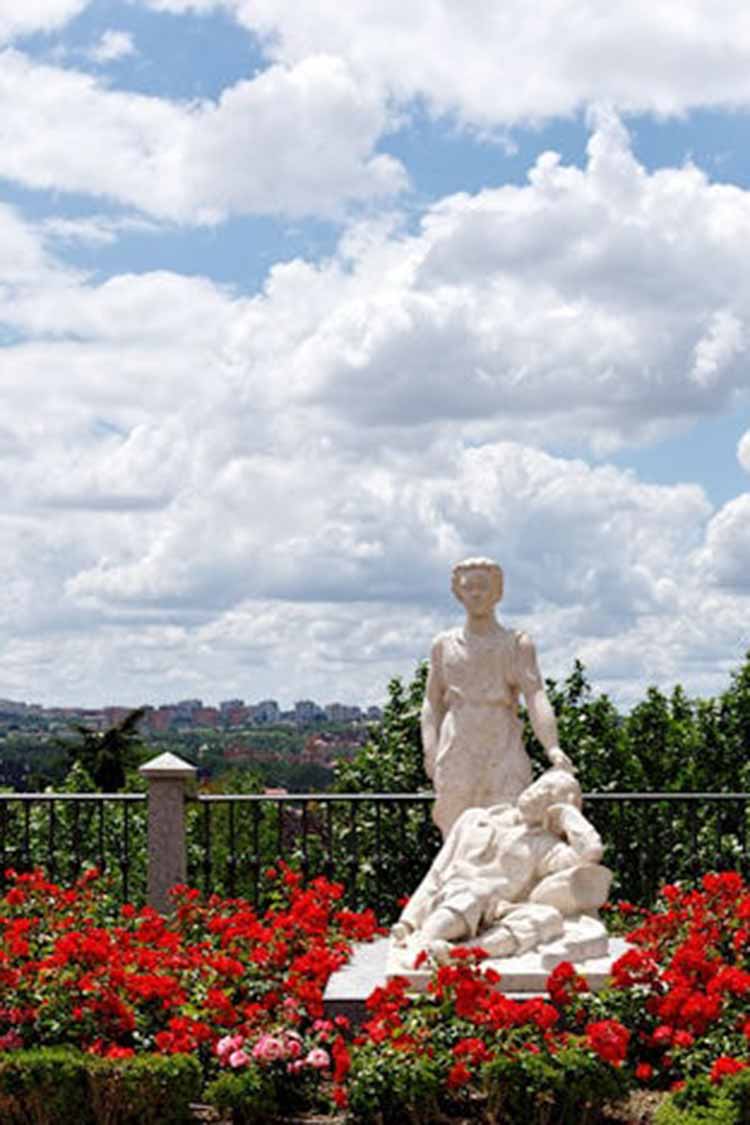 In this small park  you can find a bench with a beautiful viewpoint. It is no doubt one of the quietest places in Madrid to enjoy a stunning sunset! We love to go when there are a few clouds in the sky. It just makes the sunset even prettier.
Really it's so pretty you wish you could just camp out there.
You can find the park next to the Real Basílica de San Francisco el Grande. It has several beds of dahlias, if you are lucky they are blooming.
Botanical gardens (entrance fee)
The Botanical Gardens of Madrid are centrally located next to the Prado Museum. With 30,000 plants and 1,500 trees it's a source of inspiration for nature loving designers. The garden is very well structured and everything is labeled.
It is  a 8 hectares botanical oases in the heart of the city. Perfect to combine with a visit to the Prado or Reina Sofia museum.
The summer heat in Madrid makes the tropical plants thrive, so there 's a lot of green to see :-).
The cafeteria is a bit pricy, but a simple coffee is never too expensive in Madrid.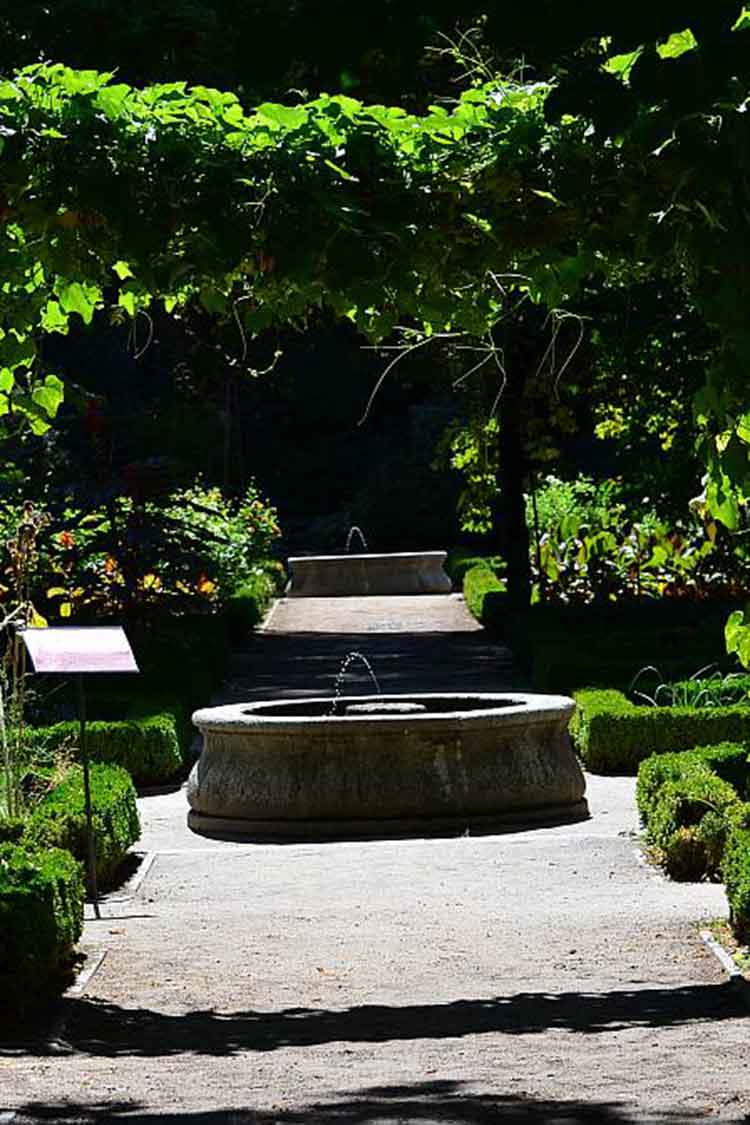 Parque de la Fuente del Berro (free)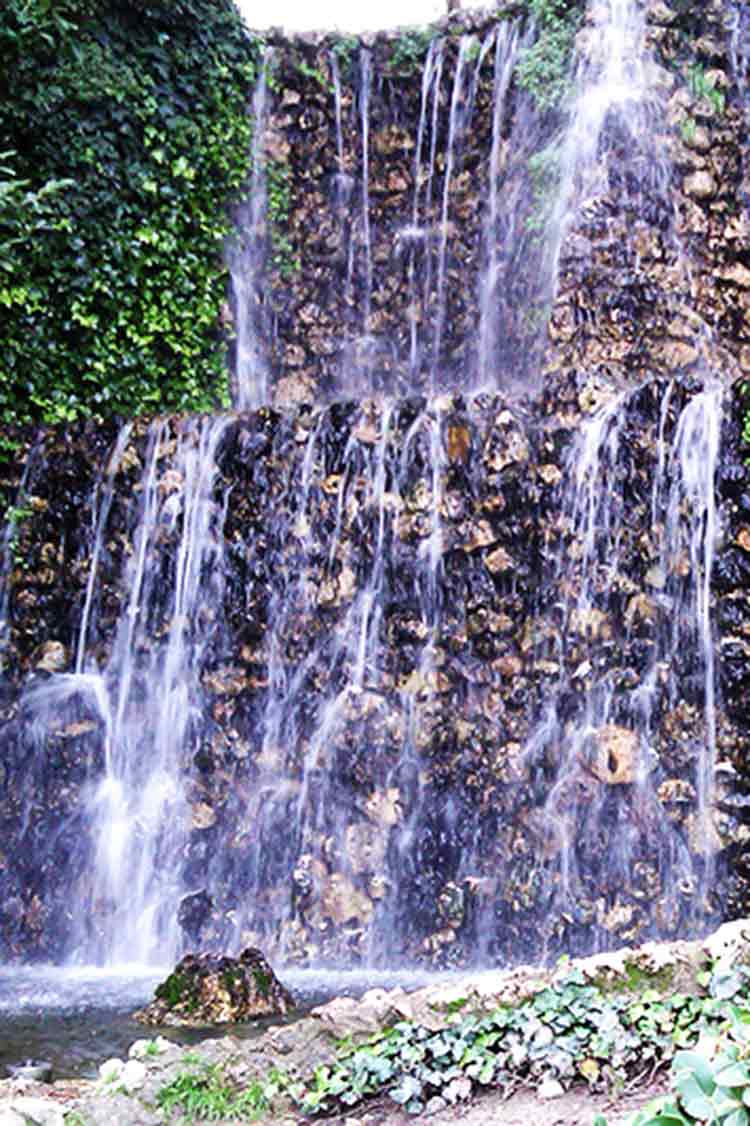 While the origins of this green space date back to 1630, it wasn't until 1954 that this park became available for the general public to enjoy. It's a lovely park full of romatic fountains and carefully carved statues.
The park is quietly hidden away in a residential neigborhood of Madrid and a perfect spot for a quiet crafting session out in the open.
Don't forget to pay a visit to the waterfall. It's a lovely humid spot to enjoy when you get impacted by the dry air of Madrid.
Cafe El Jardín in the Garden of Museo del Romantícísmo (entrance)
Hidden away from the street, you can find this garden café inside the Museo del Romanticismo. It's a small cafeteria thea-room with lovely spots to sit down and relax. They serve yummy home-made cakes, pastries and good coffees. The perfect to combine an embroidery session with breakfast or a snack.
In the small garden you can find shady spots where you can sit for hours enjoying the birds singing while sipping your favourite drink.
And while you are there, take the oppertunity to visit this museum. It houses a lovely collection of more than 1,600 pieces, including furniture, paintings, crockery, pianos, and more.
You can find the garden cafe at Calle San Mateo 13.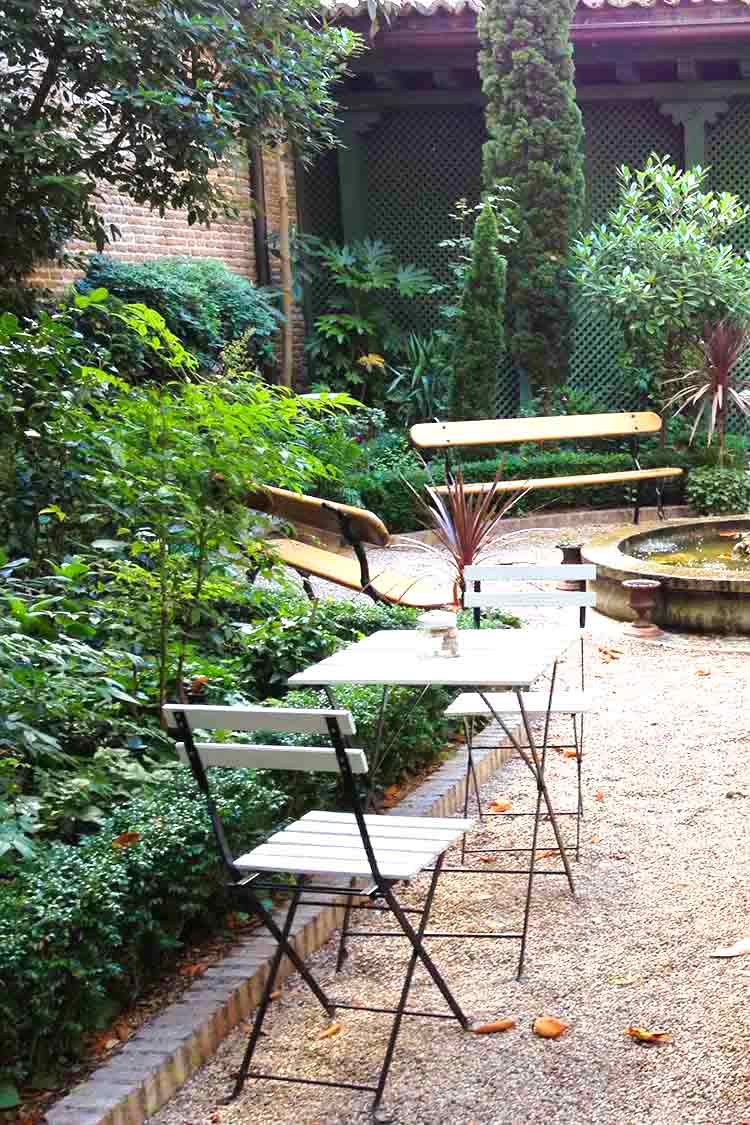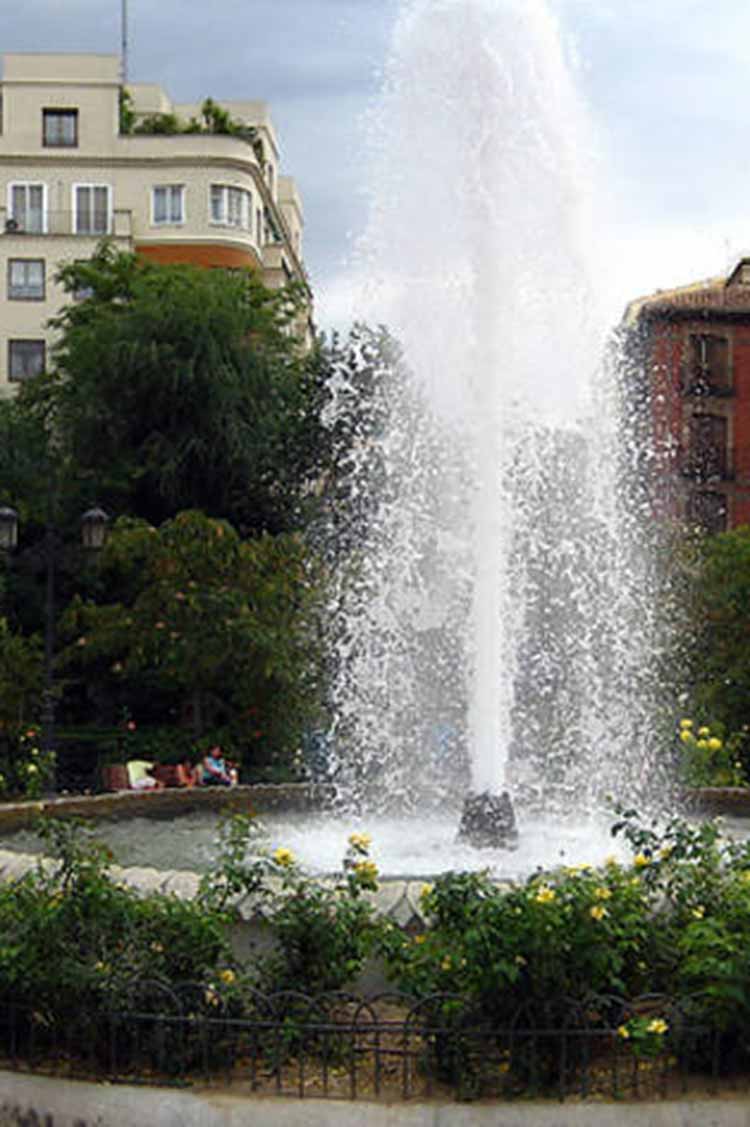 One of our favourite squares in Madrid. Quiet during the day, and buzzling with locals at night. Lots of terrazzes, a playground for the kids and good food. This parque lays in the midst of a residential neigbourhood there is always a relaxing spot at this round square.
Like to learn more about the history of this bar? Step inside Bar Méntrida at No 3 to have a drink and admire the photos on the wall. Fun to know that until the 1970's there used to be a covered market on this square.
You can find us outside, either on one of the many tapas terrazes (for us a tinto de verano!) or on a bench close to the fountain.
La Ciudad Invisible (consumption)
La Ciudad Invisible is a unique, multi-space location that is fit for people of all ages. With a cafe, bar, art space and book shop, this is a great place in Madrid to finish your embroidery project!
It a's great place to spend your afternoon hiding from the rain in winter or burning sun in summer. They serve fair trade coffee, food and – even better – cocktails!
The place itself is quite large for being in the centre of town. So you might even ask them if you can host a craft party there.
You can find Cuidad Invisible at Costanilla de los Ángeles 7. Walking distance from Sol, Opera or Gran Via.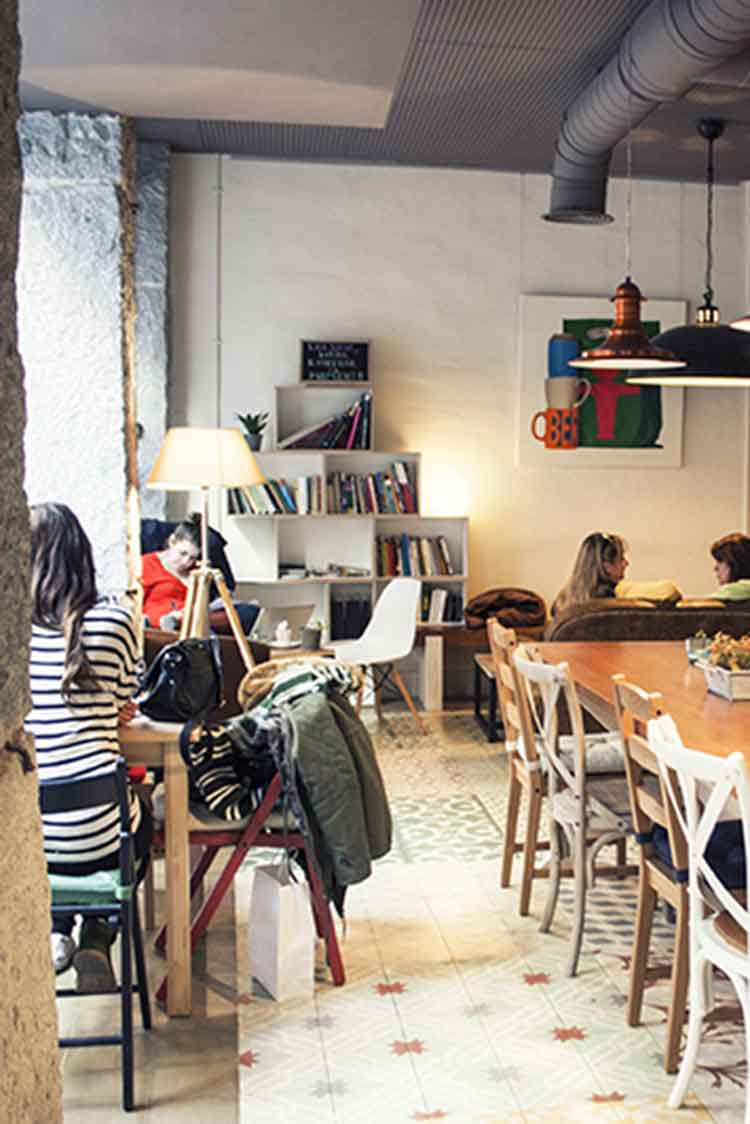 Jardines de Sabatini (free)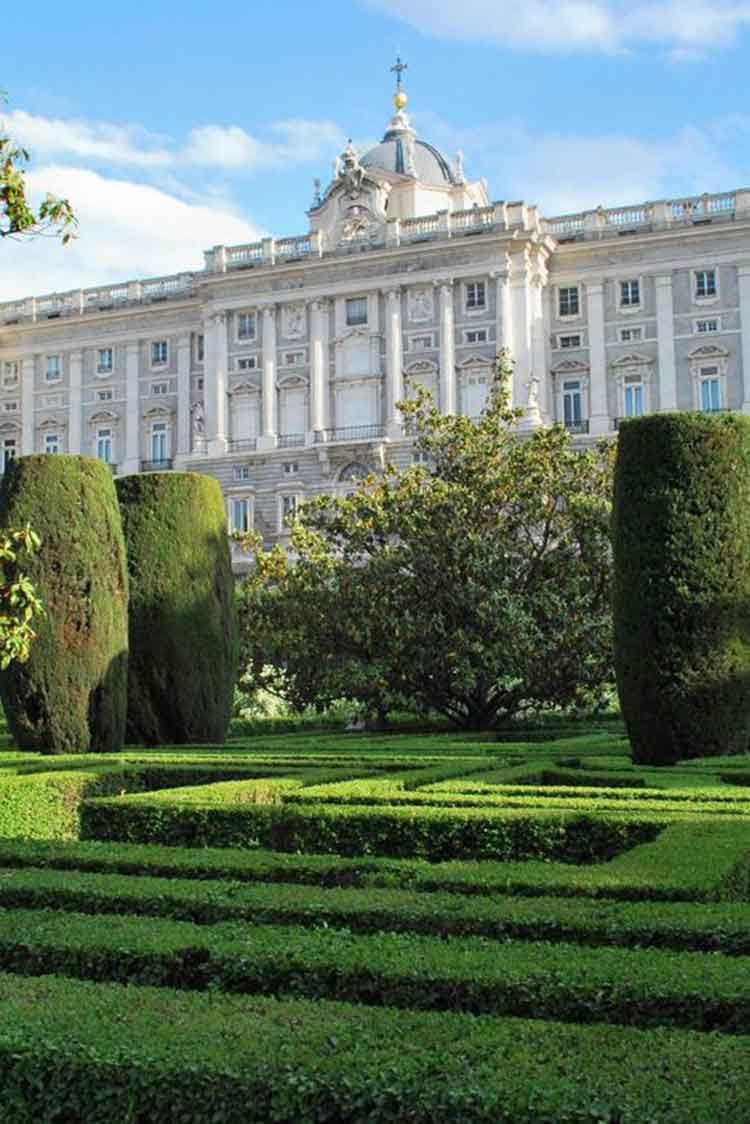 Next to the Palacio Real you can find a beautifully maintained park. This Neoclassical gardens are frequently trimmed and really look like an extension of the Palace.
You can find a few fountains – yes, we're still in Spain 🙂 – and quiet benches  to sit down and embroider away for a few hours.
Too lazy to go down the stairs to the park? Stay in front of the Palace near the big fountain. There's a little park as well and although not as quiet there are plenty of benches to relax.
You may notice that the park's sculptures are not as detailed as you may expect. They were actually designed to be placed on top of the royal Palace. But once finished they were deemed too heavy. Now you'll find all those sculptures in parks all over Spain.