How to wash your cross stitch project | Taking care of your completed cross stitch work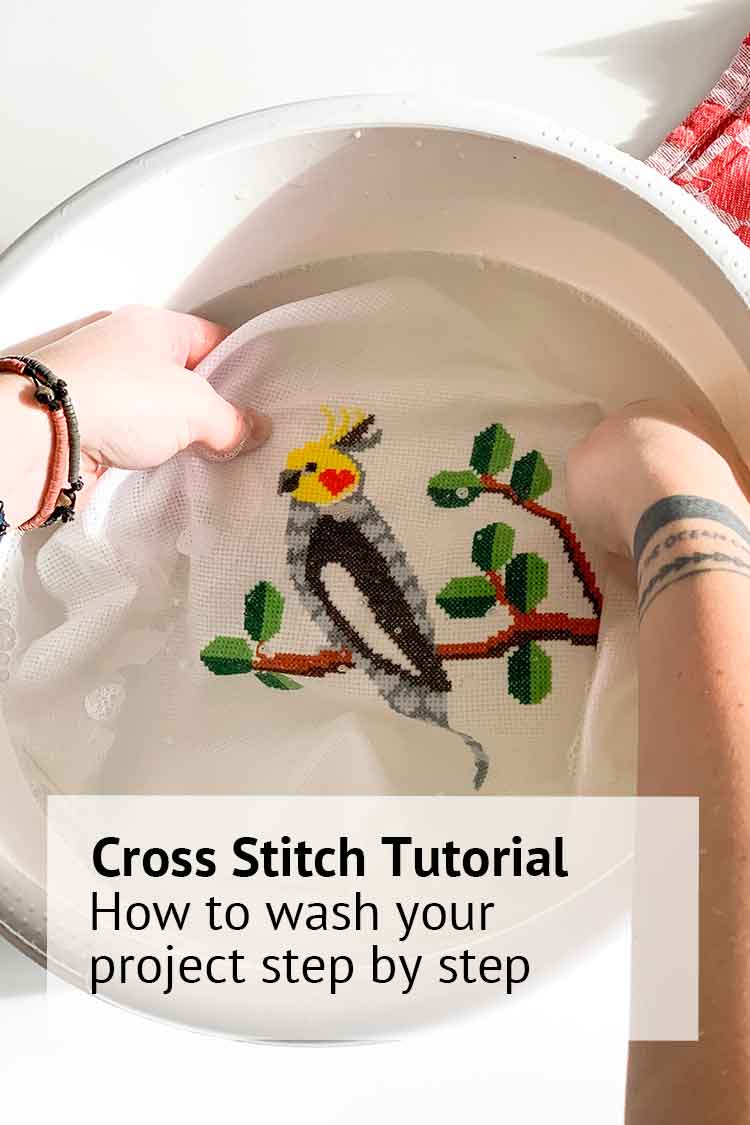 What materials do you need to wash your cross stitched fabric?
Gleefully, you do not need a lot of special tools to wash your cross stitch project. You will probably already have all the following at home:
Mild soap or dish washing soap. Ensure it's a mild soap. In doubt, use dish washing soap. Aggressive soaps may darm your floss or fabric.
A bucket to soak your fabric in some water.
A soft tooth brush to use in case of stains.
A set of clean kitchen towels to remove excess water from your washed fabric.
Steam iron if you do not own a steam iron you can also use a wet kitchen towel.
Ironing board to make your ironing efforts easier.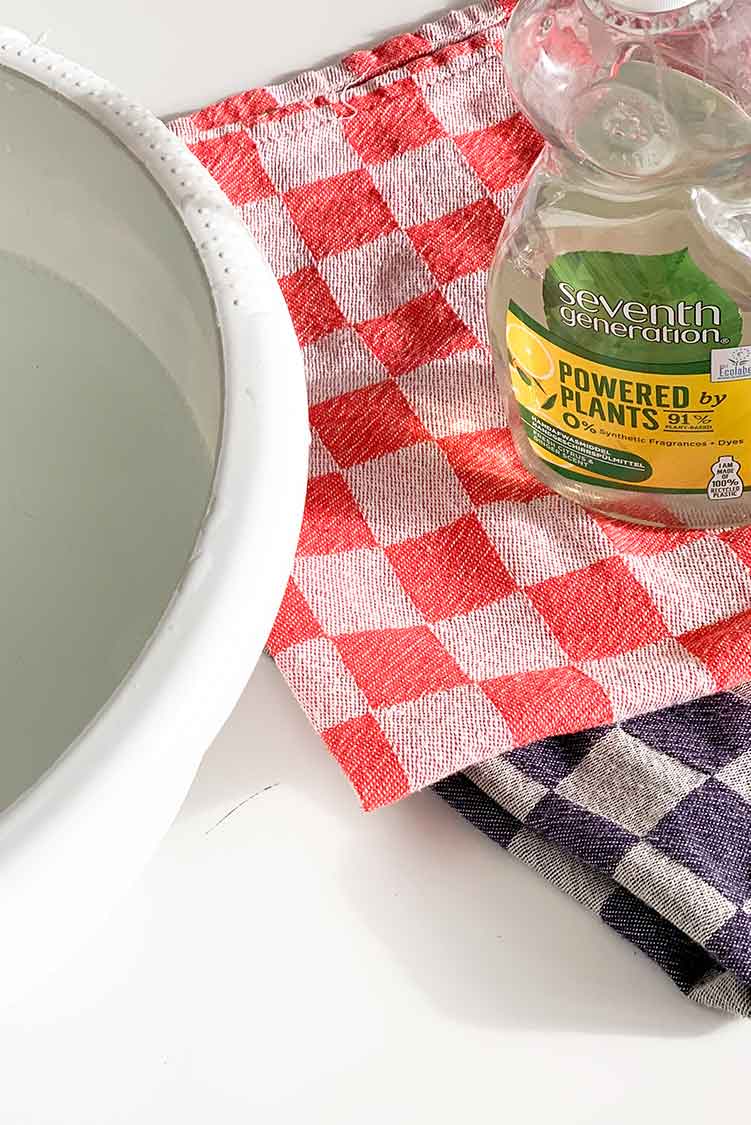 Precaution check for color fastness
Is your piece color fast? What floss was used to make your piece?
Before doing anything, you must check the fibers for colorfastness to prevent dyes from running. Testing is simple:
For large cross stitch piece you can use a wet piece of white cloth. For smaller areas you can use a wet cotton swab. Gently rub the cloth or swab over the different colors of your piece.
If there is any color transfer to the white cloth or swab, don't wash your piece at all!
Washing will result in discoloration and fading.
We use DMC floss in our embroidery kits. DMC mouline is washable and keeps color very well. You can even wash it in the machine. Be wary of naturally dyed flosses. They look pretty but are often not washable! Most cheaper brands also loose color over time.
How to wash your cross stitched fabric
Before you start rinsing your cross stitch work, check its status. Especially when you wash it after use.
Are all the threads secured behind a few threads? You want to prevent that stitches come loose once you wash your piece. Secure any loose ends behind a few threads.
Are there any stains? Do you know what they are?
1. Rinse your completed cross stitch piece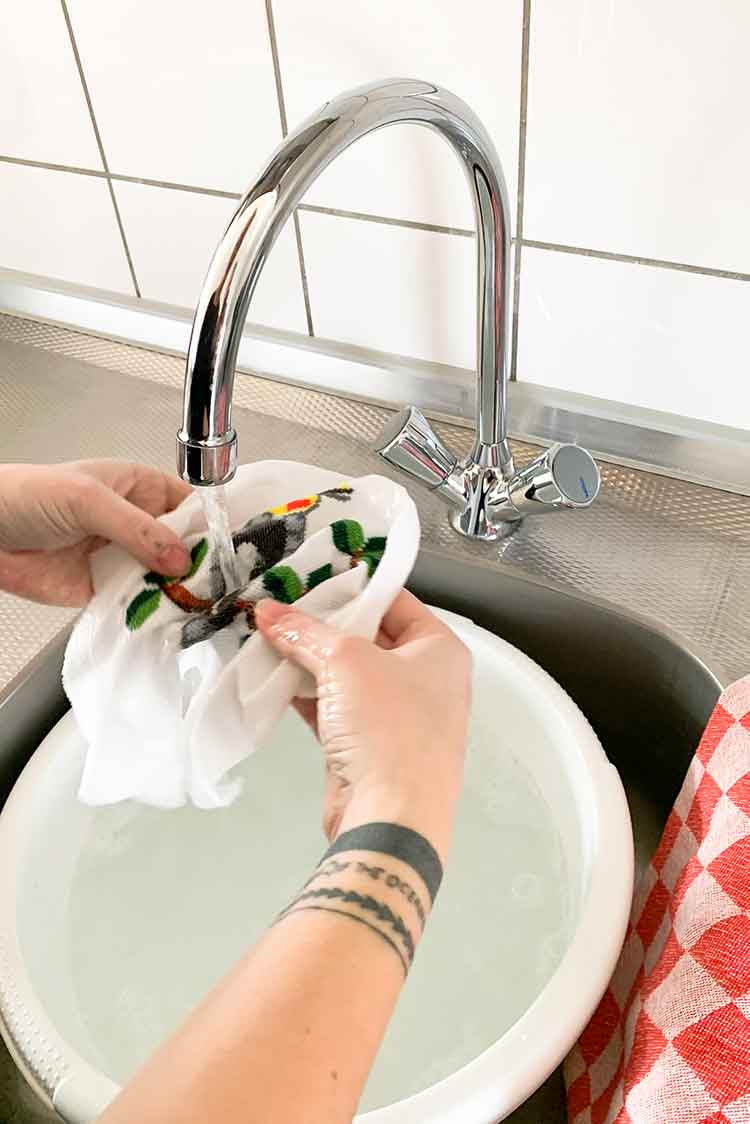 Open your cold water tap and keep the water running. Rinse your cross stitched fabric in the running water.
2. Soak your completed cross stitch piece
Fill a bucket or container with lukewarm water. Ensure your water is not hot. It should be 'room temperature'. Add a few drops of mild soap.
Add the fabric to your soapy water and let it soak for 15-60 minutes. If you notice a stain, you can try rubbing gently with a soft toothbrush. Do not scrub or wring as it might damage your embroidery.
3. Rinse clean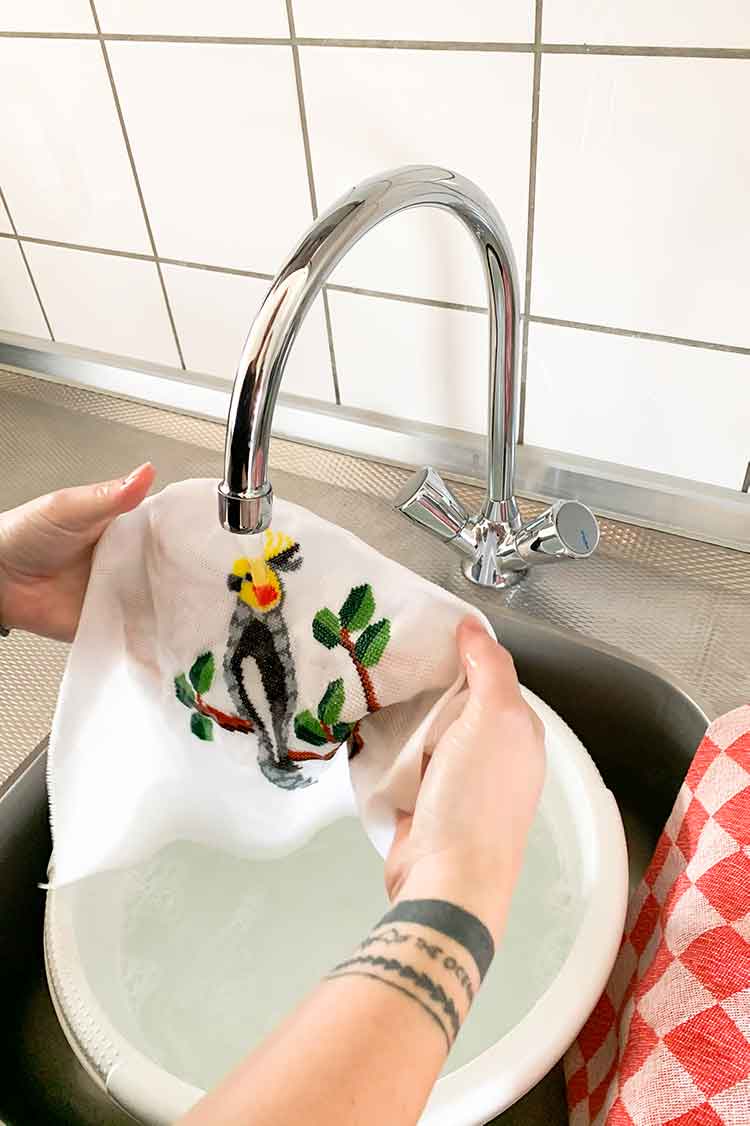 Take your piece out from the bucket and rinse with cold water until it is free of soap.
4. Remove the excess water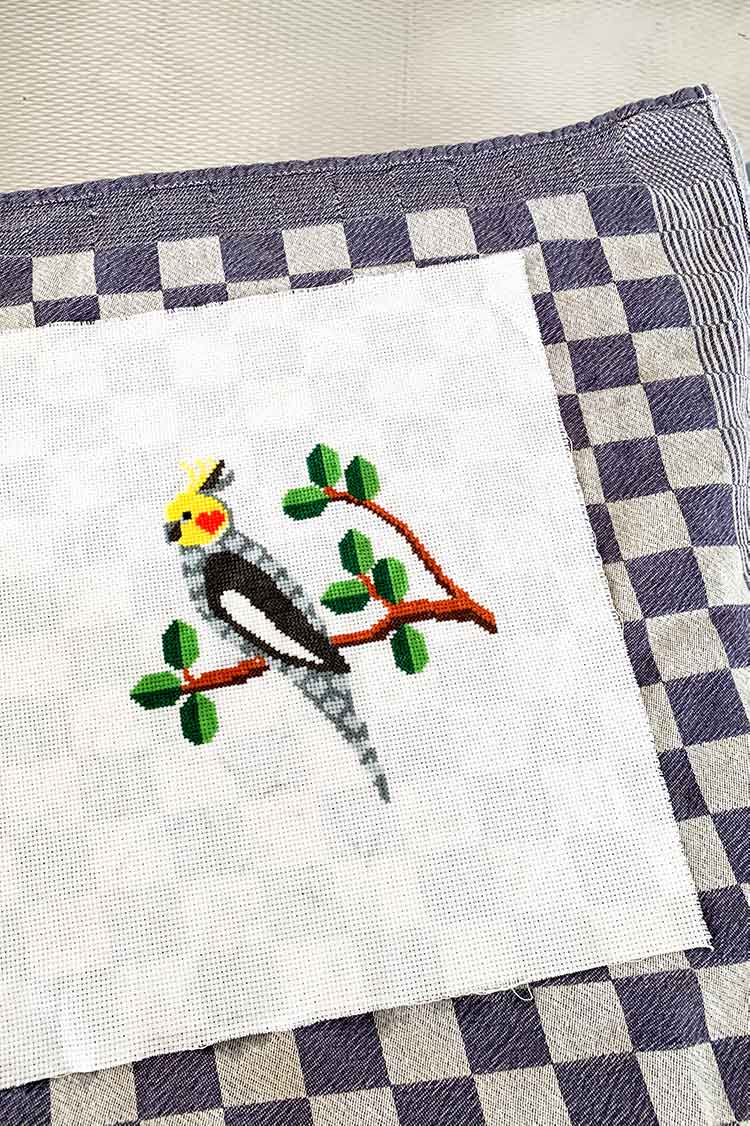 Do not wring your fabric. If you wring your fabric you might create new wrinkles and damage your work.
Instead, lay your fabric on a towel.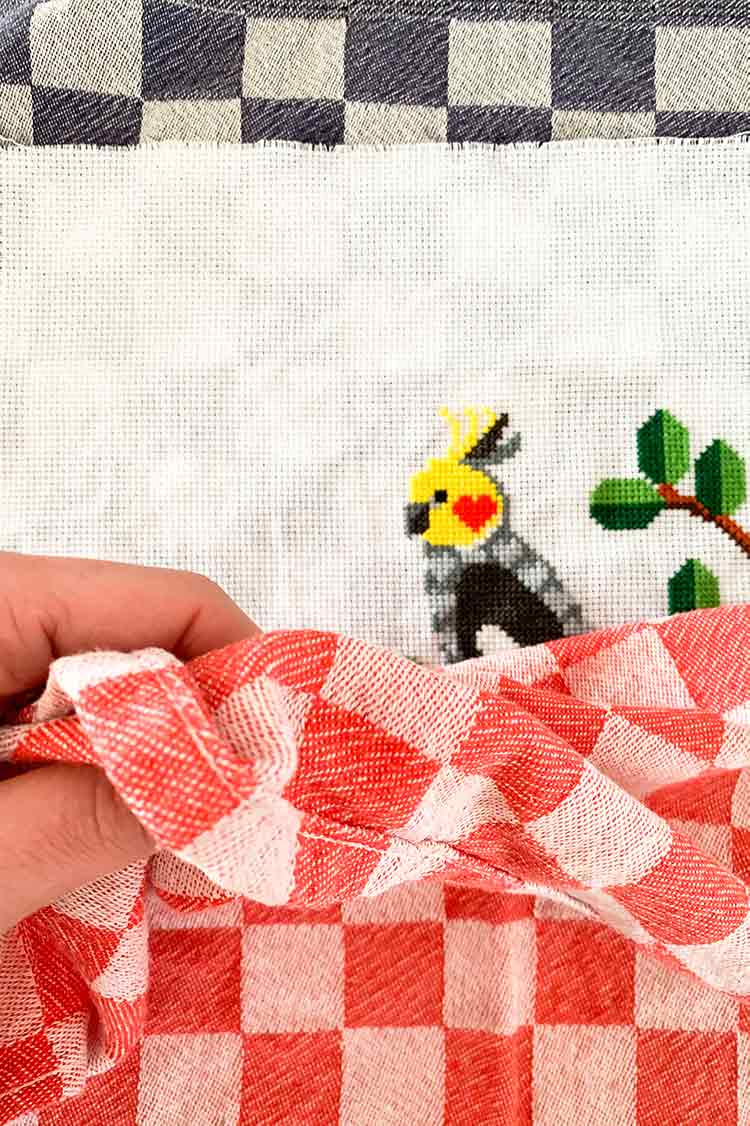 Cover it with another towel. Press the towel down with your hand.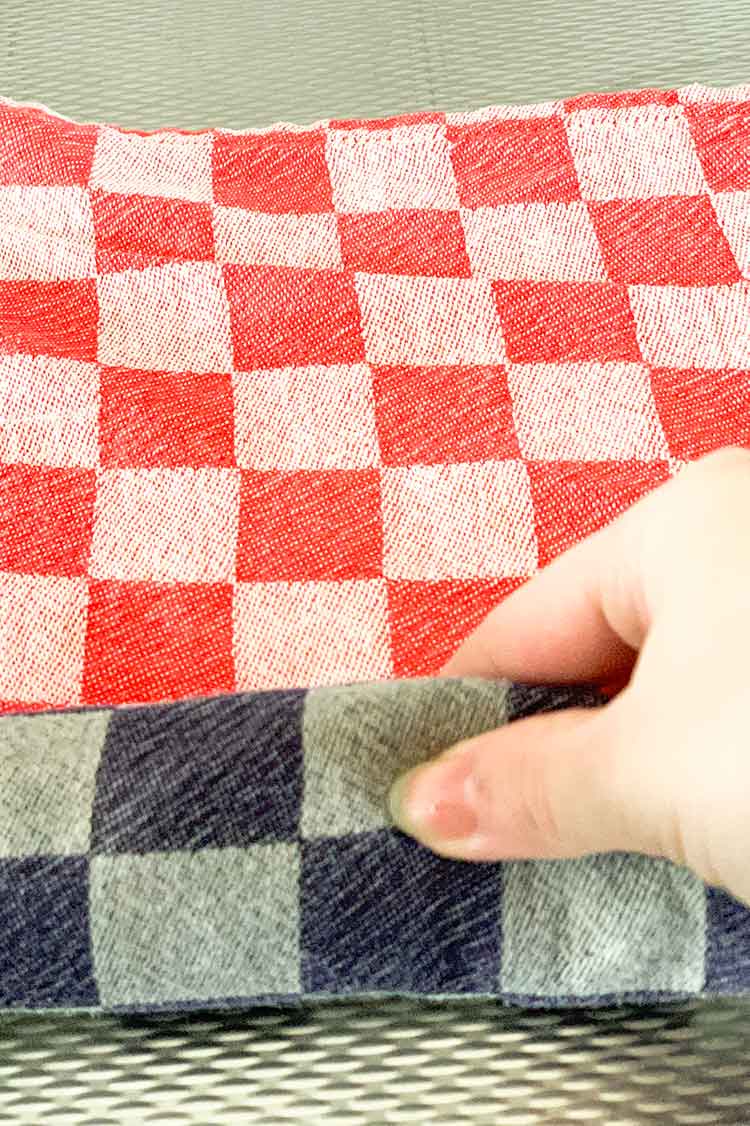 Pressed in time? Don't squeeze!
Your work will be happier when you roll it between two towels and softly press it.
How to iron your cross stitched fabric
It's easiest to iron your piece when it is still damp.
Place your cross stitched piece face-down on your ironing board.
Use the steam function of your iron, and ensure your iron is clean before you preceed. If you do not have a steam function on your iron you can lay a clean wet kitchen towel on top of cross stitched piece.
With a warm iron, press the work from the back. Make sure to keep the iron moving at all times so you don't damage the fabric.
Always iron from the backside of your embroidered work. You may damage or flatten your stitches when ironing from the front.
Frequently asked questions about washing your cross stitch work
How can I clean a vintage embroidery piece?
Gerda
2019-08-18T13:53:33+02:00
How can I clean a vintage embroidery piece?
You may inherit a beautiful embroidered piece or score one in a vintage market. To clean your piece we recommend the following steps:
If the piece has great monetary or sentimental value, consider consulting with a professional textile conservator. Your local art museum should be able to recommend one.
Use your vacuum cleaner to remove excess dust. Cover the end of your vacuum hose with a piece of nylon stocking or light mesh. Use your vacuum cleaner at low power (if you can regulate). Start on the front of the piece, vacuum while keeping the hose end a little bit above your fabric. Do not touch the embroidery stitches. Repeat the process on the backside of your project.
If the piece is still dirty, you can try hand washing it. Follow the tips in our blog