Punch Needle Instructions for beginners
The trend in embroidery: Punch needle. This craft is easy to learn. It gives quick results and makes stunning textile art. In this tutorial we explain the basics you need to know about Punch Needle. We share our recommendations for punch needle materials. You will also find step by step guidance on how to punch needle for beginners. Learn how to punch needle with embroidery floss, yarn or wool. Finally, our Frequent Asked Questions provide an answer for most common issues when punch needling.
Feel free to contact us if you still have questions after reading these Punch needle tutorial for beginners.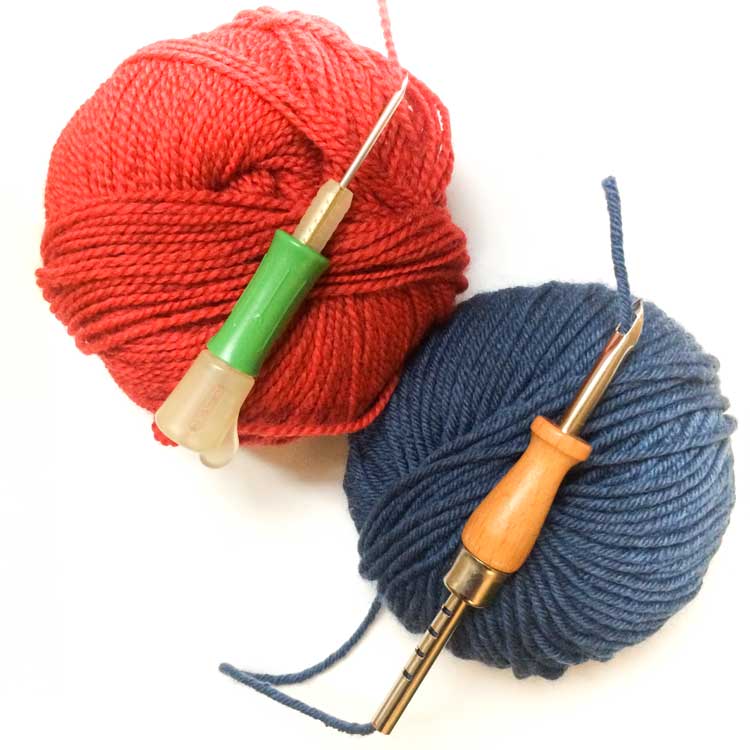 How to trace a punch needle pattern to your fabric?
Below steps explain how you can transfer a punch needle pattern to your punch fabric. We used a washable calcium pencil to transfer the fabric. You can download the free sample pattern here.
Alternativly you can also use a sheet of carbon paper to transfer your pattern. Lay the carbon paper in between your fabric and the pattern. Now trace your pattern with a pencil. The carbon paper will now leave a copy of the pattern on your fabric. As you can not wash away the lines, you need to ensure you'll cover them with your stitches.
Step 1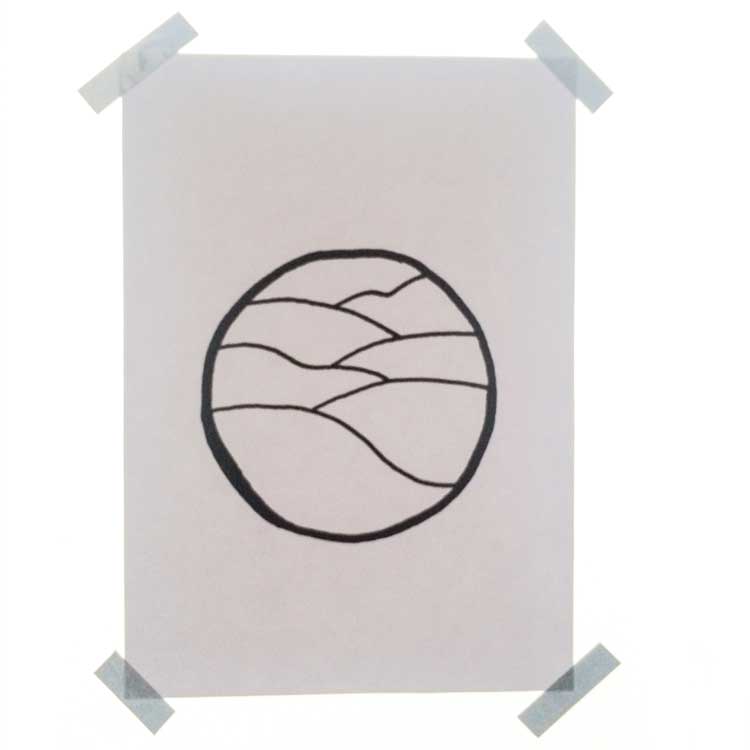 Tape your pattern on your light box or window. We used Washi Tape, which removes easily :-).
Step 2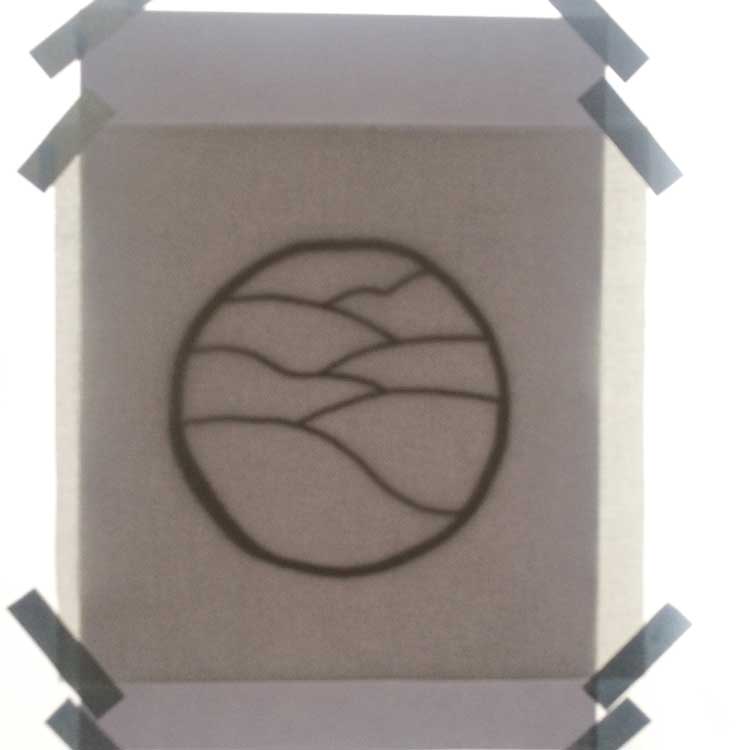 Center your punch needle fabric on top of the pattern and tape it to your window.
Step 3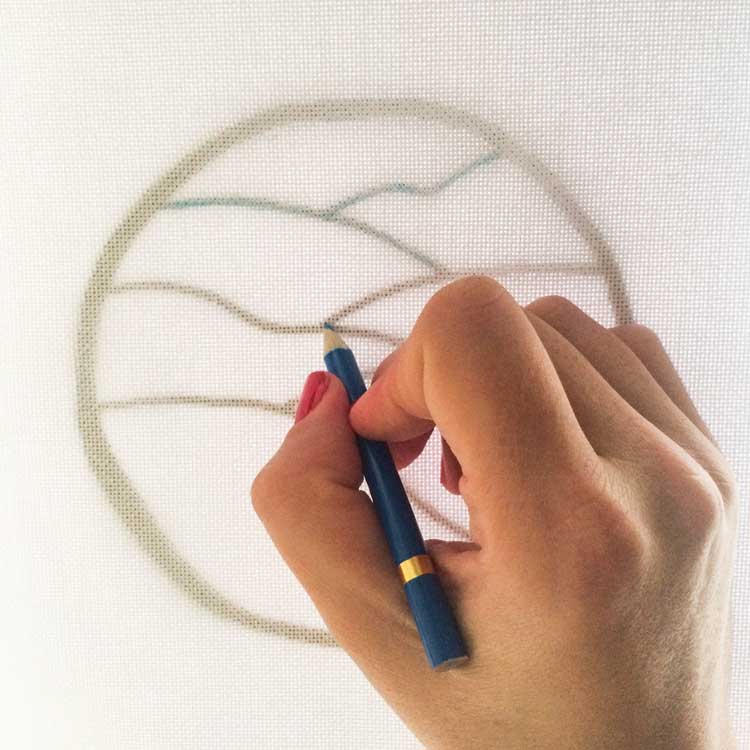 Trace the pattern with your tracing pen or calcium pencil. Use a contrasting color to your fabric.
How to prepare your embroidery hoop for punch needle?
To get the neatest result for your punch needle project, is it important that your fabric is very tight in your hoop. Drum tight. It is easier to get your fabric tight in a smaller embroidery hoop. We like working with a 5 inch hoop, but you can also choose to go for a 4 inch or 6 inch hoop instead. If you want to make a bigger project, you can choose to move the hoop around your fabric as you continue punching. For really big projects you can also choose to fix your fabric to a wooden canvas frame using a staple gun.
Below steps explain how to ensure your fabric is drum tight in your hoop.
Step 1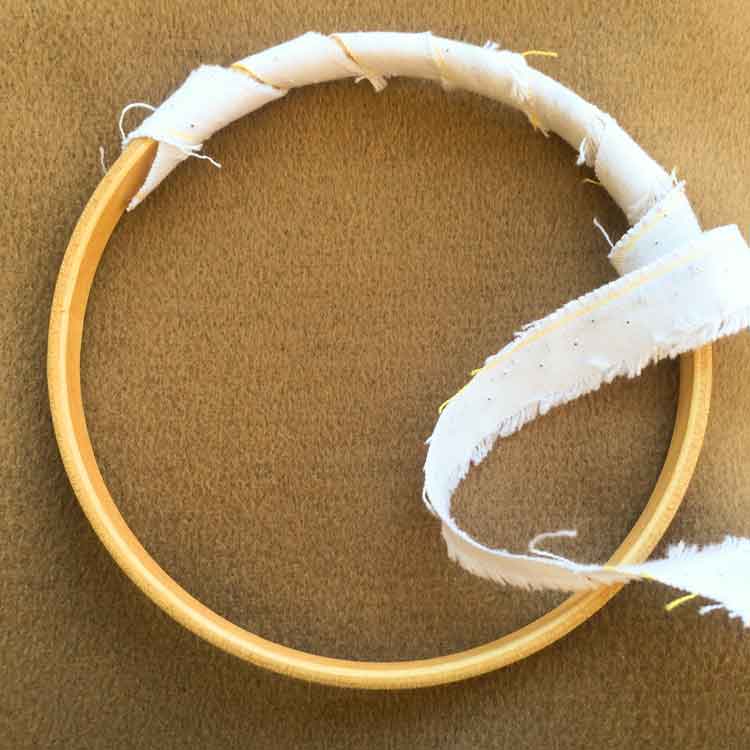 Take a few meter (yards) of bias band or fabric straps of about 2 cm wide (3/4 inch).  Wrap this around the inner ring of your embroidery hoop.
Step 2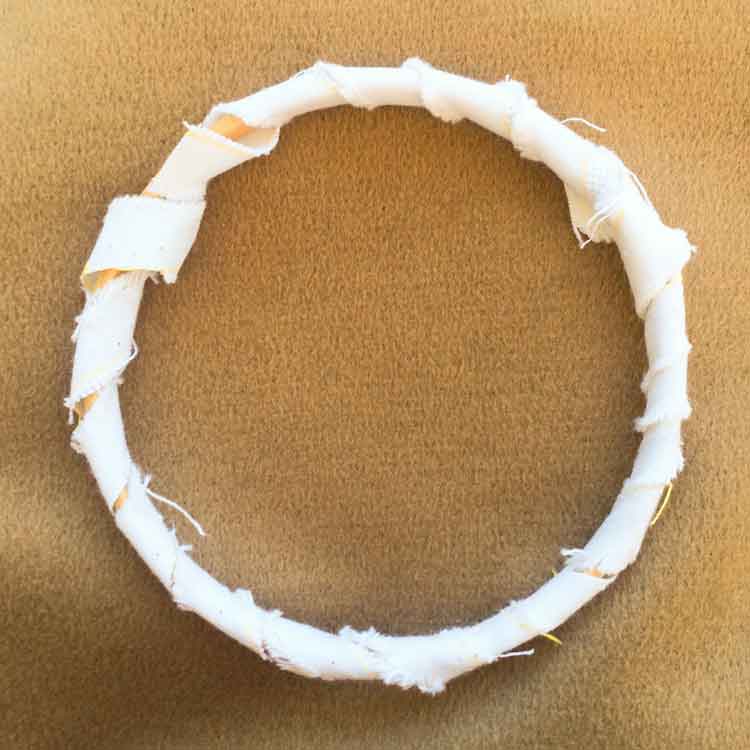 Continue until you have your entire hoop covered.
Step 3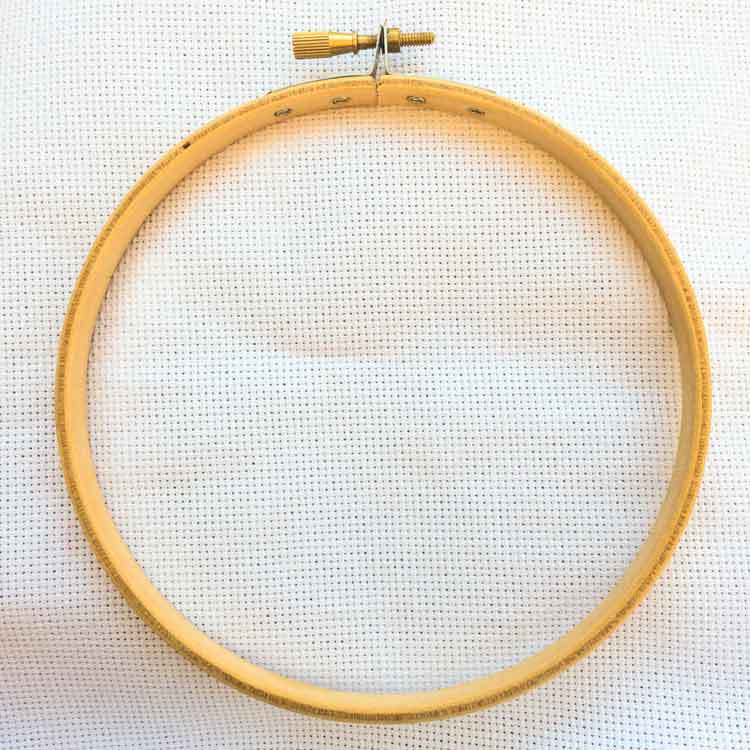 Now lay your punch fabric on top of the inner embroidery hoop. Put the outer ring of your embroidery hoop on top of the punch fabric.
Step 4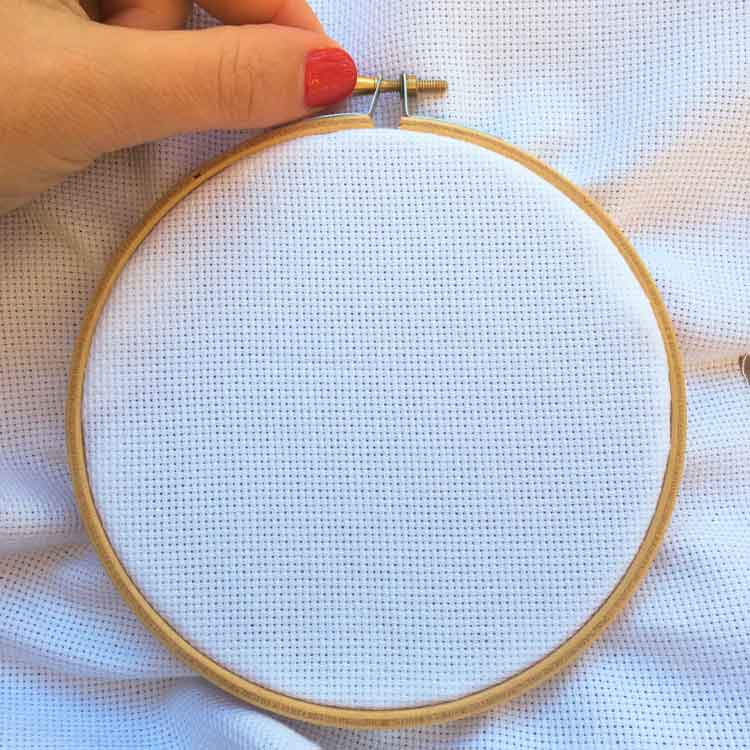 Screw drum tight using the brass screw. You can use a screw driver to make it extra tight.
How to thread a punch needle?
To get your yarn or floss into your punch needle, a threading tool is essential. Below steps explain how to use this threading tool to get your yarn flowing smoothly through your punch needle.
Step 1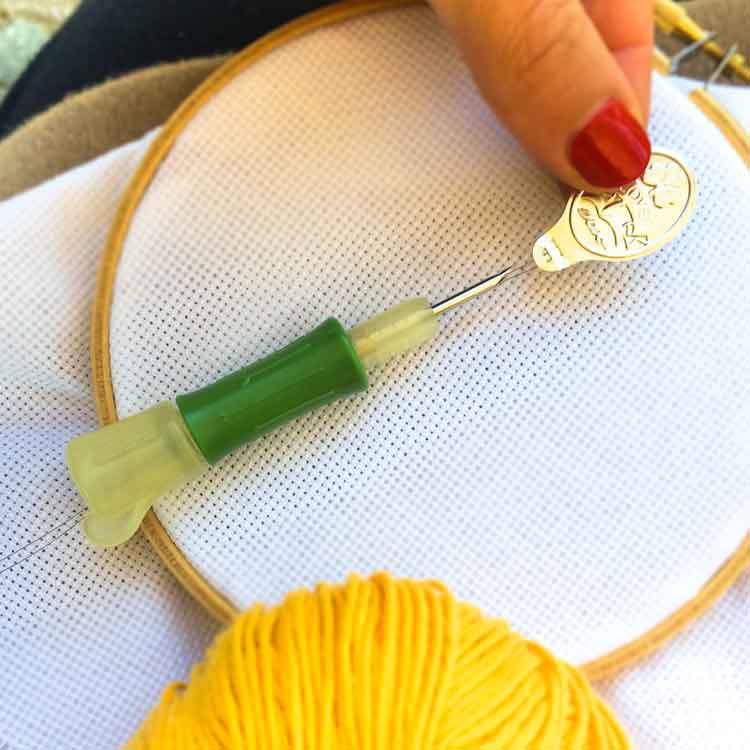 Put your needle threader in the long end of your needle. Enter your needle from the sharp end of your needle, the side that you will poke into your punch fabric.
Step 2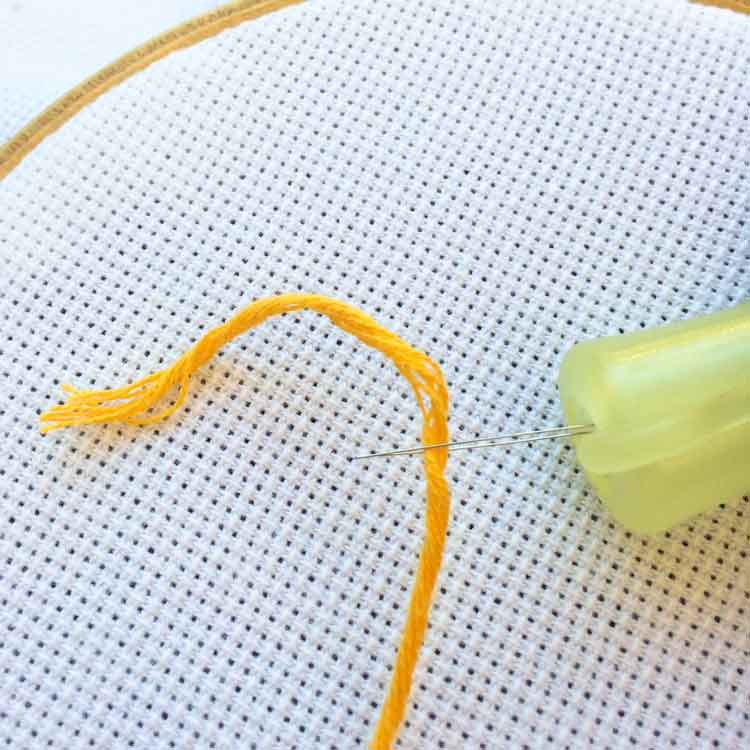 Pull your thread through the metalic threader that comes out at the backside of your punch needle
Step 3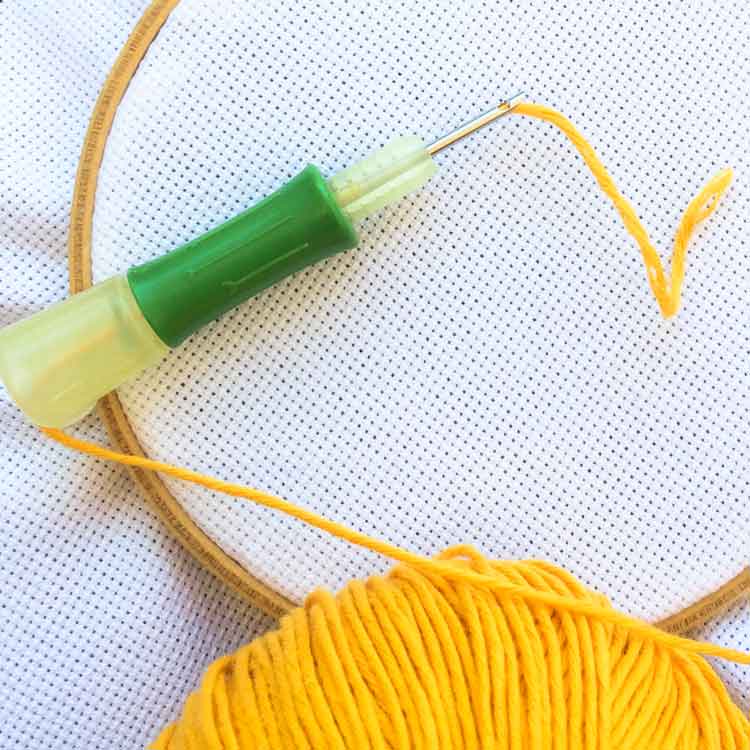 Pull your needle threader from the front side of the punch needle all the way through your needle. Your yarn is no threaded through the large end of your needle as shown on the picture.
Step 4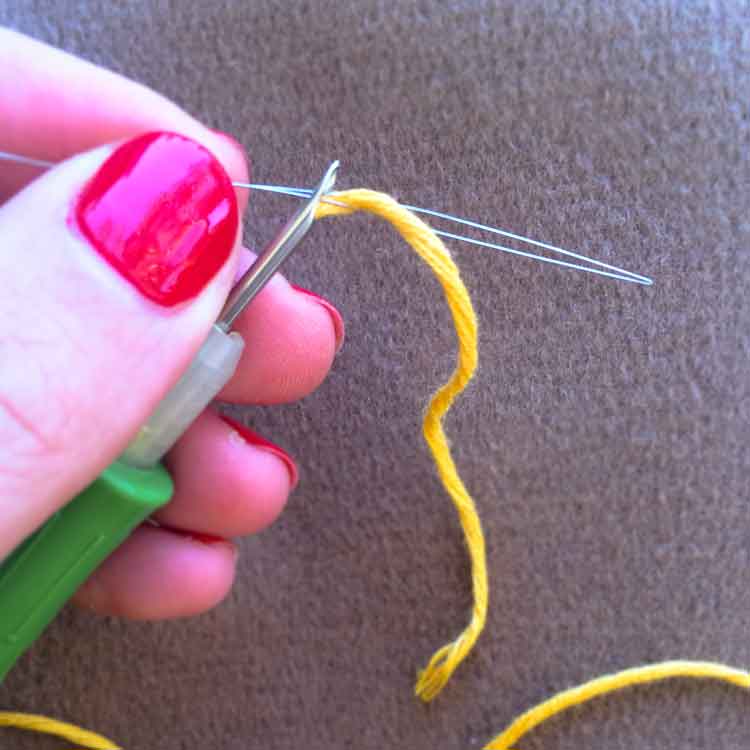 You will now need to thread your yarn through the opening in the needle (the needle hole). First bring your needle threader through the needle hole and put your yarn in between the metalic threads of your threader.
Step 5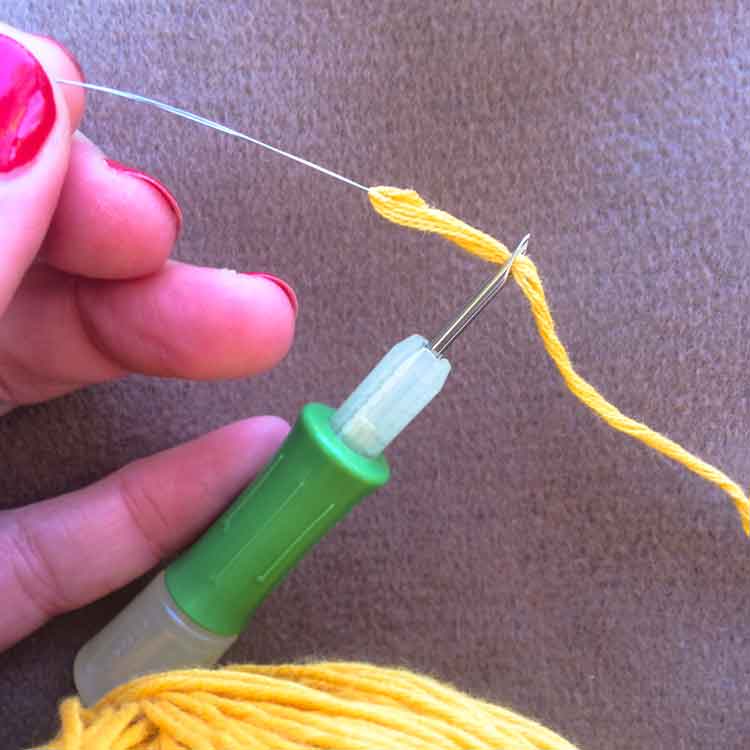 Pull the needle threader. This will make your thread come through the opening. Be carefull, the threader can easily break if your yarn is too thick for your needle.
Step 6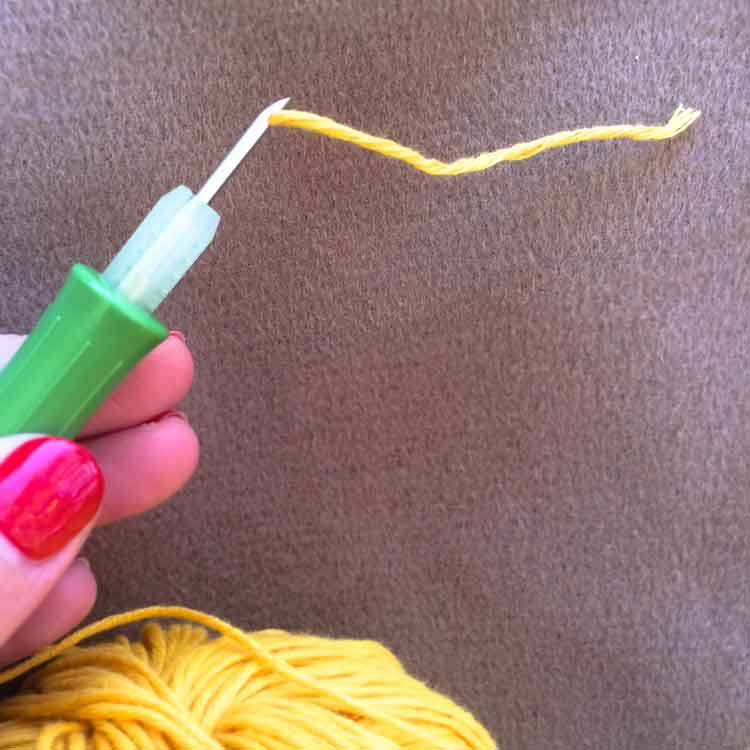 Voila! This is how your threaded needle looks like.
How to Punch Needle Step by Step instructions
After preparing your frame and fabric you are ready to start with the real work: Punch Needling! Yeah! Below you will find step by step instructions to get you started.
We recommend that you first punch the outlines of the area you want to stitch with this color, and then fill it going spirally towards the middle. To ensure your loops on the backside are nicely full, follow the contour of the previous row. Continue punching until the area is full.
Step 1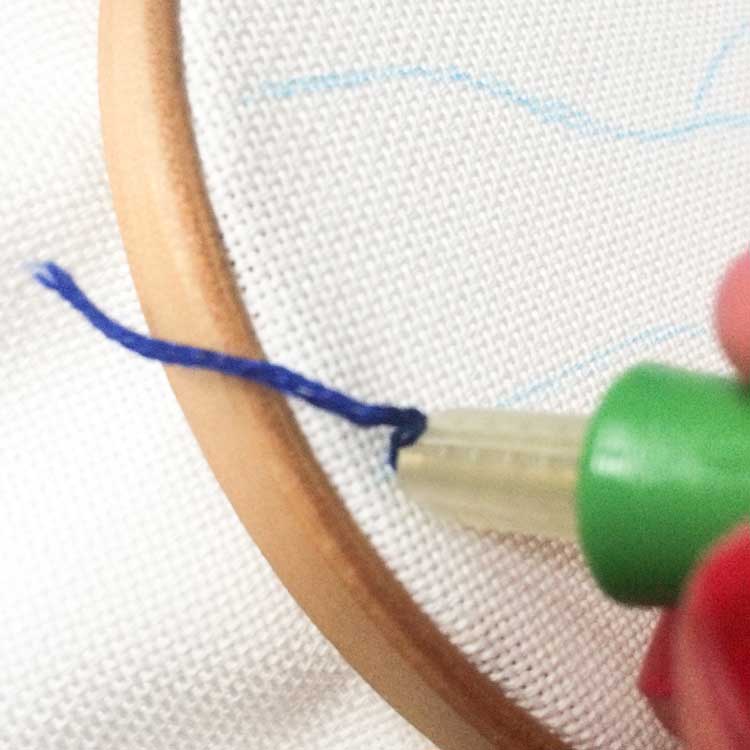 Push the punchneedle straight down into the fabric, until it stops. It is important that the needle hole, the part where your thread comes out, is on the backside of your needle as you move forward.
Step 2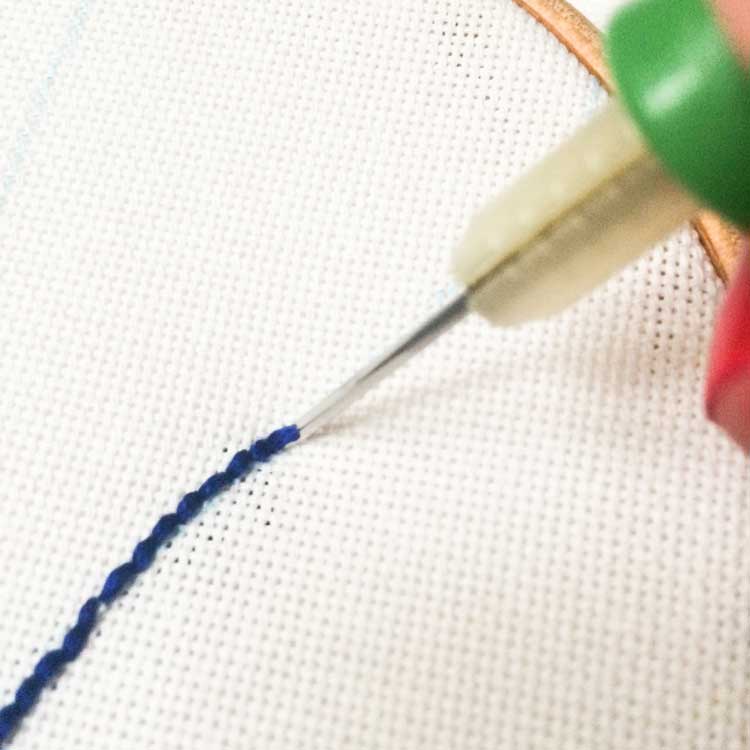 Bring the needle back up slowly, stopping as soon as the tip is clear of the surface of the fabric. You should not llift the needle up too high because this will pull out the loop. Rather, slide the needle tip close to the fabric by approximately the width of the needle.
Step 3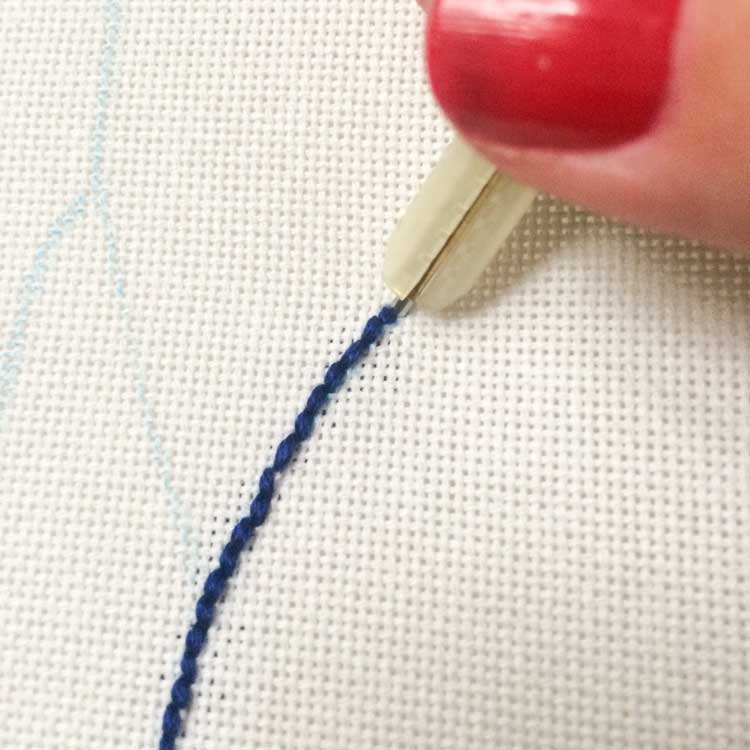 Now repeat – punch the needle into the fabric again, lift it to the surface, slide it across the surface. That's all there is to the basic punch stitch!
When you reach a corner, stop with the needle in the down position, rotate the hoop, and then continue to punch along the new line. This means you'll always be punching right to left (left-handers: left to right).
Step 4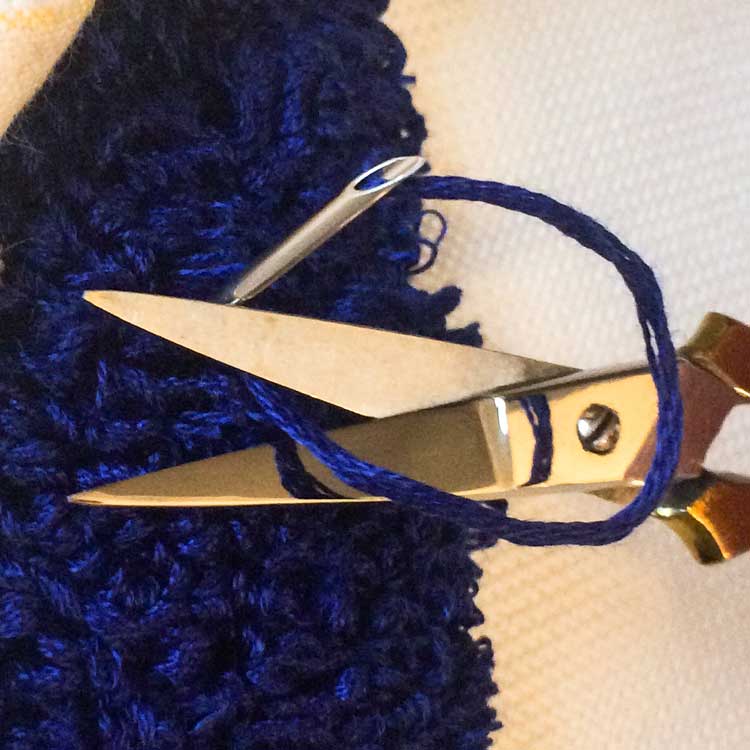 Whenever you finish with a thread, push your needle to the loopy side of your fabric. Cut of your thread at the same height as your loops, and pull out your needle.
Step 5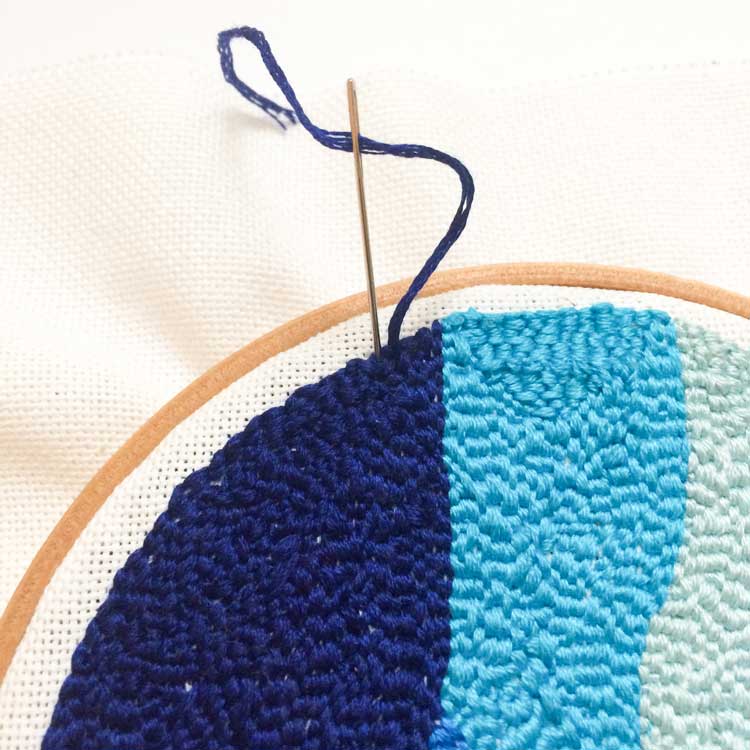 Once you finish with a color, clean up your starting point thread end. You can use a embroidery needle to bring your thread end to the backside.
When your thread end is too short for an embroidery needle, do it manually. Hold the thread end in one hand and gently pull the thread while looking at the loopy side of your fabric to see which loop your thread is connected to.  Gently pull the loop to bring the thread end to the backside of your fabric. Now cut of the thread end at the same height as you other loops.
Step 6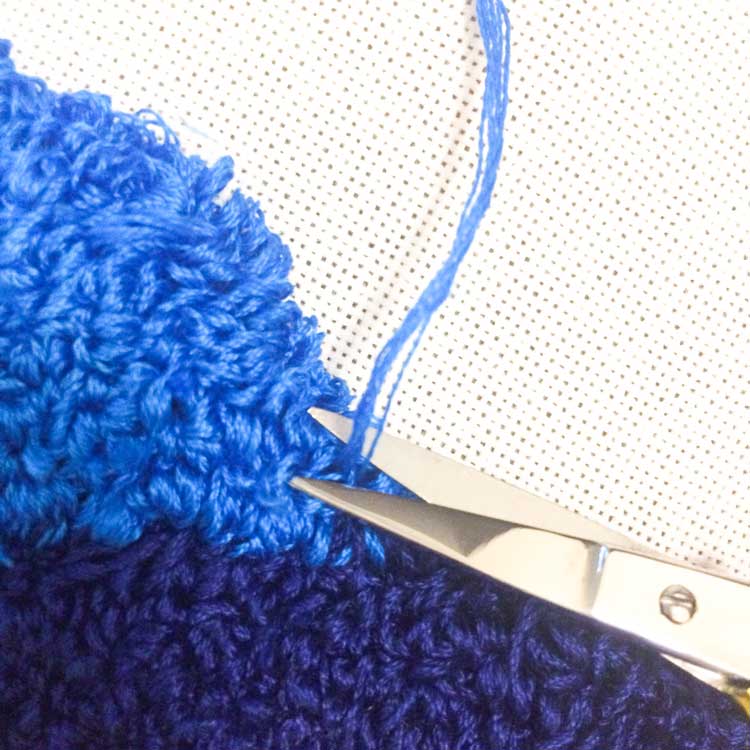 Clean up the loopy side of your punch needle project. Cut of any long threads at the height of your loops.
Lines may not appear to be straight. That is completly normal! Carefully push and pull your loops to where they belong. We find it handy to use a toothstick.
How to Finish your punch needle project
If you want to frame your piece an embroidery hoop, you can use the same technique as we do when framing our finished cross stitch projects. You can find the tutorial here.
You can also turn your punch needle project into a cushion cover or bag. If you want to show the loopy side of your punch needle project, we recommend that you use adhesive on the backside of your fabric (the flat side of your fabric).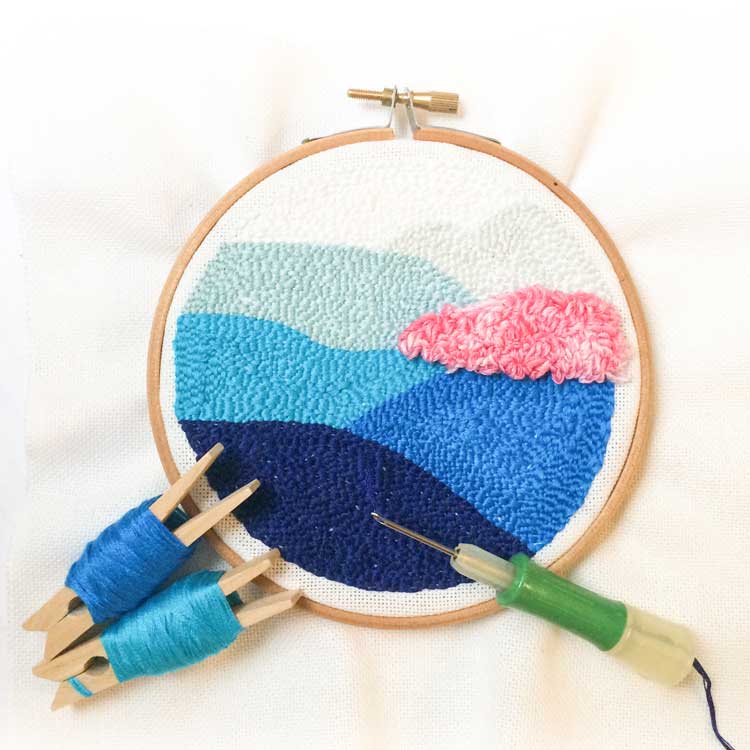 FAQ Help for common Punch Needle issues
Why do my punch needle loops get loose and how can I fix it?
admin
2019-03-16T15:51:00+01:00
The most common issue with punch needling is that your punch needle loops are pulling out from the fabric. When punch needling, you can do the following check to avoid getting loose loops:
Are you using the right fabric? It is really important that your fabric matches your punch needle. Check this section to see our GOTS certified ecological punch needle fabric for finer punch needles, including all clover punch needles. Check this section for fabrics that suit the wooden adjustable punch needle .
Can your yarn flow freely? When your yarn or thread is blocked or restricted your yarn will not create equal loops. The thickness of your yarn should also match the needle you are using.
Ensure you punch the full lenght of your needle through the fabric (the metal part of your punch needle tool).
Is your fabric tight in your hoop? It should be as tight as a drum. This is easier in a smaller hoop. Alternativly staple your fabric to a wooden quadrant frame.
Is your needle threaded correctly?
Are you holding your needle correctly? The opening where the thread leaves should be on the backside of your needle as you punch through your fabric. If you are in a corner, punch your needle all the way through and then move your embroidery hoop. Bring your needle up and continue stitching. And don't lift your needle to high as you are punching, rather drag it over your fabric
Start Punching with 5 Euro discount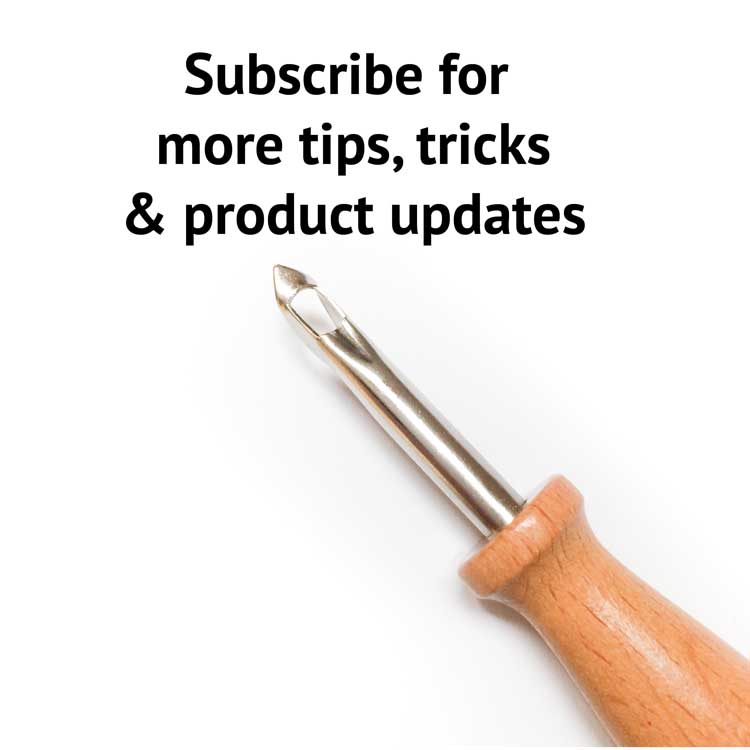 You will receive a coupon code for 5 euro off (4,24 when you shop TAX free) your first order over 20 euro made within the next 30 days. When subscribing you allow us to send e-mails to you. You can unsubscribe at any moment you like.
Read our privacy policy here