Customize our Stitch a Job pattern for your loved ones
Our Stitch a Job series patterns are often made as unique gift for loved ones. The series contains 100+ different patterns, from pilots to gardeners and cat lovers. So there is always one for your loved one.
The standard version of each pattern includes the job title, but you can easily make it more personal by adding the name of the person or a fitting quote. Scroll down to see the full alphabet pattern and fitting quotes to customize your pattern.
Want us to do it for you? You can purchase a custom cross stitch kit here.
Our DIY kits contain sufficient black floss to add the below samples to your piece.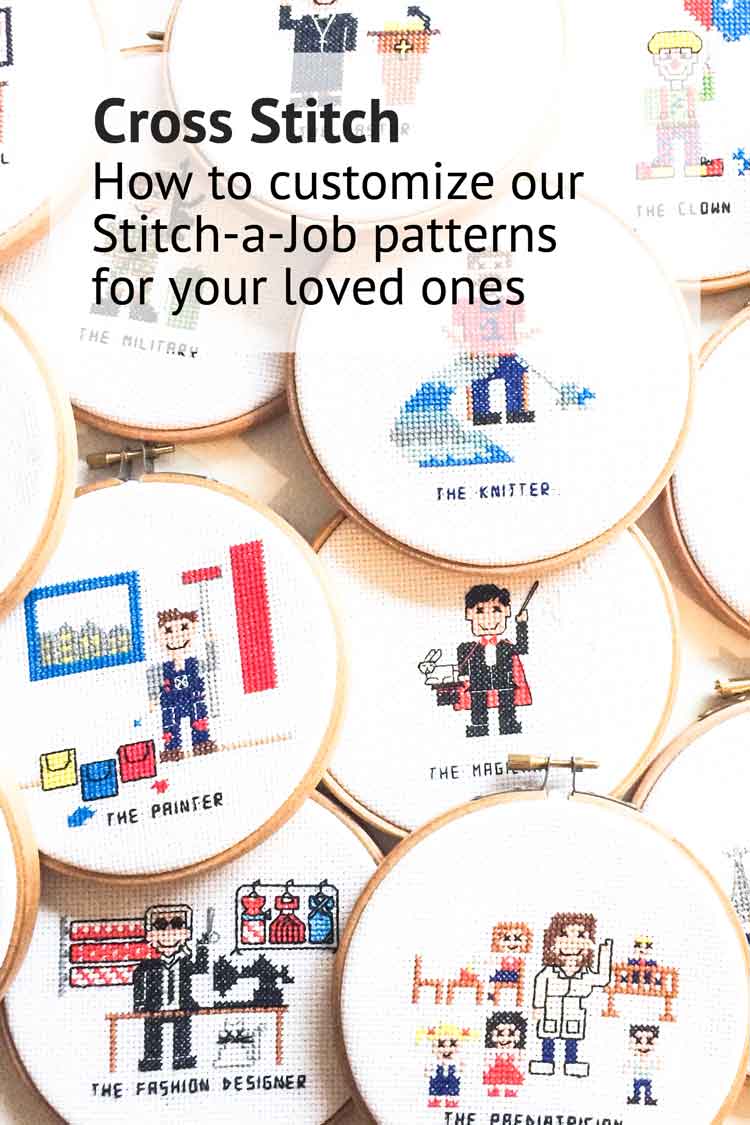 Customize the cross stitch pattern with a name
Make your stitch a job pattern extra personal by adding the name of your loved one with this mini alphabet pattern. Customize your design following these steps:
Take a sheet of graph paper.
Use the mini alphabet letters and write the name of your loved one on the graph paper sheet.
Add 1 empty grid cel in between each letter. Add 3 empty grid cels in between seperate words or rows.
Mark the centre of the name. You can find the center by counting how many cels you used for the name and then
Match the centre of the name with the centre of your cross stitch pattern indicated with the arrows.
To keep balance with your pattern, do not add too much text. We recommend to add a maximum of 42 x 15 grid cels.
Stitch the letters with 2 threads of embroidery floss. It's easier to make the letters with a needle with a sharp end.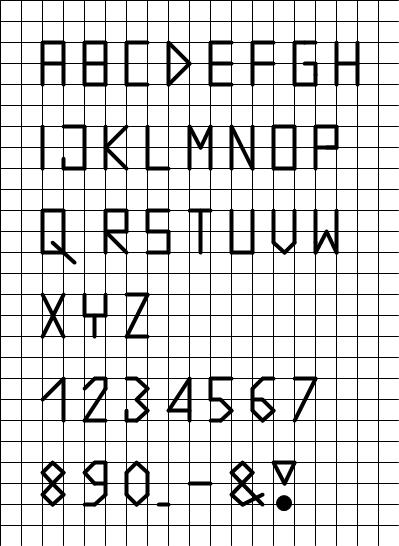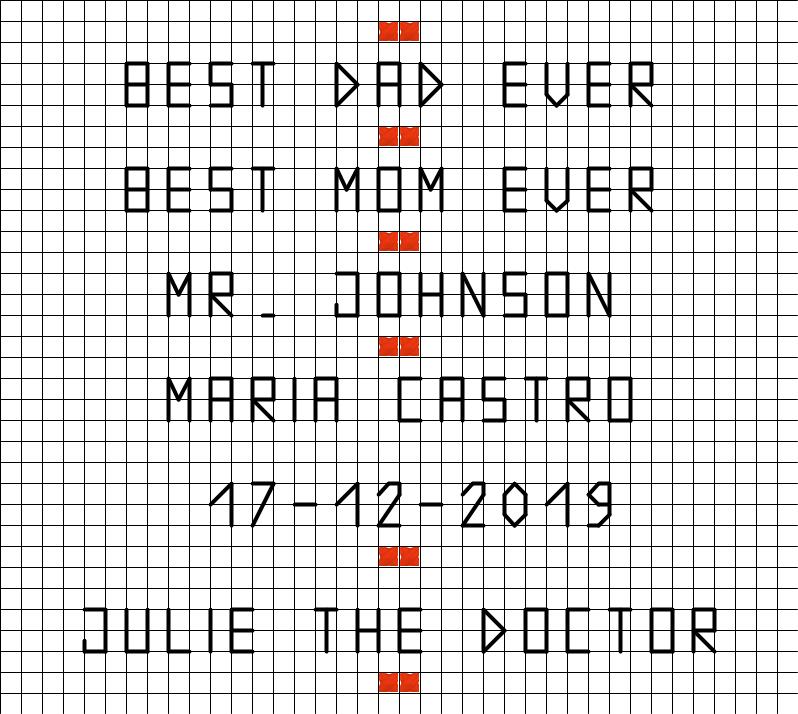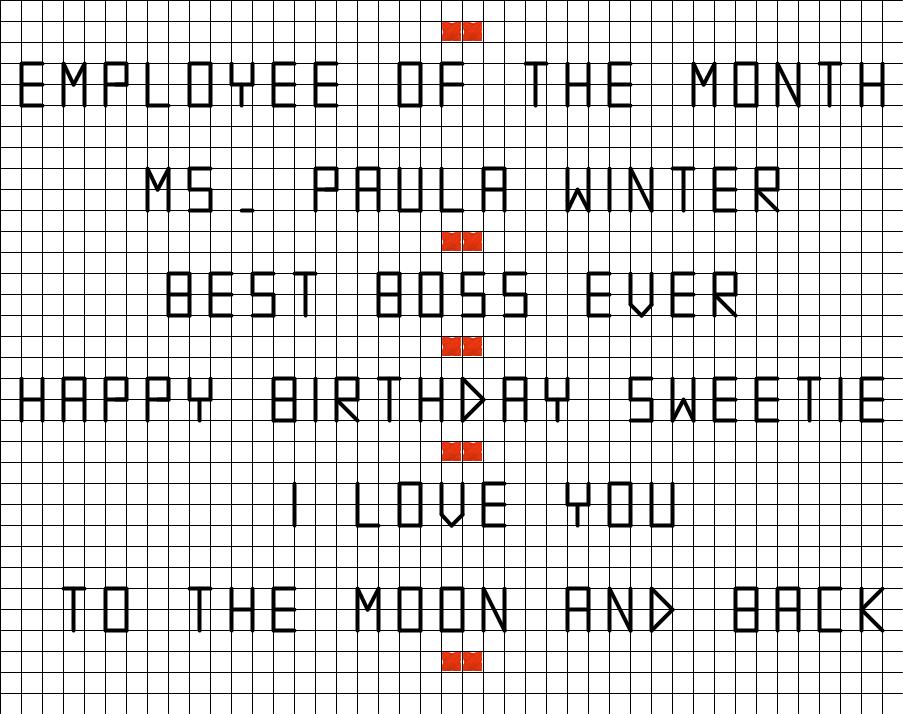 Quotes to include under your cross stitched people
You can also customize your cross stitch work with a quote that totally fits the displayed person. Add the quote under your cross stitched people. Ensure you line the quote in the middle of your cross stitch project. In your stitch a job pattern you will see arrows indicating the centre. Line this up with the red blocks given in these quote samples.
Of course you can also add your own quote to the pattern. Ensure that the quote is not too long otherwise it will be out of proportion with your pattern. Your quote should be able to fit in a grid of max 42 x 15 blocks.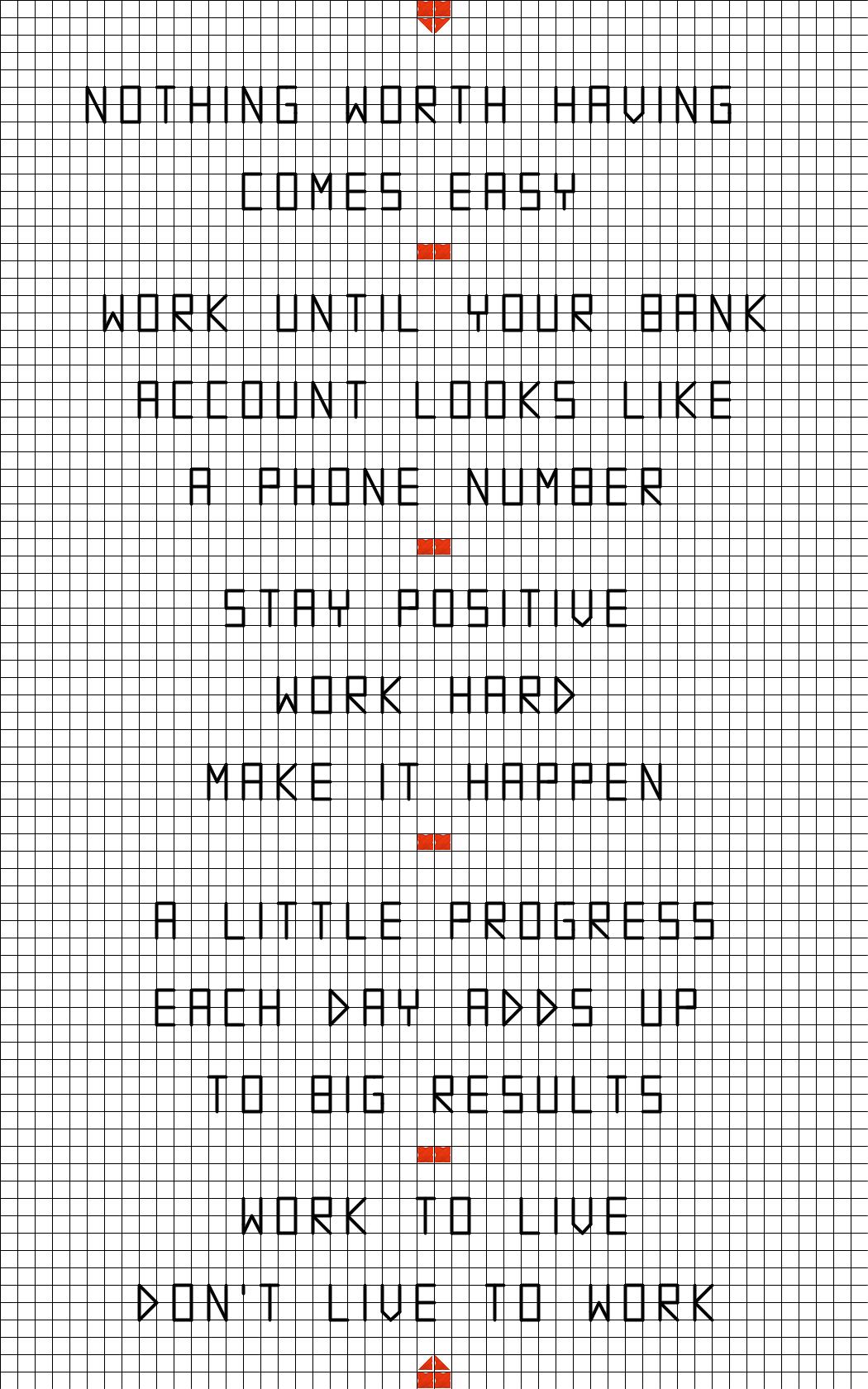 Ask us to make a custom cross stitch design for your colleague, friend or family
Do you like to stitch the most original gift for your loved ones? Looking for a job or hobby, but can't find it in our collection? Ask us to make a custom design for you!
This is actually how our collection keeps growing.
All patterns in the stitch a job collection are real people. Some might be famous, most are regular people like you and me. They all have a cross stitching loved one that gave them something special.
How do I request a custom design?
Place an order for a custom cross stitch kit.
Add a comment to your order with all the details you like us to cover: what profession or sports? what tools should we include? any hair color or other details we should know? You can also email us a picture of your loved one.
We start designing.
Within 5 workdays we email you the design for confirmation (a)
Once you are happy we will make the cross stitch kit and ship it to you.
(a) During peak season it may take longer. Contact us if you are in a time crunch.
What is included in a custom cross stitch design?
Our stitch a Job collections are typically made to fit in a 5 inch embroidery hoop
The kit includes all the materials you need to stitch the piece, all premium quality and produced in Europe
It's professionally packaged, so you can also give the DIY kit as gift
We design the patterns with beginners in mind
Read More Cross Stitch Blogs