Circulair weaving instructions for beginners
In this blog you can learn how to weave a circulair piece. Get tips for best materials to work with and learn how to warp your loom. We also share a few weaving techniques, and how you can finish your piece.
Our circulair starter kit includes all the materials to make a pretty round woven project.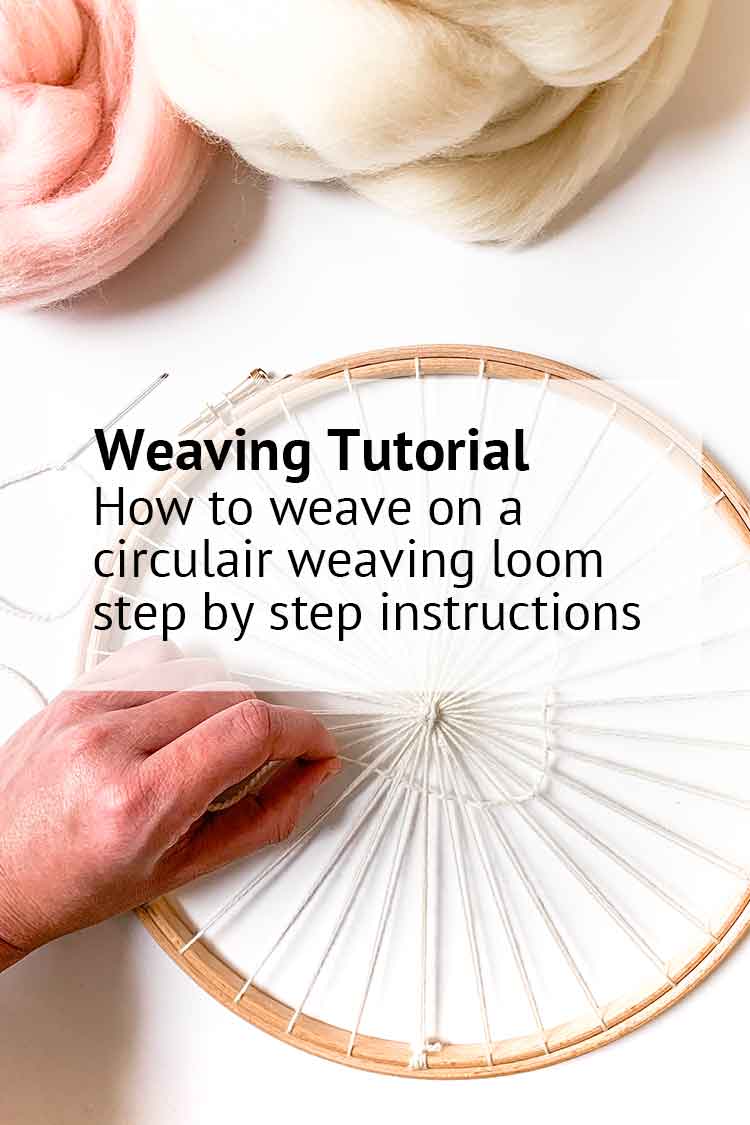 What materials do you need for a circulair weaving project?
1. A circulair weaving loom
Embroidery hoops are a great budget solution for learning how to weave a circulair piece. You can find more sizes here in our shop.
2. Warp thread
Use a strong thread as basis for your weaving project. As a rule of thomb the more plies a yarn has, the stronger the thread. To test if a thread is strong enough for warping your loom, simply pull strongly at your yarn. If it snaps it is not suitable. We prefer to use a sock weight or light weight strong yarn as warp thread.
4. Tapestry needle
Depending on the weaving yarn used, you will need a different size tapestry needle.
For regular and chunky yarn opt we suggest the weaving and packing needle set
For thin yarn and embroidery floss you can use a needle from our darning needle set
With wool raving we prefer to use our hands 🙂
5. A template and pencil
You can download this template for making evenly spread marks on your 8 inch embroidery hoop.
How to warp an embroidery hoop for weaving?
With below step by step instructions we explain how you can warp your embroidery hoop for weaving.
A warping template is a handy guide to ensure your warp threads are evenly distributed accross your embroidery hoop. We include a printed version in our DIY weaving kits. You can also make your own. Trace your hoop on a piece of paper. Fold your paper double two times. The centre of your hoop should now be one of the corners. Fold your paper such that you create a triangle. Double your triangle. Now open up your folded paper and make a mark where each foldline meets your drawn embroidery hoop.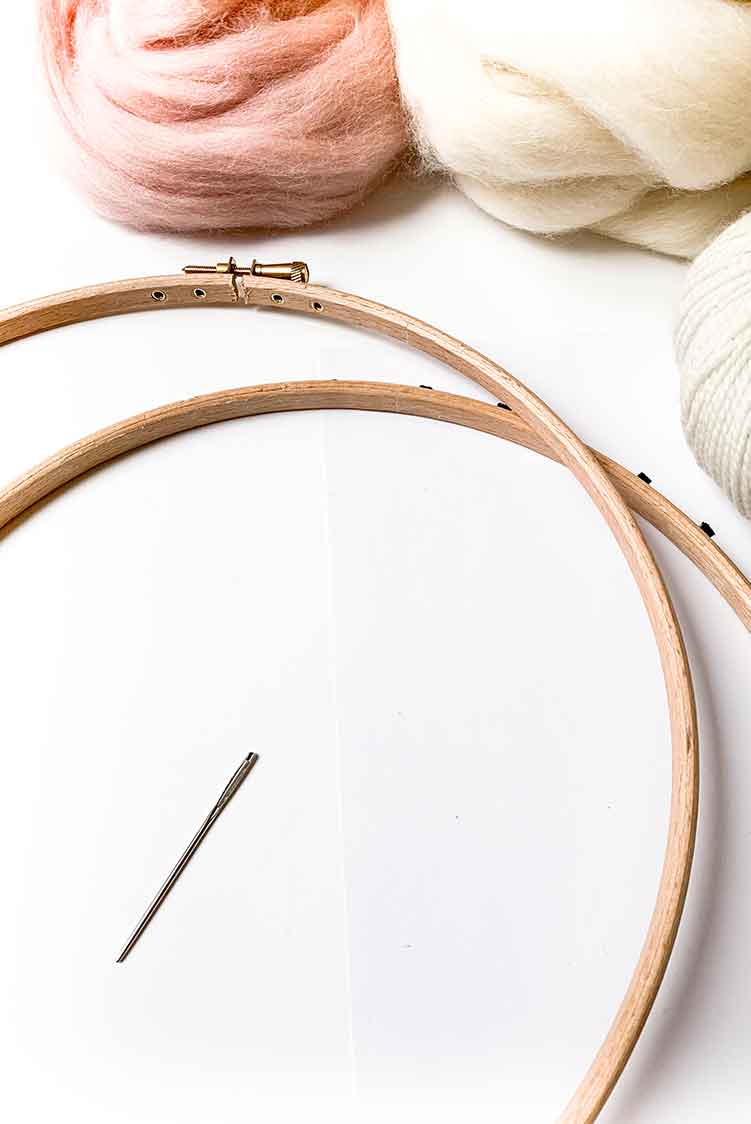 Seperate the inner and outer ring of your embroidery hoop.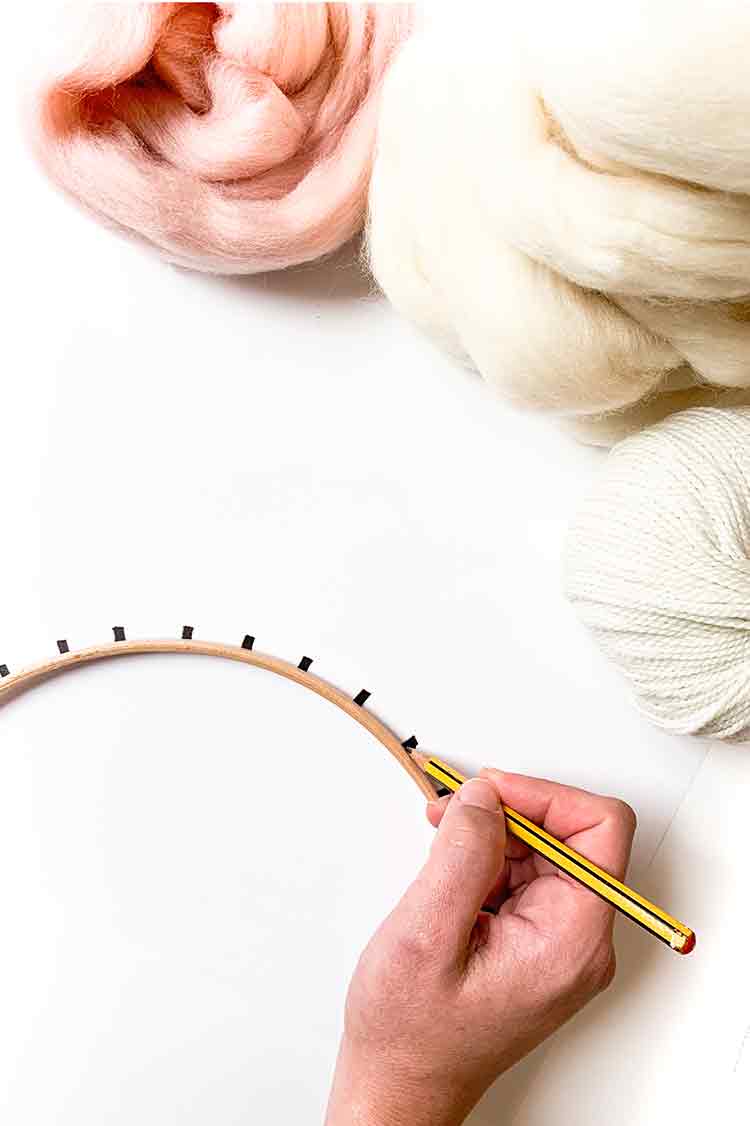 Take your inner embroidery hoop. Use a pencil to transfer the stripes from the warping template to the outside of the inner embroidery hoop.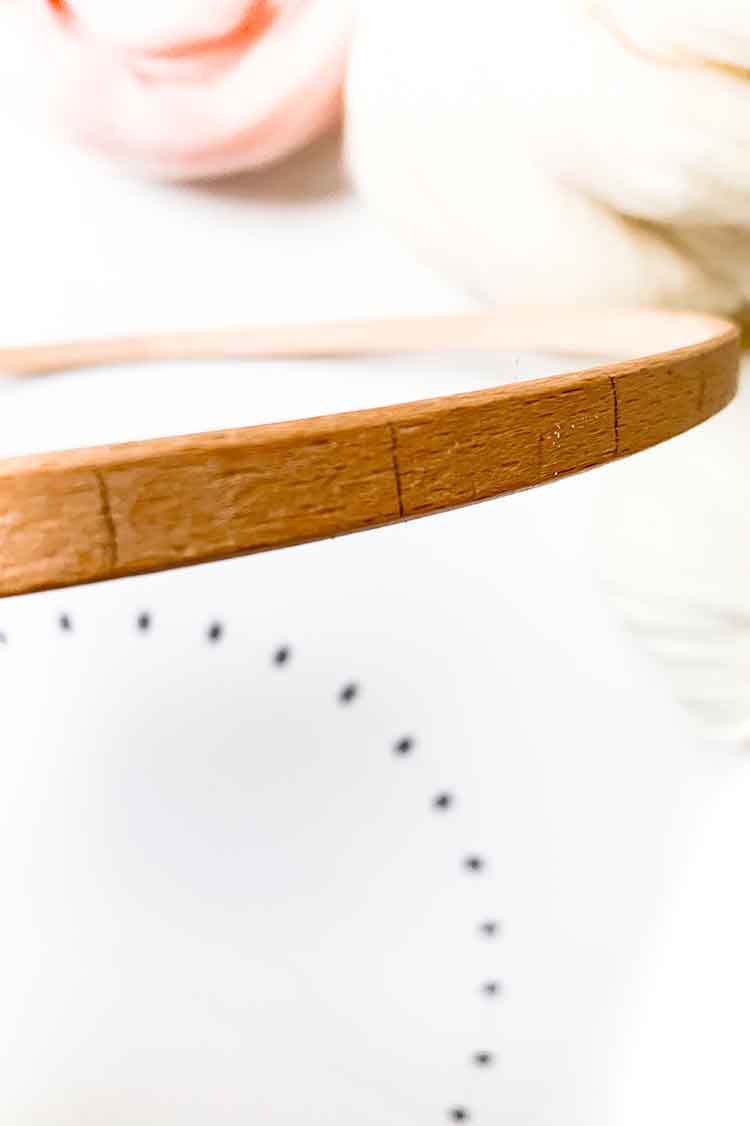 Copy all the stripes from the template to your inner embroidery hoop. It will look like this.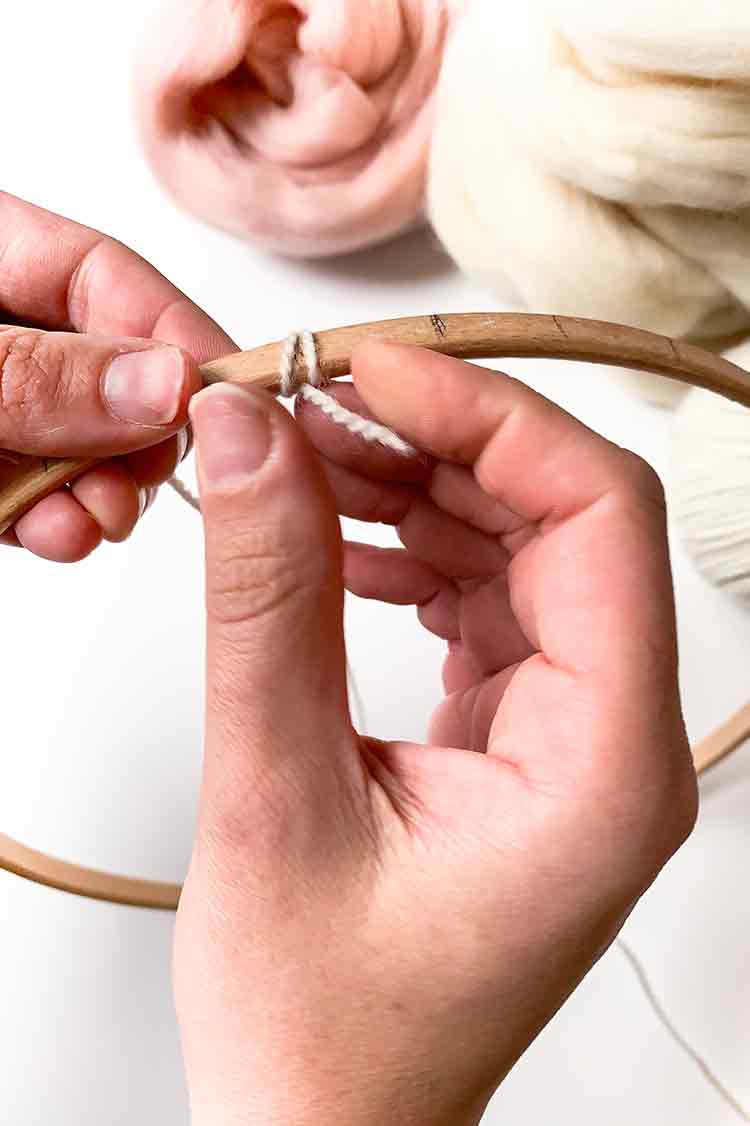 Bring your warp thread around the inner ring and tie your thread with a single knot covering one if the pencil stripes. Ensure your thread tail is at least 10 cm long, so you have sufficient lenght at the end to secure your threads.
Bring the thread tail to the front and pull it through the loop you just made. This creates a second knot. Pull your thread tail to tighten your knot. This completes your slip knot.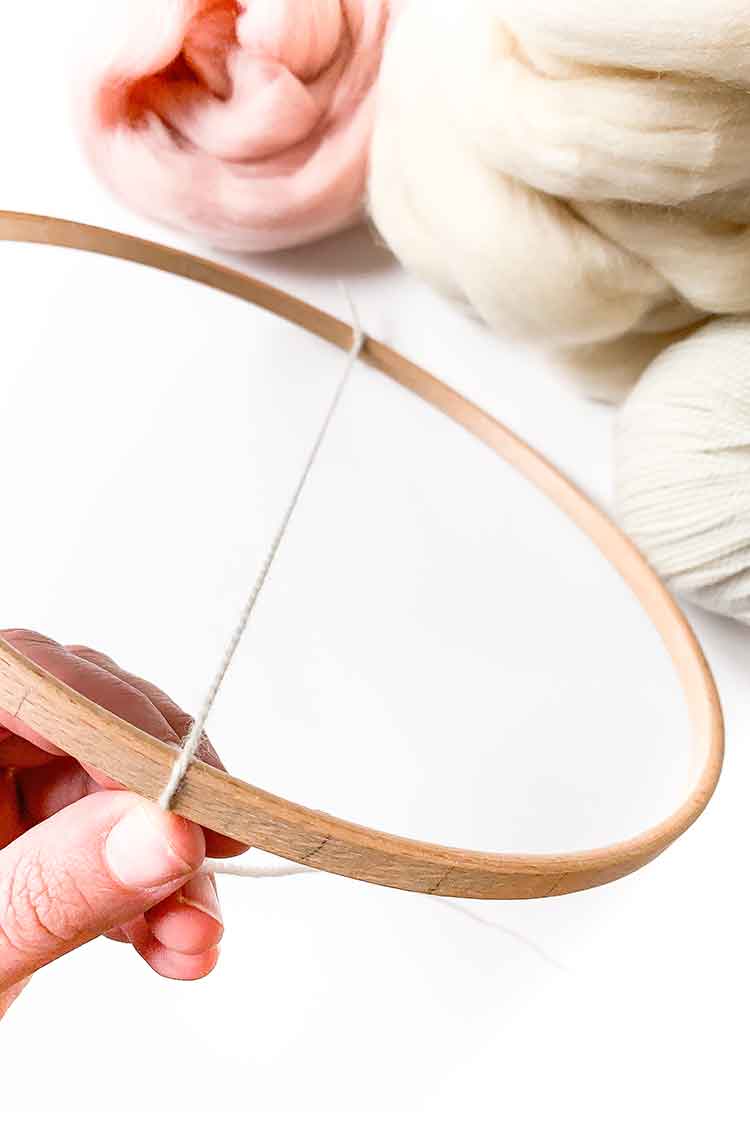 Pull the warp thread straight across to the other side of your hoop. Bring the thread to the backside of your embroidery hoop and back down to the centre of your hoop.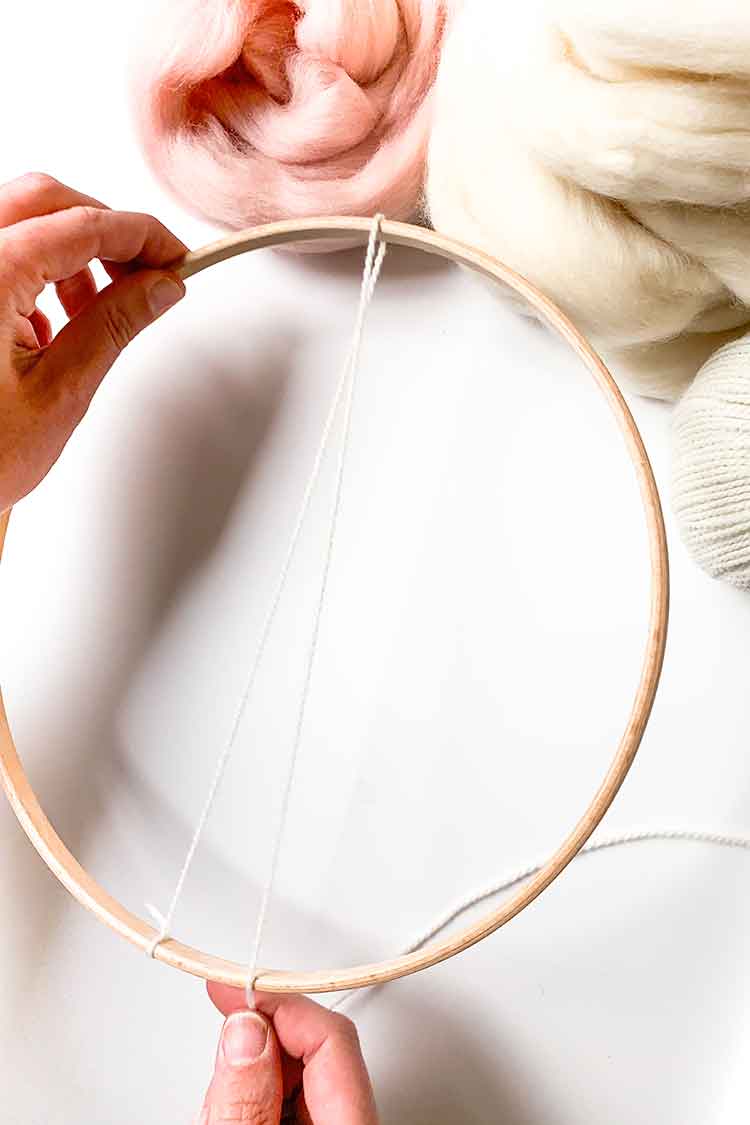 Pull the warp thread towards your starting point. Move the thread about 2 cm (~3/4 inch) to the right side and wrap the thread around the embroidery hoop.
Repeat the previous steps until you reach the last open spot on the loom. You will always be passing the thread over an edge and then around to the bottom.
Ensure the threads cover the stripes made with your pencil.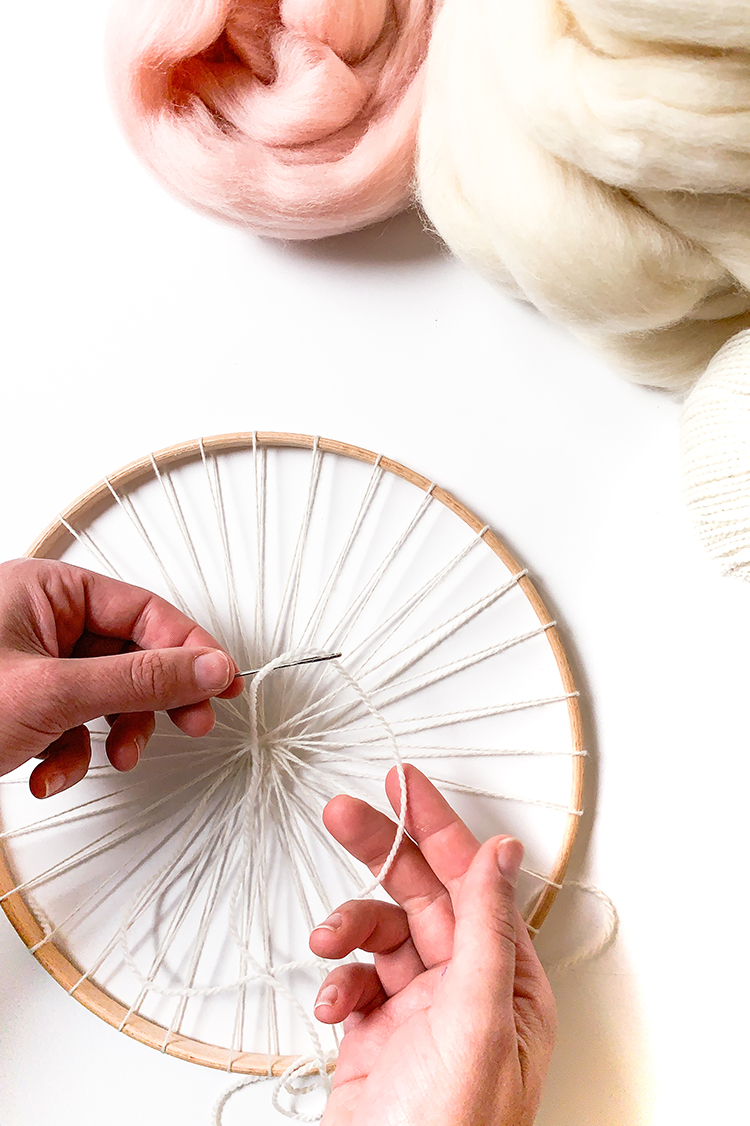 The center of your hoop is now a bit messy with lots of criss-crossing of threads. Take the thread tail and pull it to the middle. Wrap it around one threads and pull straight. Now pull it around the opposing thread and pull straight. Continue until your threads create nice triangles.
Bring your warp thread to the opposite side of your beginning thread and tie it off. There will now be two warp threads going around the hoop for each spot.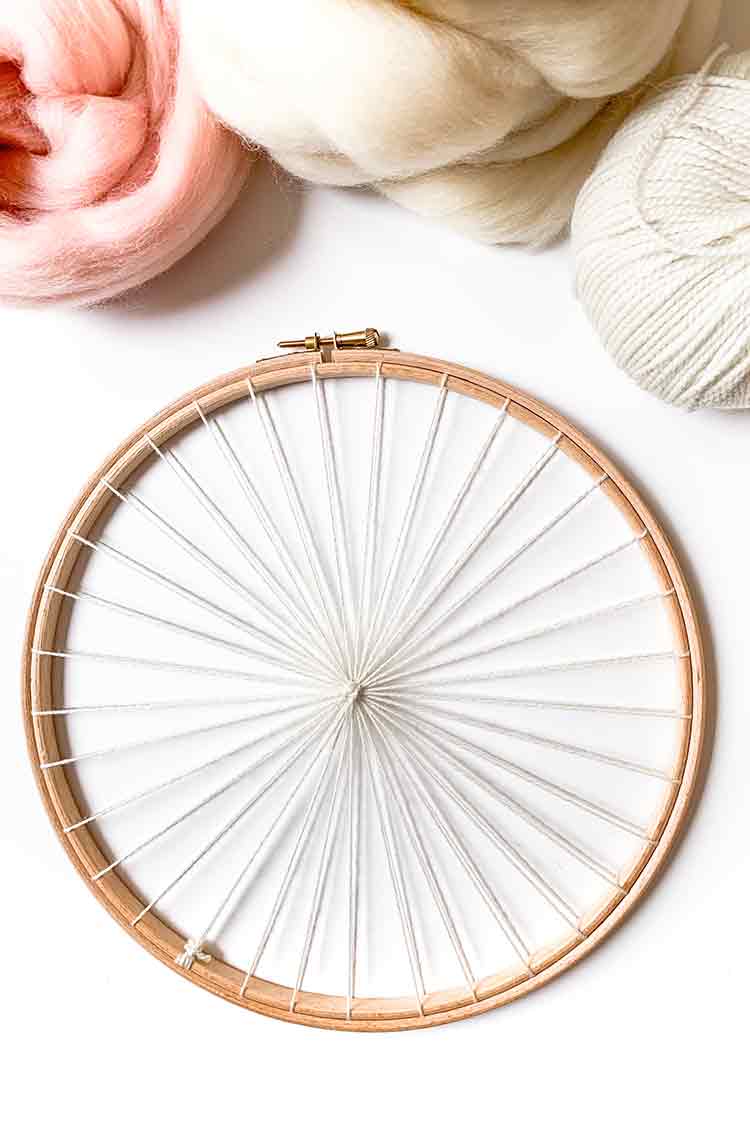 Put the outer ring of your embroidery hoop around the warped hoop and tighten the screw. You are ready to weave!
How to make a plain weave on a circulair project
We prefer to start our weaving project making a plain weave with a sock weight yarn. The plain weave is the simplest weave, and often the first you will learn when starting to weave.
Especially in the first rounds of your circulair weave you will notice that it is easier to weave a bit away from the centre and then moving the woven threads towards the centre with your hand.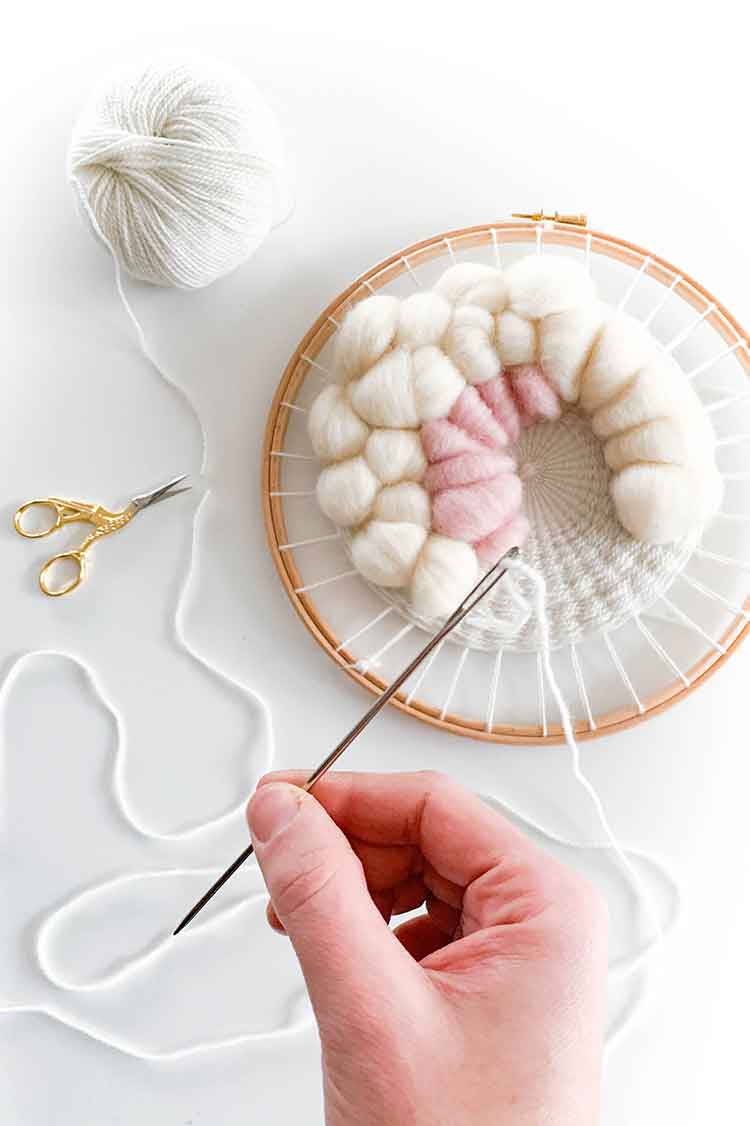 Thread your needle with a few meter yarn, like our Lanita wool.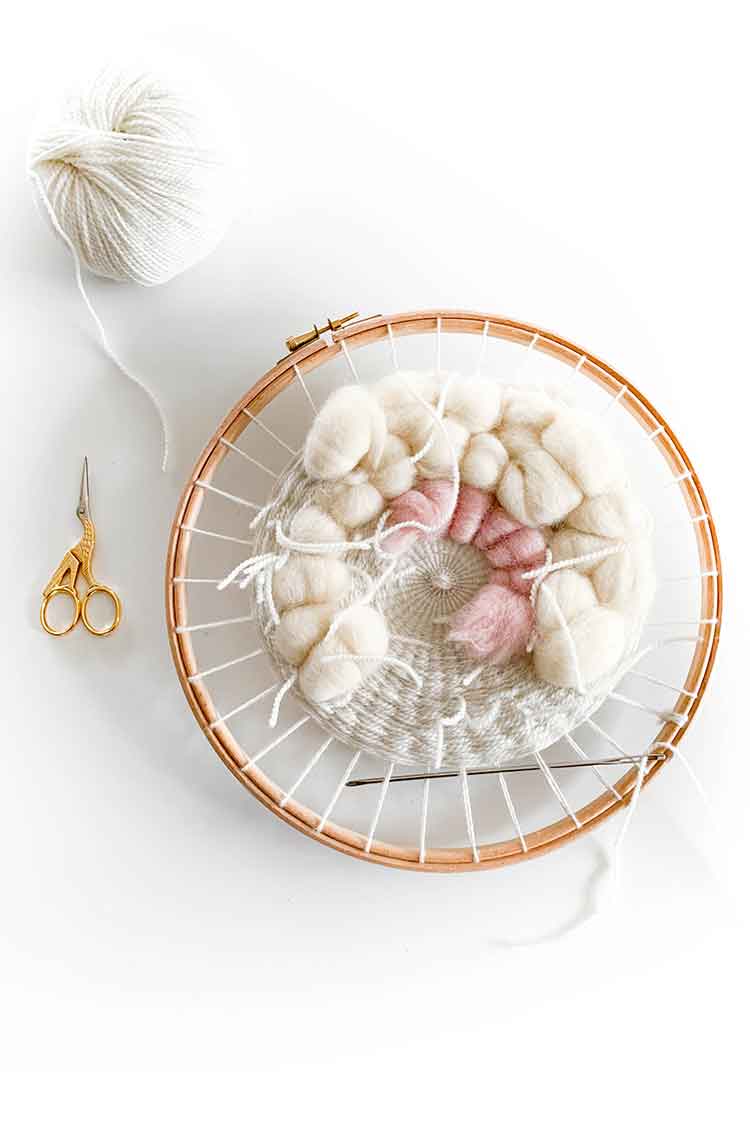 Secure the end of your weaving yarn to the weaving project. Start with your tread on the backside of your weaving project. Bring the needle to the front over a warp thread and back to the backside.
When weaving on an embroidery hoop you will have a double warp threads at every angle. Thread them as if they are one. So you bring your needle to the front over both threads and back under to two threads.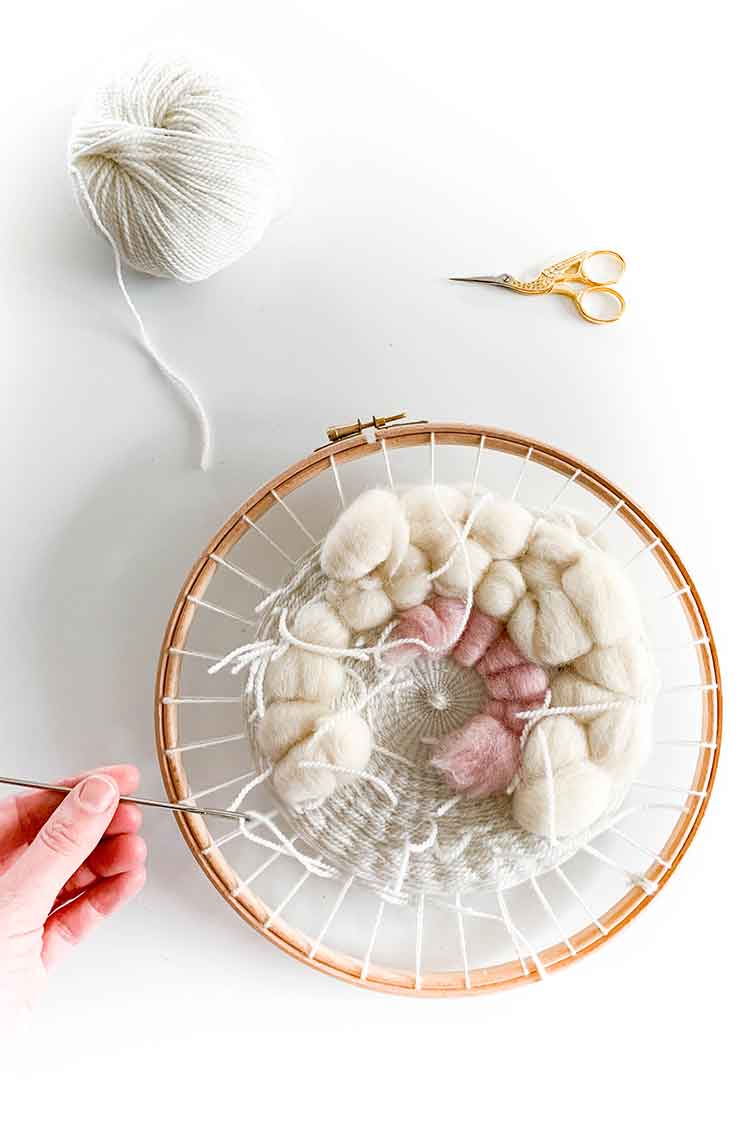 Do this for about 6 threads and then make a u-turn back. Take your needle in front and behind your warp threads as you make rounds.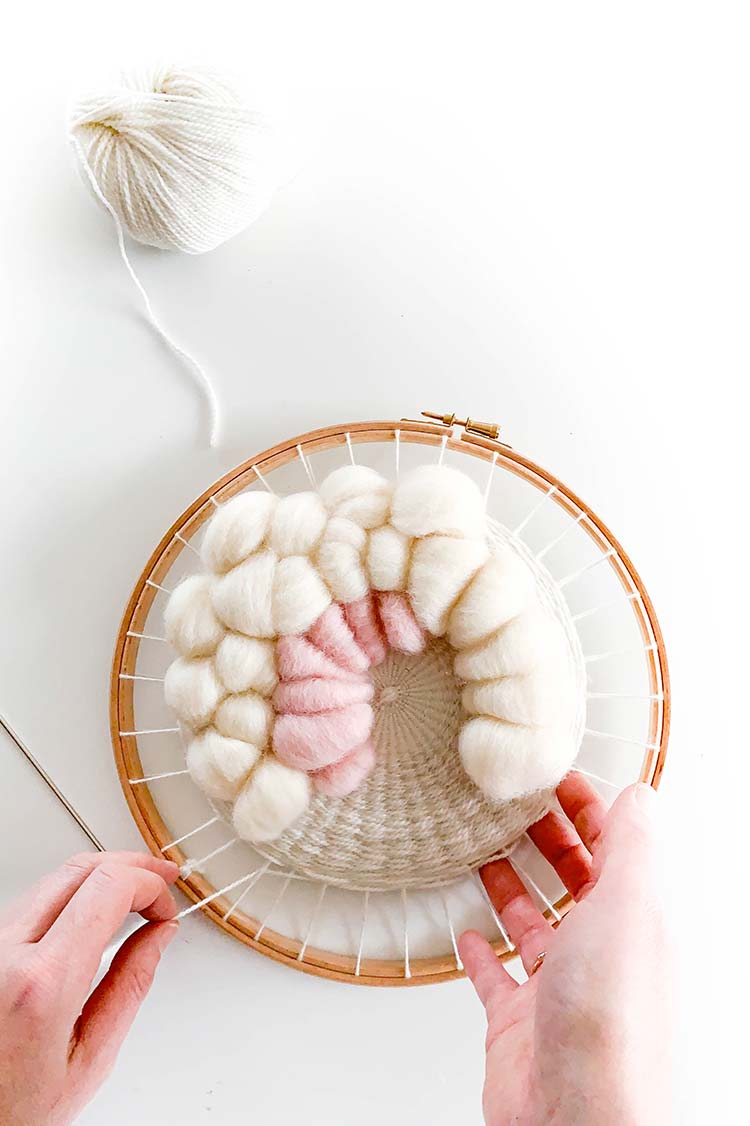 After completing a round, use your hand to move the woven thread as close as possible to the centre. Pull gently.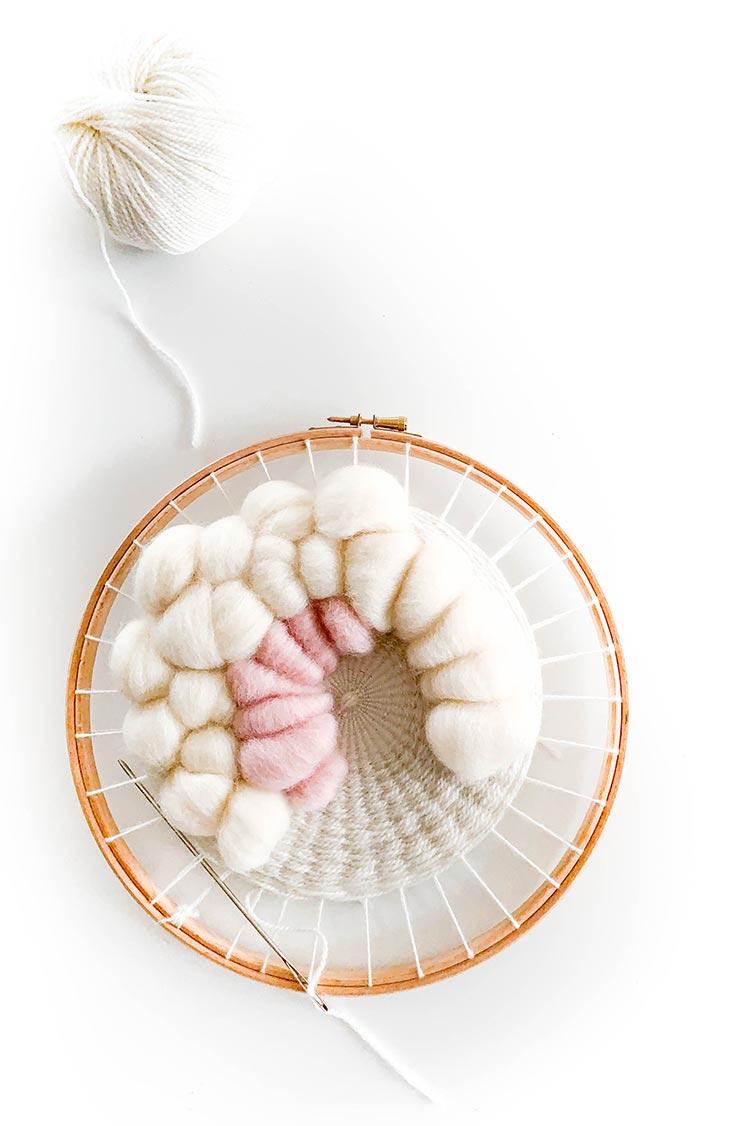 Continue weaving around going in front and behind your warp threads until you almost finish your yarn.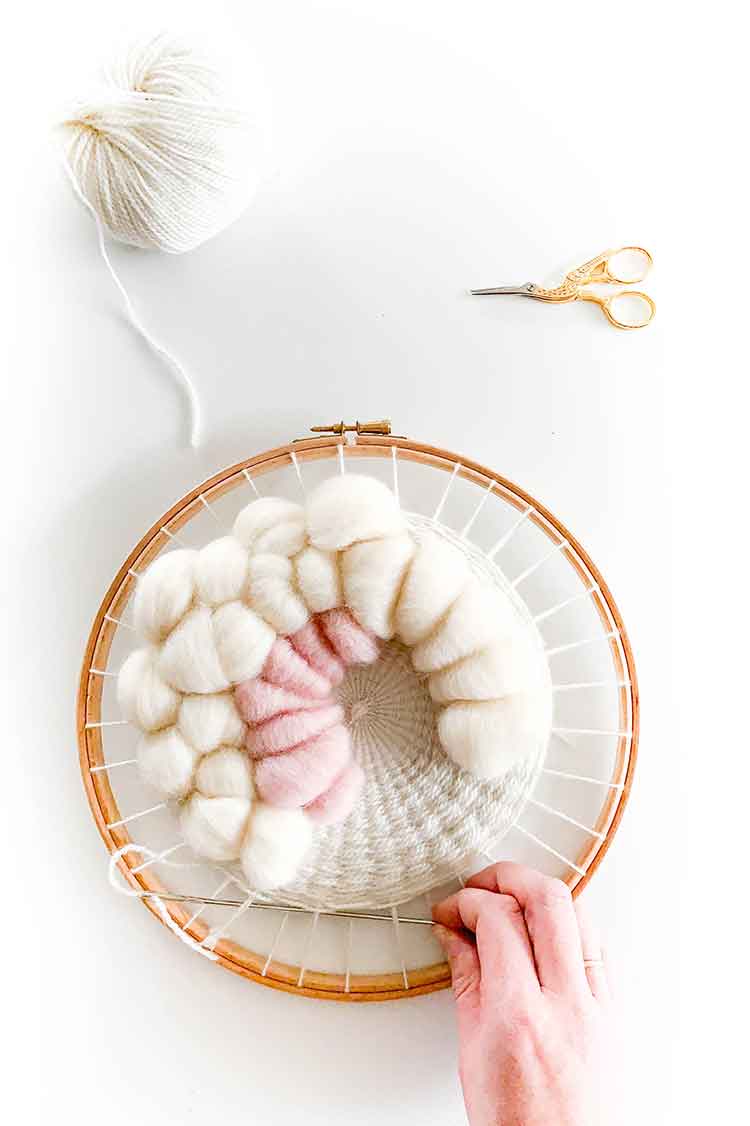 Secure the end of your yarn by taking a u-turn and going in front and behind 6 threads.
How to finish your circular weaving project?
When you finish weaving your piece it is time to clean up the backside of your weaving project.
Use a tapestry needle to weave in all the loose threads on the backside of your weave.
Thread the needle with the loose end and burry them under the woven piece as shown in the picture.
Do not pull too strong as this might create ugly areas in your piece. Flip your work to the front side and check if you are not causing issues.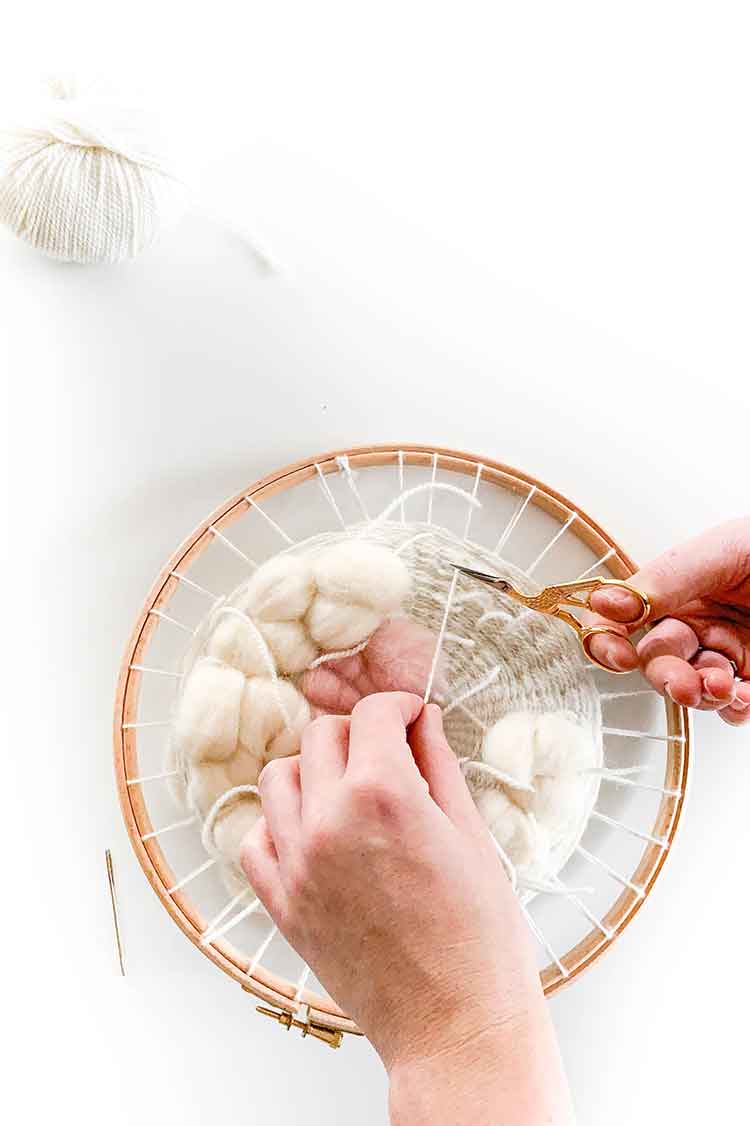 Cut off any excess yarn from the threads that you burried.
If you have different colored threads, make sure that you weave the loose ends in with the same colored woven area. Otherwise colors might show through on the frontside of your project.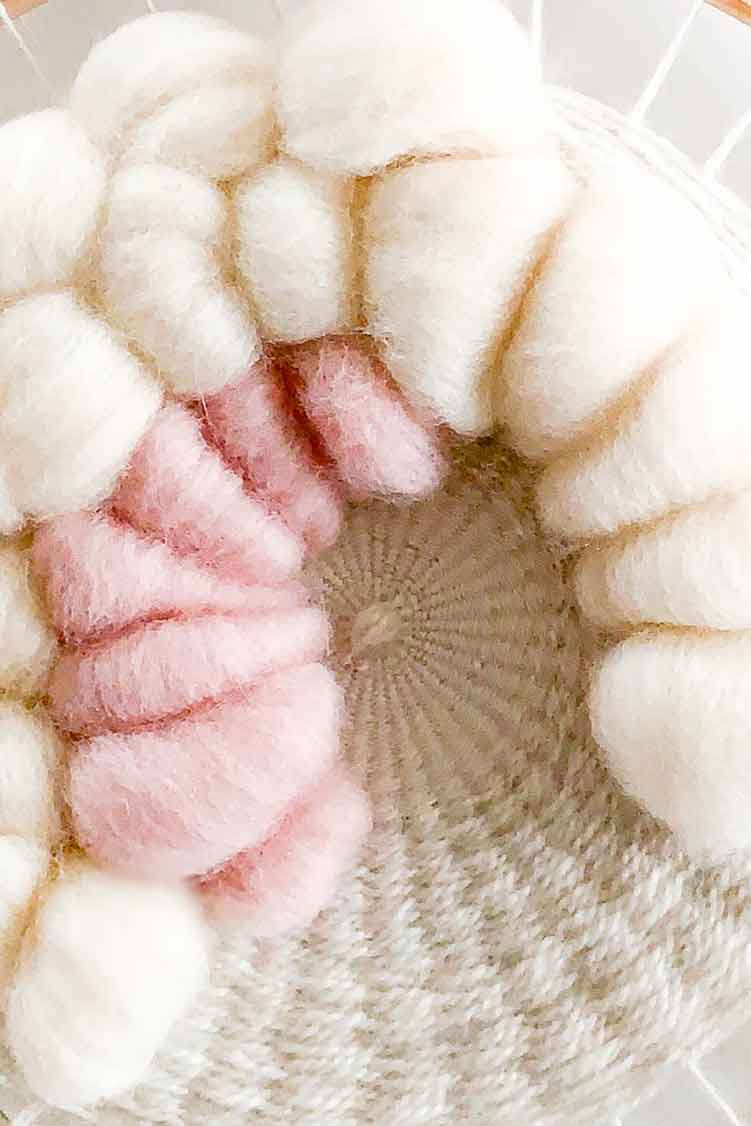 When weaving with wool roving you can tuck the ends under your weave from the backside.
You can also use a felting needle on the backside to felt the ends together.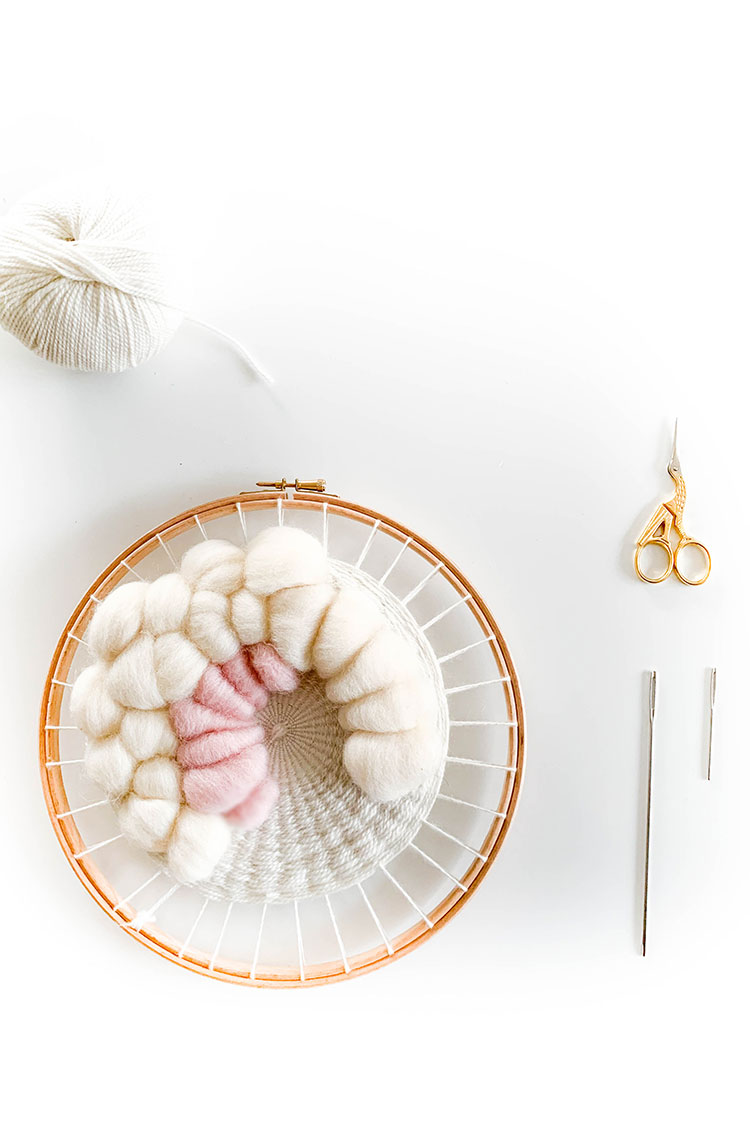 We like to display our work in the embroidery hoop directly.
Alternativly you can carefully cut your warp threads and make a double knot from each set of two warp threads as close as possible to your weave.