Host the best craft party ever | How to organise a crafternoon or craftnight for ladies
We love to craft with other people to make pretty things together. The more the merrier ;-). In this blog we share our best tips for organising a crafternoon or craftnight with ladies.
1. Start with a simple craft for your craft party
While you may be a pretty experienced crafter, not everyone is super creative or knows the basics of cross stitching or punch needle embroidery.
Be sure to pick a project simple enough to easily teach to people of all levels of creativity.
Most of our cross stitch and punch needle kits are suitable for beginners. They include printed instructions so crafters can also finish their project at home.
2. Prepare for your role as craft party host
Even the best craft crafter in the world may need to get used to a role of host. Because making pretty things requires different skills than being the one to help everyone get started, to expain the techniques and to make your guests feel at home.
Let your guests choose between projects you feel confortable with. And do not count on having time to make something yourself during the crafternoon or craft night. Rather get your creative juices flowing in all the preparations so you can share samples of finished pieces with your guests.
3. Order your craft party supplies in time
Start your party in a relax mood. Order your craft kits as early as possible. This will give you ample time to practice with the materials.
Did you know that we give special discounts on craft party orders of 5 or more DIY kits? You can get more information here
4. Choose a theme for your party
Deciding on a theme for your party makes it easier to choose fitting DIY kits, decorations and invitations. Fun themes in our collection include:
5. Create a plan for your craft party
This may not sound very creative, but it helps to make a little agenda for your craft party. Do you want to break up your event into different blocks?
Brainstorm on a list you feel a beginner needs to know, what supplies your recommend, what are common beginner mistakes? where do you learn more after you finish the session, etc. How did you start as beginner? what helped you, confused you, how did you learn, etc.
Our kits contain a list of tips for beginners that will help you to host your party. It helps if you have read those insructions yourself and guide your attendees through it during your session.
An example agenda can be as simple as:
Get to know eachother. Do a short introductions.
The basics of this craft: explaining the supplies and how to get started
Let everybody start with their craft
Share publicly a few common issues and how to solve that
About 15 minutes before closing: wrap up and explain how to finish the craft at home. Share dates for next craft events
6. Don't be shy with ordering / making lots of food and drinks
No party withouth some good food and drinks. We prefer to have lots of them and often eat the next days from our party snacks. It's an easy way to extend your party feeling for a bit longer ;-).
Depending on the duration and timing of your event, think about cakes, sweets, snacks, cocktails, cpffee, thee, lunch, dinner. Ask participants if they have any dietary or allergies.
Not a big chef? Or don't like to do groceries? To share effort and save budget you can also ask participants to bring their own dish to share.
7. Don't forget the decorations!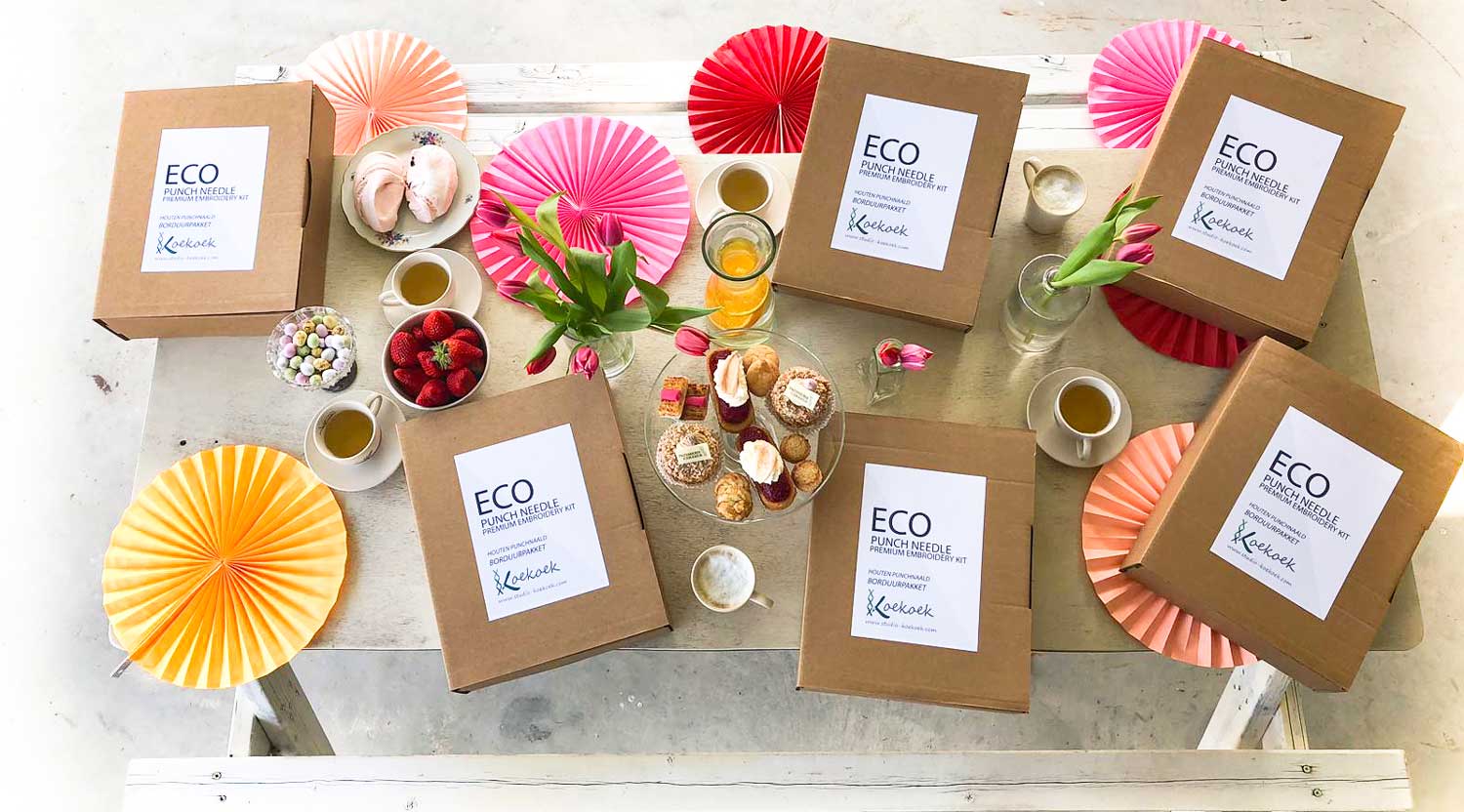 Think fresh flowers, bunting, balloons, or paper garlants. You can not have enough of them. And it does not need to be complex or very time consuming.
Find inspiration on our Pinterest board
8. Get your guests get into party modus before the event starts
Before your guests enter the venue, help them tp get into craft modus. They may come right out of work or a busy day at home. They come to the craft party to unwind and forget it all.
Send a watsapp with sneak previews of the craft, and the yummie food that's waiting for them.
Decorate the outside door of your venue, or make a path way to your event with decorations that fit your theme.
And don't forget about the music! Get your spotify list ready with loads of happy energenetic music. Depending on whom you expect, you may start your event with "I'm so happy" from Pharell Williams. Having everybody to stand up a clap a bit is a great way to break the ice as well. Continue with a with a few jazzy songs to get into crafting modus.
9. Do a fun get to know eachother game at the start of your event
As a host your first task is to make people feel at home. And at home you know your housemates :-). So, especially when organising an event where people get together that do not know eachother deeply, it is important to break the ice.
One of our favourites is the Name Game. It's quick and easy for participants.
One person starts by using an adjective starting with the same letter as their first name, followed by their first name, for example Gorgeous Gerda, Joly Jacqueline, or Lovely Lena.
The next person repeats the adjective and first name of the first person, and then adds their own.
Continue around the circle, with the last person having to repeat all the names in order and adding their own.
If somebody cannot figure out an adjective just ask others to help.
10. Get others involved to host the best craft party ever
You do not need to do everything yourself! Organising a craft party with two or more people is so much easier! Having a few people that you can delegate tasks too helps a lot. Do the things you are good at and ask others to help with invitations, food, decorations, etc.
11. Take pictures
As host you are probably busy taking care of your crowd and its easy to forget to make some pictures. Ask somebody to remind you or ask them to take them to take pictures for you!
You don't want to know how often we finished a wonderful day crafting and totally forgot to take pictures!
12. Be prepared for the unexpected
So this list was supposed to have 11 tips, but here's our unexpected number 12 ;-).
Sometimes life takes over. Make sure you prepare for unplanned events. Purchase a few extra supplies for extra people that show up for your event or in case something breaks or gets messed up. Also, be sure you have a few cleaning towels ready to remove any spills of food or drinks. Thinking ahead can be a lifesaver!