How to make a hand embroidered table cloth fit for your table
Hand embroidered tablecloths are an elegant way to brighten up your room. In this blog you will learn how to make a table cloth fit for your table with step by step instructions. We also include tips for taking care of your hand embroidered piece. In our shop you can find premium linen that is especially suitable for stitching table cloths.
You may also want to read our earlier blog post about how to stitch over 2 on linen fabric.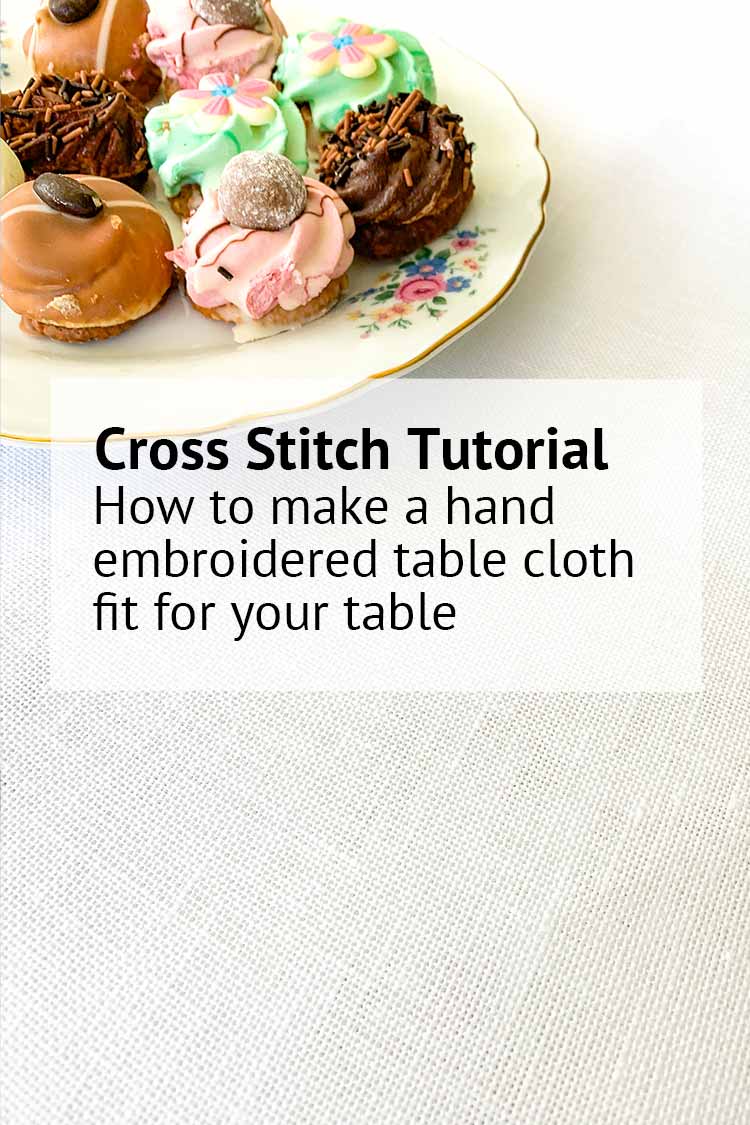 What materials do you need to make a custom embroidered table cloth fit?
When starting on a big project like a table cloth, we recommend to go for quality over price. After all you spend countless hours creating your piece and it will be a pitty if you can only use your finished piece once.
Quality embroidery linen
Go for quality. You will spend a number of hours stitching this fabric, so you'd better invest to make it a project to cherish for years. For an elegant table cloth that drapes nicely on your table, select an evenweave linen fabric that is especially woven for use as table cloth.
Ensure you wash your fabric before starting to stitch as it might shrink a little bit.
We sell a special table cloth linen here in our shop. The fibre of this fabric is grown in France, and it is woven by a small weaving company in Austria. A 100% European fabric. Ecological considerations are at the heart of the weaving company, and all their processing and refining (with the exception of dying) is done by natural means. The linen fibre is grown in an environmentally sustainable way and under certified biological control (kbA).
Other materials you'll need:
A Pattern. Keep it simple to be able to finish your piece. Borders with geometric shapes and little flower patterns are populair. For a wedding you can consider adding the initials and wedding date of the couple in the centre of your piece.
An Embroidery Needle. For most evenweave linens a size 24 or 26 embroidery needle works great.
Embroidery floss. Spend your money wisely and buy high quality yarn that does not loose color. We sell DMC mouline, glow in the dark, etoile and metallic floss here in our shop
Embroidery scissors. With sharp and short blades, embroidery scissors are ideal for cutting your floss witouth hurting the fabric. You can find different types of scissors here in our shop
Sewing needle or Sewing machine.
Clothing Iron. Ideally with steam functionality
Measuring tape. You can find a handy tape with both cm and inches here in our shop
Optional: Extra long Cutting ruler. This 60 cm long cutting ruler will make it a lot easier to needly cut long distances of fabric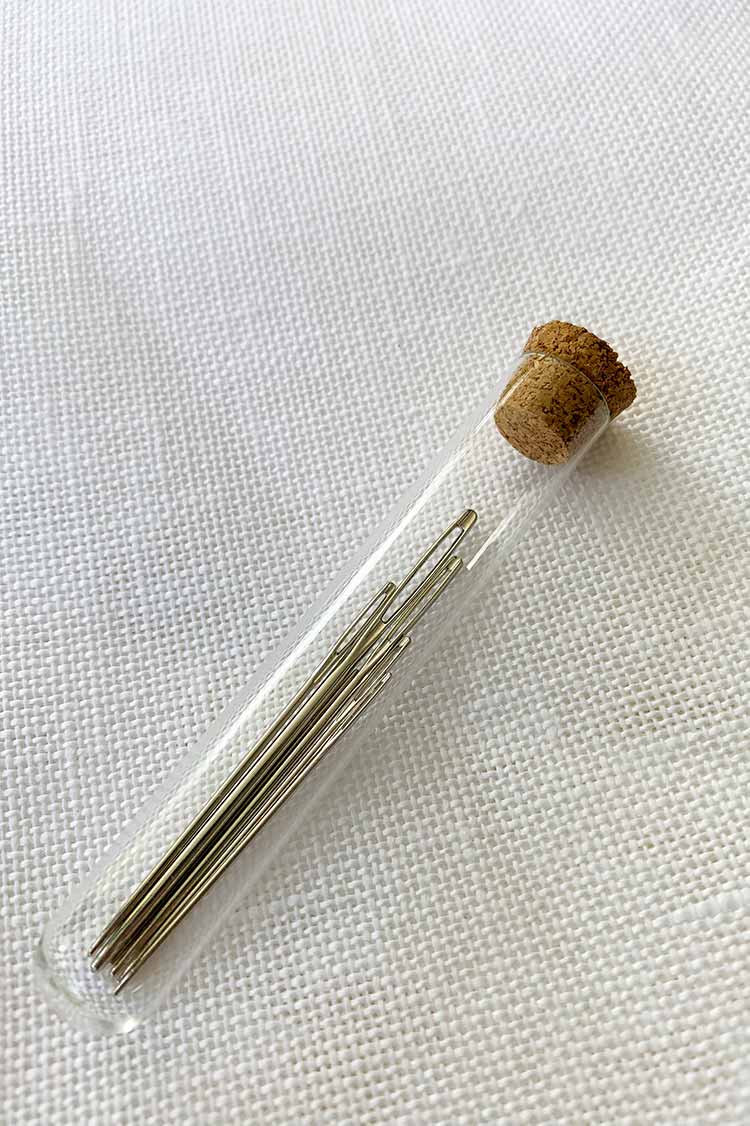 Determine how much fabric you need for your table
Measure your table width and lenght
This is easy with a rectangular or square table. Use your measuring tape and take the dimensions of the tabletop. Note your sizes on a piece of paper.
Find the diameter if your table is round. To measure the diameter, set the tape measure across the center of the table. The diameter is the distance from 1 side of the table to the other.
For oval tables, measure across the table in both directions. Use the longest measurement when calculating how much fabric to get.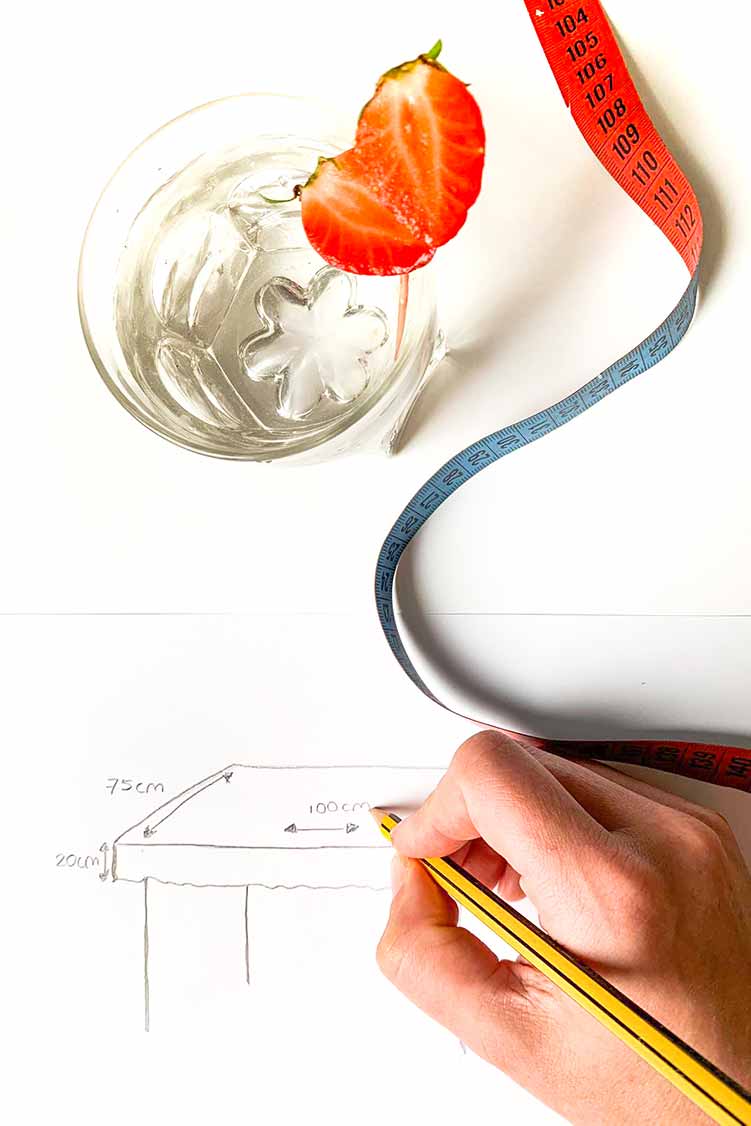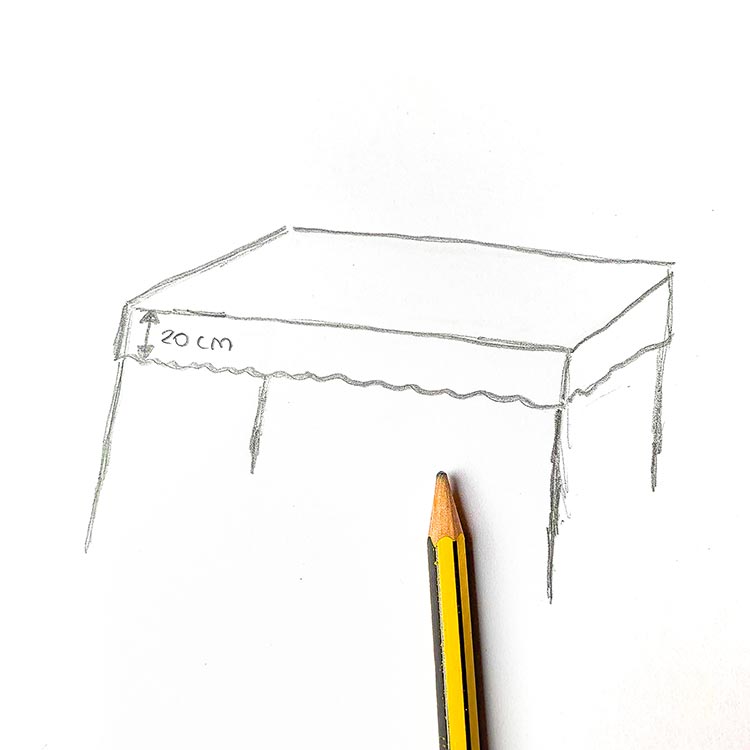 Measure the drop length for your table cloth
The drop length is how much fabric hangs from the edges of the table.
For a standard tablecloth used in informal dining, the drop length is 8 to 12 in (20 to 30 cm). Your tablecloth can have a different drop length than this, so adjust the measurement to suit the design you have in mind.
A formal tablecloth often reaches the floor. The drop length for such a tablecloth is the table's height, or close to it. Measure from the tabletop down to the floor. It might be challenging to find a table linen that is evenwoven and wide enough for it to reach the floor on both sides of your table.
Add a hem length for your tablecloth.
In many tablecloths, the edges of the fabric are folded and stitched with a hem. For a neat tablecloth, we recommend stitching a double-fold hem. Account each fold being 1,3 cm (1⁄2″), meaning you need 2.5 cm (1″) of fabric on all sides to create the double-fold hem.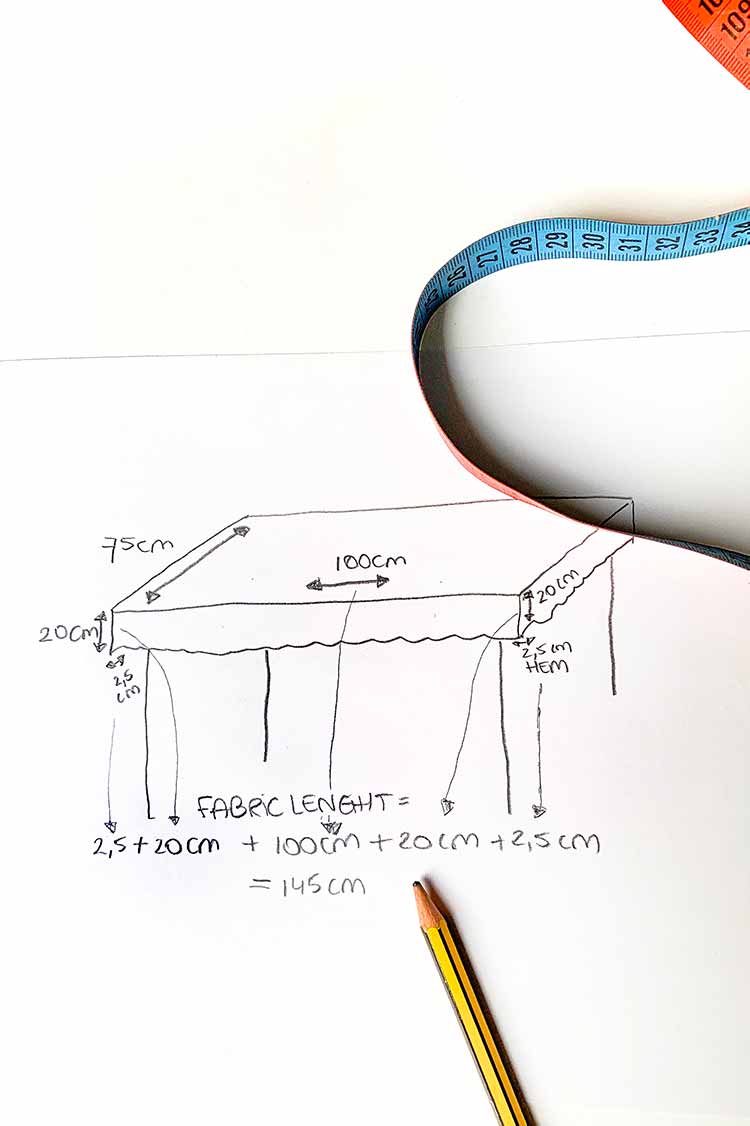 Calculate the fabric required for a rectangular or square table
Using the measurements made, use the following formula to calculate how much fabric you need.
For the table cloth width: table width + (drop length x 2) + (hem length x 2).
To find the length of fabric needed: table length + (drop length x 2) + (hem length x 2).
For example: your table is 75 cm x 100 cm. You want a drop lenght of 20 cm and a double-fold hem. You then need the following fabric:
Required fabric for the table cloth width = 75 + (20×2) + (2,5 x 2 ) cm = 120 cm
Required fabric for the table cloth lenght = 100 + (20 x 2) + (2,5 x 2) cm = 145 cm
Calculate the fabric for a round shaped table
To determine how much fabric your need for your round tablecloth you use the following calculation.
Required fabric = table diameter + (2 x drop lenght) + (2 x hem lenght)
For example, your table is 90 cm wide and you want a drop lenght of 20 cm and a double-fold hem.
You require: 90 cm + (2 x 20 ) + (2 x 2,5) = 135 cm x 135 cm fabric.
Cut your fabric to size for your table and stitch the edges
Lay the fabric upside down and cut it to size.
Spread the cloth out so the "wrong" side, the side that will become the tablecloth's underside, faces you. Cut the fabric according to the size you determined when measuring the table, adding the drop lenght and hem measurements. An extra long cutting ruler is a handy tool to ensure straight cuts.
For a round table, draw the cutting line using a calcium pencil and a piece of yarn that is half the width of the required fabric size. Pin the yarn end to the centre of your fabric and make a circle with your calcium pencil.
Create a double-fold hem on the edges of your table cloth.
For a double-fold hem, fold the edge of the tablecloth in by 1,3 cm (1/2″). Press it flat with a hot iron using steam. Then, fold the hem with aby 1,3 cm (1/2″) and iron it flat again. Repeat this around the entire tablecloth.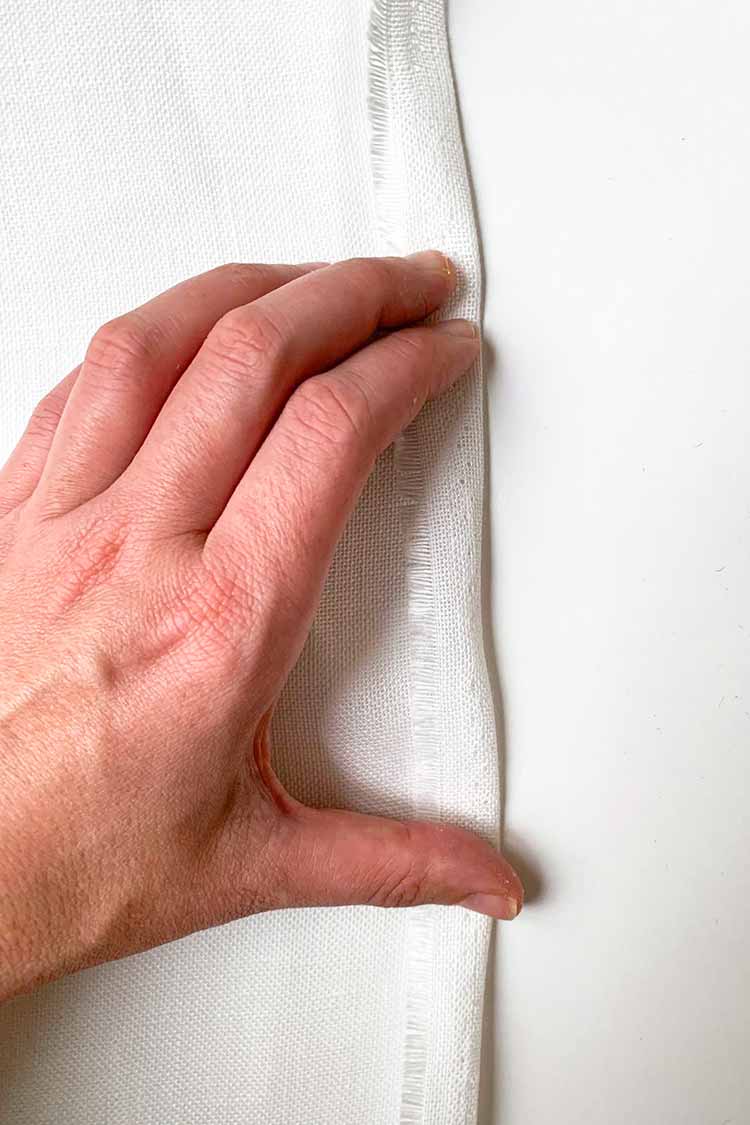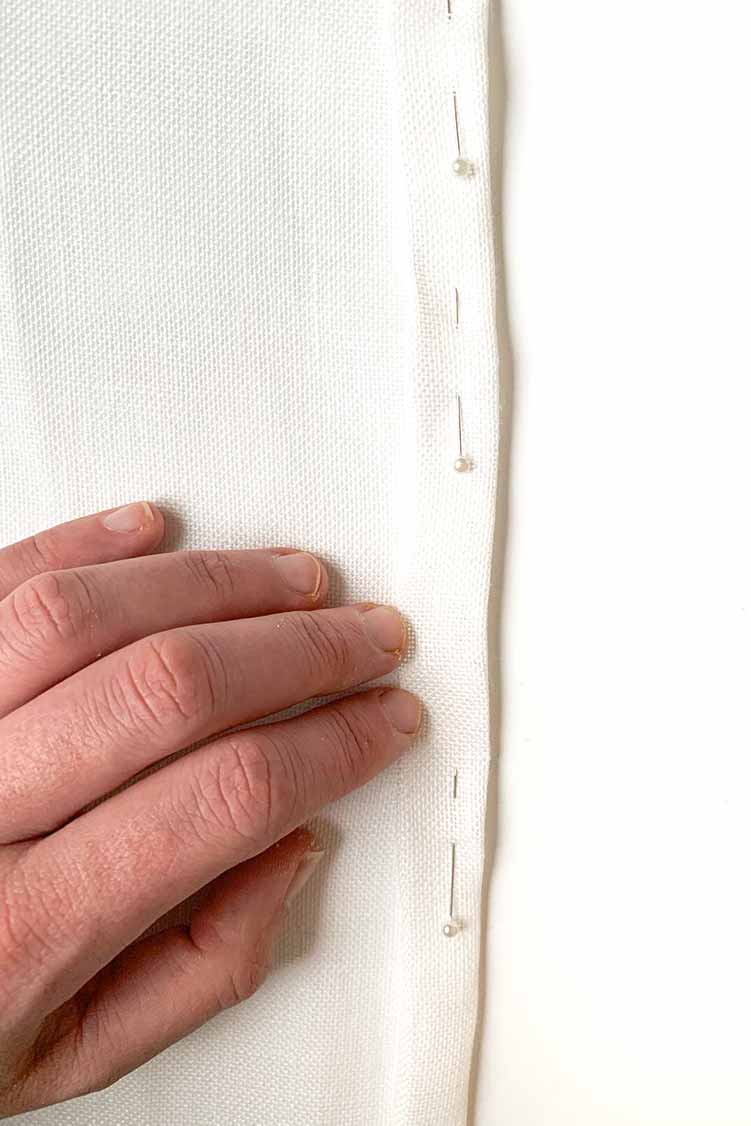 Create neat corners for rectangular tablecloths.
Fold the hem on the longer edge of the cloth over the hem on the shorter edge. Unfold the corner to reveal a grid pattern formed by the creases. Draw a diagonal line through the middle square. Cut the fabric along the line, then fold the cut edge down and iron it. Fold in the sides, fold in the cut edge, then fold in the sides again to create neat mitered corner.
Pin the mitered corner to hold it in place while you work on the other corners.
Mitered corners give tablecloths perfect 45-degree edges so they drop nicely over your table.
Sew the hem on the edges of your table cloth
We prefer to do this with a sewing machine, but of course you can also sew your hem manually. Position your needle right next to the edge of the inner fold on the hem. Sew all the way around your tablecloth with straight stitches. When you get to a corner, keep your needle down in the fabric and turn your fabric. Continue stitching along the hem. When you've completed all edges, drape the tablecloth over the table to see how well it fits!
Tips for cross stitching a table cloth
Now it's time for the fun part, decorating your table cloth! Stitching on Evenweave linen is a bit trickier than Aida fabric. You may want to read our earlier blog with tips on how to stitch on linen fabrics first.
A few more tips to help you get started:
1. Keep it simple!
Especially if this is your first big cross stitch project, choose for simple and small patterns.
We cannot say it enough. Really keep it easy. On linen fabrics you typically stitch over 2 threads. This means that if you have a 28 count table cloth of 200 cm (~80″)  x 140 cm (~56″) your outside borders might easily be about 1000+750+1000+750=3500 stiches long. Adding a border of 5 stitches heigh will result in a total of 17,500 stitches to make.
When you pick a simple and small border pattern it is easier to repeat the patterns and to make them fit for your table cloth.
2. Add new details every year
If you use a simple geometric border pattern you can always add extra rows an decorations in the next year. The smaller your border the quicker it will be to finish.
3. Start stitching in the middle
Start stitching in the middle of the longest part of your fabric and work towards the edge. This way you ensure that the corners of your borders end at exactly the same spot on both sides.
Also for decorations on the topside of your table cloth start stitching in the center of your fabric. You can find the centre of your fabric when you fold your fabric twice.
How to take care of your embroidered table cloth
A table cloth is made to be used. And hence you may get some stains. We recommend the following to take care of your embroidered table linen.
How to wash your linen table cloth
Fill up the washing mashine with half volume only. Linen can absorb a lot of water and swells up a lot.
Please use liquid detergent without optical lightener and bleachers
Please wash with 40 ° C – maximum with 60 ° C
Choose lowest spin-dry tours.
Do not use the dryer as it will make ironing your fabric very difficult.

The best ironing tip for linen
Ironing linen is the easiest when you do it on moist fabric. We recommend to iron directly once you take it out from your washing machine. Use the highest temperature of your iron and turn on the steam. If your iron does not have a steam function you can use a wet kitchen towel in between the fabric and your iron to create the steam effect.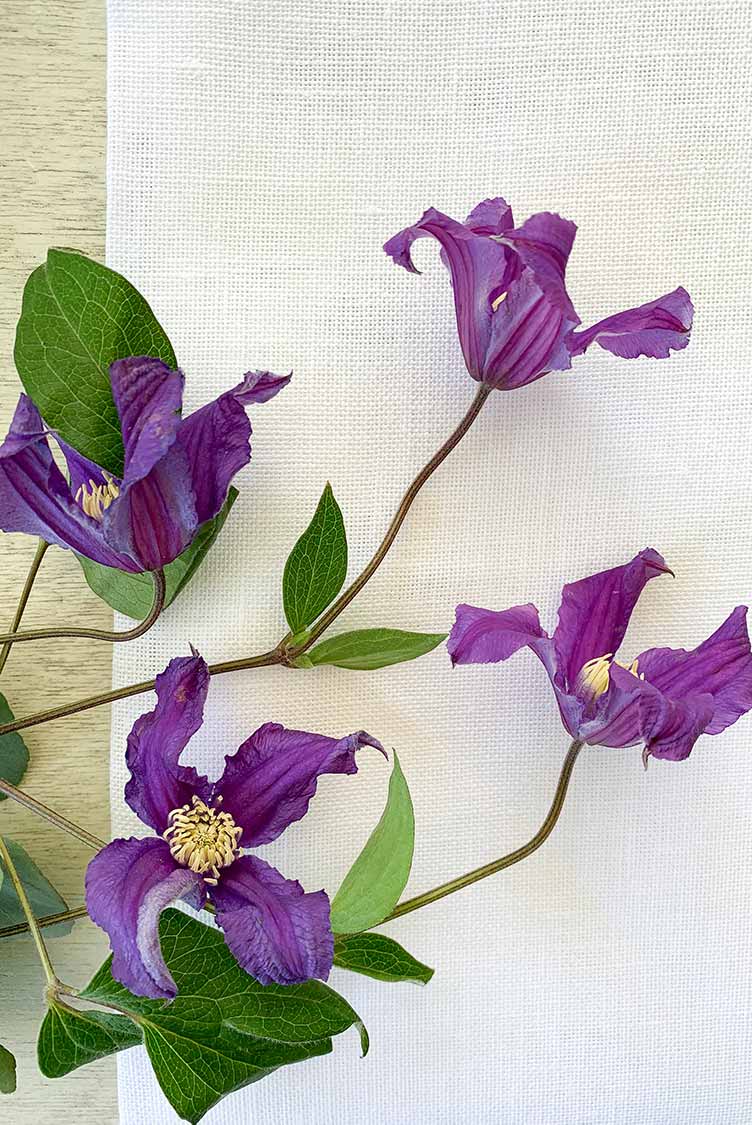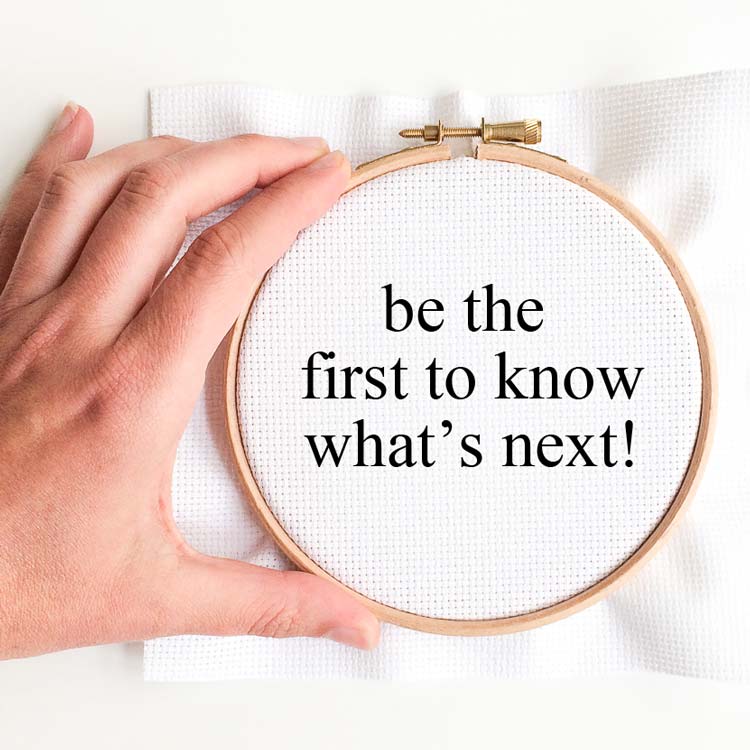 Read more cross stitch blogs