How to use the Luxury Wooden Punch Needle instructions
If you are new to punch needle embroidery, you may want to start reading our punch needle tutorial for beginners .
In this blog we will share a few extra tips specifically focussing on the ergonomic wooden punch needle we sell in our shop. You will learn how to thread this needle with wool. You can read our tips for foundation fabric and wool that is a perfect match with this needle.
Our Ergonomic wooden punch needle has a smooth ergonomic handle. Perfect when making larger pieces, and a blessing for your hand.
How to thread your luxury wooden punch needle?
To get your wool into your punch needle you will need a long threading tool. You will receive them together with your punch needle. Without these tools you will strugle to poke your yarn through the needle.
Below steps explain how to use an extra long needle to get your yarn flowing smoothly through your punch needle. You will need a needle of at least 15 cm lenght.
Step 1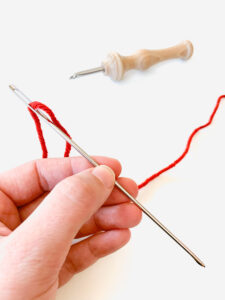 Thread your long needle with Gordita wool or other yarn with Aran thickness.
Step 2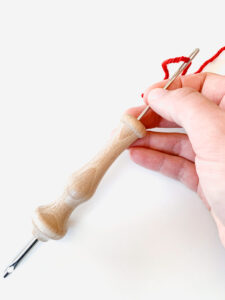 Insert the needle from the backside of your punch needle, until it pokes out at the front side.
Step 3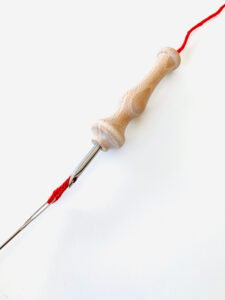 Pull your long needle through the punch needle.
Step 4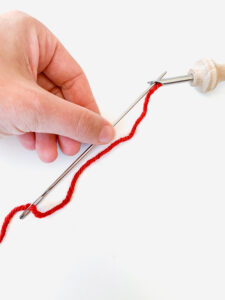 Now thread your long needle through the eye of your punch needle pulling the needle from the inside of your punch needle to the outside.
Step 5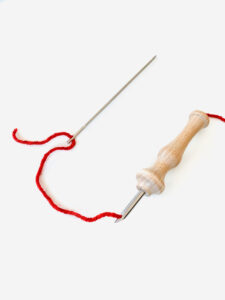 Voila! Your yarn is inside your punch needle.
Which foundation fabrics are suitable for the ergonomic punch needle?
Each punch needle has a different thickness. To ensure that your loops stay nicely in your fabric, it is important to use the correct fabric for your project. We tested our punch needles with a large number of open weave fabrics to provide you the best combination.
Our 7,5 count monk's cloth fabric
This is by far our preferred fabric for this punch needle!
Monk's cloth is woven with 4 threads of cotton over 4 threads. It is not stiffened so your threads move easily when you enter your punch needle .
This fabric easily frays, so you may want to zigzag your borders before starting. Or read our blog with a quick trick to stop your fabric from fraying.
Our white ecological jute
If you're working with a smaller budget you can consider using our white ecological jute fabric. It feels a bit rougher on the hand, and you may need to practice a bit more when punching on this fabric. But it is cheaper than monk's cloth.
Jute is also a better ecological alternative as the entire production process (from growing the fibre to weaving the fabric) takes place in Europe and requires a lot less water than cotton fabrics.
Which yarn can you use with the ergonomic punch needle?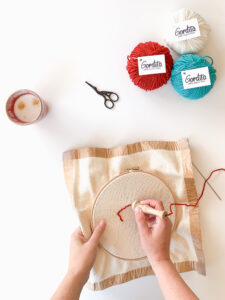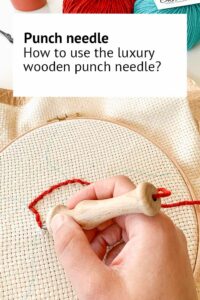 Stay up to date on our latest tips