Embroidery Floss Display Inspiration
We love Embroidery Floss. With hundreds of different colors DMC mouline, there are so many  beautiful combinations you can make! So it's a pitty to hide them in a cupboard, right? We prefer to display the floss right in the centre of our home!
Through our years embroidering we experimented with a few different ways to display and store our embroidery floss.
We started with classic embroidery floss bobbins, nicely storing them in a bobbin box. It works, but we did notice that afterwards the floss wrinkles and has these knicks when you wrap them too tightly around the bobbin.
So we hunted for alternatives. In this blog we share some embroidery floss display ideas. Starting with our personal favorite: the dolly pegs!
1. Floss dolly pegs
Look at these cute floss dolly pegs! Such pretty ladies!
We just can't stop staring at them.  They look stunning in a transparant glass and rotan bowl. With the flat feet, you can make them stand up in a doll house. Simply roll your embroidery floss around them and show off those pretty colors.
The dolly pegs are very smooth and made from Natural Wood in the UK. Great quality for your precious floss. And as they are round, your floss will not knack. Yeah!
Other floss display ideas
We are so happy with our dolly pegs, but there are of course other ways to store your embroidery floss. Scroll down for more inspiration.
2. Jumbo icecream stick spools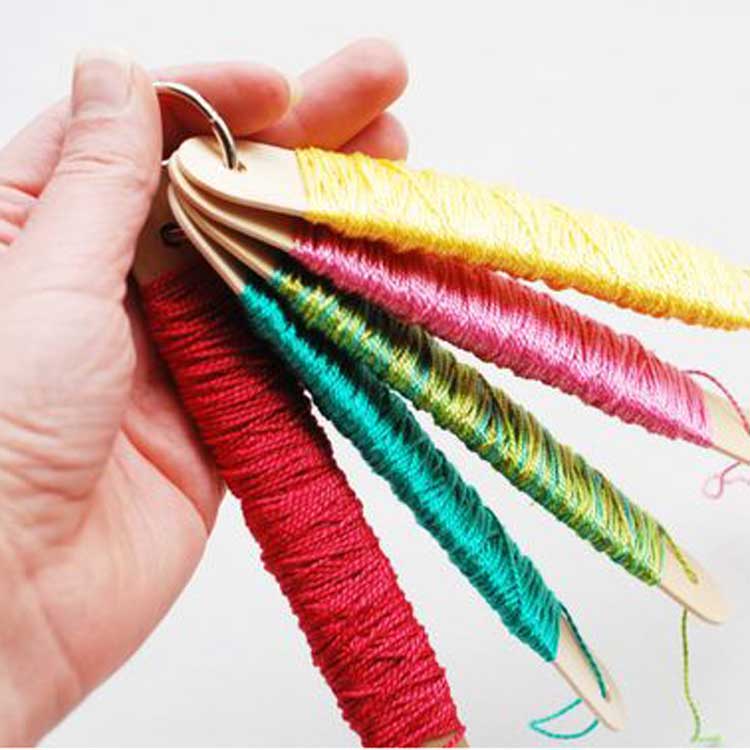 You also roll your embroidery floss around big icecream sticks. You will need to punch holes on both end though to keep your embroidery floss in place. Floss is more likely to unwind on these sticks, but they do look pretty!
3. Embroidery floss rack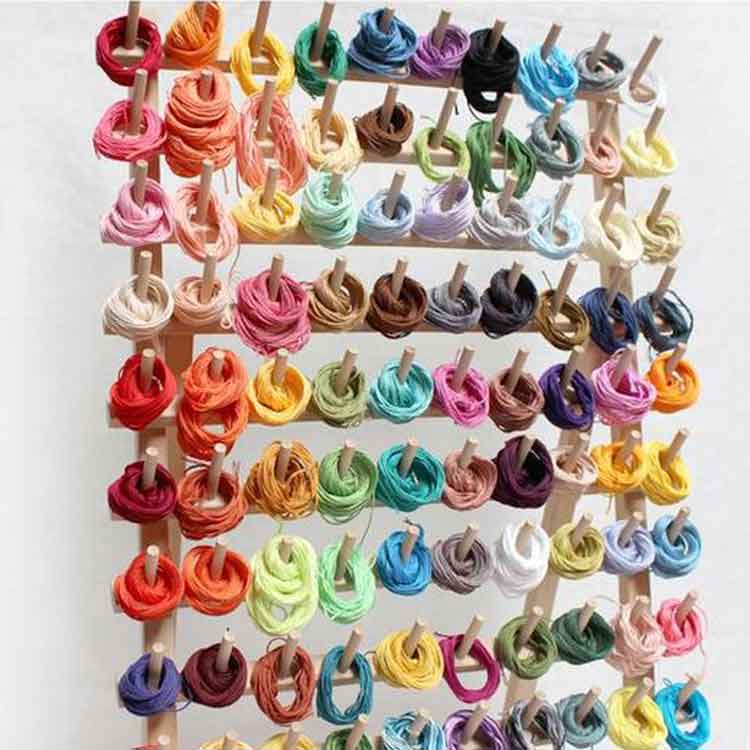 Photo credits: Sublime Stitching. Beautiful idea for a bigger craft room. Store your floss on a wooden rack and have it ready for stitching any moment you feel like.
4. Hedgedog bobbins
Photo credits: PipandChip. No time to cut your own bobbins? take a look at this cutie hedgedog!
5. Floss bar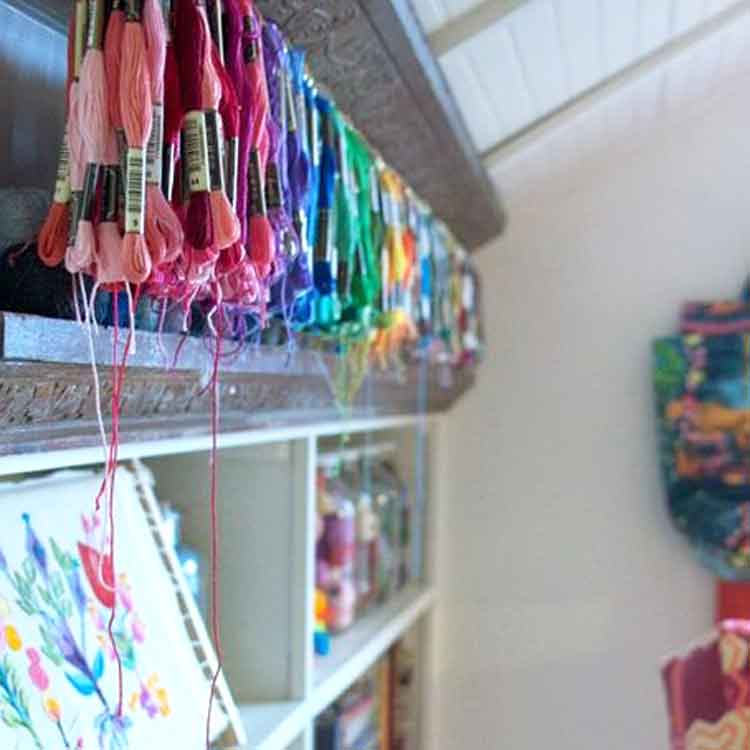 Photo credits: AnnemariaHorner. Stunning decoration for every craft room! Just hang your embroidery floss on a bar and show it to the world.
6. Dressform bobbins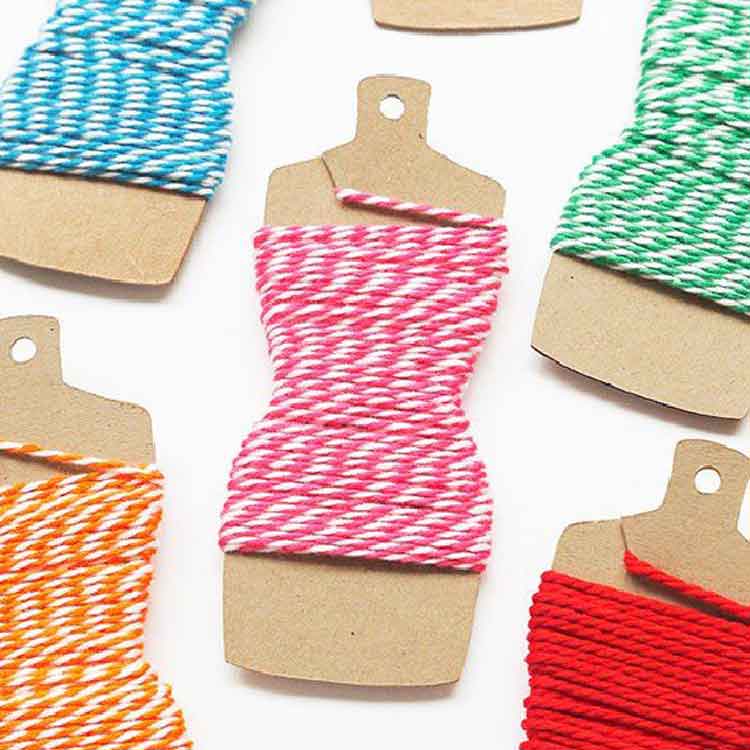 Photo credits: Minted Strawberry. If you have a bit of time, this is such a cute idea. Cut pieces of carton into a dress doll shape and wrap your embroidery floss around it. You can make all kind of funny shapes like this!
7. Clothespin frame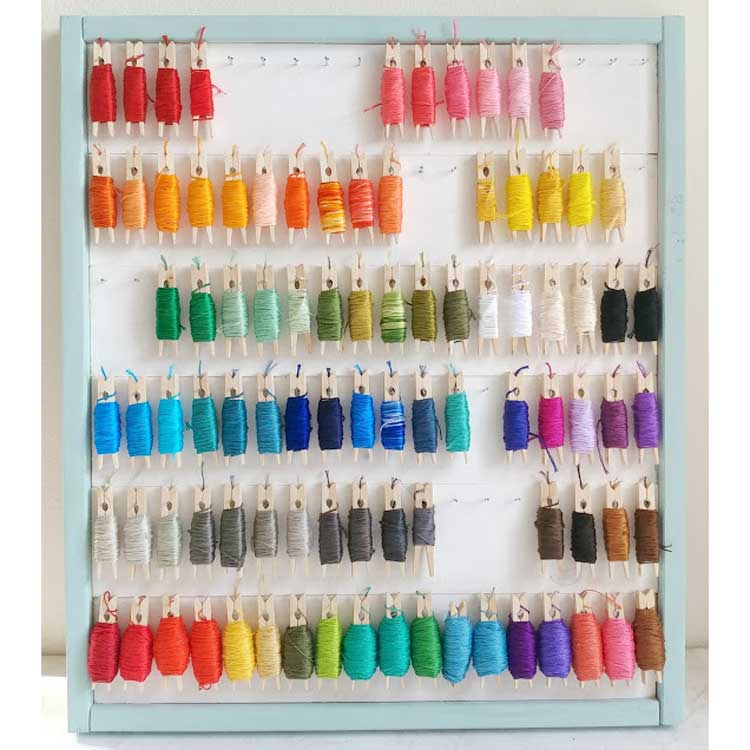 Photo credits: Ameroonie Designs. As alternative for dolly pins, you can use regular wooden cloths pins. Make sure you find a set of smooth ones tough, we run into a lot of splinters trying ours.
More cross stitch tutorials