Top Netflix Series to watch while crafting | Best Movies and Series to follow while you embroider, suggested by crafters
Do you like a bit of buzz while you are crafting at home? We asked our Instagram followers and 93% likes to watch a series while crafting! So it was time to share a list of top Top Netflix Series to watch while crafting as suggested by crafters. We also added a few ideas for projects to make while watching a series.
Taste differs but we received a few common themes in all your tips. Most items in this list are tips from crafters that follow us on Instagram. Please feel free to share your tips with us as well! We Always love to try some new series and movies.
And these 2 tips will help you enjoy your series+craft experience even more:
Watch a series in a language you are fluent in. It just helps when you do not need to read the subtitles :-).
Work on a craft project that's suitable for beginners and where you master the techniques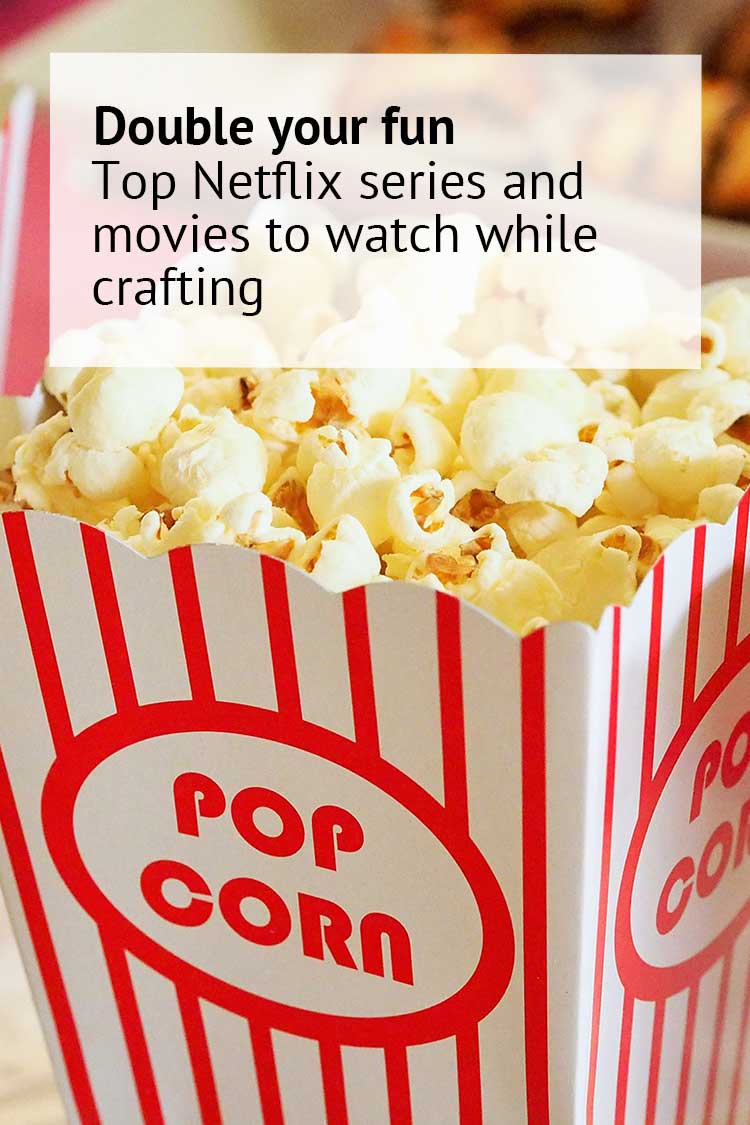 What to cross stitch when you are watching Netflix series?
A cute meme cross stitch design is always a great idea when you love to watch series.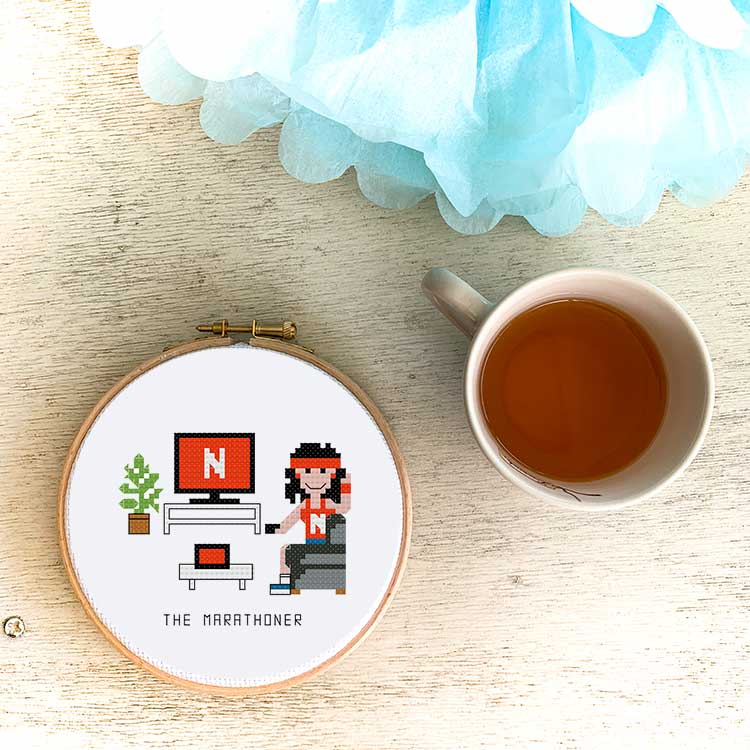 In case you already have a lot of floss and fabric at home, you can opt for an instant download cross stitch pattern to directly start making your Netflix marathoner.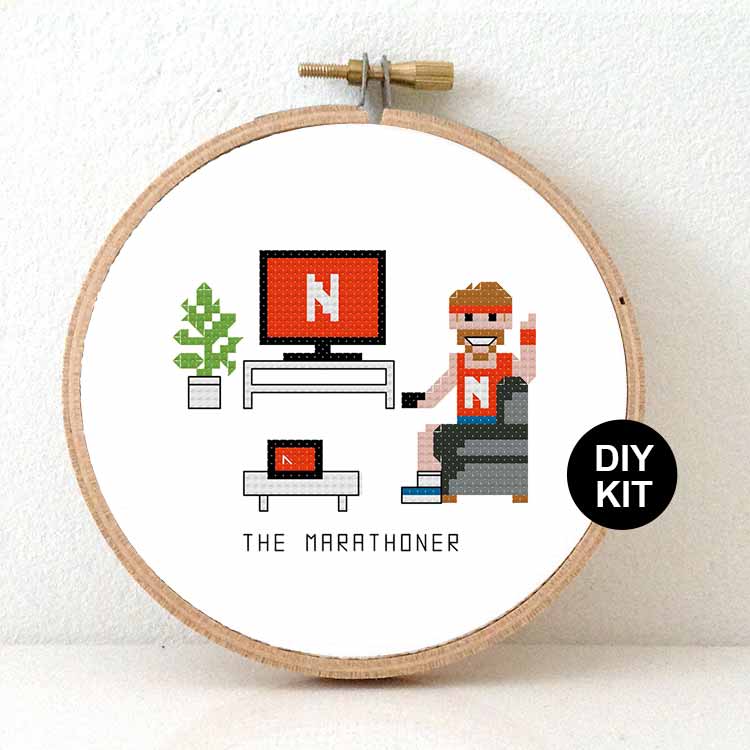 We also offer a DIY kit including embroidery hoop , fabric, DMC floss, needle and color printed pattern. The kits make great gifts for your crafty friends.
1. A Must See for every crafter: True Cost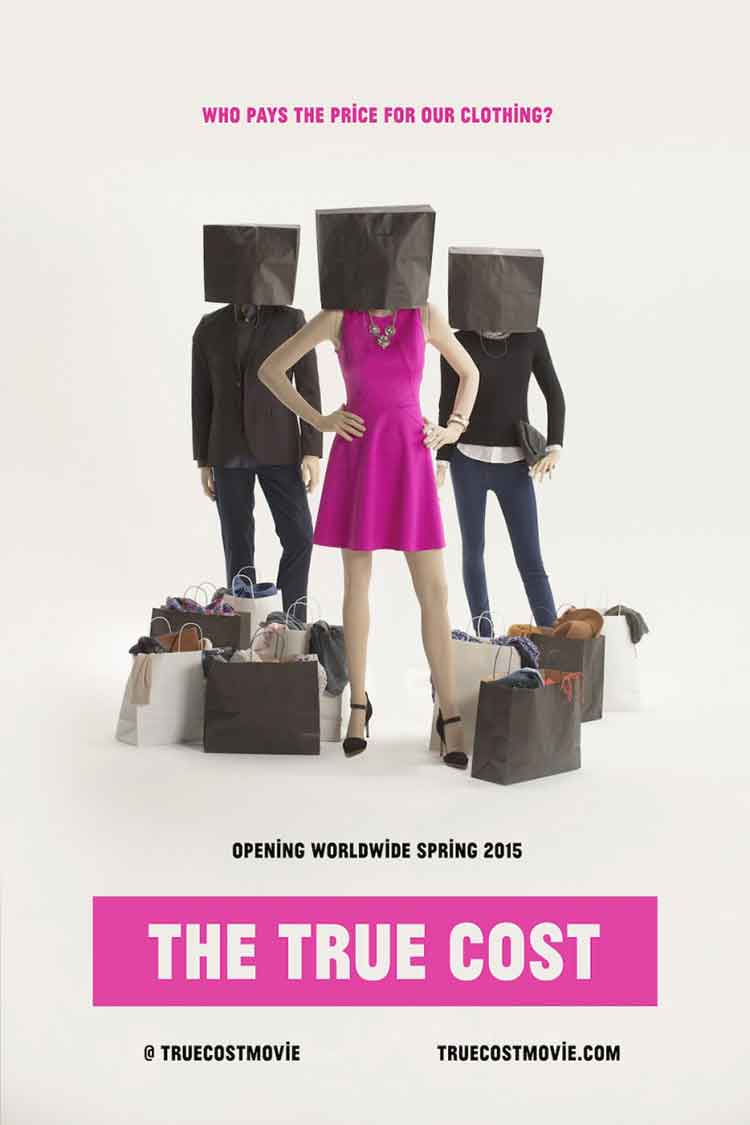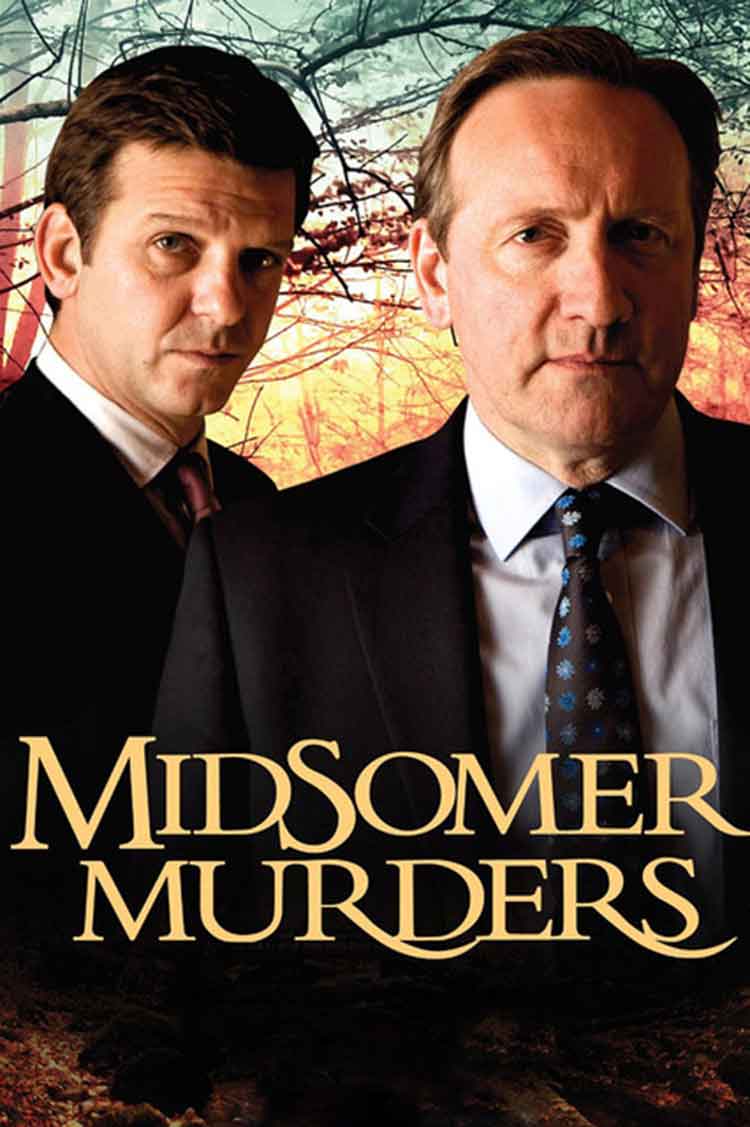 2. Slow Detectives are great Netflix series to watch while crafting
So you like some background mumbling while cross stitching, punching, sewing or weaving? A bit of soft conversation and a hint of dramatic music now and then? Slow detective are your pick!
Suggestions by other crafters include the classic "Midsomer Murders". With 19 seasons of slow paced detective work you have ample time to finish your project :-).
If you like a female in the lead, check Miss Marple. A classic detective that always ends up with a number of deads and slow puzzle to capture the killer.
Father Brown is another detective series that is great for ´slow´ watchers.
3. Watch an Animation movie while crafting
Nowadays animations are so much fun for both small and big. And they are great to 'watch' while crafting! The big advantage is that most animations are available with audio in multiple languages. This makes it easy to watch the movie in your mother tongue.
One of our recent favourites is finding Dory. The animations are stunning, and the dialogue so funny we had to laugh out loud a few times. So if you don't have a kid around that already forced you to watch it, go for it yourself.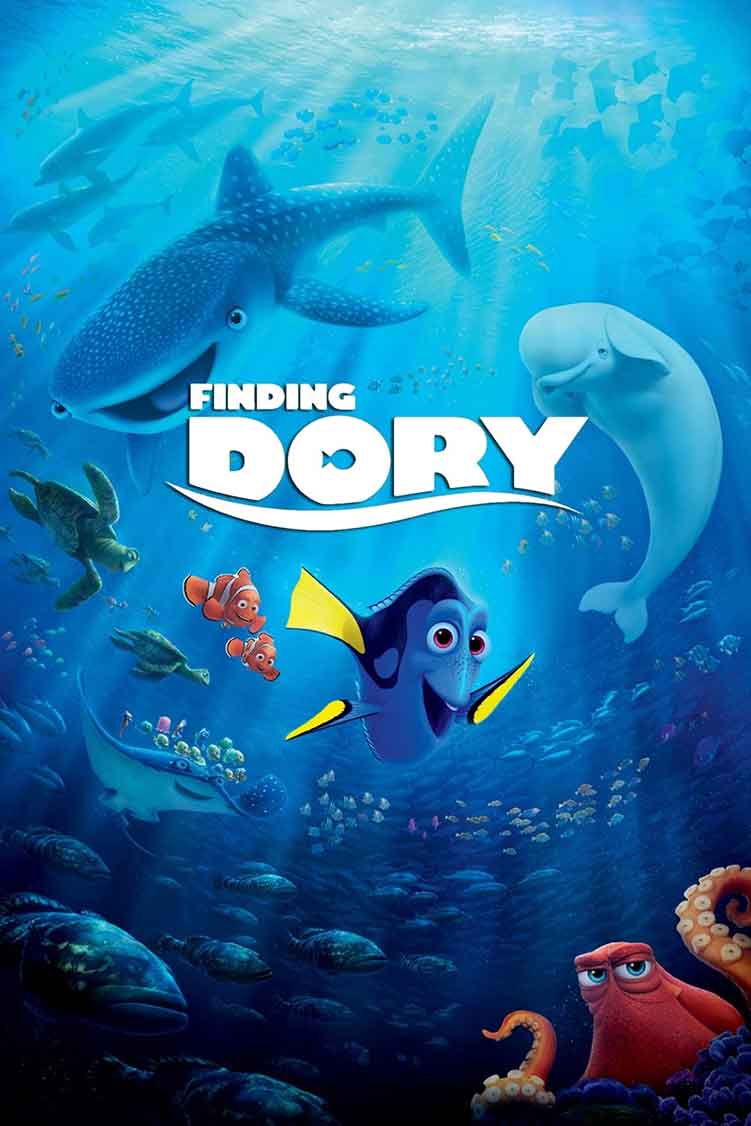 4. Keep your eyes open with these action series
The Belgium-Dutch production Undercover will surely keep your eyes open while crafting. Undercover agents infiltrate a drug kingpin's operation by posing as a couple at the campground where he spends his weekends. Inspired by real events. The series is Dutch spoken so more suitable for people capable of understanding that language. They are currently shooting the next season, so keep an eye out for the latest :-).
For crafters fluent in English, we recommend Forensic files in which science is used to solve violent crimes, mysterious accidents and outbreaks of illness.
Get in tropical holiday modus watching the addictive "Death in Paradise series" where you can follow the adventures of Scotland yard's inspector Richard in the Caribean on the Island Saint Marie. Perfect time to stitch a map of the islands you still like to visit.
5. Series that make you craft with a smile
Do you like to craft with a lighter mood? Watch a comedy-drama series and you will stitch with a big smile on your face. Our followers suggested a number of easy to watch – feel good series and we are happy to share them with you:
Modern Family is a LA based sitcom that already has 9 seasons of intruiging episodes featuring Jay Pritchett and his eclectic family. It is not available in every country on Netflix, but it's worth doing the search in your account.
Friends, the classic series featuring 6 friends you probably already know by heart. We just love to hear Phoebe's funny dialogues.
Ladies in the lead with Gilmore girls . Great to watch single mom Lorelai raising her talented daughter Rory in a small US town setting.
And with Offspring, you´ll get a great Australian comedy show with 7 seasons of fun episodes. The series is centred on 30-something obstetrician Nina Proudman and her family and friends, as they navigate the chaos of modern life.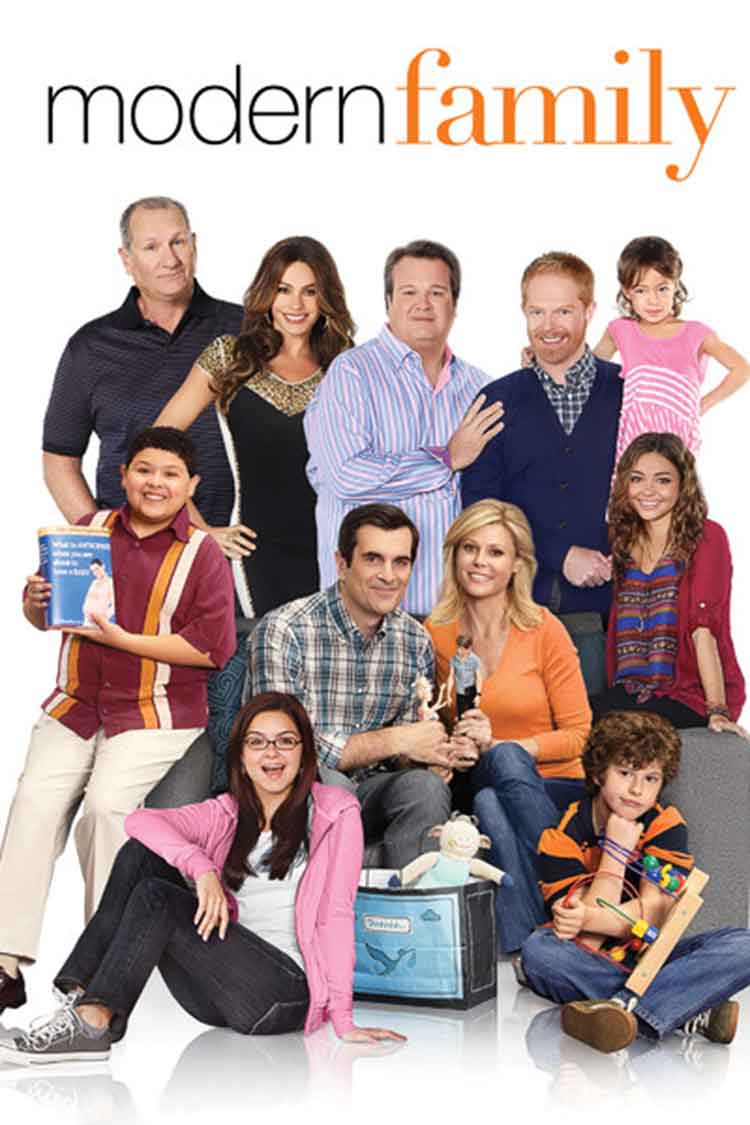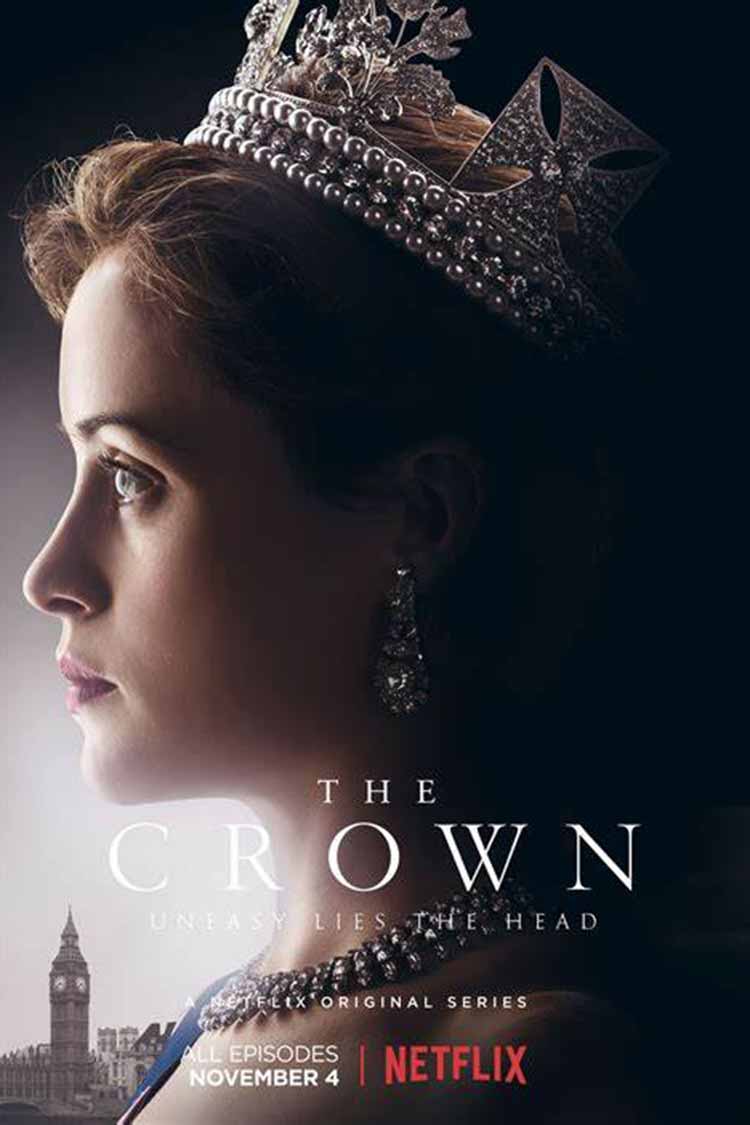 6. Stitch a costume while watching these upperclass series
Get a peak inside the exciting live of the longest governing lady ever: Queen Elizabeth of the UK. Watching the Crown will surely add some royal music to your craft session.
Or watch the popular costume drama Downtown Abbey to learn about different classes in Great Brittain of the early 20th century.
Do you like a bit of costume shopping drama? Watch the Paradise or Mr Selfridge!
7. Add a touch of magic to your crafting
Start your next craft project in the town of Storybrooke in Maine and meet fairytale stars that did not have a happy ending. Once upon a Time has 7 seasons of fantasy episodes so you can watch and craft for hours.
And how fun will it be to watch this series while cross stitching some fairytale dolls from our "Once upon a pixel" book?
Since the dolls are stitched on Aida 6 count fabric, with very big holes, they are easy to make while watching a series.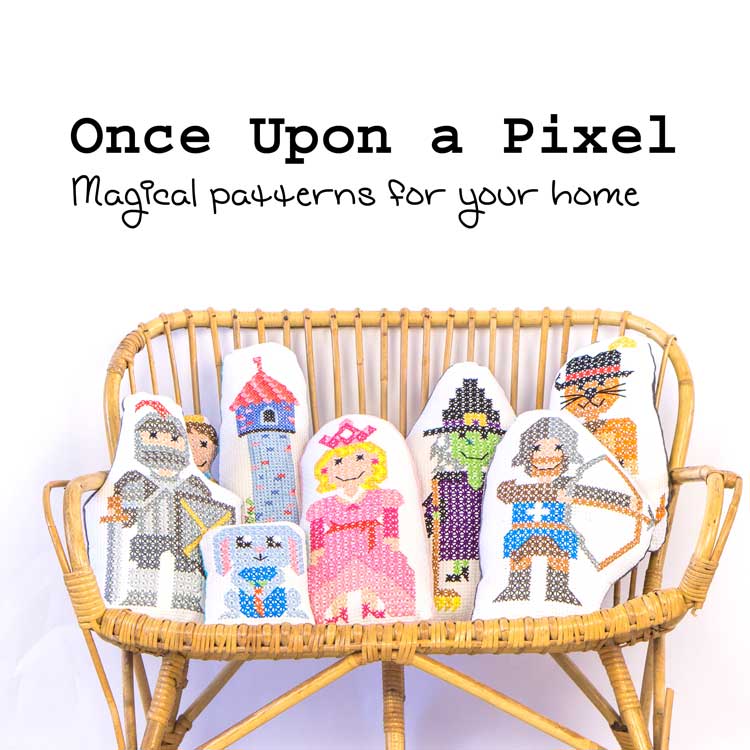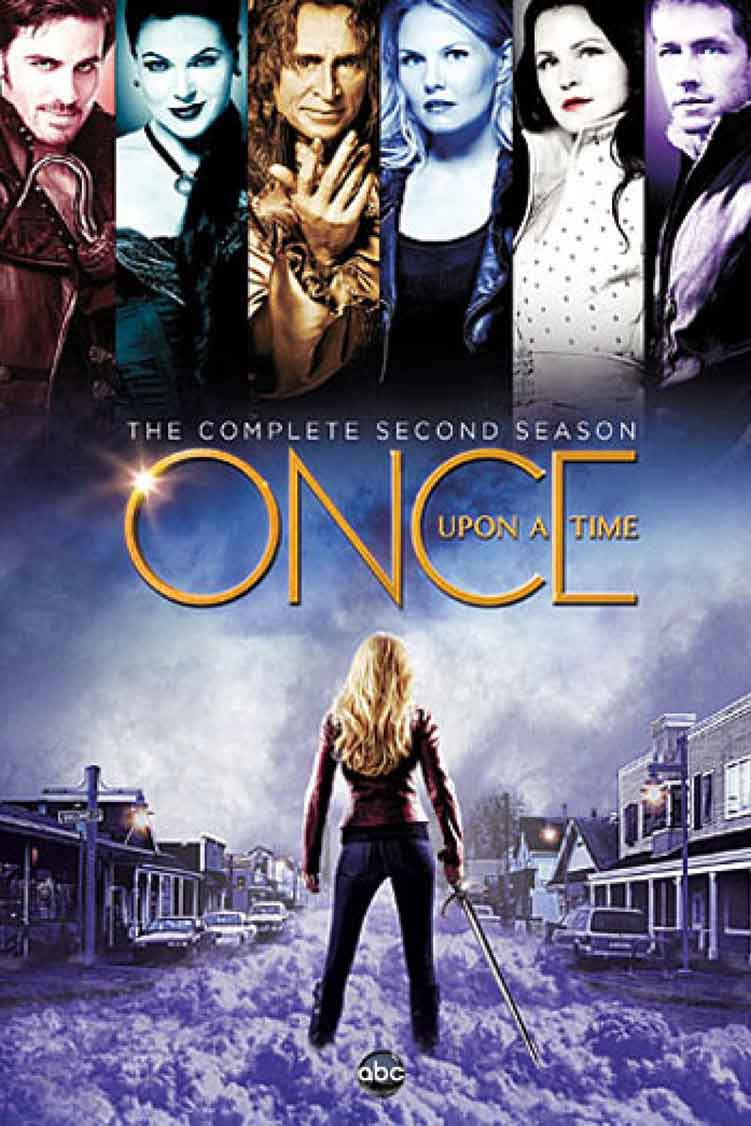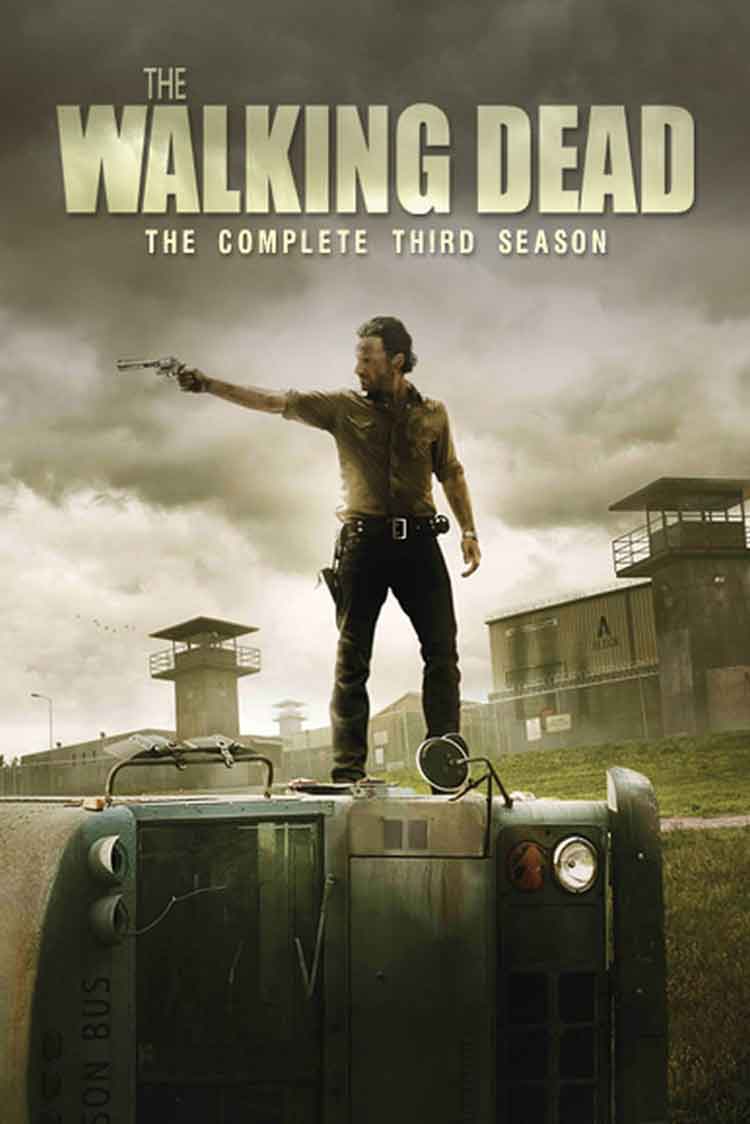 8. Series that will keep your eyes wide open
Bizar events will keep your eyes wide open when watching the British Black Mirror and makes you think twice about modern innovations.
Think zombies and you cannot miss the Walking Dead. You will learn how people behave when they try to survive in a world with extraordinary challenges (in this case zombies, lots of zombies).
9. Go back in time
Miss Fisher will surely add some flair to your life and brings you to 1920´s Australia. Beautiful costumes, hairstyles, a great leading lady actress, and witty dialogues you will enjoy each eposide.
Or take a u-turn and join 1900 Canadian living when you follow When calls the heart where an extraordinary lady leaves her upperclass live to become a small town teacher. It's a bit slow paced, but fantastic to follow while crafting. And there's a happy ending :-).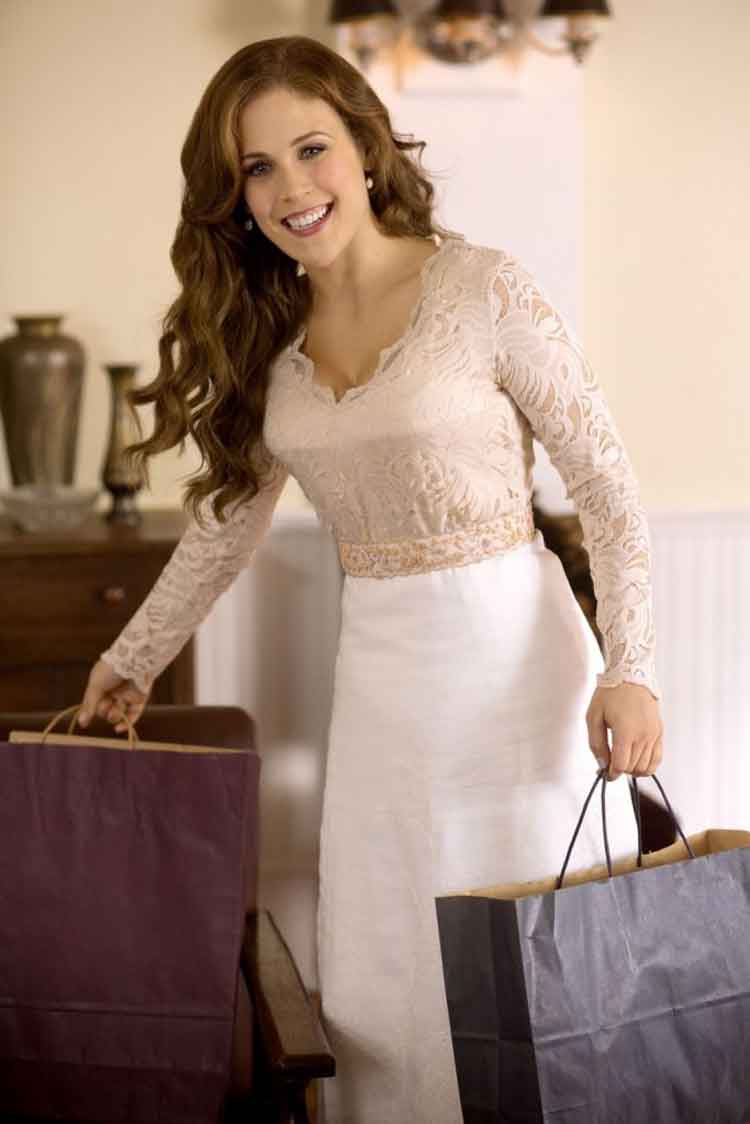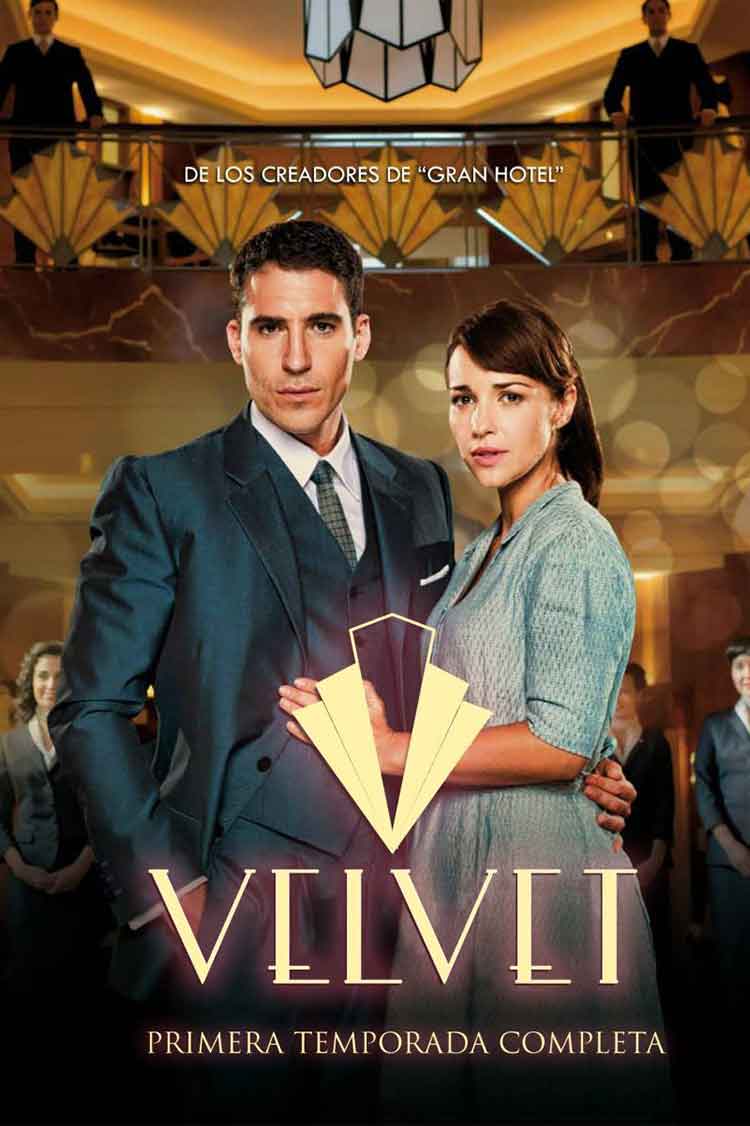 10. Spanish Netflix series to watch while crafting
Hablas un pocito Spanish? We love to watch these Spanish period series while cross stitching! Yes, we told you it is easier to watch a series when you are fluent in a language. But don't let a bit of spanish stop you :-). Even if you put it as background sound you may actually pick up a new language while knitting :-).
First watch "the Time in Between". This highly addictive series features a pretty Madrid dressmaker following her love for Marocco.
Then go to Barcelona for "Velvet", where we follow fashion designer Ana with her friends to open and run a fashion shop. Beautiful outfits with a soapy drama and clever dialogue.
And don't forget Cable Girls where you follow 4 ladies working in the 1920's Madrid telecom centre, connecting phone calls. This series is easy to follow and it will make you romatisize the time before tablets and smartphones.
Prefer a bit of action? Watch the biggest robbery of all times in the Casa de Papel.
11. Those good old presidents
Power attracts. And the USA presidency is a common subjects for series and movies.
The feel good series Designated survivor is especially suitable for watching while crafting.
Tom Kirkman suddenly becomes president after a terrorist attack. He never intended to be in the most powerful spot of the nation. And there he is. It is hard not to like this good hearted president.  Beautiful to see how he governs his country during turbulant times. Wishing it would be that easy in real life.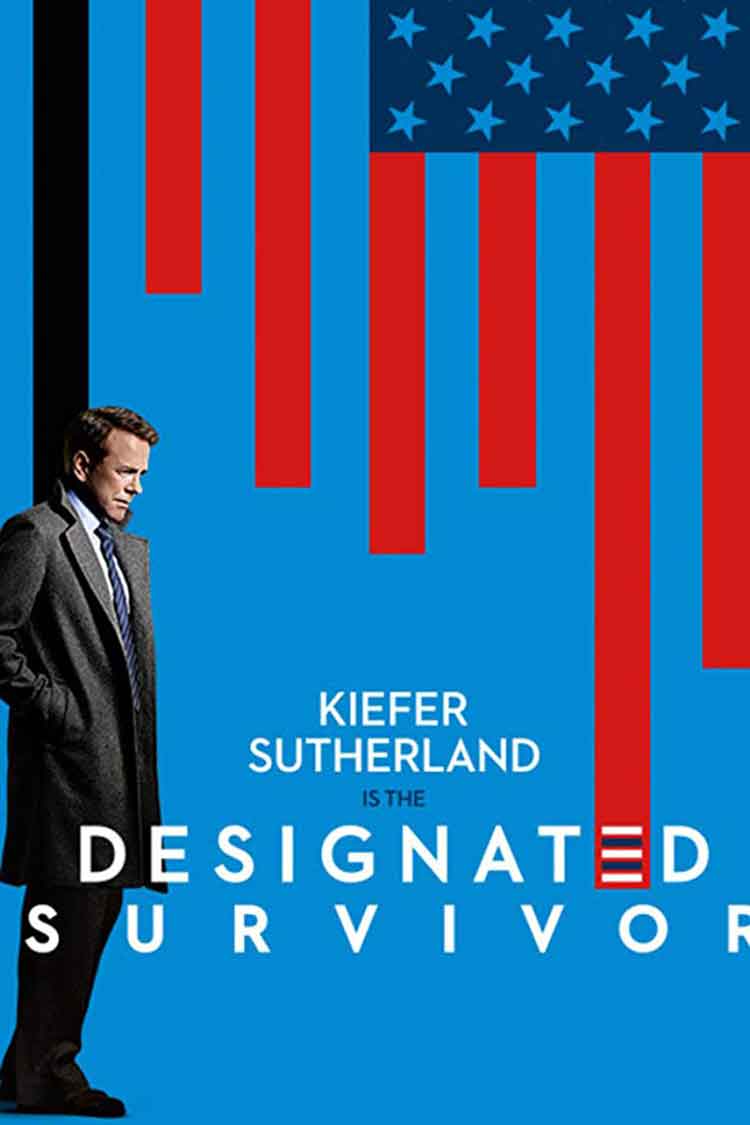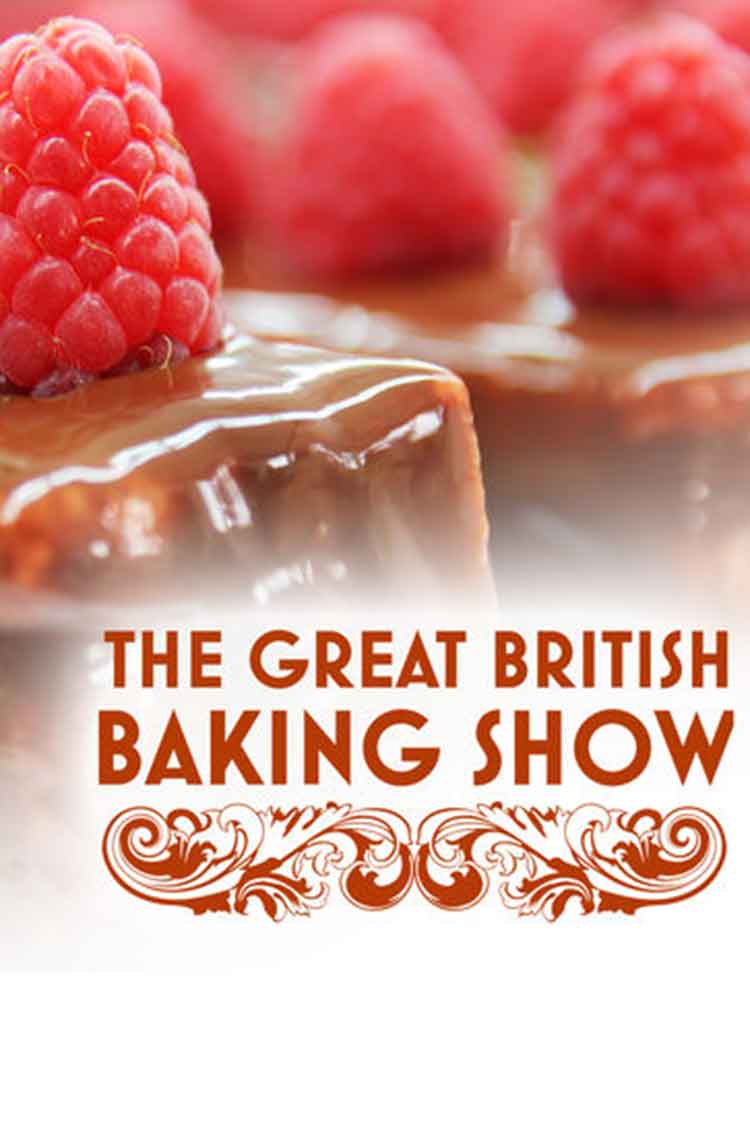 12. Netflix series to watch while crafting and make you hungry for more
Be aware, there is a high risk you will end up eating a cake or two when watching these series. But hey, we just love to watch a good cooking or baking show while crafting. And yes, we also like to eat sweets and chocolates and sweets and chocolates and .. you get it.
Our top pick at the moment is the Great British Baking Show. It is such a yummy programme to watch while multitasking. You only have to make sure to focus a bit on your screen when the final results are shown, the rest is mainly dialogue so you can use it as radio :-).
And the great thing about netflix is that there is always a new list of recommended series :-)!
Recommended craft projects to make while watching food series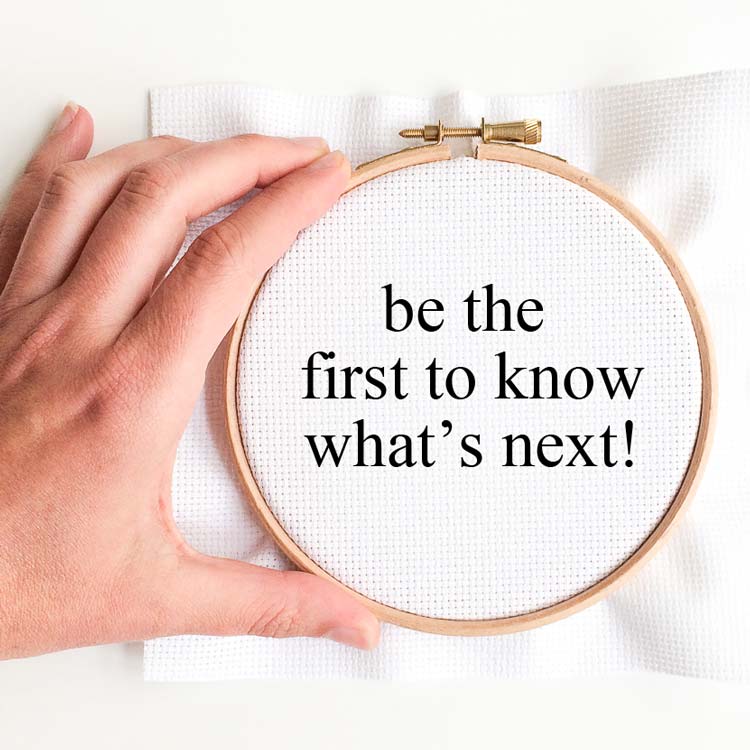 More blogs you may like to read