Creative gift ideas for children, a gift guide with craft supplies
In this list we share a few tips for craft supplies that creative children will love to receive. We include some creative gift ideas for children of different ages. Besides ideas for toddlers you will also find ideas for older children. Great for creative (home) schooling class.
Looking for a gift for a teenager? You may also like to check our other gift guides.
Depending on the craft and the skills of the child, some parental control is advised.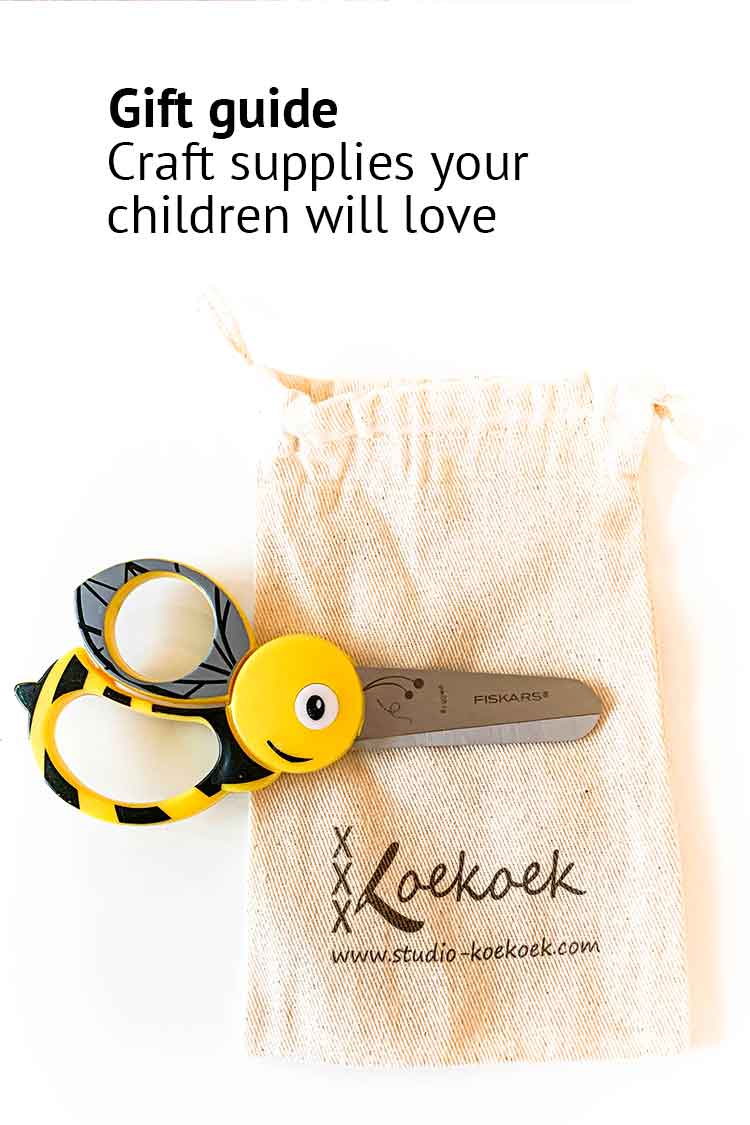 1. Blunt needles are great for children
We're not big fans of plastic, but these blunt needles are perfect to make your first embroidery stitches. For young children it just feels safer to use these big and colorful plastic blunt needles.
For older kids you can also opt for our blunt needle set. They contain 5 needles in different sizes, making it possible to create finer works.
2. Round cardboard weaving loom
Great cardboard weaving loom for kids from 6 years and older to make their first weaving project.
They also come in a 10-pack for a creative kids party!
A perfect combination with the colorful plastic tapestry needle & some ecological wool and your kids are ready to get started.
3. Craft scissors that come in a cute bag
Like adults, small children will love a good pair of scissors. Our bee scissors are populair by children with age 4-8 years. As they are so cute, we also spotted the odd adult buying them for themselves ;-).
Toddlers may also like our handy total control scissors. With 3 finger positions it will be easier to cut precise lines.
All our scissors come with a handy canvas bag to store them.
4. This weaving loom will get your kid creating
Weaving is one of the easiest crafts to learn.
For the young ones we have cardboard weaving looms available here.
And for age 7+, our 20 cm wooden weaving looms are perfect to get started. The wooden looms come with a heddle bar making it possible to quickly move your warp threads up and down. So on this loom you can quickly make your own scarfs, bracelets etc. The looms come with an instruction booklet.
5. Paper awls are one of the easiest creative gift ideas for children
A Paper awl is a tool every kid will use in it's live. With paper awls kids can punch shapes out of paper of cardboard. Great for training fine motorics.
You can also use them to create a first embroidery project. Draw an outline design on some cardboard, and punch holes with approx 1 cm distance from eachother. Now thread a blunt needle with some embroidery floss . Let the kid stitch from one hole to another.
6. Fairytale patterns to create dolls you can play with
Our Once Upon a Pixel book is full with playfull patterns that children will love. Stitch a fairytale doll together or create a castle. Once finished your child can play with the dolls. The dolls will be great projects for creative children age 9+. The book is available in Dutch print and as English e-book.
7. Open woven Aida, the easiest fabric to learn cross stitch
Teach kids how to cross stitch on big open woven canvas. They will love it. On big canvas you can quickly see results and the larger holes make it easier to stitch that perfect x shape.
Our 6 count aida fabric has 6 holes per inch, or 2,4 per cm. It's great for blowing up patterns.
As kids get older, and as their fine motorics improve you can switch to finer woven fabrics like Aida 8, Aida 11, or Aida 14
8. Unicorn Embroidery Scissors: a magical & creative gift idea for children!
Looking for ideas to package your gift?
More Ideas and inspiration