Ethical and ecological gifts for crafters, cross stitchers and punch needle embroidery artists
In this list we share our most wanted sustainable and ecological gifts for crafters. Gifts for aspiring or experienced cross stitchers and punch needle embroidery artists. Sustainable gifts that provide many hours of joy to your loved ones.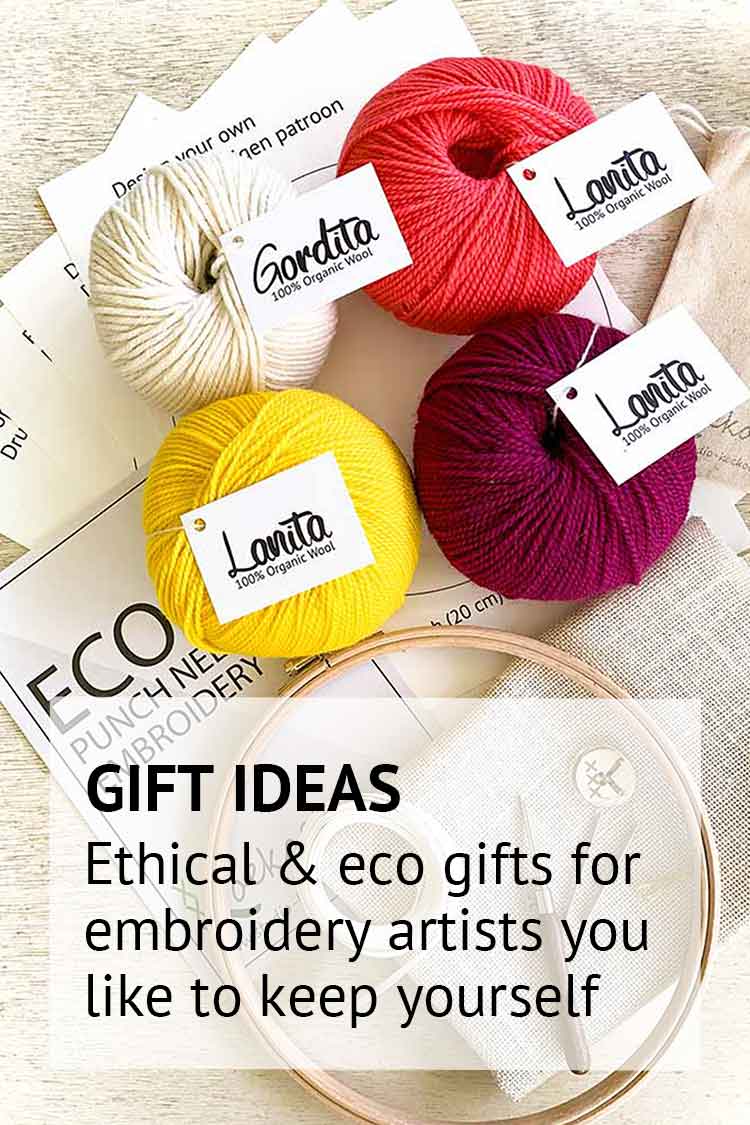 1. Punch needle set
Punching is the newest trend in embroidery. This set is a desired gift for crafters that like to work with fine and medium thick yarns. Made from recycled materials, this punch needle set comes in a cute cotton bag.
2. Our wool makes one of the most wanted ecological gifts for crafters
The premium Lanita and Gordita wool makes a wonderful gift for yarn lovers. It's 100% pure merino wool and ecologically made. Crafters use this very versatile yarn for knitting, crochet and punch needle embroidery. You can buy a set of complementary colors or go uni. You can also find special curated gift sets in our collection that come in reusable packaging.
3. Our durable wooden embroidery hoops are a long-lasting gift for crafters
Our quality embroidery hoops are made from beech wood by a small family company in the United Kingdom. They are finely finished with rounded edges for a comfortable grip.
4. Ecological table linen
For the more experienced stitcher that likes bigger projects, our linen cross stitch table linen sets are a great ecological gift idea. The linen is grown under biological certifications in France and woven by a small family weaving company in Austria. The linen is supple and has a luxurious glow. Your beloved stitcher will cherish this project for years.
5. Our premium punch needle starter kits make quality ecological gifts for crafters
Our Punch Needle Kits are a great starting point for newbies in punch needle embroidery. Filled with the best quality ecological materials, each box is carefully packaged and gift ready. There a multiple color options available.
6. GOTS certified ecological embroidery canvas
Our GOTS certified canvas is made from 100% cotton. The ecological fabric is a great foundation fabric for punch needle projects with fine punch needles. You can also use the fabric for free hand embroidery or sewing projects, making it a very versatile gift for creative people. It's available in many colors.
7. Ecological cushion backs
Are you looking for a practical ecological gift for your creative friend? These ecological cushion backs hit all the marks! They are made from ecological cotton, are sewn in a social sewing atelier in Amsterdam, and make creating cushions supereasy!
8. Ecological napkin cross stitch kit
This napkin cross stitch kit comes with ecological linnen. Making this the perfect gift for the cross stitcher in your life. It comes nicely packaged, ready to give away!
9. This Sweater repair kit is a sustainable gift for a crafter
Everybody has a sweater that can use some love and care. With this sweater repair kit you get all the materials needed to repair a woollen sweater with ecological wool.
10. A carpet crochet kit with ecological wool
If you are shopping with a bigger budget, consider surprising your loved one with a carpet crochet kit. The kit comes with a free crochet hook, bulky ecological wool and step by step instructions. Once finished this will be a carpet that can be used for years. A premium ecological gift for crafters that will keep their feet warm in winter.
Did you know that the high amounts of wool in the fiber ensures the carpet is anti-static and mostly self-cleansing? A very durable and natural product!
Looking for ecological ideas to package your gift?
More gift ideas for creative people