How to use the 3 Size Punch Needle Instructions
How to prepare your punch needle?
Take one of the three refill needles and move this into the holder. Use the screw to fix your needle in place. You have to screw it really tight to ensure the needle will not move while punching. Tip: Use a piece of cloth in between your fingers and the screw to make it as tight as possible.
To get your wool or floss into your punch needle you will need a threading tool. The 3 size punch needle set includes a thin metallic wire threader so you can even thread the thinnest needles. Without the threader you will strugle to get your thread through the needle.
Step 1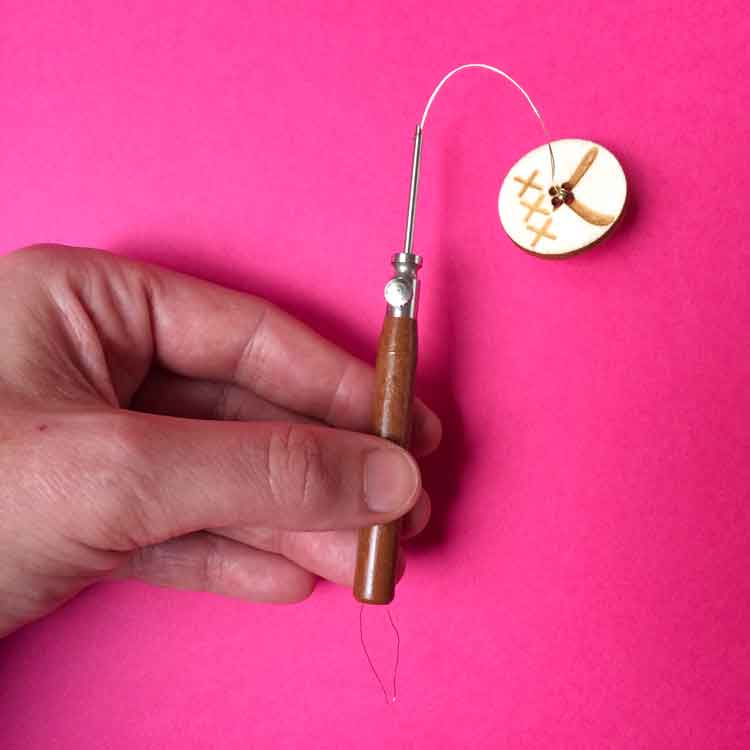 Insert your needle threader in the long end of your needle. Enter your needle from the sharp end of your needle, the side that you will poke into your punch fabric.
Step 2
Pull your thread through the metalic threader that comes out at the backside of your punch needle
Step 3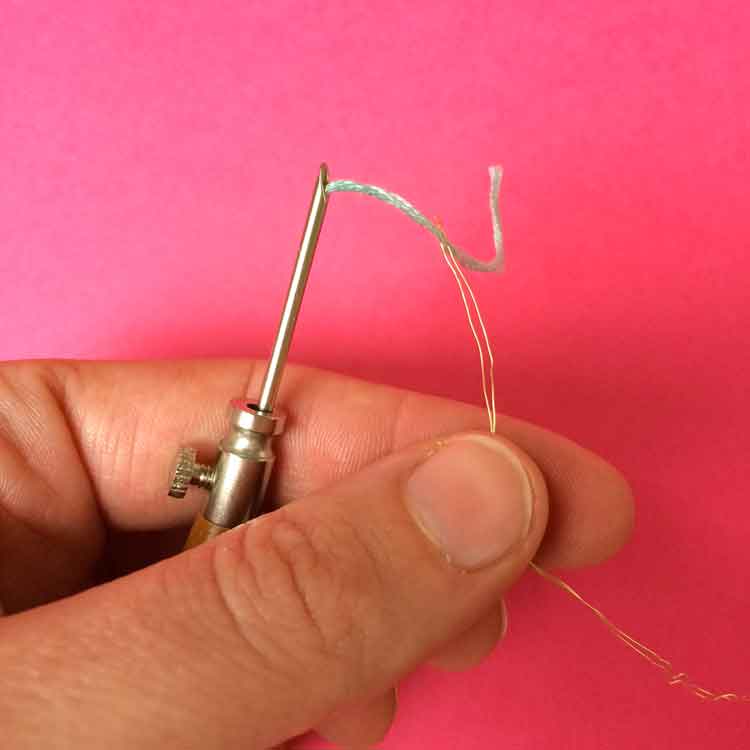 Pull your needle threader from the front side of the punch needle all the way through your needle. Your yarn is no threaded through the large end of your needle.
Step 4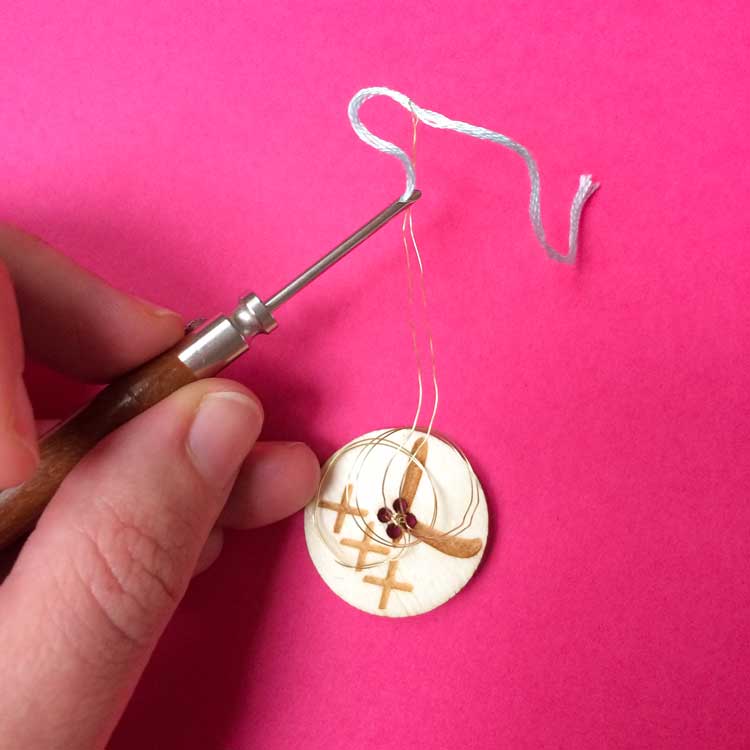 You will now need to thread your yarn through the opening in the needle (the needle hole). First bring your needle threader through the needle hole and put your yarn in between the metalic threads of your threader.
Pull the needle threader. This will make your thread come through the opening. Be carefull, the threader can easily break if your yarn is too thick for your needle.
Step 5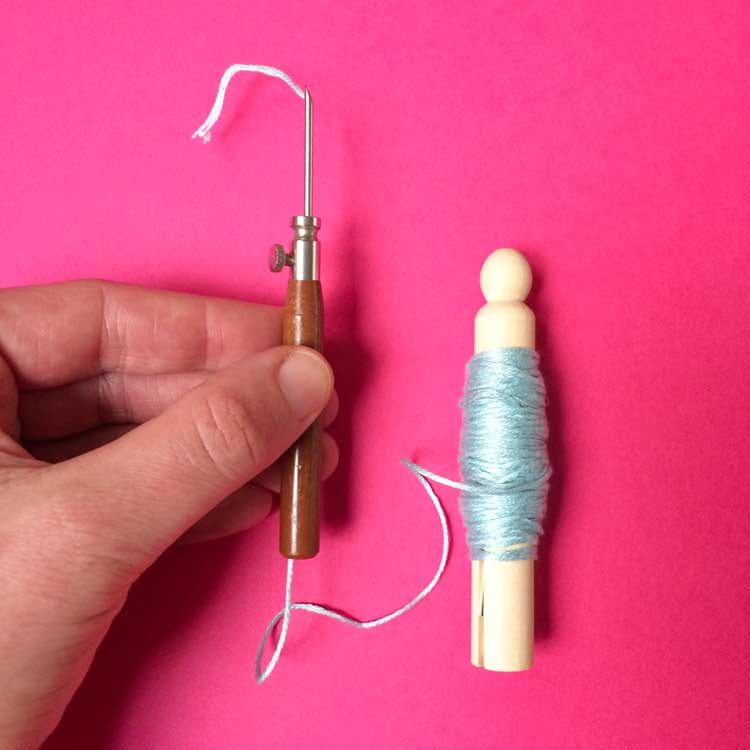 Voila! This is how your threaded needle looks like.
Which yarn or floss can I use with the 3 size punch needle?
Which foundation fabrics are suitable for the 3 size punch needles?
Each punch needle has a different thickness. To ensure that your loops stay nicely in your fabric, it is important to use the correct fabric for your project. If a fabric is too open woven it might be nice for the thickest refill needle, but when you work with a finer needle your loops will pull out easily. And if your fabric is too dense it will be harder to punch with the thickest refill needle.
We tested the needles with a large number of fabrics to provide you the best fabric that works with all different refill needle sizes of the 3 size punch needle.
The best fabric for the 3 size punch needle: Linen punch fabric
This premium linen fabric works well with all 3 refill needles of this punch needle set. So you can combine both thinner details and chunky filling in the same piece! This linen fabric feels wonderful in your hand and is a very durable foundation cloth.
The fibre of this fabric is grown in France, and it is woven by a small weaving company in Austria. A 100% European fabric. Ecological considerations are at the heart of the weaving company, and all their processing and refining (with the exception of dying) is done by natural means. The linen fibre is grown in an environmentally sustainable way and under certified biological control (kbA)
Second best for the 3 size punch needle: Monks Cloth 13 count
Our Premium Monks Cloth fabric is woven in Germany and made from 100% cotton. It looks like Aida fabric but is very different in use. Monks Cloth is woven with 3 threads over 3 threads, rather than 5 over 5 that's used in Aida. Monks Cloth is not stiffened and cannot be used for cross stitching. For this fabric you should only use the 13 count fabric.
Other fabrics you can use with the small and medium size refill needle
You can also use our more affordable GOTS certified punch canvas to work with the small and medium sized refill needle. This is a beautiful canvas that can deal very well with those harsh punches. As it is a closely woven fabric it is also very suitable for making partial punch projects.
It is available in multiple treding colors, making it possible to leave part of your work uncovered with stitches. It is also a great fabric to turn your punch needle project into a cushion cover.
All production steps of this fabric are GOTS certified, the world's leading standard for good practices in the textile supply chain. There is stringend control on both environmental and social criteria.
Colors are produced free of harmful substances like toxic heavy metals.
This cotton is biodegradable.
You can also use this fabric with the thickest refill needle, but you will notice a bit more resistance while working. Read on to see our preferred option for that needle.
Other fabrics that you can use with the biggest refill needle
For the biggest refill needle you can also work with our ecologically colored jute. This gives your work a slightly more rustic look. This jute is a more open woven fabric and it is available in Black, White and Natural color.
Please note that the raw jute is not suitable for this punch needle.
We do not recommend to use Aida fabrics for this punch needle.
We will continue testing fabrics and will share updates on our blog on test results. If you have questions about fabrics, please feel free to contact us!