All you need to know about the 3 size punch needle instructions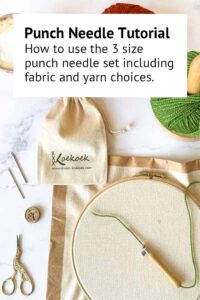 How to prepare your punch needle?
Take one of the three refill needles and move this into the holder. Use the screw to fix your needle in place. You have to screw it really tight to ensure the needle will not move while punching. Tip: Use a piece of cloth in between your fingers and the screw to make it as tight as possible.
To get your wool or floss into your punch needle you will need a threading tool. The 3 size punch needle set includes a thin metallic wire threader so you can even thread the thinnest needles. Without the threader you will strugle to get your thread through the needle.
Step 1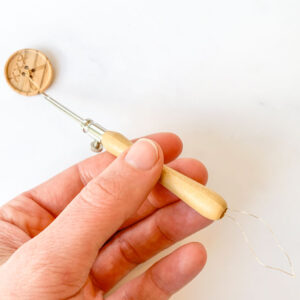 Insert your needle threader in the long end of your needle. Enter your needle from the sharp end of your needle, the side that you will poke into your punch fabric.
Step 2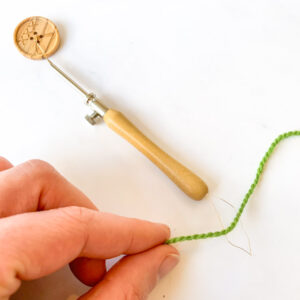 Pull your thread through the metalic threader that comes out at the backside of your punch needle
Step 3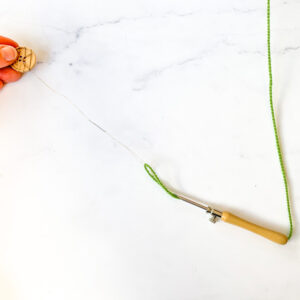 Pull your needle threader from the front side of the punch needle all the way through your needle. Your yarn is no threaded through the large end of your needle.
Step 4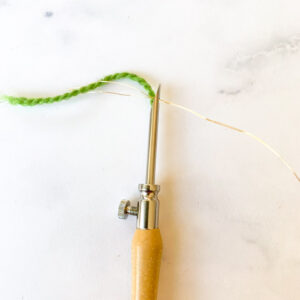 You will now need to thread your yarn through the opening in the needle (the needle hole). First bring your needle threader through the needle hole and put your yarn in between the metalic threads of your threader.
Pull the needle threader. This will make your thread come through the opening. Be carefull, the threader can easily break if your yarn is too thick for your needle.
Step 5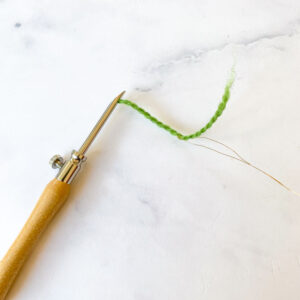 Voila! This is how your threaded needle looks like.
Which yarn or floss can I use with the 3 size punch needle?