Floss conversion chart DMC to Sullivans embroidery floss
Our Cross stitch patterns always include a list of the DMC embroidery floss you need to stitch your project. On this page we share embroidery thread conversion charts so you can see how each floss color corresponts with other brands. We included the newest DMC colors in the embroidery thread conversion table. There are more DMC colors than Sullivans colors, hence you may find that not all desired colors are available.
Please note that floss colors differ between brands. We have done our best to find the best matching colors. But please be aware that it is often not possible to find a 100% matching color, although most come very close. Below tables include the best matching color codes. Where it says N/A we could not find any matching color.
Talking about floss, have you seen our earlier blog with pretty ideas for organizing your embroidery floss?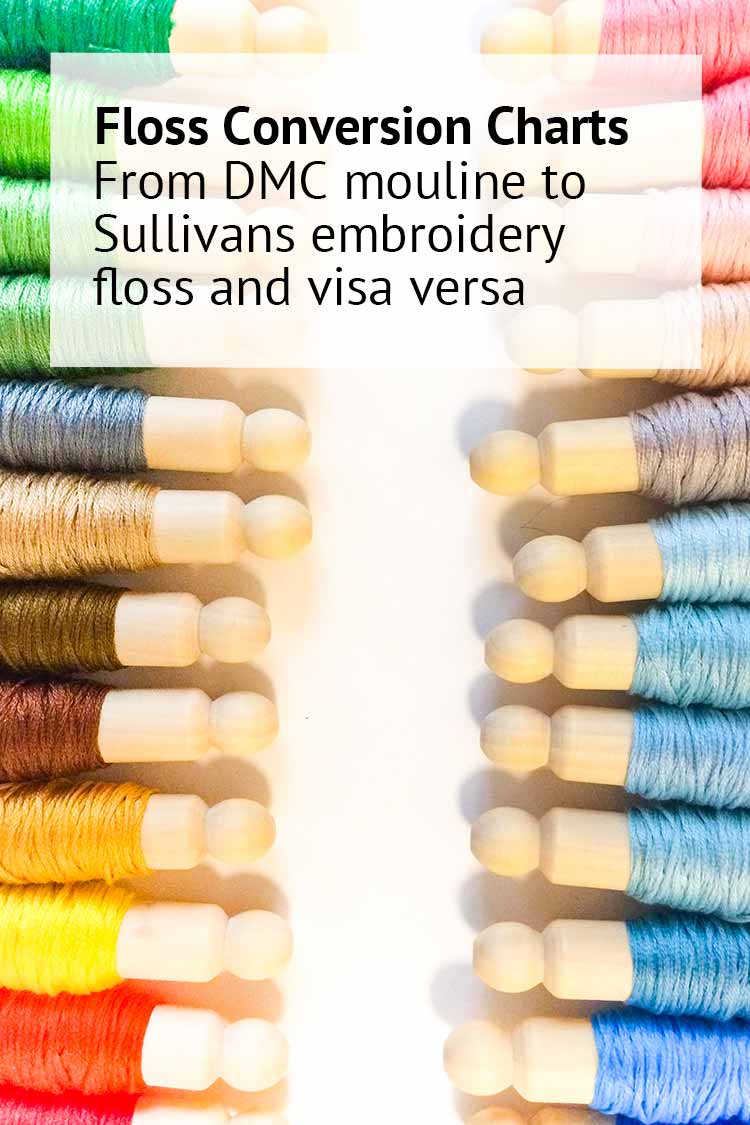 From DMC to Sullivans embroidery floss
| DMC | Sullivans | Description of Color |
| --- | --- | --- |
| White | 45001 |   White |
| 1 | NA |   White Tin |
| Ecru | 45000 |   Ecru |
| 2 | NA |   Tin |
| 3 | NA |   Tin Medium |
| 4 | NA |   Tin Dark |
| 5 | NA |   Driftwood Light |
| 6 | NA |   Driftwood Medium Light |
| 7 | NA |   Driftwood |
| 8 | NA |   Driftwood Dark |
| 9 | NA |   Cocoa Very Dark |
| 10 | NA |   Tender Geen Very Light |
| 11 | NA |   Tender Green Light |
| 12 | NA |   Tender Green |
| 13 | NA |   Nile Green Medium Light |
| 14 | NA |   Apple Green Pale |
| 15 | NA |   Apple Green |
| 16 | NA |   Chartreuse Light |
| 17 | NA |   Yellow Plum Light |
| 18 | NA |   Yellow Plum |
| 19 | NA |   Autumn Gold Medium Light |
| 20 | NA |   Shrimp |
| 21 | NA |   Alizarin Light |
| 22 | NA |   Alizarin |
| 23 | NA |   Apple Blossom |
| 24 | NA |   White Lavender |
| 25 | NA |   Lavender Ultra Light |
| 26 | NA |   Lavender Pale |
| 27 | NA |   White Violet |
| 28 | NA |   Eggplant Medium Light |
| 29 | NA |   Eggplant |
| 30 | NA |   Blueberry Medium Light |
| 31 | NA |   Blueberry |
| 32 | NA |   Blueberry Dark |
| 33 | NA |   Fuschia |
| 34 | NA |   Fuschia Dark |
| 35 | NA |   Fuschi Very Dark |
| 48 | NA |   Variegated Baby Pink |
| 51 | NA |   Variegated Burnt Orange |
| 52 | NA |   Variegated Violet |
| 53 | NA |   Variegated Steel Gray |
| 57 | NA |   Variegated Red |
| 69 | NA |   Variegated Terra Cotta |
| 90 | NA |   Variegated Yellow |
| 92 | NA |   Variegated Avocado |
| 94 | NA |   Variegated Khaki Green |
| 99 | NA |   Variegated Mauve |
| 103 | NA |   Variegated Royal Blue |
| 105 | NA |   Variegated Tan/Brown |
| 106 | NA |   Variegated Coral |
| 107 | NA |   Variegated Carnation |
| 111 | NA |   Variegated Mustard |
| 115 | NA |   Variegated Garnet |
| 121 | NA |   Variegated Delft Blue |
| 125 | NA |   Variegated Seafoam Green |
| 150 | 45465 |   Ultra Very Dark Dustry Rose |
| 150 | 45465 |   Ultra Very Dark Dustry Rose |
| 151 | 45466 |   Very Light Dustry Rose |
| 152 | 45467 |   Medium Light Shell Pink |
| 153 | 45468 |   Very Light Violet |
| 154 | 45469 |   Very Dark Grape |
| 155 | 45470 |   Medium Dark Blue Violet |
| 156 | 45471 |   Medium Light Blue Violet |
| 157 | 45472 |   Very Light Cornflower Blue |
| 158 | 45473 |   Medium Very Dark Cornflower Blue |
| 159 | 45474 |   Light Gray Blue |
| 160 | 45475 |   Medium Gray Blue |
| 161 | 45476 |   Gray Blue |
| 162 | 45477 |   Ultra Very Light Blue |
| 163 | 45478 |   Medium Celadon Green |
| 164 | 45479 |   Light Forest Green |
| 165 | 45480 |   Very Light Moss Green |
| 166 | 45481 |   Medium Light Moss Green |
| 167 | 45482 |   Very Dark Yellow Beige |
| 168 | 45483 |   Very Light Pewter |
| 169 | 45484 |   Light Pewter |
| 208 | 45040 |   Very Dark Lavender |
| 209 | 45041 |   Dark Lavender |
| 210 | 45042 |   Medium Lavender |
| 211 | 45043 |   Light Lavender |
| 221 | 45044 |   Very Dark Shell Pink |
| 223 | 45045 |   Light Shell Pink |
| 224 | 45046 |   Very Light Shell Pink |
| 225 | 45047 |   Ultra Very Light Shell Pink |
| 225 | 45047 |   Ultra Very Light Shell Pink |
| 300 | 45048 |   Very Dark Mahogany |
| 301 | 45049 |   Medium Mahogany |
| 304 | 45050 |   Medium Red |
| 307 | 45051 |   Lemon |
| 309 | 45052 |   Dark Rose |
| 310 | 45053 |   Black |
| 311 | 45054 |   Medium NaVery Blue |
| 312 | 45055 |   Very Dark Baby Blue |
| 315 | 45056 |   Medium Dark Antique Mauve |
| 316 | 45057 |   Medium Antique Mauve |
| 317 | 45058 |   Pewter Gray |
| 318 | 45059 |   Light Steel Gray |
| 318 | NA |   Light Steel Gray |
| 319 | 45060 |   Very Darkpistachio Green |
| 320 | 45061 |   Medium Pistachio Green |
| 321 | 45062 |   Red |
| 321 | NA |   Red |
| 322 | 45063 |   Dark Dark Baby Blue |
| 326 | 45064 |   Very Dark Rose |
| 327 | 45065 |   Dark Violet |
| 333 | 45066 |   Very Dark Blue Violet |
| 334 | 45067 |   Medium Baby Blue |
| 335 | 45068 |   Rose |
| 336 | 45069 |   NaVery Blue |
| 340 | 45070 |   Medium Blue Violet |
| 341 | 45071 |   Light Blue Violet |
| 347 | 45072 |   Very Dark Salmon |
| 349 | 45073 |   Dark Coral |
| 350 | 45074 |   Medium Coral |
| 351 | 45075 |   Coral |
| 352 | 45076 |   Light Coral |
| 353 | 45077 |   Peach |
| 355 | 45078 |   Dark Terra Cotta |
| 356 | 45079 |   Medium Terra Cotta |
| 367 | 45080 |   Dark Pistachio Green |
| 368 | 45081 |   Light Pistachio Green |
| 369 | 45082 |   Very Light Pistachio Green |
| 370 | 45083 |   Medium Mustard |
| 371 | 45084 |   Mustard |
| 372 | 45085 |   Light Mustard |
| 400 | 45086 |   Dark Mahogany |
| 400 | 45304 |   Dark Mahogany |
| 400 | NA |   Dark Mahogany |
| 402 | 45087 |   Very Light Mahogany |
| 407 | 45088 |   Dark Desert Sand |
| 413 | 45089 |   Dark Pewter Gray |
| 414 | 45090 |   Dark Steel Gray |
| 415 | 45091 |   Pearl Gray |
| 420 | 45092 |   Dark Hazelnut Brown |
| 422 | 45093 |   Light Hazelnut Brown |
| 433 | 45094 |   Medium Brown |
| 433 | NA |   Medium Brown |
| 434 | 45095 |   Light Brown |
| 435 | 45096 |   Very Light Brown |
| 436 | 45097 |   Tan |
| 437 | 45098 |   Light Tan |
| 444 | 45099 |   Dark Lemon |
| 445 | 45100 |   Light Lemon |
| 451 | 45101 |   Dark Shell Gray |
| 452 | 45102 |   Medium Shell Gray |
| 453 | 45103 |   Light Shell Gray |
| 469 | 45104 |   Avocado Green |
| 470 | 45105 |   Light Avocado Green |
| 471 | 45106 |   Very Light Avocado Green |
| 472 | 45107 |   Ultra Light Avocado Green |
| 498 | 45108 |   Dark Red |
| 500 | 45109 |   Very Dark Blue Green |
| 501 | 45110 |   Dark Blue Green |
| 502 | 45111 |   Blue Green |
| 503 | 45112 |   Medium Blue Green |
| 504 | 45113 |   Very Light Blue Green |
| 505 | 45490 |   Jade Green |
| 517 | 45114 |   Dark Wedgewood |
| 518 | 45115 |   Light Wedgewood |
| 519 | 45116 |   Sky Blue |
| 520 | 45117 |   Dark Fern Green |
| 522 | 45118 |   Fern Green |
| 523 | 45119 |   Light Fern Green |
| 524 | 45120 |   Very Light Fern Green |
| 535 | 45121 |   Very Light Ash Gray |
| 543 | 45122 |   Ultra Very Light Beige Brown |
| 550 | 45123 |   Very Dark Violet |
| 552 | 45124 |   Medium Violet |
| 553 | 45125 |   Violet |
| 554 | 45126 |   Light Violet |
| 561 | 45127 |   Very Dark Jade |
| 562 | 45128 |   Medium Jade |
| 563 | 45129 |   Light Jade |
| 564 | 45130 |   Very Light Jade |
| 580 | 45131 |   Dark Moss Green |
| 581 | 45132 |   Moss Green |
| 597 | 45133 |   Turquoise |
| 598 | 45134 |   Light Turquoise |
| 600 | 45135 |   Very Dark Cranberry |
| 601 | 45136 |   Dark Cranberry |
| 602 | 45137 |   Medium Cranberry |
| 603 | 45138 |   Cranberry |
| 604 | 45139 |   Light Cranberry |
| 605 | 45140 |   Very Light Cranberry |
| 606 | 45141 |   Bright Orange-Red |
| 608 | 45142 |   Bright Orange |
| 610 | 45143 |   Dark Drab Brown |
| 611 | 45144 |   Drab Brown |
| 612 | 45145 |   Light Drab Brown |
| 613 | 45146 |   Very Light Drab Brown |
| 632 | 45147 |   Ultra Very Dark Desert Sand |
| 640 | 45148 |   Very Dark Beige Gray |
| 642 | 45149 |   Dark Beige Gray |
| 644 | 45150 |   Medium Beige Gray |
| 645 | 45151 |   Very Dark Beaver Gray |
| 646 | 45152 |   Dark Beaver Gray |
| 647 | 45153 |   Medium Beaver Gray |
| 648 | 45154 |   Light Beaver Gray |
| 666 | 45155 |   Bright Red |
| 676 | 45156 |   Light Old Gold |
| 677 | 45157 |   Very Light Old Gold |
| 680 | 45158 |   Dark Old Gold |
| 699 | 45159 |   Green |
| 700 | 45160 |   Bright Green |
| 701 | 45161 |   Light Green |
| 702 | 45162 |   Kelly Green |
| 703 | 45163 |   Chartreuse |
| 703 | NA |   Chartreuse |
| 704 | 45164 |   Bright Chartreuse |
| 712 | 45165 |   Cream |
| 718 | 45166 |   Plum |
| 720 | 45167 |   Dark Orange Spice |
| 721 | 45168 |   Medium Orange Spice |
| 722 | 45169 |   Light Orange Spice |
| 725 | 45170 |   Medium Light Topaz |
| 726 | 45171 |   Light Topaz |
| 727 | 45172 |   Very Light Topaz |
| 728 | 45491 |   Topaz |
| 729 | 45173 |   Medium Old Gold |
| 730 | 45174 |   Very Dark Olive Green |
| 731 | 45175 |   Dark Olive Green |
| 732 | 45176 |   Olive Green |
| 733 | 45177 |   Medium Olive Green |
| 734 | 45178 |   Light Olive Green |
| 738 | 45179 |   Very Light Tan |
| 738 | NA |   Very Light Tan |
| 739 | 45180 |   Ultra Very Light Tan |
| 740 | 45181 |   Tangerine |
| 741 | 45182 |   Medium Tangerine |
| 742 | 45183 |   Light Tangerine |
| 743 | 45184 |   Medium Yellow |
| 743 | 45185 |   Pale Yellow |
| 744 | 45185 |   Pale Yellow |
| 745 | 45186 |   Light Pale Yellow |
| 746 | 45187 |   Off White |
| 747 | 45188 |   Very Light Sky Blue |
| 754 | 45189 |   Light Peach |
| 758 | 45190 |   Very Light Terra Cotta |
| 760 | 45191 |   Salmon |
| 761 | 45192 |   Light Salmon |
| 762 | 45193 |   Very Light Pearl Gray |
| 772 | 45194 |   Very Light Yellow Green |
| 775 | 45195 |   Very Light Baby Blue |
| 776 | 45196 |   Medium Pink |
| 777 | 45492 |   Very Dark Raspberry |
| 778 | 45197 |   Very Light Antique Mauve |
| 779 | 45493 |   Dark Cocoa |
| 780 | 45198 |   Ultra Very Dark Topaz |
| 781 | 45199 |   Very Dark Topaz |
| 782 | 45200 |   Dark Topaz |
| 783 | 45201 |   Medium Topaz |
| 783 | NA |   Medium Topaz |
| 791 | 45202 |   Very Dark Cornflower Blue |
| 792 | 45203 |   Dark Cornflower Blue |
| 793 | 45204 |   Medium Cornflower Blue |
| 794 | 45205 |   Light Cornflower Blue |
| 796 | 45206 |   Dark Royal Blue |
| 797 | 45207 |   Royal Blue |
| 798 | 45208 |   Dark Delft Blue |
| 799 | 45209 |   Medium Delft Blue |
| 800 | 45210 |   Pale Delft Blue |
| 801 | 45211 |   Dark Coffee Brown |
| 803 | 45494 |   Ultra Very Dark Baby Blue |
| 806 | 45212 |   Dark Peacock Blue |
| 807 | 45213 |   Peacock Blue |
| 809 | 45214 |   Delft Blue |
| 813 | 45215 |   Light Blue |
| 814 | 45216 |   Dark Garnet |
| 815 | 45217 |   Medium Garnet |
| 816 | 45218 |   Garnet |
| 817 | 45219 |   Very Dark Coral Red |
| 818 | 45220 |   Baby Pink |
| 819 | 45221 |   Light Baby Pink |
| 820 | 45222 |   Very Dark Royal Blue |
| 822 | 45223 |   Light Beige Gray |
| 823 | 45224 |   Dark NaVery Blue |
| 824 | 45225 |   Very Dark Blue |
| 825 | 45226 |   Dark Blue |
| 826 | 45227 |   Medium Blue |
| 827 | 45228 |   Very Light Blue |
| 828 | 45229 |   Ultra Very Very Light Blue |
| 829 | 45230 |   Very Dark Golden Olive |
| 830 | 45231 |   Dark Golden Olive |
| 831 | 45232 |   Medium Golden Olive |
| 832 | 45233 |   Golden Olive |
| 833 | 45234 |   Light Golden Olive |
| 834 | 45235 |   Very Light Golden Olive |
| 838 | 45236 |   Very Dark Beige Brown |
| 839 | 45237 |   Dark Beige Brown |
| 840 | 45238 |   Medium Beige Brown |
| 841 | 45239 |   Light Beige Brown |
| 842 | 45240 |   Very Light Beige Brown |
| 844 | 45241 |   Ultra Dark Beaver Gray |
| 869 | 45242 |   Very Dark Hazelnut Brown |
| 890 | 45243 |   Ultra Dark Pistachio Green |
| 891 | 45244 |   Dark Carnation |
| 892 | 45245 |   Medium Carnation |
| 893 | 45246 |   Light Carnation |
| 894 | 45247 |   Very Light Carnation |
| 895 | 45248 |   Very Dark Hunter Green |
| 898 | 45249 |   Very Dark Coffee Brown |
| 899 | 45250 |   Medium Rose |
| 900 | 45251 |   Dark Burnt Orange |
| 902 | 45252 |   Very Dark Garnet |
| 904 | 45253 |   Very Dark Parrot Green |
| 905 | 45254 |   Dark Parrot Green |
| 906 | 45255 |   Medium Parrot Green |
| 907 | 45256 |   Light Parrot Green |
| 909 | 45257 |   Very Dark Emerald Green |
| 910 | 45258 |   Dark Emerald Green |
| 911 | 45259 |   Medium Emerald Green |
| 912 | 45260 |   Light Emerald Green |
| 913 | 45261 |   Medium Nile Green |
| 915 | 45262 |   Dark Plum |
| 917 | 45263 |   Medium Plum |
| 918 | 45264 |   Dark Red Copper |
| 919 | 45265 |   Red Copper |
| 920 | 45266 |   Medium Copper |
| 921 | 45267 |   Copper |
| 922 | 45268 |   Light Copper |
| 924 | 45269 |   Very Dark Gray Green |
| 924 | NA |   Very Dark Gray Green |
| 926 | 45270 |   Medium Gray Green |
| 927 | 45271 |   Light Gray Green |
| 927 | NA |   Light Gray Green |
| 928 | 45272 |   Very Light Gray Green |
| 930 | 45273 |   Dark Antique Blue |
| 931 | 45274 |   Medium Antique Blue |
| 932 | 45275 |   Light Antique Blue |
| 934 | 45276 |   Black Avocado Green |
| 935 | 45277 |   Dark Avocado Green |
| 936 | 45278 |   Very Dark Avocado Green |
| 937 | 45279 |   Medium Avocado Green |
| 938 | 45280 |   Ultra Dark Coffee Brown |
| 939 | 45281 |   Very Dark NaVery Blue |
| 943 | 45282 |   Medium Aquamarine |
| 945 | 45283 |   Tawny |
| 946 | 45284 |   Medium Burnt Orange |
| 947 | 45285 |   Burnt Orange |
| 948 | 45286 |   Very Light Peach |
| 950 | 45287 |   Light Desert Sand |
| 951 | 45288 |   Light Tawny |
| 954 | 45289 |   Nile Green |
| 955 | 45290 |   Light Nile Green |
| 956 | 45291 |   Geranium |
| 957 | 45292 |   Pale Geranium |
| 958 | 45293 |   Dark Seagreen |
| 959 | 45294 |   Medium Seagreen |
| 961 | 45295 |   Dark Dusty Rose |
| 962 | 45296 |   Medium Dusty Rose |
| 963 | 45297 |   Ultra Very Light Dusty Rose |
| 964 | 45298 |   Light Seagreen |
| 966 | 45299 |   Medium Baby Green |
| 967 | 45495 |   Very Light Apricot |
| 970 | 45300 |   Light Pumpkin |
| 971 | 45301 |   Pumpkin |
| 972 | 45302 |   Deep Canary |
| 973 | 45303 |   Bright Canary |
| 975 | 45304 |   Dark Golden Brown |
| 976 | 45305 |   Medium Golden Brown |
| 977 | 45306 |   Light Golden Brown |
| 986 | 45307 |   Very Dark Forest Green |
| 987 | 45308 |   Dark Forest Green |
| 988 | 45309 |   Medium Forest Green |
| 989 | 45310 |   Forest Green |
| 991 | 45311 |   Dark Aquamarine |
| 992 | 45312 |   Light Aquamarine |
| 992 | 45312 |   Very Light Aquamarine |
| 992 | 45313 |   Very Light Aquamarine |
| 993 | 45313 |   Very Light Aquamarine |
| 995 | 45314 |   Dark Electric Blue |
| 996 | 45315 |   Medium Electric Blue |
| 3011 | 45316 |   Dark Khaki Green |
| 3012 | 45317 |   Medium Khaki Green |
| 3013 | 45318 |   Light Khaki Green |
| 3021 | 45428 |   Very Dark Brown Gray |
| 3022 | 45320 |   Medium Brown Gray |
| 3023 | 45321 |   Light Brown Gray |
| 3024 | 45322 |   Very Light Brown Gray |
| 3031 | 45323 |   Very Dark Mocha Brown |
| 3032 | 45324 |   Medium Mocha Brown |
| 3033 | 45325 |   Very Light Mocha Brown |
| 3041 | 45326 |   Medium Antique Violet |
| 3042 | 45327 |   Light Antique Violet |
| 3045 | 45328 |   Dark Yellow Beige |
| 3046 | 45329 |   Medium Yellow Beige |
| 3047 | 45330 |   Light Yellow Beige |
| 3051 | 45331 |   Dark Green Gray |
| 3052 | 45332 |   Medium Green Gray |
| 3053 | 45333 |   Green Gray |
| 3064 | 45334 |   Desert Sand |
| 3072 | 45335 |   Very Light Beaver Gray |
| 3078 | 45336 |   Very Light Golden Yellow |
| 3325 | 45337 |   Light Baby Blue |
| 3326 | 45338 |   Light Rose |
| 3328 | 45339 |   Dark Salmon |
| 3340 | 45340 |   Medium Apricot |
| 3341 | 45341 |   Apricot |
| 3345 | 45342 |   Dark Hunter Green |
| 3346 | 45343 |   Hunter Green |
| 3347 | 45344 |   Medium Yellow Green |
| 3348 | 45345 |   Light Yellow Green |
| 3350 | 45346 |   Ultra Dark Dusty Rose |
| 3354 | 45347 |   Light Dusty Rose |
| 3362 | 45348 |   Dark Pine Green |
| 3363 | 45349 |   Medium Pine Green |
| 3364 | 45350 |   Pine Green |
| 3371 | 45351 |   Black Brown |
| 3607 | 45352 |   Light Plum |
| 3608 | 45353 |   Very Light Plum |
| 3609 | 45354 |   Ultra Light Plum |
| 3685 | 45355 |   Very Dark Mauve |
| 3687 | 45356 |   Mauve |
| 3688 | 45357 |   Medium Mauve |
| 3689 | 45358 |   Light Mauve |
| 3705 | 45359 |   Dark Melon |
| 3706 | 45360 |   Medium Melon |
| 3708 | 45361 |   Light Melon |
| 3712 | 45362 |   Medium Salmon |
| 3713 | 45363 |   Very Light Salmon |
| 3716 | 45364 |   Very Light Dusty Rose |
| 3721 | 45365 |   Dark Shell Pink |
| 3722 | 45366 |   Medium Shell Pink |
| 3726 | 45367 |   Dark Antique Mauve |
| 3727 | 45368 |   Light Antique Mauve |
| 3731 | 45369 |   Very Dark Dusty Rose |
| 3733 | 45370 |   Dusty Rose |
| 3740 | 45371 |   Dark Antique Violet |
| 3743 | 45372 |   Very Light Antique Violet |
| 3746 | 45373 |   Dark Blue Violet |
| 3747 | 45374 |   Very Light Blue Violet |
| 3750 | 45375 |   Very Dark Antique Blue |
| 3752 | 45376 |   Very Light Antique Blue |
| 3753 | 45377 |   Ultra Very Light Antique Blue |
| 3755 | 45378 |   Baby Blue |
| 3756 | 45379 |   Ultra Very Light Baby Blue |
| 3760 | 45380 |   Medium Wedgewood |
| 3761 | 45381 |   Light Sky Blue |
| 3765 | 45382 |   Very Dark Peacock Blue |
| 3766 | 45383 |   Light Peacock Blue |
| 3768 | 45384 |   Dark Gray Green |
| 3770 | 45385 |   Very Light Tawny |
| 3771 | 45496 |   Ultra Very Light Terra Cotta |
| 3772 | 45386 |   Very Dark Desert Sand |
| 3773 | 45387 |   Medium Desert Sand |
| 3774 | 45388 |   Very Light Desert Sand |
| 3776 | 45389 |   Light Mahogany |
| 3777 | 45390 |   Very Dark Terra Cotta |
| 3778 | 45391 |   Light Terra Cotta |
| 3779 | 45392 |   Ultra Very Light Terra Cotta |
| 3781 | 45393 |   Dark Mocha Brown |
| 3782 | 45394 |   Light Mocha Brown |
| 3787 | 45395 |   Dark Brown Gray |
| 3790 | 45396 |   Ultra Dark Beige Gray |
| 3799 | 45397 |   Very Dark Pewter Gray |
| 3801 | 45398 |   Very Dark Melon |
| 3802 | 45399 |   Very Dark Antique Mauve |
| 3803 | 45400 |   Dark Mauve |
| 3804 | 45401 |   Dark Cyclamen Pink |
| 3805 | 45402 |   Cyclamen Pink |
| 3806 | 45403 |   Light Cyclamen Pink |
| 3807 | 45404 |   Cornflower Blue |
| 3808 | 45405 |   Ultra Very Dark Turquoise |
| 3809 | 45406 |   Very Dark Turquoise |
| 3810 | 45407 |   Dark Turquoise |
| 3811 | 45408 |   Very Light Turquoise |
| 3812 | 45409 |   Very Dark Seagreen |
| 3813 | 45410 |   Light Blue Green |
| 3814 | 45411 |   Aquamarine |
| 3815 | 45412 |   Dark Celadon Green |
| 3816 | 45413 |   Celadon Green |
| 3817 | 45414 |   Light Celadon Green |
| 3818 | 45415 |   Ultra Very Dark Emerald Greene |
| 3819 | 45416 |   Light Moss Green |
| 3820 | 45417 |   Dark Straw |
| 3821 | 45418 |   Straw |
| 3822 | 45419 |   Light Straw |
| 3823 | 45420 |   Ultra Pale Yellow |
| 3824 | 45421 |   Light Apricot |
| 3825 | 45422 |   Pale Pumpkin |
| 3826 | 45423 |   Golden Brown |
| 3827 | 45424 |   Pale Golden Brown |
| 3828 | 45425 |   Hazelnut Brown |
| 3829 | 45426 |   Very Dark Old Gold |
| 3830 | 45427 |   Terra Cotta |
| 3831 | 45429 |   Dark Raspberry |
| 3832 | 45430 |   Medium Raspberry |
| 3833 | 45431 |   Light Raspberry |
| 3834 | 45432 |   Dark Grape |
| 3835 | 45433 |   Medium Grape |
| 3836 | 45434 |   Light Grape |
| 3837 | 45435 |   Ultra Dark Lavender |
| 3838 | 45436 |   Dark Lavender Blue |
| 3839 | 45437 |   Medium Lavender Blue |
| 3840 | 45438 |   Light Lavender Blue |
| 3841 | 45439 |   Pale Baby Blue |
| 3842 | 45440 |   Dark Wedgwood |
| 3843 | 45441 |   Electric Blue |
| 3844 | 45442 |   Dark Bright Turquoise |
| 3845 | 45443 |   Medium Bright Turquoise |
| 3846 | 45444 |   Light Bright Turquoise |
| 3847 | 45445 |   Dark Teal Green |
| 3848 | 45446 |   Medium Teal Green |
| 3849 | 45447 |   Light Teal Green |
| 3850 | 45448 |   Dark Bright Green |
| 3851 | 45449 |   Light Bright Green |
| 3852 | 45450 |   Very Dark Straw |
| 3853 | 45451 |   Dark Autumn Gold |
| 3854 | 45452 |   Medium Autumn Gold |
| 3855 | 45453 |   Light Autumn Gold |
| 3856 | 45454 |   Ultra Very Light Mahogany |
| 3857 | 45455 |   Dark Rosewood |
| 3858 | 45456 |   Medium Rosewood |
| 3859 | 45457 |   Light Rosewood |
| 3860 | 45458 |   Cocoa |
| 3861 | 45459 |   Light Cocoa |
| 3862 | 45460 |   Dark Mocha Beige |
| 3863 | 45461 |   Medium Mocha Beige |
| 3864 | 45462 |   Light Mocha Beige |
| 3865 | 45463 |   Winter White |
| 3866 | 45464 |   Ultra Very Light Mocha Brown |
| 4020 | NA |   Tropical Waters Color Variations |
| 4070 | NA |   Autumn Leaves Color Variations |
| 4120 | NA |   Tropical Sunset Color Variations |
| B5200 | 45002 |   Snow White |
| 5269 | NA |   Metallic Green |
| 5270 | NA |   Metalic Red |
| 5272 | NA |   Metallic White |
| 5279 | NA |   Metallic Copper |
| 5282 | NA |   Metallic Gold |
| 5283 | NA |   Metallic Silver |
| 5284 | NA |   Metallic Dark Gold |
| 5287 | NA |   Metallic Dark Silver |
| 5288 | NA |   Metallic Pink |
| 5289 | NA |   Metallic Purple |
| 5290 | NA |   Metallic Electric Blue |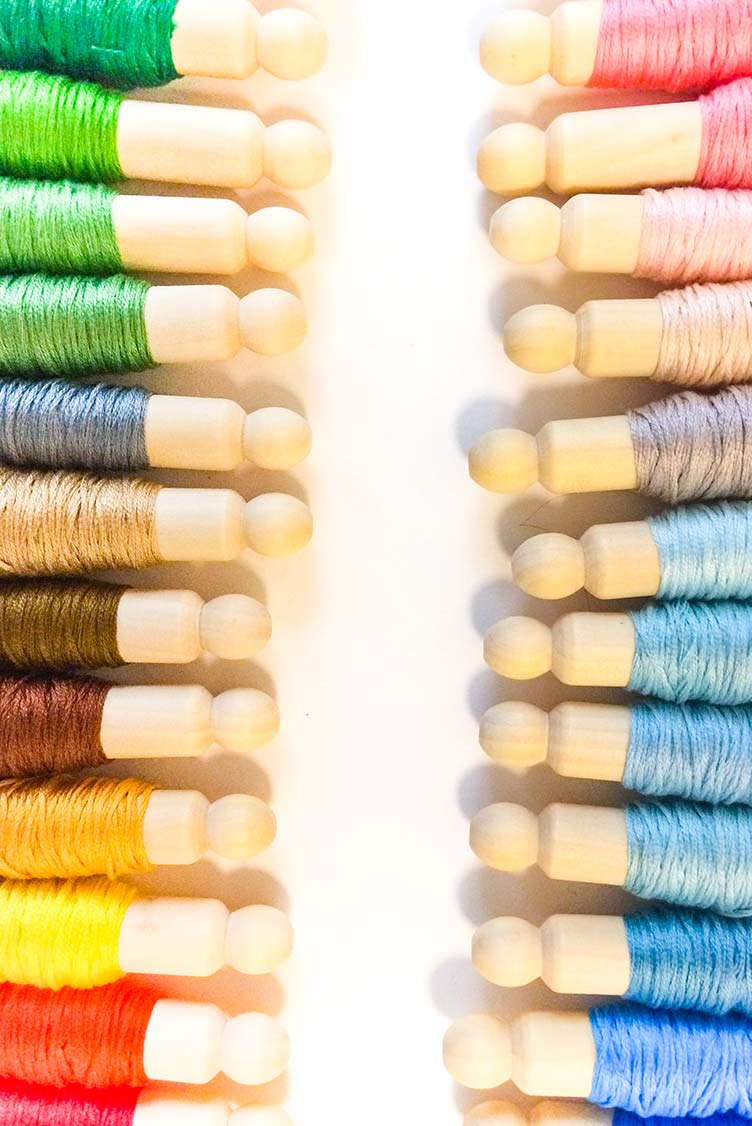 You may like to check our other conversion tables:
From Sullivans to DMC embroidery floss
| Sullivans | DMC | Description of Color |
| --- | --- | --- |
| 45000 | Ecru |   Ecru |
| 45001 | White |   White |
| 45002 | B5200 |   Snow White |
| 45040 | 208 |   Very Dark Lavender |
| 45041 | 209 |   Dark Lavender |
| 45042 | 210 |   Medium Lavender |
| 45043 | 211 |   Light Lavender |
| 45044 | 221 |   Very Dark Shell Pink |
| 45045 | 223 |   Light Shell Pink |
| 45046 | 224 |   Very Light Shell Pink |
| 45047 | 225 |   Ultra Very Light Shell Pink |
| 45047 | 225 |   Ultra Very Light Shell Pink |
| 45048 | 300 |   Very Dark Mahogany |
| 45049 | 301 |   Medium Mahogany |
| 45050 | 304 |   Medium Red |
| 45051 | 307 |   Lemon |
| 45052 | 309 |   Dark Rose |
| 45053 | 310 |   Black |
| 45054 | 311 |   Medium NaVery Blue |
| 45055 | 312 |   Very Dark Baby Blue |
| 45056 | 315 |   Medium Dark Antique Mauve |
| 45057 | 316 |   Medium Antique Mauve |
| 45058 | 317 |   Pewter Gray |
| 45059 | 318 |   Light Steel Gray |
| 45060 | 319 |   Very Darkpistachio Green |
| 45061 | 320 |   Medium Pistachio Green |
| 45062 | 321 |   Red |
| 45063 | 322 |   Dark Dark Baby Blue |
| 45064 | 326 |   Very Dark Rose |
| 45065 | 327 |   Dark Violet |
| 45066 | 333 |   Very Dark Blue Violet |
| 45067 | 334 |   Medium Baby Blue |
| 45068 | 335 |   Rose |
| 45069 | 336 |   NaVery Blue |
| 45070 | 340 |   Medium Blue Violet |
| 45071 | 341 |   Light Blue Violet |
| 45072 | 347 |   Very Dark Salmon |
| 45073 | 349 |   Dark Coral |
| 45074 | 350 |   Medium Coral |
| 45075 | 351 |   Coral |
| 45076 | 352 |   Light Coral |
| 45077 | 353 |   Peach |
| 45078 | 355 |   Dark Terra Cotta |
| 45079 | 356 |   Medium Terra Cotta |
| 45080 | 367 |   Dark Pistachio Green |
| 45081 | 368 |   Light Pistachio Green |
| 45082 | 369 |   Very Light Pistachio Green |
| 45083 | 370 |   Medium Mustard |
| 45084 | 371 |   Mustard |
| 45085 | 372 |   Light Mustard |
| 45086 | 400 |   Dark Mahogany |
| 45087 | 402 |   Very Light Mahogany |
| 45088 | 407 |   Dark Desert Sand |
| 45089 | 413 |   Dark Pewter Gray |
| 45090 | 414 |   Dark Steel Gray |
| 45091 | 415 |   Pearl Gray |
| 45092 | 420 |   Dark Hazelnut Brown |
| 45093 | 422 |   Light Hazelnut Brown |
| 45094 | 433 |   Medium Brown |
| 45095 | 434 |   Light Brown |
| 45096 | 435 |   Very Light Brown |
| 45097 | 436 |   Tan |
| 45098 | 437 |   Light Tan |
| 45099 | 444 |   Dark Lemon |
| 45100 | 445 |   Light Lemon |
| 45101 | 451 |   Dark Shell Gray |
| 45102 | 452 |   Medium Shell Gray |
| 45103 | 453 |   Light Shell Gray |
| 45104 | 469 |   Avocado Green |
| 45105 | 470 |   Light Avocado Green |
| 45106 | 471 |   Very Light Avocado Green |
| 45107 | 472 |   Ultra Light Avocado Green |
| 45108 | 498 |   Dark Red |
| 45109 | 500 |   Very Dark Blue Green |
| 45110 | 501 |   Dark Blue Green |
| 45111 | 502 |   Blue Green |
| 45112 | 503 |   Medium Blue Green |
| 45113 | 504 |   Very Light Blue Green |
| 45114 | 517 |   Dark Wedgewood |
| 45115 | 518 |   Light Wedgewood |
| 45116 | 519 |   Sky Blue |
| 45117 | 520 |   Dark Fern Green |
| 45118 | 522 |   Fern Green |
| 45119 | 523 |   Light Fern Green |
| 45120 | 524 |   Very Light Fern Green |
| 45121 | 535 |   Very Light Ash Gray |
| 45122 | 543 |   Ultra Very Light Beige Brown |
| 45123 | 550 |   Very Dark Violet |
| 45124 | 552 |   Medium Violet |
| 45125 | 553 |   Violet |
| 45126 | 554 |   Light Violet |
| 45127 | 561 |   Very Dark Jade |
| 45128 | 562 |   Medium Jade |
| 45129 | 563 |   Light Jade |
| 45130 | 564 |   Very Light Jade |
| 45131 | 580 |   Dark Moss Green |
| 45132 | 581 |   Moss Green |
| 45133 | 597 |   Turquoise |
| 45134 | 598 |   Light Turquoise |
| 45135 | 600 |   Very Dark Cranberry |
| 45136 | 601 |   Dark Cranberry |
| 45137 | 602 |   Medium Cranberry |
| 45138 | 603 |   Cranberry |
| 45139 | 604 |   Light Cranberry |
| 45140 | 605 |   Very Light Cranberry |
| 45141 | 606 |   Bright Orange-Red |
| 45142 | 608 |   Bright Orange |
| 45143 | 610 |   Dark Drab Brown |
| 45144 | 611 |   Drab Brown |
| 45145 | 612 |   Light Drab Brown |
| 45146 | 613 |   Very Light Drab Brown |
| 45147 | 632 |   Ultra Very Dark Desert Sand |
| 45148 | 640 |   Very Dark Beige Gray |
| 45149 | 642 |   Dark Beige Gray |
| 45150 | 644 |   Medium Beige Gray |
| 45151 | 645 |   Very Dark Beaver Gray |
| 45152 | 646 |   Dark Beaver Gray |
| 45153 | 647 |   Medium Beaver Gray |
| 45154 | 648 |   Light Beaver Gray |
| 45155 | 666 |   Bright Red |
| 45156 | 676 |   Light Old Gold |
| 45157 | 677 |   Very Light Old Gold |
| 45158 | 680 |   Dark Old Gold |
| 45159 | 699 |   Green |
| 45160 | 700 |   Bright Green |
| 45161 | 701 |   Light Green |
| 45162 | 702 |   Kelly Green |
| 45163 | 703 |   Chartreuse |
| 45164 | 704 |   Bright Chartreuse |
| 45165 | 712 |   Cream |
| 45166 | 718 |   Plum |
| 45167 | 720 |   Dark Orange Spice |
| 45168 | 721 |   Medium Orange Spice |
| 45169 | 722 |   Light Orange Spice |
| 45170 | 725 |   Medium Light Topaz |
| 45171 | 726 |   Light Topaz |
| 45172 | 727 |   Very Light Topaz |
| 45173 | 729 |   Medium Old Gold |
| 45174 | 730 |   Very Dark Olive Green |
| 45175 | 731 |   Dark Olive Green |
| 45176 | 732 |   Olive Green |
| 45177 | 733 |   Medium Olive Green |
| 45178 | 734 |   Light Olive Green |
| 45179 | 738 |   Very Light Tan |
| 45180 | 739 |   Ultra Very Light Tan |
| 45181 | 740 |   Tangerine |
| 45182 | 741 |   Medium Tangerine |
| 45183 | 742 |   Light Tangerine |
| 45184 | 743 |   Medium Yellow |
| 45185 | 743 |   Pale Yellow |
| 45185 | 744 |   Pale Yellow |
| 45186 | 745 |   Light Pale Yellow |
| 45187 | 746 |   Off White |
| 45188 | 747 |   Very Light Sky Blue |
| 45189 | 754 |   Light Peach |
| 45190 | 758 |   Very Light Terra Cotta |
| 45191 | 760 |   Salmon |
| 45192 | 761 |   Light Salmon |
| 45193 | 762 |   Very Light Pearl Gray |
| 45194 | 772 |   Very Light Yellow Green |
| 45195 | 775 |   Very Light Baby Blue |
| 45196 | 776 |   Medium Pink |
| 45197 | 778 |   Very Light Antique Mauve |
| 45198 | 780 |   Ultra Very Dark Topaz |
| 45199 | 781 |   Very Dark Topaz |
| 45200 | 782 |   Dark Topaz |
| 45201 | 783 |   Medium Topaz |
| 45202 | 791 |   Very Dark Cornflower Blue |
| 45203 | 792 |   Dark Cornflower Blue |
| 45204 | 793 |   Medium Cornflower Blue |
| 45205 | 794 |   Light Cornflower Blue |
| 45206 | 796 |   Dark Royal Blue |
| 45207 | 797 |   Royal Blue |
| 45208 | 798 |   Dark Delft Blue |
| 45209 | 799 |   Medium Delft Blue |
| 45210 | 800 |   Pale Delft Blue |
| 45211 | 801 |   Dark Coffee Brown |
| 45212 | 806 |   Dark Peacock Blue |
| 45213 | 807 |   Peacock Blue |
| 45214 | 809 |   Delft Blue |
| 45215 | 813 |   Light Blue |
| 45216 | 814 |   Dark Garnet |
| 45217 | 815 |   Medium Garnet |
| 45218 | 816 |   Garnet |
| 45219 | 817 |   Very Dark Coral Red |
| 45220 | 818 |   Baby Pink |
| 45221 | 819 |   Light Baby Pink |
| 45222 | 820 |   Very Dark Royal Blue |
| 45223 | 822 |   Light Beige Gray |
| 45224 | 823 |   Dark NaVery Blue |
| 45225 | 824 |   Very Dark Blue |
| 45226 | 825 |   Dark Blue |
| 45227 | 826 |   Medium Blue |
| 45228 | 827 |   Very Light Blue |
| 45229 | 828 |   Ultra Very Very Light Blue |
| 45230 | 829 |   Very Dark Golden Olive |
| 45231 | 830 |   Dark Golden Olive |
| 45232 | 831 |   Medium Golden Olive |
| 45233 | 832 |   Golden Olive |
| 45234 | 833 |   Light Golden Olive |
| 45235 | 834 |   Very Light Golden Olive |
| 45236 | 838 |   Very Dark Beige Brown |
| 45237 | 839 |   Dark Beige Brown |
| 45238 | 840 |   Medium Beige Brown |
| 45239 | 841 |   Light Beige Brown |
| 45240 | 842 |   Very Light Beige Brown |
| 45241 | 844 |   Ultra Dark Beaver Gray |
| 45242 | 869 |   Very Dark Hazelnut Brown |
| 45243 | 890 |   Ultra Dark Pistachio Green |
| 45244 | 891 |   Dark Carnation |
| 45245 | 892 |   Medium Carnation |
| 45246 | 893 |   Light Carnation |
| 45247 | 894 |   Very Light Carnation |
| 45248 | 895 |   Very Dark Hunter Green |
| 45249 | 898 |   Very Dark Coffee Brown |
| 45250 | 899 |   Medium Rose |
| 45251 | 900 |   Dark Burnt Orange |
| 45252 | 902 |   Very Dark Garnet |
| 45253 | 904 |   Very Dark Parrot Green |
| 45254 | 905 |   Dark Parrot Green |
| 45255 | 906 |   Medium Parrot Green |
| 45256 | 907 |   Light Parrot Green |
| 45257 | 909 |   Very Dark Emerald Green |
| 45258 | 910 |   Dark Emerald Green |
| 45259 | 911 |   Medium Emerald Green |
| 45260 | 912 |   Light Emerald Green |
| 45261 | 913 |   Medium Nile Green |
| 45262 | 915 |   Dark Plum |
| 45263 | 917 |   Medium Plum |
| 45264 | 918 |   Dark Red Copper |
| 45265 | 919 |   Red Copper |
| 45266 | 920 |   Medium Copper |
| 45267 | 921 |   Copper |
| 45268 | 922 |   Light Copper |
| 45269 | 924 |   Very Dark Gray Green |
| 45270 | 926 |   Medium Gray Green |
| 45271 | 927 |   Light Gray Green |
| 45272 | 928 |   Very Light Gray Green |
| 45273 | 930 |   Dark Antique Blue |
| 45274 | 931 |   Medium Antique Blue |
| 45275 | 932 |   Light Antique Blue |
| 45276 | 934 |   Black Avocado Green |
| 45277 | 935 |   Dark Avocado Green |
| 45278 | 936 |   Very Dark Avocado Green |
| 45279 | 937 |   Medium Avocado Green |
| 45280 | 938 |   Ultra Dark Coffee Brown |
| 45281 | 939 |   Very Dark NaVery Blue |
| 45282 | 943 |   Medium Aquamarine |
| 45283 | 945 |   Tawny |
| 45284 | 946 |   Medium Burnt Orange |
| 45285 | 947 |   Burnt Orange |
| 45286 | 948 |   Very Light Peach |
| 45287 | 950 |   Light Desert Sand |
| 45288 | 951 |   Light Tawny |
| 45289 | 954 |   Nile Green |
| 45290 | 955 |   Light Nile Green |
| 45291 | 956 |   Geranium |
| 45292 | 957 |   Pale Geranium |
| 45293 | 958 |   Dark Seagreen |
| 45294 | 959 |   Medium Seagreen |
| 45295 | 961 |   Dark Dusty Rose |
| 45296 | 962 |   Medium Dusty Rose |
| 45297 | 963 |   Ultra Very Light Dusty Rose |
| 45298 | 964 |   Light Seagreen |
| 45299 | 966 |   Medium Baby Green |
| 45300 | 970 |   Light Pumpkin |
| 45301 | 971 |   Pumpkin |
| 45302 | 972 |   Deep Canary |
| 45303 | 973 |   Bright Canary |
| 45304 | 400 |   Dark Mahogany |
| 45304 | 975 |   Dark Golden Brown |
| 45305 | 976 |   Medium Golden Brown |
| 45306 | 977 |   Light Golden Brown |
| 45307 | 986 |   Very Dark Forest Green |
| 45308 | 987 |   Dark Forest Green |
| 45309 | 988 |   Medium Forest Green |
| 45310 | 989 |   Forest Green |
| 45311 | 991 |   Dark Aquamarine |
| 45312 | 992 |   Light Aquamarine |
| 45312 | 992 |   Very Light Aquamarine |
| 45313 | 992 |   Very Light Aquamarine |
| 45313 | 993 |   Very Light Aquamarine |
| 45314 | 995 |   Dark Electric Blue |
| 45315 | 996 |   Medium Electric Blue |
| 45316 | 3011 |   Dark Khaki Green |
| 45317 | 3012 |   Medium Khaki Green |
| 45318 | 3013 |   Light Khaki Green |
| 45320 | 3022 |   Medium Brown Gray |
| 45321 | 3023 |   Light Brown Gray |
| 45322 | 3024 |   Very Light Brown Gray |
| 45323 | 3031 |   Very Dark Mocha Brown |
| 45324 | 3032 |   Medium Mocha Brown |
| 45325 | 3033 |   Very Light Mocha Brown |
| 45326 | 3041 |   Medium Antique Violet |
| 45327 | 3042 |   Light Antique Violet |
| 45328 | 3045 |   Dark Yellow Beige |
| 45329 | 3046 |   Medium Yellow Beige |
| 45330 | 3047 |   Light Yellow Beige |
| 45331 | 3051 |   Dark Green Gray |
| 45332 | 3052 |   Medium Green Gray |
| 45333 | 3053 |   Green Gray |
| 45334 | 3064 |   Desert Sand |
| 45335 | 3072 |   Very Light Beaver Gray |
| 45336 | 3078 |   Very Light Golden Yellow |
| 45337 | 3325 |   Light Baby Blue |
| 45338 | 3326 |   Light Rose |
| 45339 | 3328 |   Dark Salmon |
| 45340 | 3340 |   Medium Apricot |
| 45341 | 3341 |   Apricot |
| 45342 | 3345 |   Dark Hunter Green |
| 45343 | 3346 |   Hunter Green |
| 45344 | 3347 |   Medium Yellow Green |
| 45345 | 3348 |   Light Yellow Green |
| 45346 | 3350 |   Ultra Dark Dusty Rose |
| 45347 | 3354 |   Light Dusty Rose |
| 45348 | 3362 |   Dark Pine Green |
| 45349 | 3363 |   Medium Pine Green |
| 45350 | 3364 |   Pine Green |
| 45351 | 3371 |   Black Brown |
| 45352 | 3607 |   Light Plum |
| 45353 | 3608 |   Very Light Plum |
| 45354 | 3609 |   Ultra Light Plum |
| 45355 | 3685 |   Very Dark Mauve |
| 45356 | 3687 |   Mauve |
| 45357 | 3688 |   Medium Mauve |
| 45358 | 3689 |   Light Mauve |
| 45359 | 3705 |   Dark Melon |
| 45360 | 3706 |   Medium Melon |
| 45361 | 3708 |   Light Melon |
| 45362 | 3712 |   Medium Salmon |
| 45363 | 3713 |   Very Light Salmon |
| 45364 | 3716 |   Very Light Dusty Rose |
| 45365 | 3721 |   Dark Shell Pink |
| 45366 | 3722 |   Medium Shell Pink |
| 45367 | 3726 |   Dark Antique Mauve |
| 45368 | 3727 |   Light Antique Mauve |
| 45369 | 3731 |   Very Dark Dusty Rose |
| 45370 | 3733 |   Dusty Rose |
| 45371 | 3740 |   Dark Antique Violet |
| 45372 | 3743 |   Very Light Antique Violet |
| 45373 | 3746 |   Dark Blue Violet |
| 45374 | 3747 |   Very Light Blue Violet |
| 45375 | 3750 |   Very Dark Antique Blue |
| 45376 | 3752 |   Very Light Antique Blue |
| 45377 | 3753 |   Ultra Very Light Antique Blue |
| 45378 | 3755 |   Baby Blue |
| 45379 | 3756 |   Ultra Very Light Baby Blue |
| 45380 | 3760 |   Medium Wedgewood |
| 45381 | 3761 |   Light Sky Blue |
| 45382 | 3765 |   Very Dark Peacock Blue |
| 45383 | 3766 |   Light Peacock Blue |
| 45384 | 3768 |   Dark Gray Green |
| 45385 | 3770 |   Very Light Tawny |
| 45386 | 3772 |   Very Dark Desert Sand |
| 45387 | 3773 |   Medium Desert Sand |
| 45388 | 3774 |   Very Light Desert Sand |
| 45389 | 3776 |   Light Mahogany |
| 45390 | 3777 |   Very Dark Terra Cotta |
| 45391 | 3778 |   Light Terra Cotta |
| 45392 | 3779 |   Ultra Very Light Terra Cotta |
| 45393 | 3781 |   Dark Mocha Brown |
| 45394 | 3782 |   Light Mocha Brown |
| 45395 | 3787 |   Dark Brown Gray |
| 45396 | 3790 |   Ultra Dark Beige Gray |
| 45397 | 3799 |   Very Dark Pewter Gray |
| 45398 | 3801 |   Very Dark Melon |
| 45399 | 3802 |   Very Dark Antique Mauve |
| 45400 | 3803 |   Dark Mauve |
| 45401 | 3804 |   Dark Cyclamen Pink |
| 45402 | 3805 |   Cyclamen Pink |
| 45403 | 3806 |   Light Cyclamen Pink |
| 45404 | 3807 |   Cornflower Blue |
| 45405 | 3808 |   Ultra Very Dark Turquoise |
| 45406 | 3809 |   Very Dark Turquoise |
| 45407 | 3810 |   Dark Turquoise |
| 45408 | 3811 |   Very Light Turquoise |
| 45409 | 3812 |   Very Dark Seagreen |
| 45410 | 3813 |   Light Blue Green |
| 45411 | 3814 |   Aquamarine |
| 45412 | 3815 |   Dark Celadon Green |
| 45413 | 3816 |   Celadon Green |
| 45414 | 3817 |   Light Celadon Green |
| 45415 | 3818 |   Ultra Very Dark Emerald Greene |
| 45416 | 3819 |   Light Moss Green |
| 45417 | 3820 |   Dark Straw |
| 45418 | 3821 |   Straw |
| 45419 | 3822 |   Light Straw |
| 45420 | 3823 |   Ultra Pale Yellow |
| 45421 | 3824 |   Light Apricot |
| 45422 | 3825 |   Pale Pumpkin |
| 45423 | 3826 |   Golden Brown |
| 45424 | 3827 |   Pale Golden Brown |
| 45425 | 3828 |   Hazelnut Brown |
| 45426 | 3829 |   Very Dark Old Gold |
| 45427 | 3830 |   Terra Cotta |
| 45428 | 3021 |   Very Dark Brown Gray |
| 45429 | 3831 |   Dark Raspberry |
| 45430 | 3832 |   Medium Raspberry |
| 45431 | 3833 |   Light Raspberry |
| 45432 | 3834 |   Dark Grape |
| 45433 | 3835 |   Medium Grape |
| 45434 | 3836 |   Light Grape |
| 45435 | 3837 |   Ultra Dark Lavender |
| 45436 | 3838 |   Dark Lavender Blue |
| 45437 | 3839 |   Medium Lavender Blue |
| 45438 | 3840 |   Light Lavender Blue |
| 45439 | 3841 |   Pale Baby Blue |
| 45440 | 3842 |   Dark Wedgwood |
| 45441 | 3843 |   Electric Blue |
| 45442 | 3844 |   Dark Bright Turquoise |
| 45443 | 3845 |   Medium Bright Turquoise |
| 45444 | 3846 |   Light Bright Turquoise |
| 45445 | 3847 |   Dark Teal Green |
| 45446 | 3848 |   Medium Teal Green |
| 45447 | 3849 |   Light Teal Green |
| 45448 | 3850 |   Dark Bright Green |
| 45449 | 3851 |   Light Bright Green |
| 45450 | 3852 |   Very Dark Straw |
| 45451 | 3853 |   Dark Autumn Gold |
| 45452 | 3854 |   Medium Autumn Gold |
| 45453 | 3855 |   Light Autumn Gold |
| 45454 | 3856 |   Ultra Very Light Mahogany |
| 45455 | 3857 |   Dark Rosewood |
| 45456 | 3858 |   Medium Rosewood |
| 45457 | 3859 |   Light Rosewood |
| 45458 | 3860 |   Cocoa |
| 45459 | 3861 |   Light Cocoa |
| 45460 | 3862 |   Dark Mocha Beige |
| 45461 | 3863 |   Medium Mocha Beige |
| 45462 | 3864 |   Light Mocha Beige |
| 45463 | 3865 |   Winter White |
| 45464 | 3866 |   Ultra Very Light Mocha Brown |
| 45465 | 150 |   Ultra Very Dark Dustry Rose |
| 45465 | 150 |   Ultra Very Dark Dustry Rose |
| 45466 | 151 |   Very Light Dustry Rose |
| 45467 | 152 |   Medium Light Shell Pink |
| 45468 | 153 |   Very Light Violet |
| 45469 | 154 |   Very Dark Grape |
| 45470 | 155 |   Medium Dark Blue Violet |
| 45471 | 156 |   Medium Light Blue Violet |
| 45472 | 157 |   Very Light Cornflower Blue |
| 45473 | 158 |   Medium Very Dark Cornflower Blue |
| 45474 | 159 |   Light Gray Blue |
| 45475 | 160 |   Medium Gray Blue |
| 45476 | 161 |   Gray Blue |
| 45477 | 162 |   Ultra Very Light Blue |
| 45478 | 163 |   Medium Celadon Green |
| 45479 | 164 |   Light Forest Green |
| 45480 | 165 |   Very Light Moss Green |
| 45481 | 166 |   Medium Light Moss Green |
| 45482 | 167 |   Very Dark Yellow Beige |
| 45483 | 168 |   Very Light Pewter |
| 45484 | 169 |   Light Pewter |
| 45490 | 505 |   Jade Green |
| 45491 | 728 |   Topaz |
| 45492 | 777 |   Very Dark Raspberry |
| 45493 | 779 |   Dark Cocoa |
| 45494 | 803 |   Ultra Very Dark Baby Blue |
| 45495 | 967 |   Very Light Apricot |
| 45496 | 3771 |   Ultra Very Light Terra Cotta |
Other embroidery floss conversion charts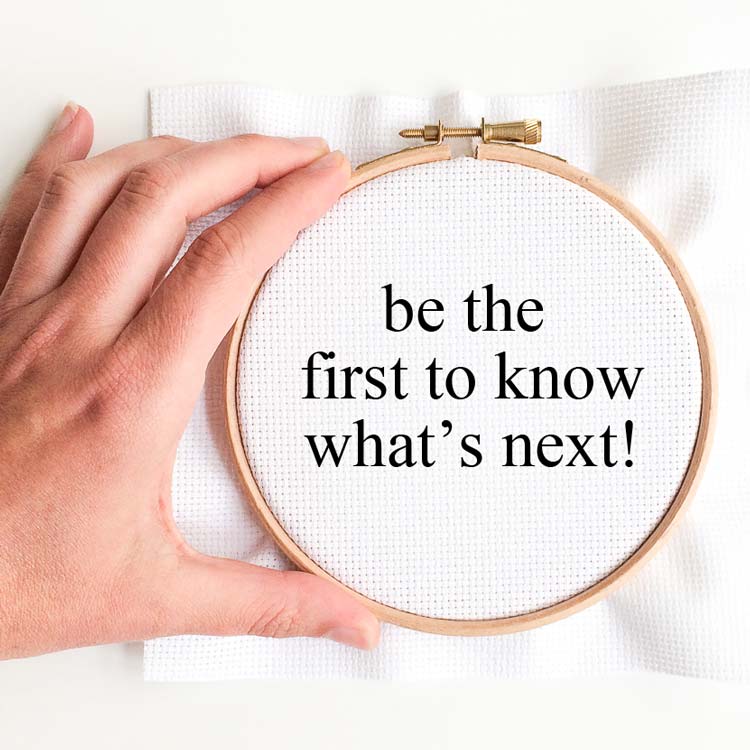 Cross stitch tutorials you may like…