Creative gift ideas for your mother
In this post we share a list of creative gifts your mom will love to receive. You can make the gifts yourself or give it as DIY gift. Your crafty mom and mother in law will love these modern gifts. They vary in price so there is something for the bigger and for the smaller wallet.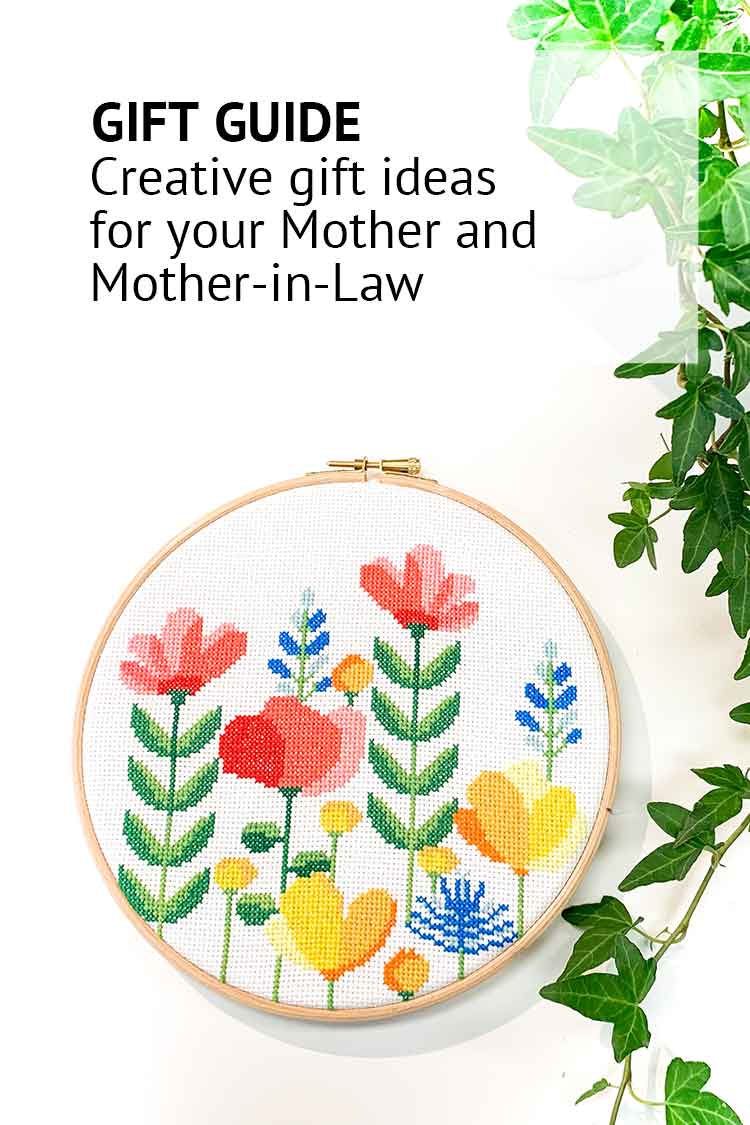 1. Unicorn scissors for the creative mother
Because you can never have enough magic in your life. These scissors are not only pretty, they are sharp and happy to cut your floss when needed.
2. Flower Cross Stitch Kit, a colourful creative gift idea for your mother
Give a bouquet of flowers that will last for years. Bright and colorful, this hoop will put a smile on your mother's face. Make it yourself or give it for her to make.
3. Botanical Punch Needle Kit, an eye-cather that will keep your mother crafting
Punching is the newest trend in embroidery. With this kit you will make your mom enjoy the craft for hours. Suitable for beginners, this kit is yam packed with premium supplies. They are all carefully curated to be a perfect match between needle, fabric and yarn. Designed by Marianne Roos – Dekkers this cushion will be stunning addition to your mother's home.
Bonus: It comes in cute packaging, so ready to give away!
4. Ecological Table Linen to make lasting memories with your family
If your mom loves family meals and cross stitch, she will love this linen. It comes with a set of border patterns your mother can use to decorate the fabric.
The linen is grown under biological certifications in France and woven by a small family weaving company in Austria. The linen is supple and has a luxurious glow.This may become your family memory cloth to cherish for years.
5. Gift ecological wool to your crafty mother-in-law
If your mom loves crochet, knitting punch needle or weaving, you can never go wrong with some premium wool.
Our Lanita and Gordita wool comes in stunning colors. It's 100% pure merino wool and ecologically made. You can buy a set of complementary colors or go uni.
The premium Lanita and Gordita wool makes a wonderful gift for yarn lovers. It's 100% pure merino wool and ecologically made. Crafters use this very versatile yarn for knitting, crochet and punch needle embroidery. You can buy a set of complementary colors or go uni.
6. Cross Stitch a portrait: one of the most creative gift ideas for your mother
In our Stitch a Job collection you can find over 100 different people patterns with jobs and hobbies. So you can stitch your entire family. Never a bad hairday to worry about, because you will just stitch the best version of yourself ;-).
They are available as digital pattern or complete DIY kit.
7. Stitch a family photo portrait with our photo embroidery kit
Make the most personal creative gift for your mother! Use our photo embroidery kit to embroider a photo from your personal collection as unique memory of important family milestones. Your mom will love this handmade gift!
8. Gift a Sashiko starter kit that makes a handy tote bag for your mother
With this embroidery kit for beginners, you mother can learn how to Sashiko stitch. A very relaxing and satisfying stitching process with repetitive patterns. And with this kit your mom will end up with a handy tote bag!
Looking for ecological ideas to package your gift?
More Gift Guides with gift ideas for your mother