How to use the Fine Adjustable Punch Needle for sports weight yarn instructions
When you're new to punch needle you may like to start with our punch needle tutorial for beginners. In this blog we will share a few more tips specifically focusing on the fine adjustable punch needle we sell in our shop. You will learn how to thread this needle with yarn. You can read our tips for foundation fabric that is a perfect match with this needle. And we also show step by step how to adjust the height of your loops.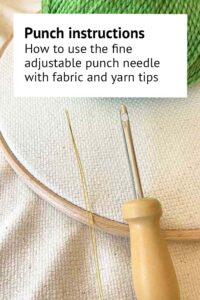 How to thread your fine adjustable punch needle?
To get your wool into your punch needle you will need a threading tool. For the fine adjustable punch needle you will need a long metallic wire as a needle will be too thick. With your needle you'll receive a needle threader.
How to use the metallic wire threader
Below steps explain how to use the wire threading tool to get your yarn flowing smoothly through your punch needle.
Step 1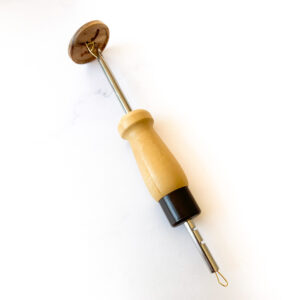 Put your needle threader in the long end of your needle. Enter your needle from the sharp end of your needle, the side that you will poke into your punch fabric.
Step 2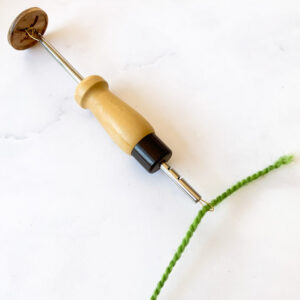 Pull your thread through the metalic threader that comes out at the backside of your punch needle. When using thick wool you can use a short tapestry needle if you find it difficult to go in between the metallic thread. Now pull the needle threader from the front side of the punch needle all the way through your needle.
Step 3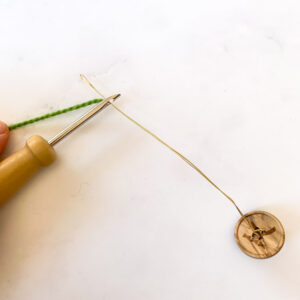 You will now need to poke your yarn through the eye of the needle (the needle hole).
Step 4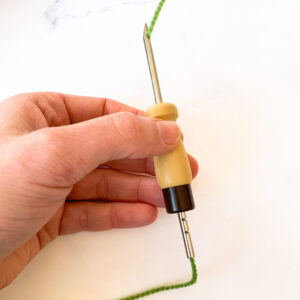 Voila! This is how your threaded needle looks like.
Which foundation fabrics are suitable for the fine adjustable punch needle?
Each punch needle has a different thickness. To ensure that your loops stay nicely in your fabric, it is important to use the correct fabric for your project. We tested this punch needle with a large number of open weave fabrics to provide you the best combination.
Ecological monks cloth in 18 count.
Our Ecological Monks Cloth is especially developed for punching. It looks like Aida fabrics but is different. Where Aida is woven with 5 threads over 5 threads, Monks Cloth is made with 4 threads over 4 threads. Monks cloth is also not stiffened, enabling the threads to move and make place when you punch with your needle. Monks Cloth is not suitable for cross stitching. And Aida fabric is not suitable for punch needle embroidery.
Our 18 count monk's is GOTS certified, confirming fair pay and ecological practices in the supply chain.
Monks Cloth is not hairy and great for punching pieces that completly cover the fabric. Our ecological monk's cloth is woven in Spain.
13 count monk's cloth
Our 13 count monk's cloth is woven in Germany. It is a bit more open woven comporaed to the 18 count monk's cloth.
Fabrics that did not pass the test for the fine adjustable punch needle
We also tested the punch needle with different evenweave linen fabrics, but found that the tested qualities where not suitable for this punch needle. You have to poke a lot harder, and when a thread breaks it is more difficult to redo a section when you make a mistake.
Aida cloths, heavier or lighter, Jute clothesare also not ideal foundation cloths for this punch needle.
And where our  canvas fabric is a fantastic foundation cloth for the clover punch needle, for this punch needle this fabric is too fine woven. You just have to poke so hard that you have to take frequent breaks to avoid hurting your hand.
We will continue testing fabrics and will share updates on our blog on test results. If you have questions about fabrics, please feel free to contact us!
Which yarns are suitable for the fine adjustable punch needle?
Besides the right foundation fabric, it is also important to use the right yarn for your punch needle.
Lanita ecological wool
Our favourite yarn for this punch needle is our Lanita ecological wool. It's a beautiful fibre with a soft touch. Available in many colors. 
Other sports weight yarn
We love to use our ecological wool. But you may already have a closet full of yarns that you'd like to finish first. For this punch needle we recommend to get started with a well twisted yarn either cotton or wool that's suitable for knitting needles 3-4.5 mm.
Ensure the yarn can flow easily through the needle, while filling the hole in the fabric which you create with the needle.
How to adjust the height of your loops
Adjusting the punch needle for different loop lenghts is not difficult. At the long end of your punch needle there are 7 notches in the punch needle. The spring inside the needle can be secured at each notch. You can turn the needle and pull it to the desired notch then you turn it back until you hear a soft click.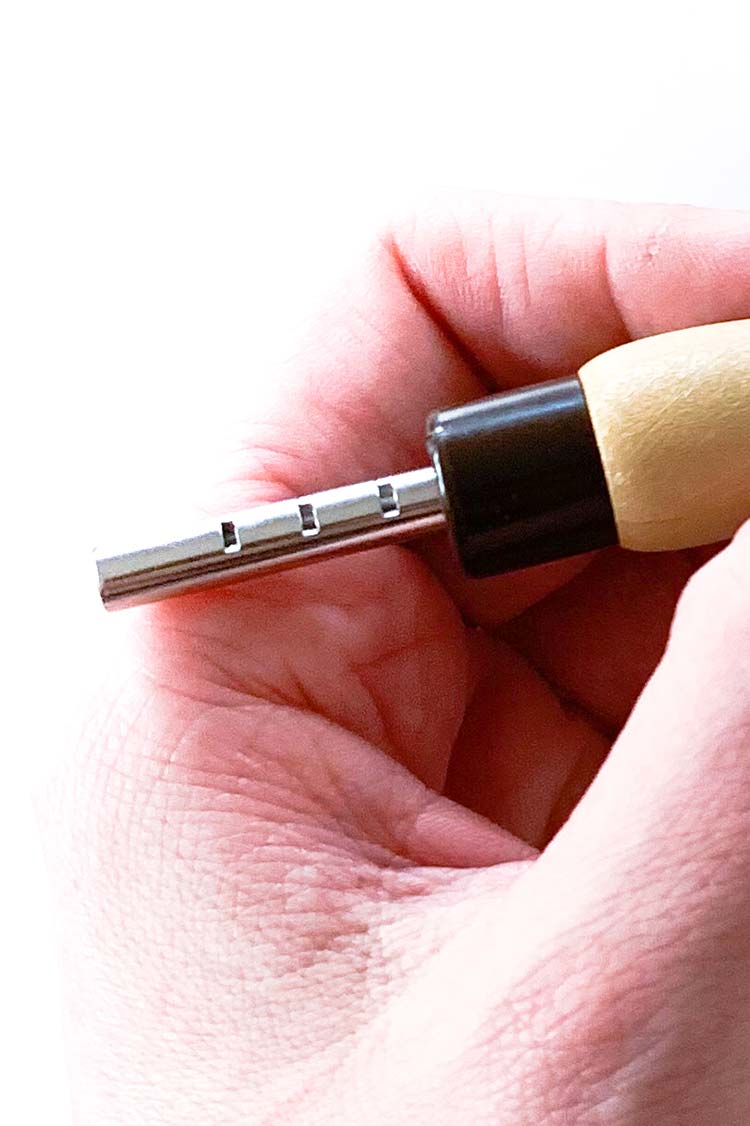 The notches at the backside of the punch needle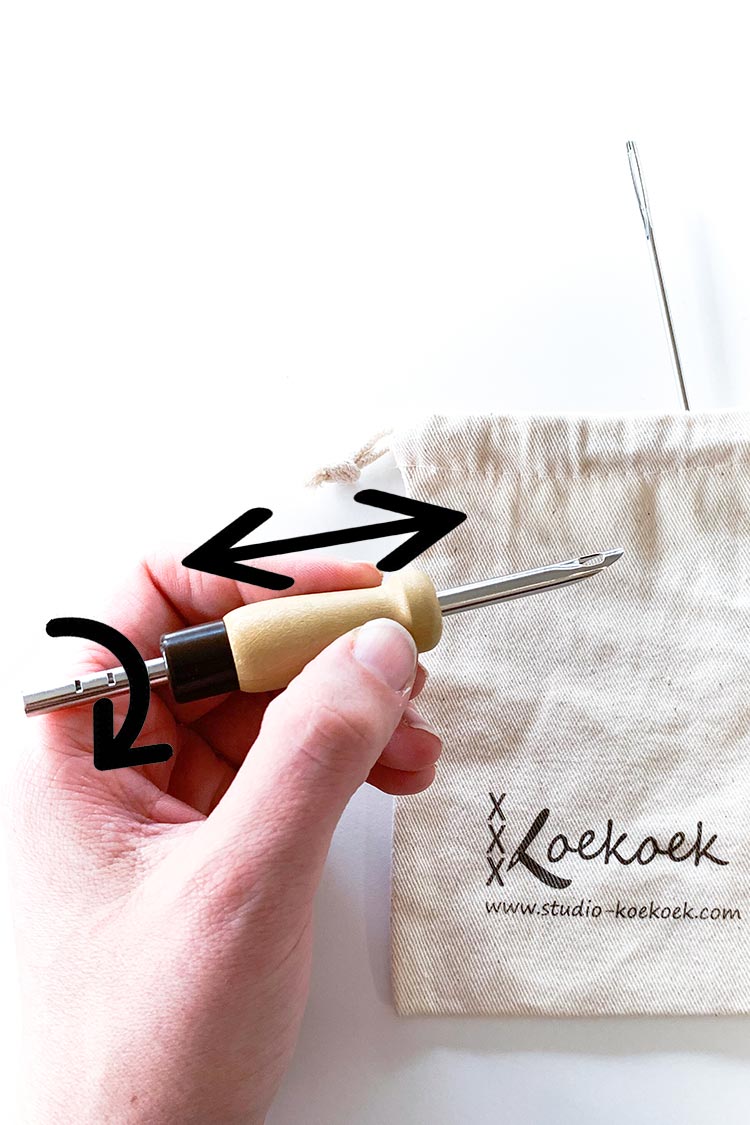 Turn the needle and pull the metal part further in or out until your needle  'clicks' into the next notch.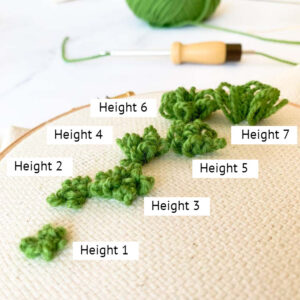 You can make 7 different heights with the adjustable punch needle