We knew it! You love secrets!
We have super fun news to share! We run our second Secret Stitch Along, and you can join!
On this page you can find a secret coupon code. Hint: scroll down, and you'll find it hidden behind the door :-).
What's the theme?
To give a little idea of what you may expect, the patterns have a Christmas theme. And it matches very well with our Joy – Peace and Hope pieces.
And…
The design is made in a double embroidery hoop!
We'll add video tutorials for double hooping and framing your piece. So you'll learn a completely new technique!
It's a surprise!
Starting the 11th of November, you'll receive a pattern each week. It will be a surprise what the patterns will look like, until you get them. Exciting!
Join now with discount!
You can already order the supply kit for our Secret Stitch Along.
It's a one-off price which includes premium materials to stitch the design!
And on this page – behind the picture with the hoops – you can find a secret code to get an extra discount.
This extra secret discount is our way to thank you for reading our messages!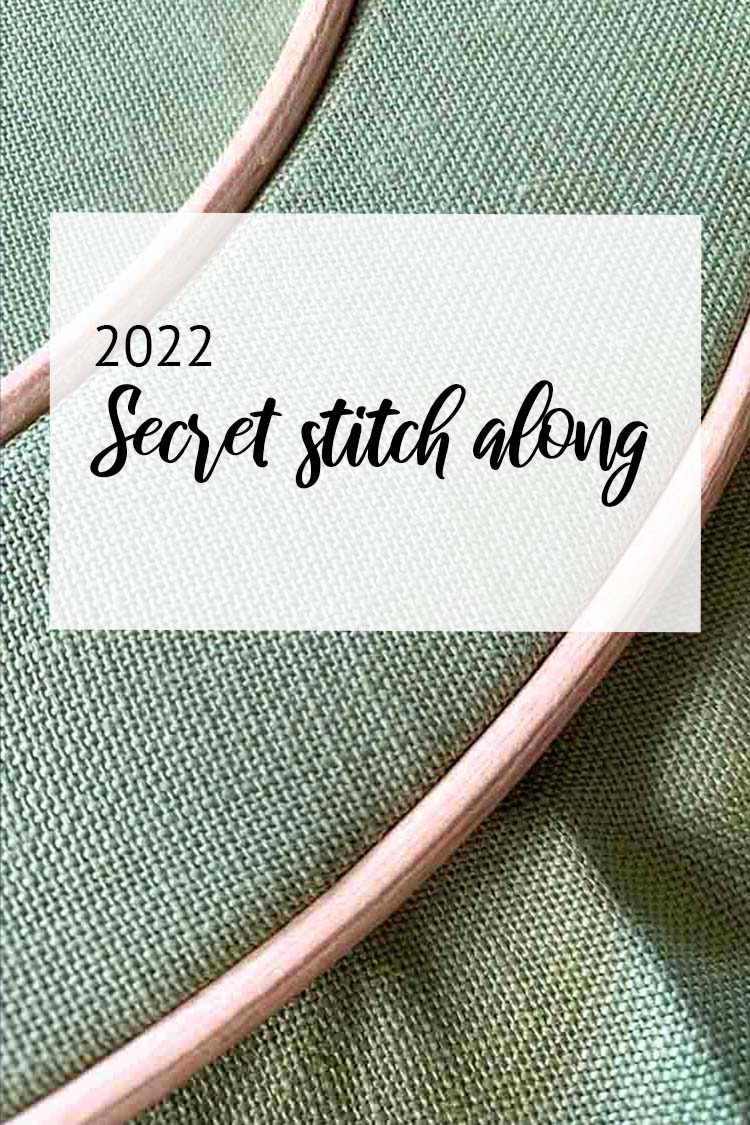 Buy the Secret Stitch Along supply kit
And join the mystery :-).
You can choose between two kits. The only difference is the type & color of the fabric you will stitch on.
Night Blue Aida Secret Stitch Along kit
Best choice if you are new at cross stitch
This fabric is woven with 5 threads over 5 threads and clearly shows holes to make your cross stitches.
Color: night blue
Count: 16 count (6,4 crosses per cm)
Made from 100% cotton and woven in Germany.
Olive Evenweave linen Secret Stitch Along kit
Best choice if you like a finer look
Woven with 1 thread over 1 thread.
Color: Olive green
Count: 32 count (13 threats per cm)
Made from 100% linen and woven in Germany.
Release dates of the pattern parts:
11th November 2022: Pattern part 1
18th November 2022: Pattern part 2
25th November 2022: Pattern part 3
2nd December 2022: Pattern part 4
On these dates you will receive an e-mail with a link where you can download the PDF patterns. You will get both a full color version and a gray scale version. Print the patterns, or use them on your tablet or computer.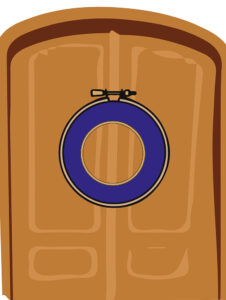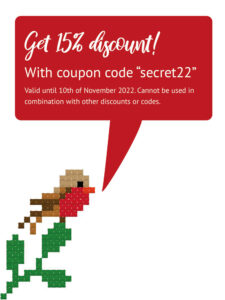 Slide the door with the handle on the right to find your discount coupon code.
Questions you may have
What is a Secret Stitch Along?
Gerda
2022-09-29T21:21:22+02:00
With a Secret Stitch Along – also referred to as a SAL – you buy a kit but you don't know exactly what you will stitch until the moment you'll get the pattern. The pattern is released in different parts, and only with the last pattern piece you will get the total picture.
Participants of the Studio Koekoek's Secret Stitch Along 2022 will be the first to finish a fun counted cross stitch kit that will only be released in our collection of 2023.